'There should be no suspicion between us'. Picture: Russian Government
Astonishingly, the recent visit by Dmitry Medvedev to Thailand was the first by a Russian prime minister since the collapse of the Soviet Union a generation ago.
It is clear, though, that the visit was timely. There is now obvious interest on both sides in fostering closer ties over a wide range of sectors going far beyond the most obvious, namely tourism.
The stars are now aligned, with Thai Prime Minister Prayuth Chan-ocha - referring to Moscow's economic woes and Western sanctions saying:
'When a friend is in trouble, moral support from allies is needed. Russia still chooses to be friends with Thailand today, and we will ensure the bond of friendship remains tight.'
Gen Prayuth added: 'Mutual interests will be shared between Thailand and Russia and there should be no suspicion between us.'
Medvedev responded in kind, when quizzed about the military government in Thailand, saying: 'You know, we try to be civilised in all circumstances.
'Regarding the ongoing events in Thailand, they are your country's internal affairs. We approach them with understanding and respect. On the other hand, some countries get really worked up about events in countries across the globe. I think the concern is excessive, and the lecturing is unnecessary.
'Sovereign countries must deal with their problems independently. Both Russia and Thailand can deal with our problems ourselves - we with our friends and partners in the West, and you with your partners in ASEAN and in the West.
'I think we should get back to the foundational principles of international law - excuse the legalese, but I was trained as a lawyer, after all, and this will be the best formula to follow in international affairs.'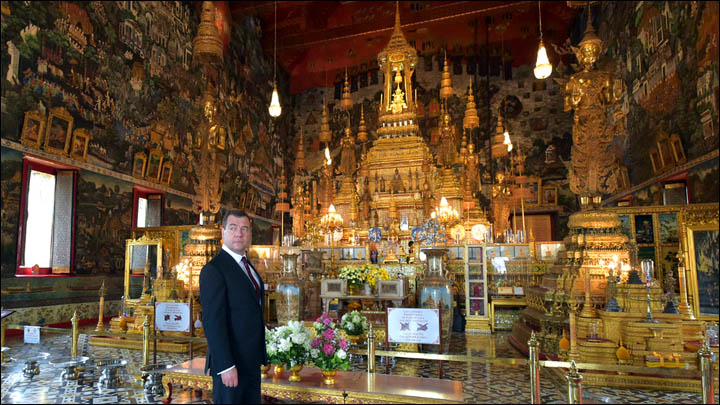 ---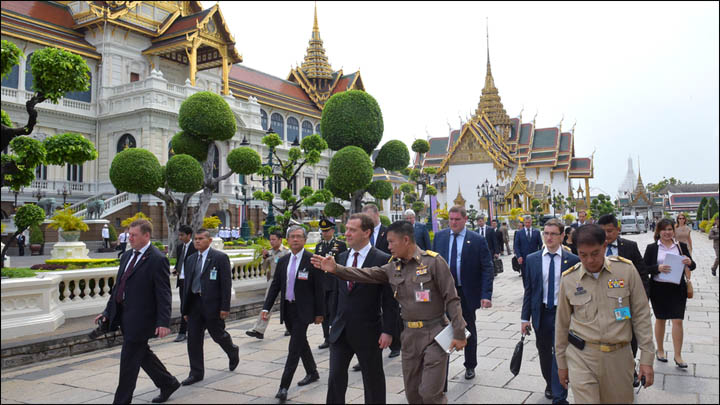 'Trade barriers that might slow economic growth between us will be removed'. Pictures: Russian Government
---
Short term there are fears that trade between the countries may suffer, perhaps by 20% in 2015, though it is reported that in a number of sectors Thai exports to Russia are holding their own - namely, air conditioners/parts, machinery/parts, microwave ovens, refrigerators, refrigeration compressors, aircraft parts, timber and wood products.
Longer term there are ground for considerable optimism. Tourism, certainly, has taken a significant hit this year, yet there are signs as the rouble climbs back that tourists from Siberia and other regions of Russia will return.
'Compared to 2014 the number of our tourists [in Thailand] has really gone down, according to our estimates, by 25-30%,' Medvedev told the National media group in Bangkok. 'But not everything is lost. It is quite possible that by the end of the year some parameters will be restored as the ruble strengthens.'
He stressed: 'We believe that in any case Thailand will be very attractive for our people. Nevertheless, in order to overcome the current stage faster I would suggest that our Thai business partners look at cheaper products that could be offered at the present.'
Later, he forecast, 'everything will be restored'.
While tourist arrivals from Russia have slumped 69%, Thailand has seen increases from other countries - notably a 271% rise from China, 38% from Japan, 58% from South Korea, and 38% from India. A symbolic blow is the decision of Thai Airways to halt its Moscow-Bangkok route.
Despite all this, Thai journalists joked that the Russian premier should fit Pattaya into his itinerary. 'It has really become a Russian city. There's a joke which you might want to take back to Russia with you: If a referendum were held in Pattaya, it might vote to become a Russian city, to join Russia,' said Suthichai Yoon.
'We'd like Pattaya to remain a Thai city, as long as our people can keep going there on vacation,' replied the Russian premier.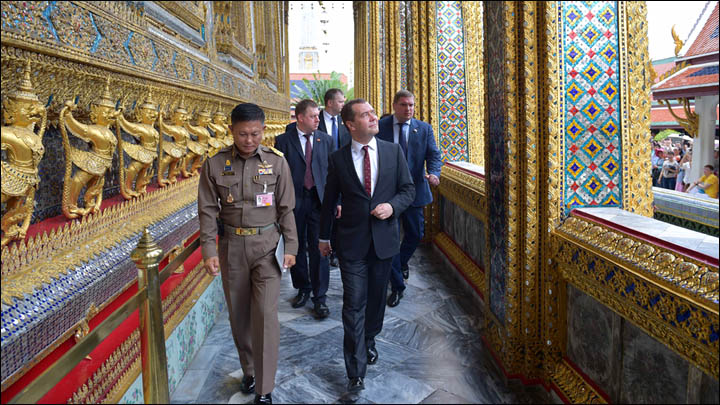 'Aim to double annual bilateral trade to $10 billion by 2016'. Picture: Russian Government
---
Behind the joke is the fact that there are now deep links between the two countries, with especially Siberians travelling to Thailand for winter break vacations but also for medical tourism, to educate their children in English language international schools, and for dachas in the sun.
'Russians travel to Thailand very often because it is their favourite holiday destination,' he said, promising an increase in flights.
There are now signs in the economic field of deepening links across a wide spectrum, however.
One area is nuclear energy. 'It is a decision, a choice to be made,' said Medvedev. 'Obviously, nuclear energy requires utmost attention. It's an issue that is taken very seriously after Fukushima.
'I'll tell you, first, that it's viewed very seriously in Russia, especially in the aftermath of the 1986 accident in Chernobyl. Second, the reactors we currently use are based on different principles. And third, this is perhaps the least expensive energy source, no matter how you look at it.'
Another is arms. 'If needed, we'll supply tanks and other types of equipment,' Mr Medvedev said.
'As you know, Russia is a major arms exporter. We have no misgivings about it, because states will have armies regardless.
'No one is willing to disarm just for the sake of disarming. In any event, to be respected, you must have sufficient armed forces. Therefore, if you take these decisions, we'll be pleased to supply the equipment, even taking into account the fact that Thailand traditionally has been oriented to Western suppliers. Our weapons are no worse than theirs... some types are certainly cheaper.'
From the Thai side, there are hopes of boosting the export of agricultural and food products to Russia amid the block on EU and US imports due to the crisis in relations with the West. In particular, Russia vowed to import rice, fruit, pork, seafood and rubber from Thailand.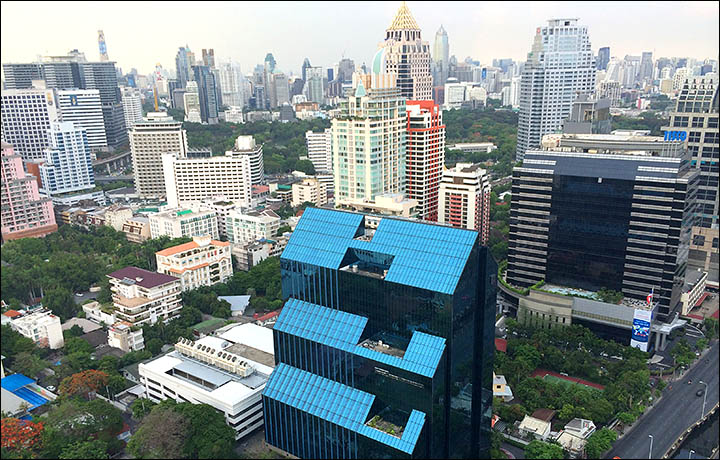 'Russians travel to Thailand so often because it is their favourite holiday destination'. Picture: The Siberian Times
---
Detailed consultations were held on improving cooperation in energy, tourism, science and technology, cultural exchanges, educational collaboration, aviation, nuclear engineering, extradition, astronomy research - and scholarships for Thai students to study in Russia.
Medvedev also urged Thai businesses to examine the new incentives to operate in the Far East of Russia.
'We are developing our Far Eastern regions with their vast territories and scarce population,' he said. 'We have come up with a legal construct which we refer to as priority development area. In fact, these are preferential zones with special taxation arrangements, simplified customs regulations and expedited land transfer procedures.
'Our Thai partners might be interested in this, and they are welcome to participate.'
'We exchanged opinions on how to boost trade to $10 billion next year,' said Gen Prayuth on his April talks with the former Russian president.
The two leaders signed memorandums on energy, investment, suppressing drug crime, tourism and culture.
'Trade barriers or obstacles that might slow economic growth between us will be removed,' said Medvedev.