Map of Gazprom's resource base in Eastern Russia, with Chayanda filed (4) Khabarovsk and Vladivostok marked. Picture: Gazprom
President Vladimir Putin ordered the move to exploit the giant Chaynda deposit 'within the tightest possible timescale', said his press secretary Dmitry Peskov.
The vast investment is seen as evidence of the Russian government's commitment to develop the economy of Eastern Siberian, flagged at the recent APEC summit in Vladivostok.
A second Pacific-bound pipeline is also planned from another vast Siberian gas field - Kovykta, in Irkutsk region - to the Pacific coast, say Gazprom.
The pipe from the Sakha republic will run on a 3,200 kilometre pipeline from Chaynda - estimated to contain 1.2 trillion cubic metres gas - through the Sakha republic to Khabarovsk and on to Vladivostok, where a liquefied natural gas plant will be built for exports to Pacific nations.
It will cost $24.4 billion with an investment of some $13.7 billion for developing the gas field.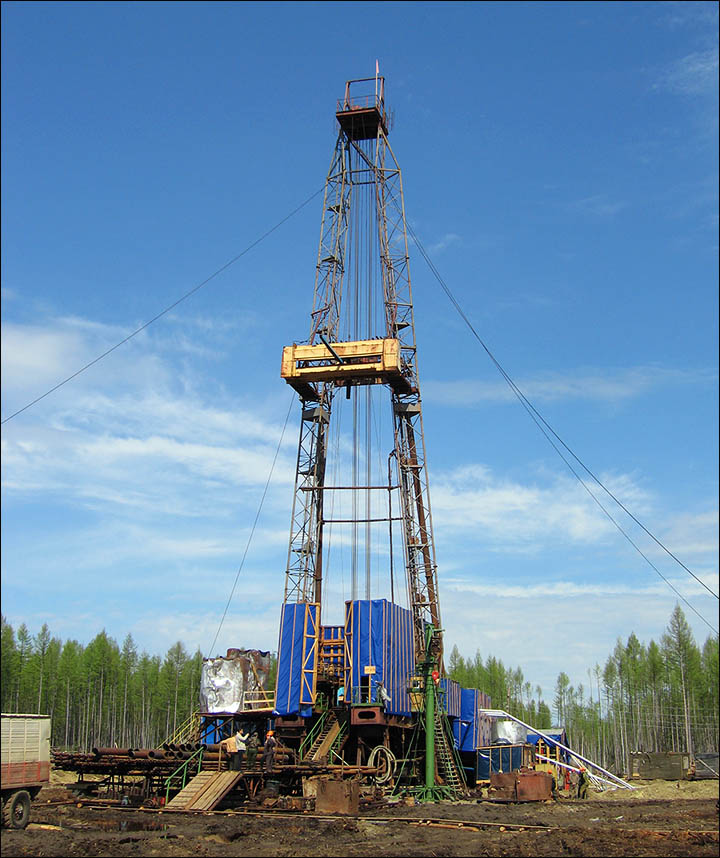 Drilling at Chayanda field. Picture: Gazprom
The move symbolises Gazprom's aim to reduce its reliance on exports to Europe.
'In the near future, we will be able to build new gas export capacities which would be comparable to or, perhaps, even exceeding gas supplies to Europe,' said the CEO of the state-controlled giant, Alexei Miller.
The Kovykta field is estimated to hold 2.5 trillion cubic meters of gas, said Miller.
Putin stressed the aim from the new developments to supply Asia once domestic needs were met.
'We have now reached another stage of the eastern gas programme, the start of work to provide infrastructure for deposits in Yakutia and Irkutsk Region, these are Chayanda and Kovykta,' he was quoted as saying by Interfax.
'I would also like to recall that we have agreed that gas from these deposits will first of all be used for internal needs, for internal consumption, but, bearing in mind the huge reserves - and here, in general, there are over three trillion cubic metres of gas - it is also possible to create separately an export centre, and such that is aimed at the Asia-Pacific region.'
The developments will also mean an integrated gas supply for Russia, for the first time, said Miller.
'The possibility of further gas supply from the Irkutsk gas extraction centre to the west, in the direction of Krasnoyarsk, Novosibirsk, Omsk is envisaged. Therefore, we are planning to link Eastern Siberia with Western Siberia.'
Most Russian gas exports currently go to European Union countries.
The availability of liquefied natural gas from North Africa and the production of shale gas in the United States has driven down world prices, while some Eu countries are seeking to tap their own shale gas, reported Associated Press.
Gazprom also faces an EU probe to determine whether it violated competition rules by linking gas and oil prices.