'I love telling people how great life is in Siberia'. Picture: Fraules
Right now, they're one of Siberia's greatest exports to the world, and you can see why.
Yelena Yatkina, 23, founder of Fraules Dancing Centre, Novosibirsk, has achieved amazing international acclaim, highlighted by the recent visit from American dancer Danielle Polanco, choreographer for Beyonce, Janet Jackson and Jennifer Lopez.
'It is extremely cool here, you've done really well,' she said. 'It is much better here than in Moscow. And also the people, they are warmer and friendlier.'
The international focus on Yelena's school came after a video made by Zhenya Remizovskiy, which has now amassed more than twenty nine million hits on YouTube. You can watch Yelena and her students in this 'nothing butt the best' performance here.
'I think we were incredibly lucky to find Zhenya,' she said. 'That video got so successful first because Major Lazer reposted it - that immediately brought more people to us, and then the tune went on radio and TV and became really popular among dance hall dancers'.
Major Lazer is an electronic music project created by American DJ and record producer Diplo.
'Then the media noticed us - so now every week it adds a million more hits, I am not even always sure how it happens,' Yelena said. 'We filmed it not only to promote our school, but to show how great it is here in Siberia. It is fantastic to see that it worked, and naturally it helps our dancing centre's popularity'.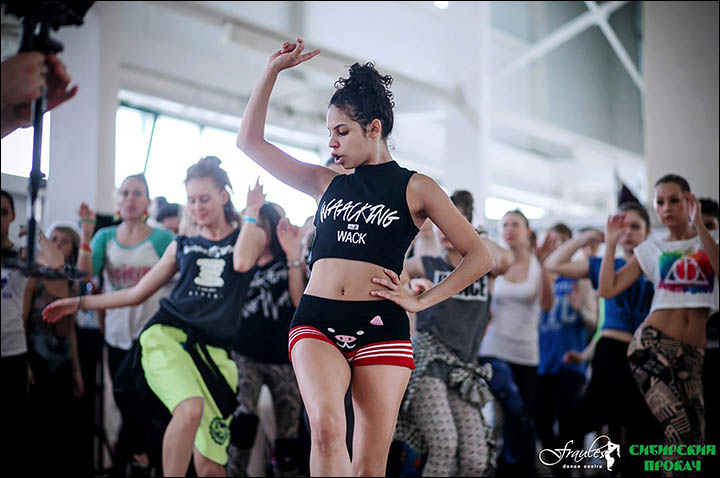 ---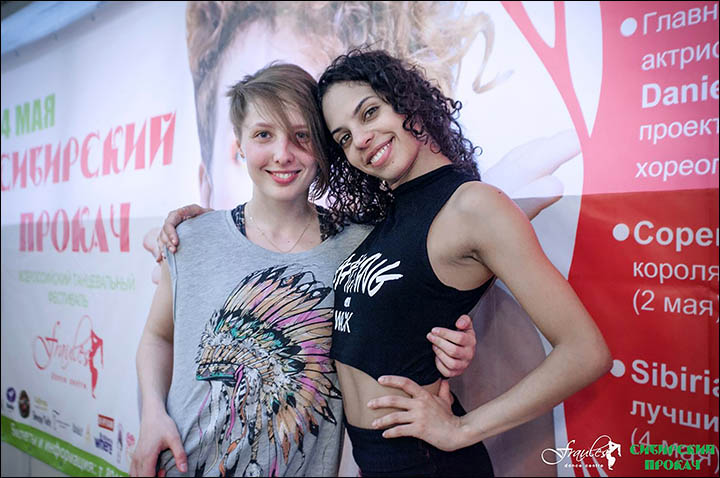 'I love people here, they are so warm and friendly'. Pictures: Yelena Yatkina
Apart from the sheer skill of the dance routine, Fraules is a great Siberian business success story in Novosibirsk, our biggest city, and the third largest in Russia.
'I am aged 23 and was born here,' said Yelena. 'I have lived here all my life. Two years ago I got my diploma from the faculty of business at Novosibirsk State Technical University.
'I began dancing when I was ten years old. For about seven years I was going to 'Todes' dancing studio, and then began adding various master classes to improve my skills, including the foreign master classes. Then I began teaching myself and in 2010 I opened my own school.
There was a pull to Moscow - 'but I stayed in Siberia' - and she is happy she did.
'Right now, I can see it was a wise decision, but it was more my family who said I had to go for my higher education.
'I am very grateful to my teacher Yulia Masayeva - she got me into hip-hop, house, dance hall, popping and locking styles. In the end we chose dance hall, and later I got to vogue style. She got me to go to Moscow for master classes, then I went for four trips to Paris to visit various dancing classes.
'Then Yulia moved to Moscow in 2009, and said that I could take over her students and teach - this is how I got to a new stage of my dance life.
'The school was founded in 2010. First it was called Indigo Dance Centre and then I renamed it Fraules.'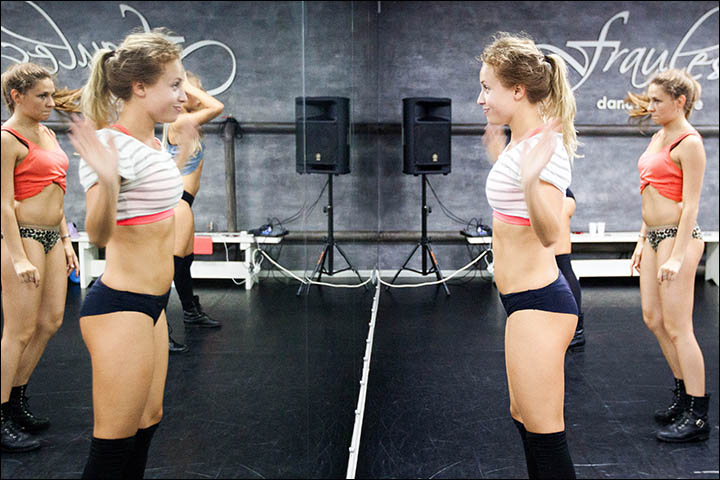 ---
---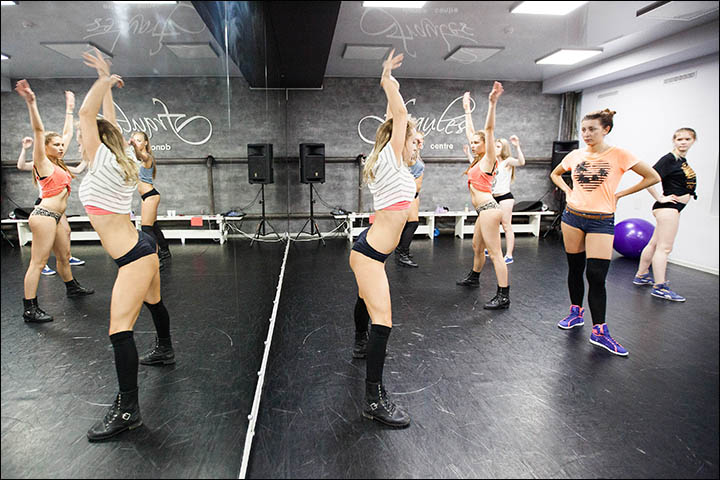 ---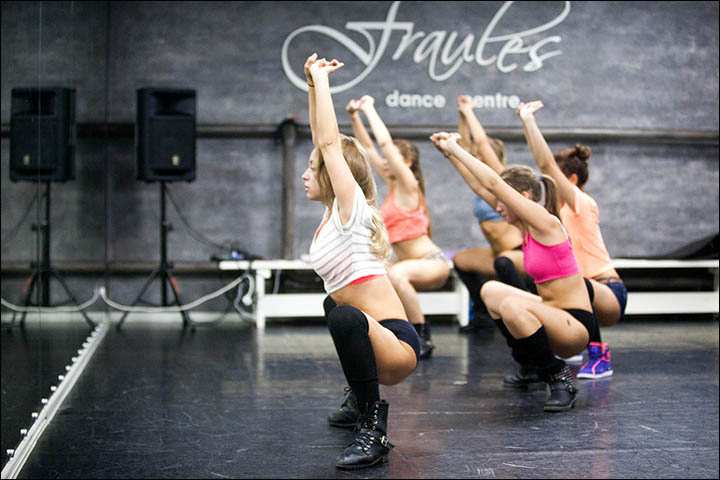 ---
---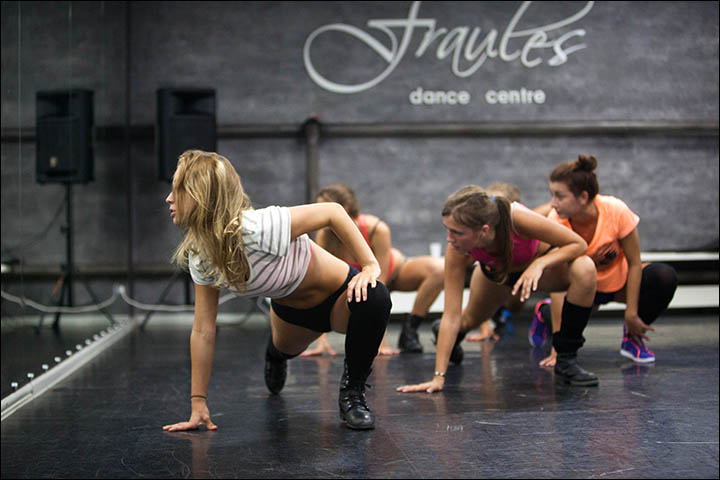 ---
'For some it is the best - but not the easiest! - way to keep in shape'. Pictures: Vera Salnitskaya
Why Fraules? 'It means 'Strawberry' in Greek. It is also my nickname with a personal story behind it, which means a lot to me and which I don't want to make public. I renamed the school because I wanted it to have like a part of myself in the name.
'This is my life now - my school is my work, my business, the main thing I do.
'Our main classes are in the evening since our students either study or work, but there is a lot to do before that, and I constantly think about my school with a view to improving it. I want it to be bigger than just a dance class, though of course there are people that just want to come, have a dance class and leave.
'But many other students want to learn dancing with a view to take part in competitions - and win. This is what we help them do.
'It helped me to get business education, I went there with a thought of opening my own business one day. I am so happy it turned out that way.
'Of course, some days you get so overfilled with it that you want to shut the door to it all and forget about dancing. But I know this feeling and I know that a day or two off work spent somewhere outside the city change this mood and bring energy back.
'We organise most our of city's dance battles and competitions. The most recent and biggest of them was in May where we had eight choreographers, including our star guest Danielle Polanco'.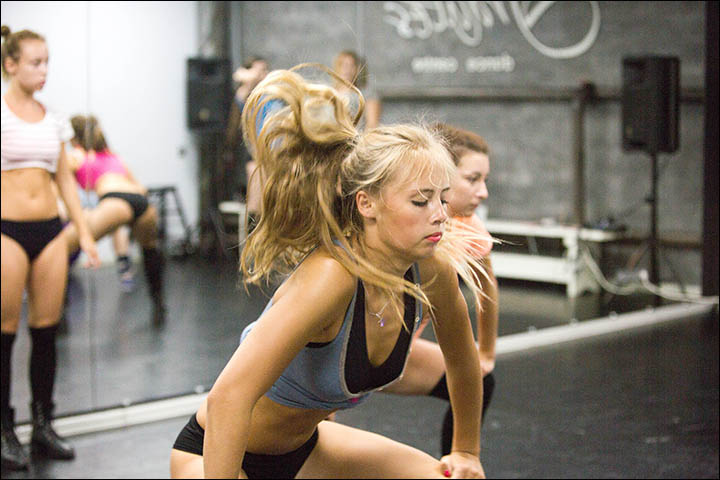 ---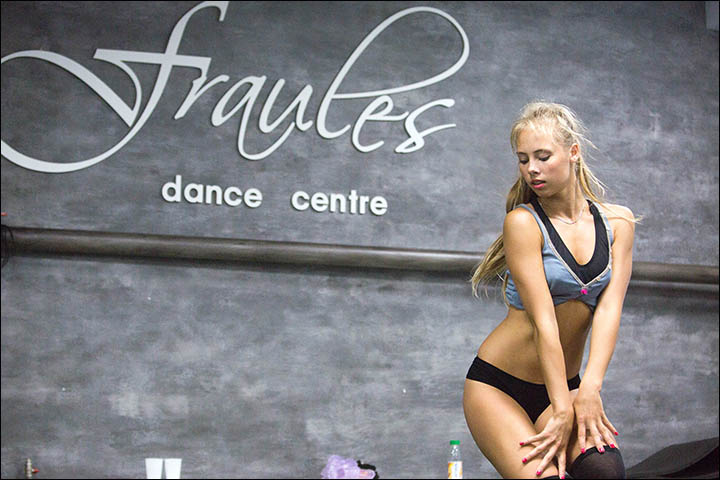 ---
---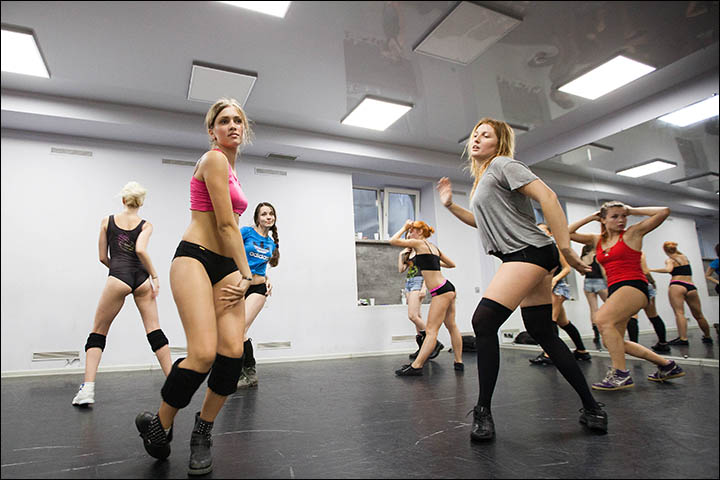 ---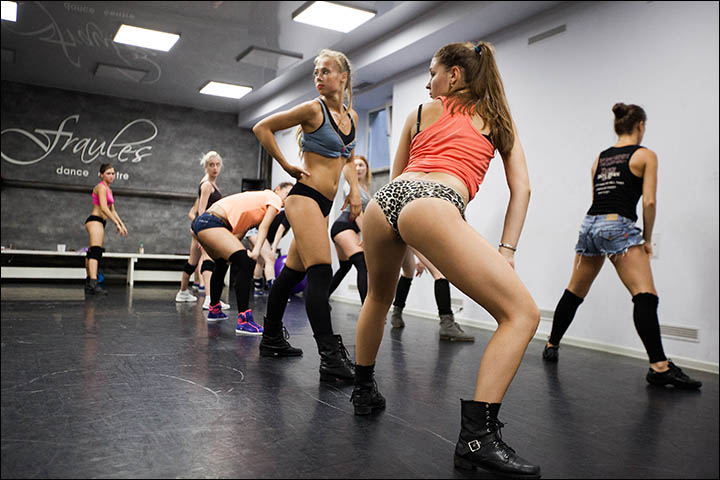 ---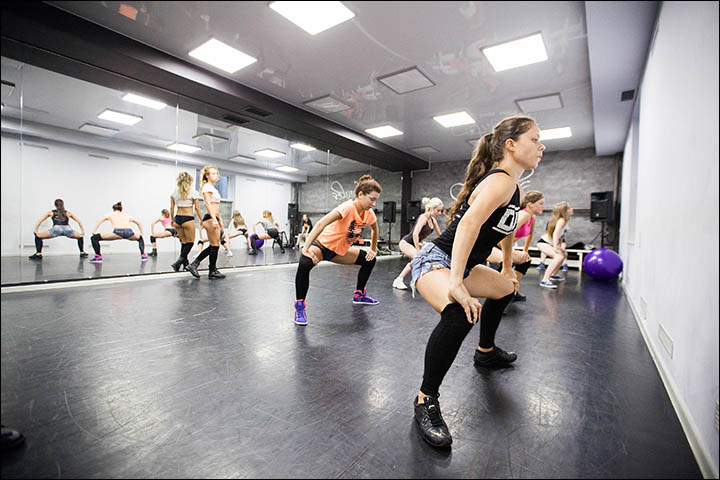 ---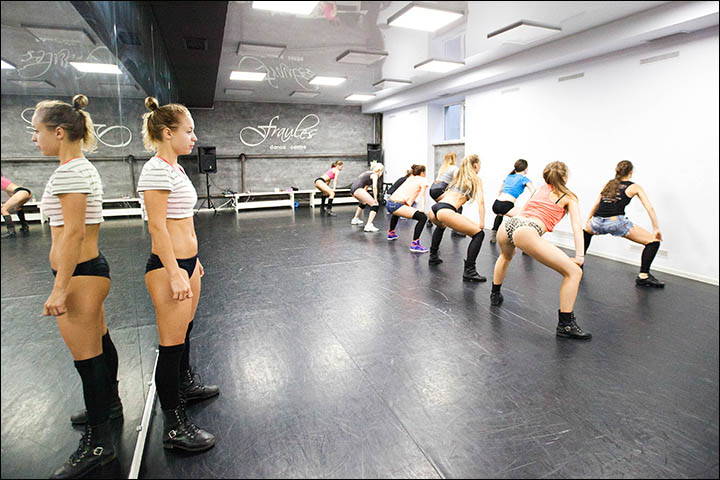 'Girls and women of different ages come to study it - well, except that I try to limit the youngest'. Pictures: Vera Salnitskaya
As well as being Beyonce's choreographer, Danielle was the leading lady in Omarion's music video Touch.
She also starred in the 2008 movie Step Up 2: The Streets, in which she portrayed Missy Serrano, and appeared in the Broadway revival of West Side Story as one of the Shark girls, Consuela.
Yelena said: 'The main goal for dancers is to take part in as many competitions outside Novosibirsk and Russia - and win! - as possible'.
Being a long way from many dance capitals this is easier said than done.
'Of course, it is not easy to travel as much as they wish as tickets can be expensive, and naturally it takes a lot of dedication to keep on training, sometimes months and months of endless rehearsals. My students went to Moscow with me, soon we were going to the dancing camp. I've been to Europe and twice won competitions in Sweden and Germany.
'There is always a surprised reaction when people abroad hear that you came from Siberia. 'It is so cold there, how on earth can you do training?' they ask.
'I think that partially our videos help to break this 'cold' stereotype about Siberia. And I love telling people how great life is in Siberia. I love saying I am from Novosibirsk, not from Moscow'.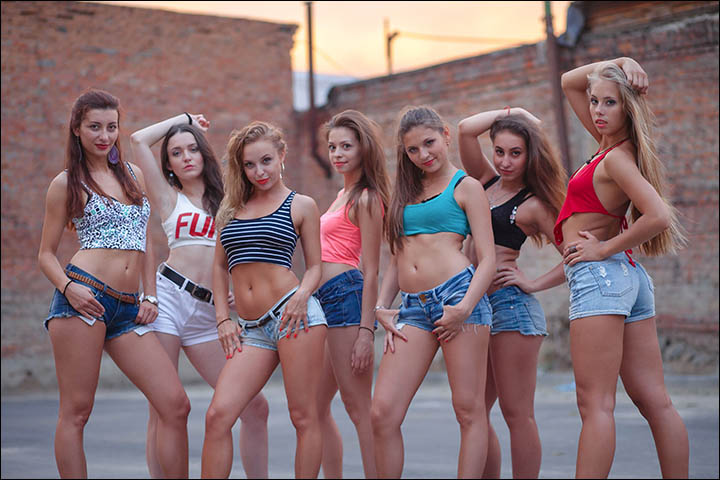 'There is always a surprised reaction when people abroad hear that you came from Siberia'. Pictures: Yelena Yatkina
You can see why her troupe's hot dancing defy anyone's notion that Siberia is cold and forbidding.
'Why do I think there is such interest to booty dance? The right name for it is twerk, which is a separate style when you shake your derriere. Booty dance is more like its marketing, commercial name.
'Girls and women of different ages come to study it - well, except that I try to limit the youngest and stop them from doing it. I think it is not correct from the moral point of view to teach 13, 14, 15 year old girls, because the movements carry a quite clear connotation.
'They beg me to take them, and even their parents call me and plead to teach their children, saying that they give their permission. It is certainly an energetic and beautiful dance routine, by my position is that you should start it from an older age - at least from 16'.
'People are taken by the energy, rhythm, and beauty of the movements. For some it is the best possible way to keep in shape, because it is not easy to train your body even for an hour. If you enter our classes in winter you'll feel it's like being in sauna with all the mirror steamed up and all of us covered in sweat'.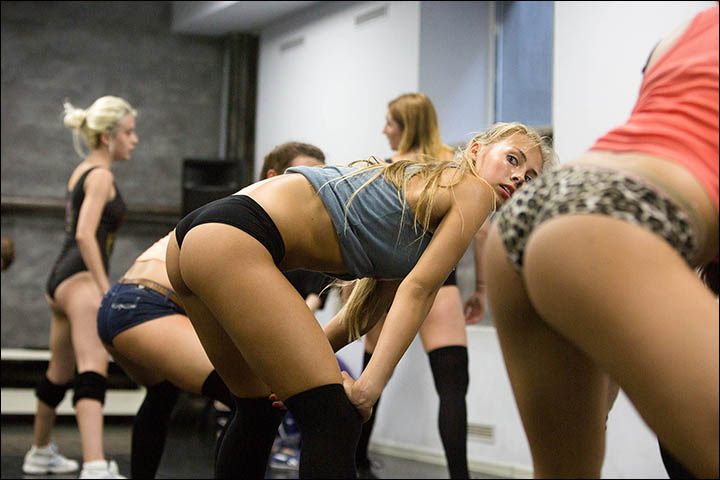 ---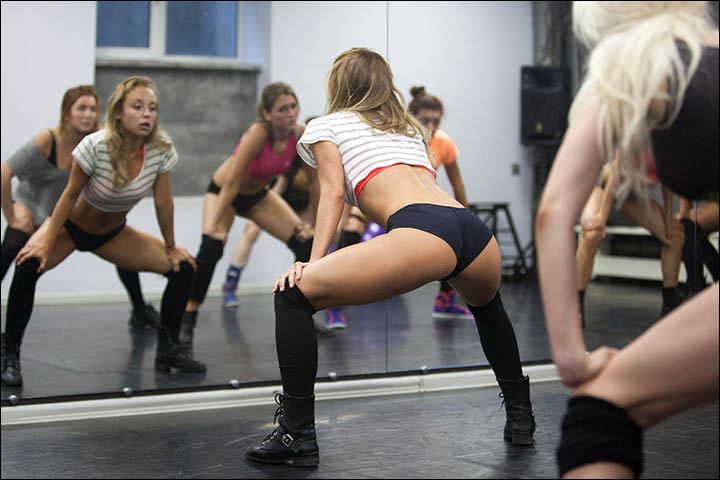 ---
---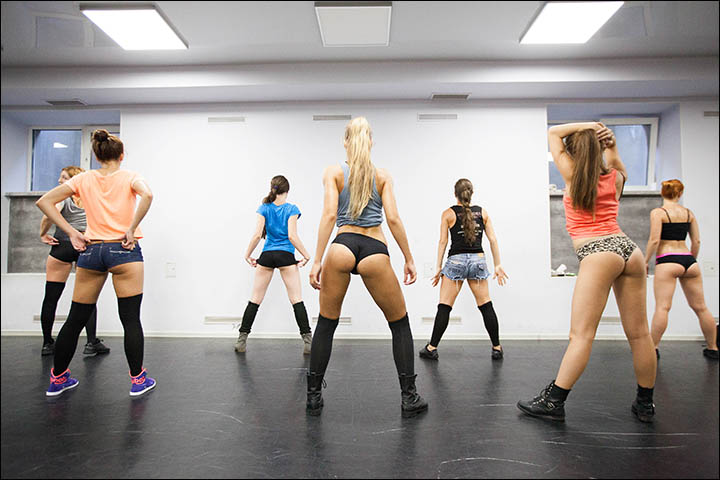 ---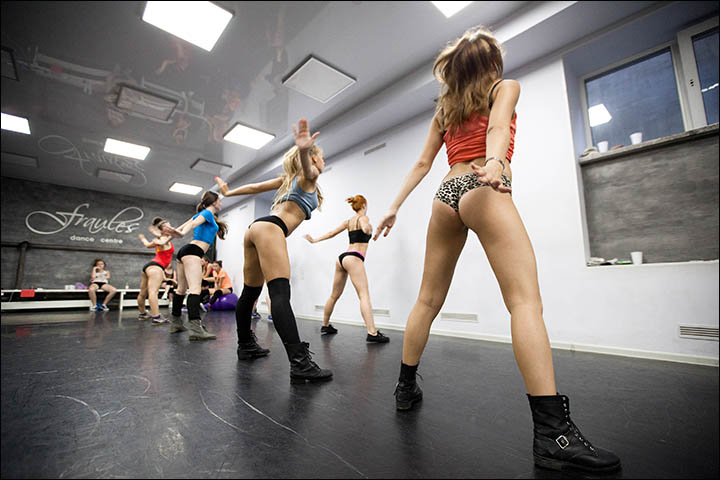 'Coming back to the 'twerk', it is more a dance for black people - they are much better built for it'. Pictures: Vera Salnitskaya
Some women take to it almost instantly, for others it takes time.
'As ever it only depends on you. Some can take a week of classes and wake up a mega-dancer - some can spend years and still not discover that kind of spark that every good dancer needs. From what I can see anyone who works hard will get there in the end.
'One of my students spent her first year of classes messing up with the tune - she simply didn't hear it, nor feel it.
'I thought she would never get it - but then a year later something clicked, she got it and began dancing so beautifully, something I didn't think was possible.
'Coming back to the 'twerk', of course it is more a dance for black people. They are simply better built for it.
'But on the other hand if we try hard, we have all chances to catch up and even do better. It is a matter of hard work and persistence.
'I think the fact that we are underwater with messages from all over the world proves that we are doing not worse than, say, in the States.
'They take a lot of things easier than we do - like OK I've got talent, I'll dance. We try to understand the mechanism of talent, we want to know the theory. For example, a part of my classes is like a mini lecture on physiology and the anatomy of dance.
'Russia is a bit different from Europe in that we have a lot of dancing schools, but a classical dancing education does not include modern dancing schools outside Russia. This is why we have to work harder.
'Perhaps you can compare us to America with their Broadway Dance Centre where a person can come and 'dive' into one particular dance style.
'They've inspired me to create something similar so that people from different cities can come and spend three months studying and working on one dance style. We are moving towards it gradually.
'We began doing videos from the very start of training.
'It is very helpful when you can upload even some bits, elements of the dance online. At some point naturally we wanted to make our videos more professional, so we worked on doing choreography specially for videos.
'The most complicated moment was editing, but then we were lucky to find a person who felt it exactly the right way, on how it should be edited. We have to be involved in the editing to make sure that all dance elements we wanted to show were caught at the right angle and length'.