Feodor Chaliapin as Mephisto, painting year 1915
While coming to Vladivostok later this month, he hopes later to see the home of his grandfather - now a museum in Moscow - and visit the graves of Chaliapin and his mother.
Chaliapin - the spelling of his surname Shalyapin that he adopted in exile - had one of the most expressive bass voices of any performer and established an international career before the Russian Revolution in 1917.
Born into a peasant family in Kazan in 1873, he was also known for 'the magnetic power of his personality, the acuteness of his musical interpretations, and the vividness of his performances'.
Spot the difference: Feodor Chaliapin, year 1914. Right - Feodor's gransdon Ted Kohner, now 71, pictured in 2012. Picture: islandpacket.com
Chaliapin appeared regularly at the Bolshoi Theatre in Moscow from 1899 until 1914, while also appearing regularly in the West.
Toscanini said Chaliapin was the greatest operatic talent he ever worked with.
He is also credited with making The Song of the Volga Boatmen famous around the world.
Close to Maxim Gorky, he was at first embraced by the new Soviet government but soon decided to live abroad, basing himself in Paris. His final performance was in Monte Carlo in 1937.
He died the following year in Paris, but in 1984 his remains were transferred from Paris to Moscow and he was reburied in the Novodevichy Cemetery.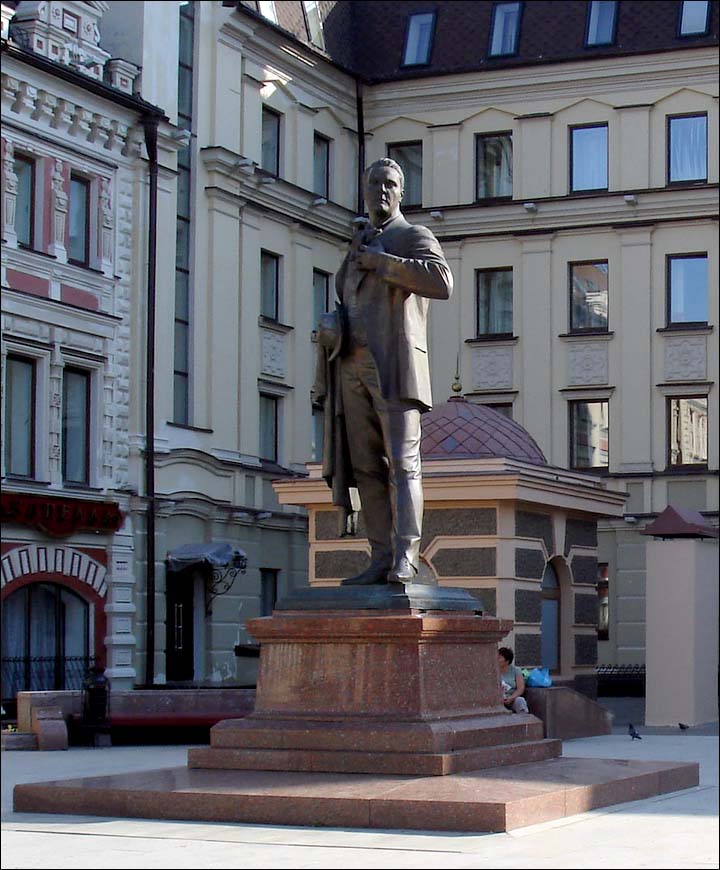 Memorial to Feodor Chaliapin in Kazan, Republic of Tatarstan, Russia. Picture: G. Lipunov
Chaliapin's daughter Tatiana - who worked as a Voice of America broadcaster known for her anti-Communist stance - died on a trip to Russia, and is buried alongside him.
Tatiana had been apprehensive when first invited back to the USSR to mark the centenary of her father's birth, said Kohler.
'But she was welcomed as the daughter of their famous singer,' he told The Island Packet newspaper in his hometown of Port Royal, in South Carolina.
One of Kohler's first memories is huddling close to his mother as bombs fell on Berlin in the latter days of World War II. Earlier, aged two, the Nazis had shot his father.
'I can still remember the air raids,' he said.
Though finally escaping to the US, his mother taught him to speak Russian and love Russian food such as borscht, pirozhki and bliny.
'All of my family spoke Russian,' he said.
'I am excited about going over there and interacting with the Russian people, and getting to see a place that I've heard a lot about.'
He is travelling to Vladivostok - his first visit to Russia - on a 'mission' with his local Catholic church, St Peter's. The aim of the trip is help improve orphanages in Siberia, reported the US newspaper.
He thinks his relatives would have been proud that he was making a visit to their country their motherland.
'She would be pleased to know I was going to Russia to help the orphans and to have the opportunity to go to the country of her birth,' said Kohler, who worked for 30 years as a restorative contractor.
He would especially like to see his grandfather's house. 'The museum would hold many things that I'm familiar with,' he said.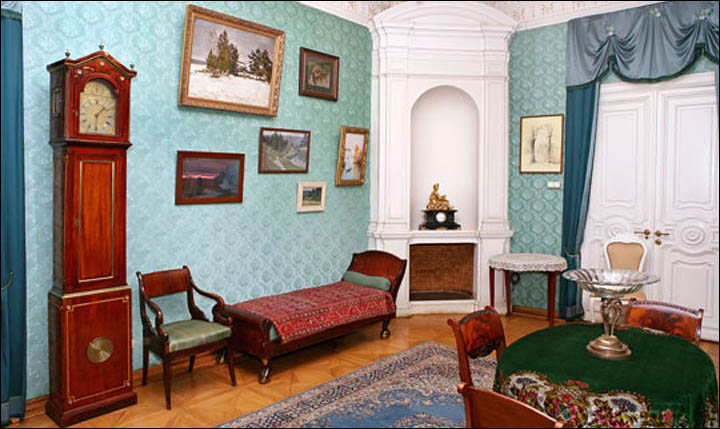 Inside Feodor Chaliapin's mansion in Moscow, Russia
Two uncles also made their mark in the US after emigrating.
Feodor Chaliapin, Jr, who died in 1992, was an actor appearing in Moonstruck and in The Name of the Rose opposite Sean Connery.
Artist Boris Chaliapin painted portraits for 414 Time magazine covers between 1942 and 1970.