Prince and Princess Michael of Kent. Picture: The Siberian Times
'This is something interesting which is new and hot', he said in an interview with the Sunday Express newspaper in London.
'I am full of praise for the Russians for creating this park because it is going to protect some of the most endangered big cats on the planet. The thing is, tigers are territorial and so they require a great deal of space. This park greatly increases the land available to them.'
Prince Michael, a relative of the Romanov dynasty which ruled Russia before 1917, sees the new far-eastern national park - running along the border with China - as critical for saving the Amur tiger, the planet's largest cat, and the even more endangered Siberian leopard 'of which there are only a handful left'.
A long-time campaigner for the rare tiger, as well as a regular visitor to Russia, he recently addressed a function in the UK parliament on behalf of the wildlife artist David Shepherd's Wildlife Foundation and its fund-raising Tiger Time campaign.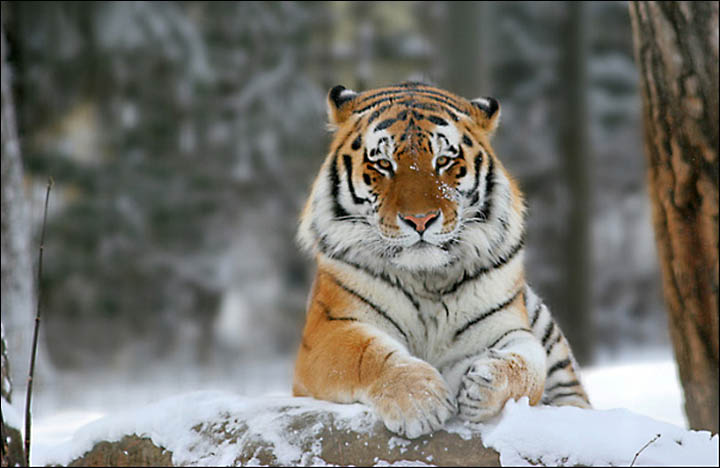 Amur Tiger, picture: Sergei Belski
Accompanied by his wife Princess Michael of Kent, told this gathering: 'We all know that Chinese medicine uses parts of tigers. If we are going to cure this as a worldwide issue there is no sense bludgeoning people to do better and wildly saying the killing has to stop.
'I think the initiatives have to come from within the country. Little by little we can massage their thinking. It takes time but it allows them to come up with ideas of their own.'
He warned: 'As long as there is a demand for ivory or tiger parts, there will be poaching.'
During one visit to Siberia, the prince - noted for his likeness to last Tsar Nikolai II - encountered these threatened tigers.
'I have been lucky to see Amur tigers', he told the British newspaper.
'I was on a motorcycle expedition through Russia in 2005 and it led straight through a conservation area where they have these wonderful creatures."
He stressed: 'There were these Russian wildlife experts who were caring for tigers which had been either wounded by poachers or orphaned and it was here that I met two of these tigers. They were enormous.
'We were being led around by the head man and one tiger had been reared by him and obviously recognised him. Although the tiger was lying there, his eyes followed this man, not in a hostile way but in a friendly way.
'It was very interesting to see the relationship between man and beast.
'I think they are extraordinarily evocative animals and one of the attractions about them is their rarity. In spite of so much work being done to protect them, their numbers are very much in decline.'

Princess Michael of Kent, Prince Michael of Kent. Picture: The Siberian Times
---
Prince Michael remains optimistic for the tiger's future, despite the threats it faces.
'The quality of the Russian anti-poaching teams is very high. Many of them have backgrounds in the armed forces and they are not going to behave in a silly way or do anything irresponsible but there is a limit to what you can do if you find someone.
'What are you going to do? Shout at him to run away? It is a tough one but sometimes you have to take tough measures."
The prince is not alone in praising the Russian authorities for establishing the new national park, which came into operation in April 2012 after an order was signed by Vladimir Putin, then prime minister, now president, the country's most prominent champion of the endangered wild cats.
'This is the first Russia's national park created expressly to protect wildlife,' Sergei Ivanov, chairman of the supervisory council of the Eurasian Center for Leopard Population Research, Preservation and Recovery, said at the time.
'The new park is great news,' Dale Miquelle, Russia Programme Director of the New York-based Wildlife Conservation Society, told the Ecology, Environment & Conservation Journal.
'We commend the Russian government for their foresight in creating this new protected area, and we are optimistic that it will provide a critical refuge for some of the most endangered big cats on the planet."
Three existing protective zones - Kedrovya Pad Reserve, Barsovy Federal Wildlife Refuge, and Borisovkoe Plateau Regional Wildlife Refuge - were merged, additional territory was added to afford greater sanctity to the leopards and tigers.
'The creation of this park greatly increases the amount of land protecting critical populations of two of the world's big cats, and it will go a long way to securing their future,' said Peter Zahler, the WCS Deputy Director for Asia.
'We look forward to continuing to provide whatever support is requested to help conserve tigers and leopards in the region.'
In fact, recent research in China also points to signs of hope.
There are now double the number of leopards and tigers in wild habitats as compared with a survey 14 years ago, according to a study in Jillin province.
Latest research by the Jilin forestry authorities, the World Wide Fund For Nature and the Wildlife Conservation Society suggests the number of tigers has reached ten, and leopards 11, say some reports.
A 16-year-old ban on poaching and the establishment of a 100,000-hectare nature reserve in 2001, said Qiao Heng, deputy director of Jilin provincial bureau of forestry, cited by Xinhua News Agency.
Since 1996, local authorities have seized 75,000 hunting traps and 18,000 hunting guns, it is reported.
'Over the 16 years, poaching has been effectively curbed. This resulted in big increases in various kinds of wild animals and so big cats received proper protection', said Qiao.
Siberian tigers and Amur leopards mainly live in Eastern Siberia, Northeast China and the northern part of the Korean Peninsula.
Esimates suggests a total of 500 Siberian tigers and 40 Amur leopards now living in the wild.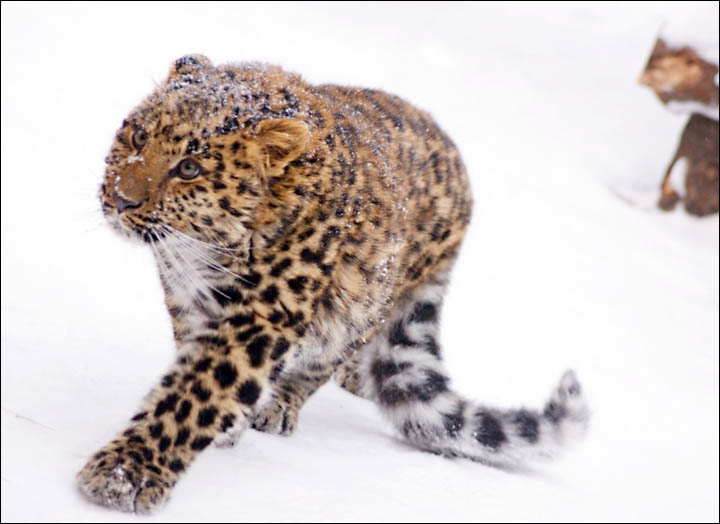 Amur leopard, picture: nnzoo.ru
It is claimed that conservation efforts now mean the leopard's habitat is three to four times larger than in the late 1990s.
'That's really a surprise, which indicates our efforts have paid off', Jiang Guangshun, a senior official with the WWF, told China Daily.
'The settlement of female leopards is the key indicator to evaluate how healthy the population is'.
In April, Ivanov also expressed optimism that the leopard - despite its tiny numbers - would avoid extinction.
'Scientists do not think so and now we have everything to save it,' he said.