Pallid harrier, pictured by John A Thompson
Ornithologists in Ireland say birds of prey have taken a detour of up to 5,000 kilometres to avoid smoke which has devastated large tracts of remote territory in Russia.
'The pallid harrier has been seen four times in Clare, Galway and Cork this year instead of in Asiatic Russia,' reported the Irish News, stating: 'Bird of prey chooses to breed in Ireland after Russia fires.'
'Birdwatch Ireland believes the species has been forced from its usual migratory pattern because of three successive summers of fires acros Russia.
'The most recent sighting was in Moyasta, Co Clare, earlier this month.'
John Murphy, chairman of the Clare Branch of Birdwatch Ireland, said: 'In recent years massive wildfires exacerbated by crippling drought have destroyed millions of hectares of steppe and forest-steppe, which are the primary breeding grounds for the bird.
'Last weekend, for example, Russian authorities reported that wildfires were affecting up to 12 million hectares of Siberian forestry.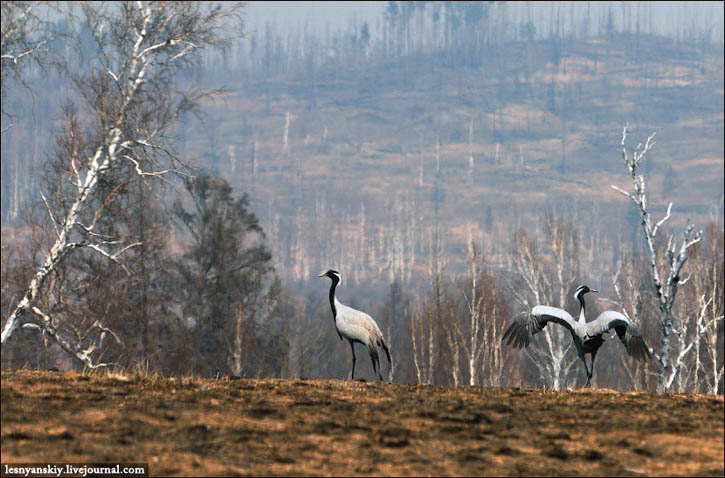 After the wildfire... cranes in Trans-Baikal region, Siberia, summer 2012. Picture: Alexander Lesnyanskiy
'This has led to the displacement of many native bird species and has resulted in the increase number of sightings of the pallid harrier across western Europe including Ireland.'
He stressed: 'During the past 12 to 18 months the pallid harrier has been found breeding in Finland, Portugal, Spain and France, which are located well beyond the species's primary breeding grounds.'
The Irish Daily Mail also covered the story. 'The woodland infernos, which continue to devastate central and eastern Russia, have forced native bird species to flock west.'
* The Siberian Times is keen to hear of other unusual sightings of native Siberian birds in different countries around the world. Please leave a comment here or email us on: news@siberiantimes.com