---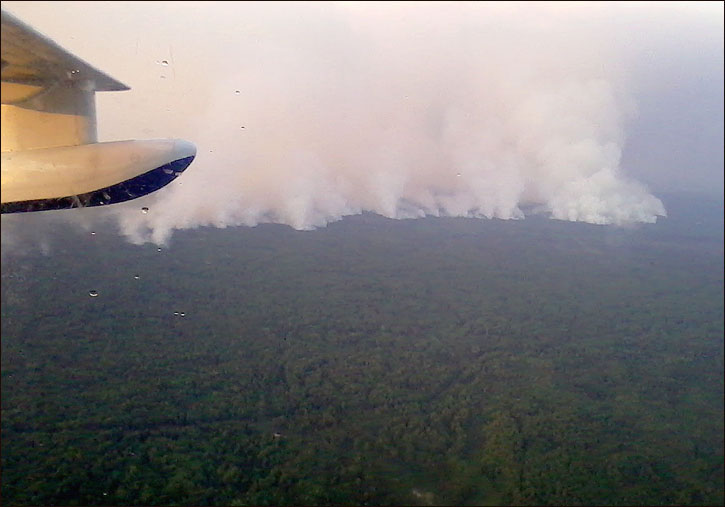 Good timing: a wall of fire is seen next to the location with SOS sign, made in Cyrillic. Pictures:novo.tomsk.ru
A couple and their 20 year old son were saved when the pilot of a Mi-26 helicopter spotted their desperate plea for help in Tomsk region.
They had gone on a berry-picking expedition at the weekend, but got lost for four days as smoke from ravaging fires covered them.
Realising they were ringed by fire, they found an open space and cut the trees and spelled the word SOS in Russian letters.
'They had to eat berries and pinecones to survive', said an official.
Huge areas of Siberian forests are ablaze after a month of temperatures of 30C and higher though the authorities insist they are winning the battle.
Just as this unnamed family was spied from the sky, so the authorities are stepping up the use of orbiting satellites to monitor the rampaging fires.
'Specialists are identifying thermal abnormalities and verifying data from aircraft and ground-based facilities,' said a spokesman for the Emergency Situations Ministry.
'The total manpower engaged in the firefighting campaign exceeds 16,000 men, who have more than 4,000 units of technology at their disposal, including aircraft.'
Latest statistics showed forest fires expanded from 17,793 to 23,101 hectares in the Siberian Federal District.
This included 132 blazes in the Krasnoyarsk, Tomsk and Tuva regions.
Smoke from the Russian fires has even spread across the Pacific to the US and Canada causing vivid sunsets on the west coast.