Wildfires in Trans Baikal region, picture: Alexander Lesnyanskiy
Across the Siberian federal district, the weekend saw a reduction of 1,500 hectares in burning forests. In the Far East, 13 fires had been extinguished in 24 hours, forestry officials said on July 16.
But this still left 19 still raging and a further nine localised.
In the Far East 41 blazes covering 650 hectares were registered within the previous 24 hours, officials said on Monday, July 16 2012.
As we previously reported, the airport in Yakutsk - which prides itself on staying open through the coldest winters - was closed for a period on Saturday due to thick smoke.
There were 15 fires in Khabarovsk region, 17 in Yakutia (Republic of Sakha), four in Amur region, and five in Chukotka.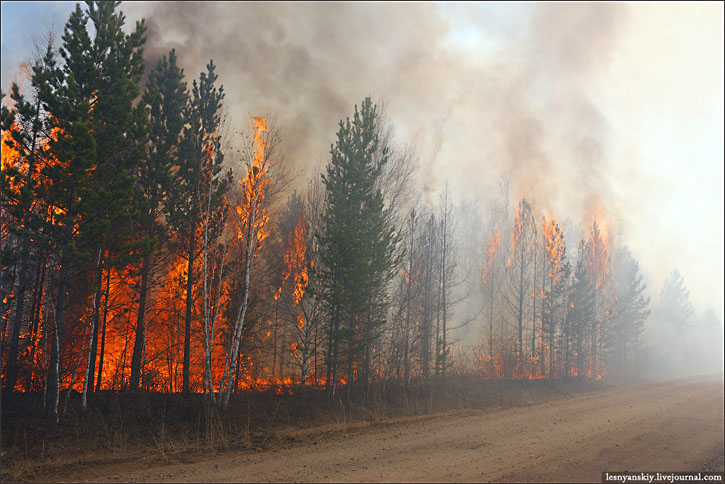 ---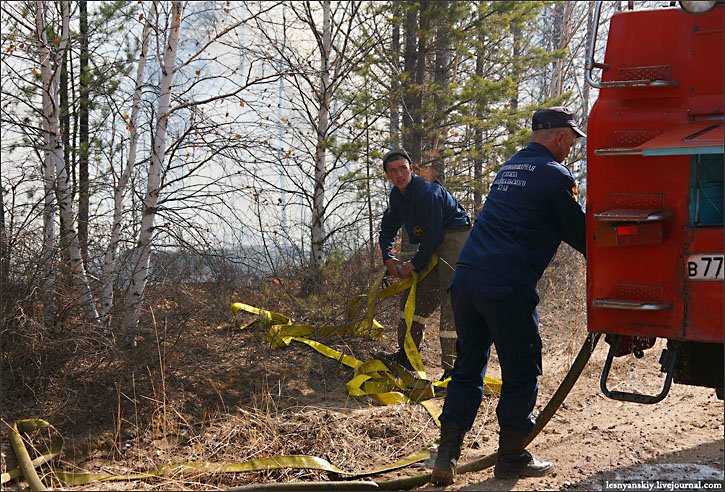 Wildfires in Siberia, pictures: Alexander Lesnyanskiy
Across the Far East federal district, some 893 firemen were deployed on Monday with 119 fire engines and 14 helicopters.
'There are 66 forest fires in the Siberian federal district, totaling 9,177 hectares, mainly in Krasnoyarsk and Tomsk regions and the Republic of Buryatia'.
Nowhere does the burning threaten towns of villages.
In Krasnoyarsk, 99% of the fires covering 2,739 hectares are in remote areas and the most frequent cause here - as in many districts - is put down to lightning.
However, the government has also expressed concern about human carelessness being a factor in starting fires around the country.
Some 1,226 firemen are deployed in Kransoyarsk region alone, with 66 fire engines, and 17 helicopters.
In Tomsk region there are 19 forest fires covering 6,436 hectares and a state of emergency situation remains in place.
Here some 427 firemen are at work, with 30 fire engines, and six helicopters.
In various regions, special controls remain in place to prevent new fires.
A state of emergency remains in Tuva Republic, while a ban on visiting forest areas is in place in Novosibirsk region and the Altai Republic, as well as in three districts of Buryatia,
12 districts of Irkutsk region and on all territory of Zabaikalski region, also in one district of Omsk region.
In the Far East, some 1,901 wildfires have burnt our almost 236,000 hectares of woodlands since the beginning of the season.
In western regions of the US and Canada, people have reported beautiful sunsets which experts say is caused by smoke carried from central and eastern Siberia by the jet stream.
Cliff Mass, a professor of atmospheric sciences at the University of Washington, told Associated Press that the smoke was not a health risk.
'It's fading now a little bit, but the fires are not over', he said.
'We always see some level of smoke and pollution', said Dan Jaffe, a professor of atmospheric and environmental chemistry at the same university.
The smoke drifting to North America is the worst since 2003, he said.
A worry now is that hot weather continues in southern regions of Western Siberia.
The average daily air temperature is between two and four degrees, and sometimes even six degrees higher than normal.
Until July 19, Omsk - currently the hottest Siberian city - will be between 30C and 35C degrees during the day.