Thousands work on stopping the wildfires across Siberia. Picture: Alexander Lesnyanskiy
'We'll see what to do later depending on the weather conditions,' said an airport spokesman.
In some parts of Siberia prayer vigils are being held to induce rain in regions where crops are also under serious threat.
Prime minister Dmitry Medvedev described the fire situation in Russia as 'very-very tense' .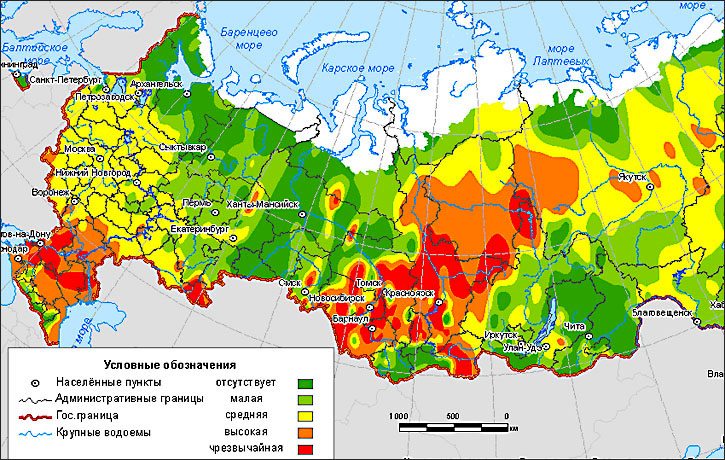 Russian Federal Forestry Agency map for July, 27 shows the highest possible alert for Western Siberia.
---
Daily flights from Moscow to Tomsk were held in the capital with a state of emergency declared in this Siberian region because of the fires.
Services to and from other destinations were also disrupted.
Some passengers were being bussed to other airports to catch their flights.
'All airport services are working in the emergency state mode, we are doing all we can to provide the passengers with maximum comfort', added a Tomsk airport spokeswoman.
More than 3,600 firefighters, including 360 volunteers, were fighting a rising number of blazes in Tomsk region.
'It is an unprecedented number of people, some from the Russian Forestry Department, people from the Road and Communal services,' said the deputy governor of Tomsk region, Andrei Trubitsyn. 'Local people, about 360, have also joined in.'
The impact of smoke from the forest fires has been felt, too, in two more large cities, Omsk and Novosibirsk.
The extraordinary weather conditions in areas of Western Siberia, with more than two weeks of heat sometimes exceeding 35C, have caused major problems for fire brigades.
The Russian Met Office does not forecast an improvement for the next three days for Tomsk and Krasnoyarsk region.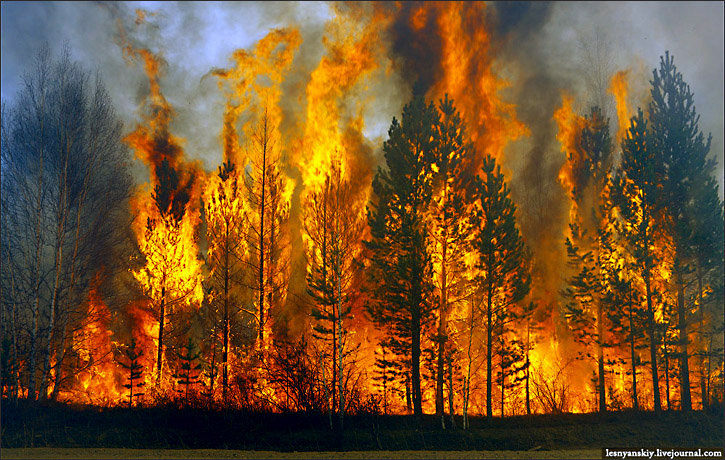 Wildfires in Trans-Bailkal region, picture: Alexander Lesnyanskiy
---
Medvedev said: 'This year, in several regions the wildfire season started earlier than usually. The area of wildfires is by 20 percent more against the previous year.'
'All necessary aid to the people should be provided according to the rules we have.'
Latest statistics from the Russian Federal Forestry Agency show 77 wildfires in Krasnoyarsk region, 33 in Tomsk region, 31 in Khanti-Manskiysk region .
In Altai region a state of emergency was introduced due to the prolonged drought, announced governor Alexander Karlin.
'Adverse weather conditions have formed for all crops. In June, during 28 days the air temperatures kept above 25 degrees Celsius. The whole July the daily temperature exceeded 30 degrees,' he said.
Some 576,000 hectares of crops are already destroyed with the value of losses put at 3 billion roubles.
Forecasts for Siberia say the dry and hot weather will continue for the rest of July and run into August.
The Orthodox Church held prayer vigils in a number of areas including Kemerovo region and Omsk in a bid to bring rain.
Elsewhere in Siberia, there was too much rain.
14 houses were flooded in Tokka, in the Sakha Republic (Yakutia) after the Chara River burst its banks.
The area has suffered recent heavy rain with the Chara rising by 9.4 metres by early Friday morning.
On Thursday the local emergency ministry in Omsk advised locals to stay indoors, keep windows shut, and when venturing out to breathe through a gauze mask.
Despite the putrid conditions, consumer watchdog, Rospotrebnadzor, said the situation was not critical in terms of health risks to residents.
'We are monitoring the situation,' said the organisation's chief, Gennady Onishchenko. 'We do not see any reason to take special measures, but personal protection is necessary.'
News agency RIA Novosti compared conditions 'to that in Moscow in the summer of 2010, when smoke from burning peat bogs covered the city and forced many people to wear protective masks outside'.
In Novosibirsk region, the fire on a 72-carriage freight train carrying 30mm armaments led to delays on the Trans-Siberian Railway.
Shells started exploding on Wednesday morning, destroying one carriage.
It was initially unclear what caused the problem, with Russian Railways disputing claims that faulty brakes were to blame. Six military helicopters were deployed to dump water on the blaze.
While the fire on the train was extinguished, there were explosions sending fragments several hundred metres, igniting blazes in the parched vegetation.
There were fears high winds could cause it to flare and spread further.
Also in Novosibirsk, the spreading smog caught sailors by surprise on the giant Ob Sea reservoir. ' My friends had to use GPS to return, so low was the visibility', said one source.
High - and some extreme - fire alerts were in place over Omsk, Tomsk, Novosibirsk, and Kemerovo regions, in the west of the Altai region, and in both Khakassiya and Tuva.
Entry to the woods and forests was prohibited in 33 subjects of the Russian Federation including the whole territory of Primorye, Trans Baikal, Tyumen, and Altai.
Similar curbs were in place in three districts of the Yamal Nenets region, two districts of Krasnoyarsk region, two districts of Chukotka region, six districts of Omsk region, one district of Amur Region, two districts of Magadan region, and nine districts of the Sakha Republic (Yakutia).
In the Rusisan Far East, it was reported that rains had helped to dampen the blazes.
Despite this, more than 5,000 hectares of woodland were destroyed in 24 hours.
Almost 2,000 woodland fires covering 427,000 hectares have been extinguished in the Far Eastern Federal District this summer.