Last year the Miss Italy contest outlawed revealing swim wear for more modest attire. The Miss World contest in Indonesia in September is replacing bikinis, historically an integral part of the contest, with Balinese-style sarongs for the 137 contestants in the September pageant.
'There will no bikini in this year's Miss World pageant to respect our traditional customs and values,' explained Adjie S. Soeratmadjie, a local organiser.
There is a serious element to the issue, of course, with the Miss World organisers understandably keen not to outrage local Muslim opinion in Jakarta.
'Indonesia is designing for us a very beautiful one-piece beachwear, and I'm very happy with them,, explained Julia Morley, head of the Miss World Organisation. 'We like to work in the manner respectful to every country, and I cannot see why when you go to somebody's country you should not behave respectfully.'
Still some people remain unhappy at the pageant.
'That contest is just an excuse to show women's body parts that should remain covered,' complained Mukri Aji, a prominent cleric from West Java.
'It's against Islamic teachings'.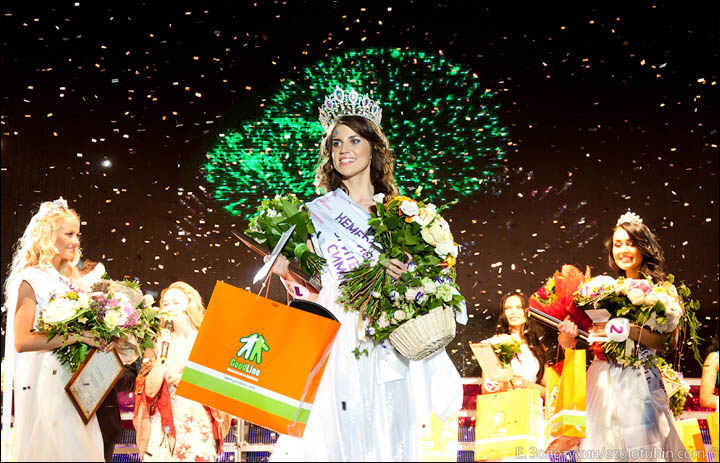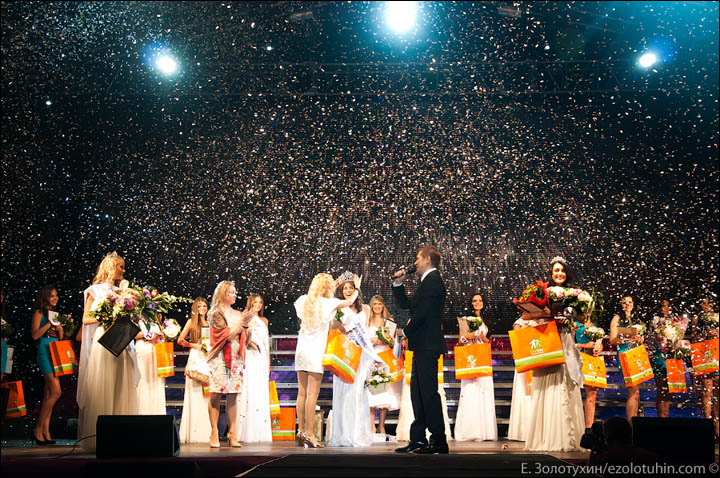 In Italy, however, there was a backlash at the cover-up.
'Can you imagine these little darlings dressed in clothes their grandmothers would have worn?' thundered Il Giornale, a newspaper owned by the family of former Italian prime minister Silvio Berlusconi.
'Surely the point of Miss Italy is that it is a beauty contest. The idea being to pick a beautiful Italian with the best legs, the sexiest curves and the perfect figure. If we are to cover the bottom, the object of male dreams, with centimetres of cloth what sense does the competition have?'
If your view veers in this direction, then please head for Kemerovo where our pictures show the bikini censors have not yet reached Siberia.
Here in southern Siberia, the contest has all the traditional elements of Russian beauty contests, including a parade in long dresses and contestants asked to prove they have brains as well as beauty, for example what you find in the middle of the Kemerovo coat of arms - a chemical retort - or for their knowledge of classical music.
But certainly the leopard print bikini parade was there too, though in fact some of the contestants opted for one piece swimsuits.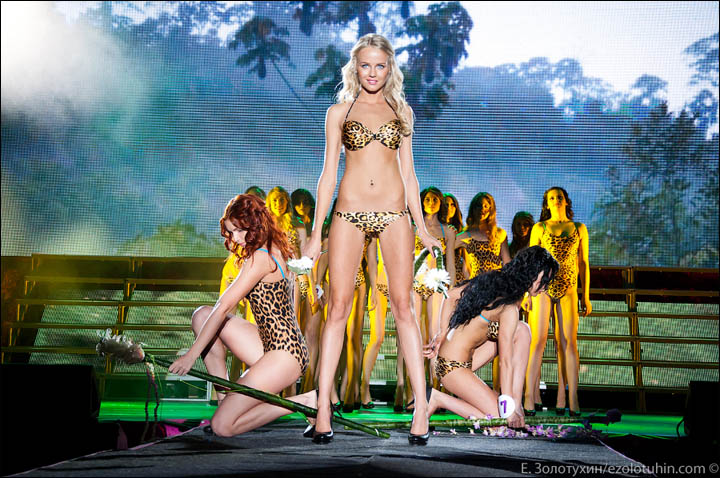 ---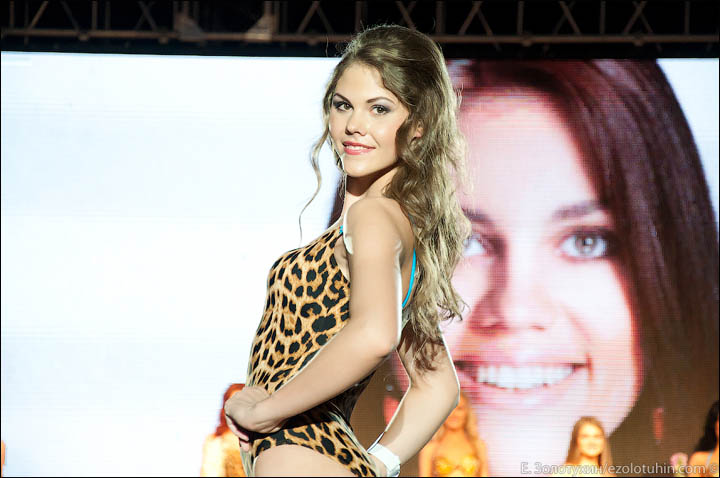 ---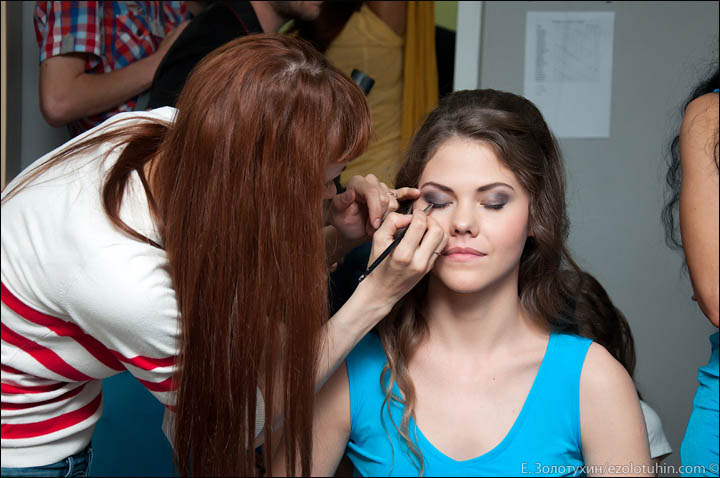 ---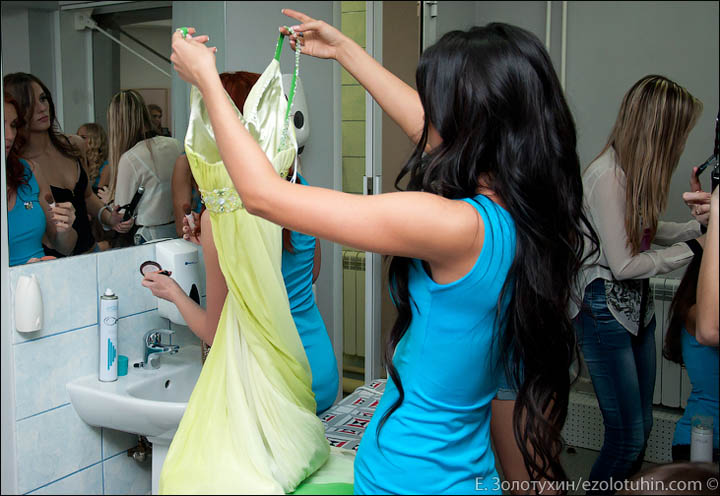 ---
In fact, this is the first time Kemerovo region - increasingly marketing itself as a tourist region with sensational ski-ing on its majestic mountains (and also, as legend has it, the best place for spotting the elusive Yeti in Russia) - has staged a full scale contest, which is now set to become an annual fixture.
The winner was 20 year old parachuting enthusiast Ekaterina Bondarenko, a student of Kemerovo State University and a model since age of 18. She scooped the main prize, a Daewoo Nexia, and now plans to start driving lessons.
'I didn't believe I would win until my name was announced,' she said. 'My parents and boyfriend, who watched me from the audience, called me right after I was crowned. I don't know what the word 'fear' means. I don't have any. I've jumped with a parachute five times already'.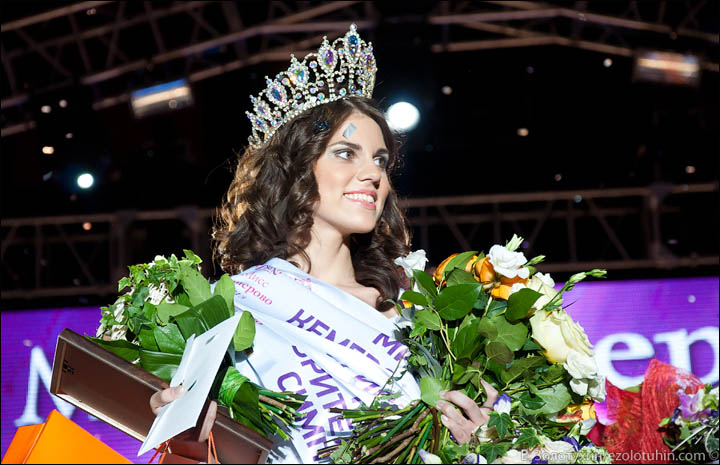 ---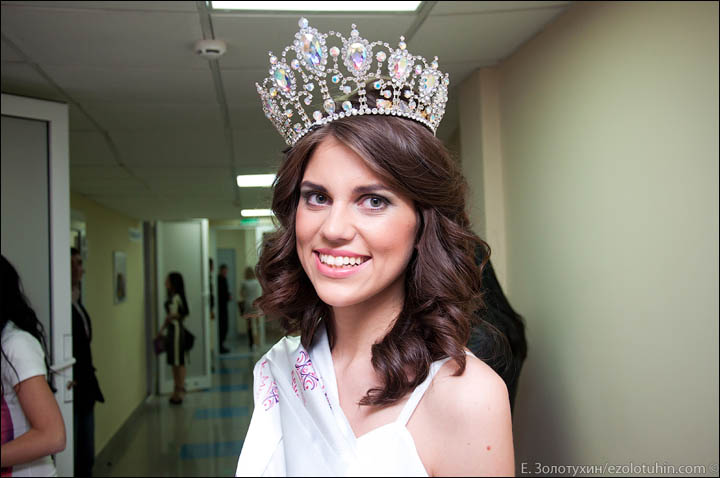 Kemerovo Beauty Contest 2013 director Kseniya Kostova said that she was very happy with the region's first fully-fledged beauty contest and is determined to make it an annual event.
'I used to take part in beauty contests myself but never won,' she said. 'Today my dream came true, and the winner of the contest won it fairly'.