'The lit torch is like a wife - you have to carry it gently and carefully'. Picture: Komsomolskaya Pravda Novosibirsk
Alexander Kaptarenko, 101, was born before the start of the First World War when Tsar Nicholas II still reigned over the Russian Imperial Empire, and the Bolshevik Revolution was still five years in the future. A famous table tennis enthusiast, he insists he remains in a good condition to carry to torch in his home city of Novosibirsk next month, with a little practice.
'Of course, I am very fit for my age but running for 200 metres will be hard. I have already studied my part of the route on Karl Marx Square,' he explained.
'Nobody gave me a torch to train with, they didn't even promise one, and you need train. But how do you train? he said.
He was given dumbbells but 'they're hard to hold' while a humpback salmon 'big and all, can be held by its tail, thank God'.
The lit torch 'is like a wife - you have to carry it gently and carefully. This fish has the shape of a torch but it is heavier that the torch. I take a fish by its tail, raise my arms and walk around my apartment with the fish in my hand,' he said.
He began his practice session around his home, then graduated to a heavier salmon more akin in weight and shape to the 2.9 kilogram torch, taking his training regime outdoors into sub-zero temperatures to be fully in trim for his big day on 6 December.
'This is a serious matter, a matter of state importance, so to speak,' he emphasised.
And while the torch relay is indeed a solemn matter, it is also proving to be fun as it unites Russians from all walks of life in sharing the preparations for Sochi. The torch has been to the International Space Station, and back, and recently took a plunge in Lake Baikal, the world's deepest and oldest freshwater lake containing around one-fifth of unfrozen water on the planet.
It is the longest Olympic torch relay in history.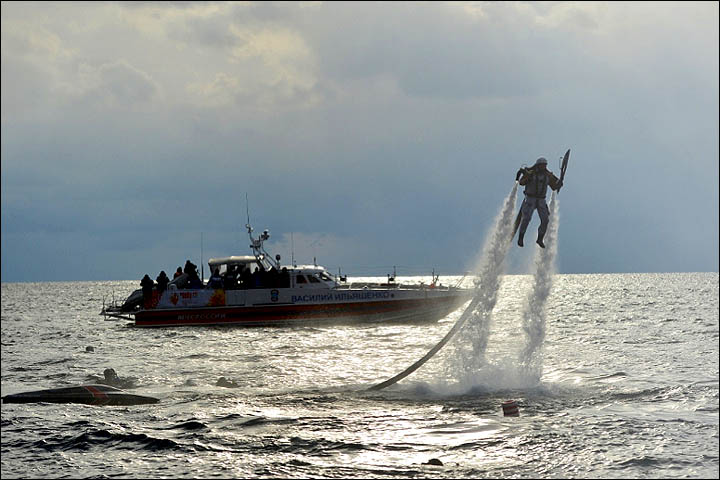 'The longest Olympic torch relay in history'. Picture: Sochi 2014
Lifeguard Nikolai Rybachenko, with a water-resistant flare attached to his torch, and plunged into the icy waters of 1,642 metre deep Baikal, more than 5,000 kilometres east of Moscow. Some 13 metres beneath the surface, Rybachenko handed the torch to news anchor Yekaterina Andreeva, who completed the underwater relay passing it to to the deputy head of the Sochi 2014 organising committee Alexander Vronsky.
'This water has its own force, its own energy,' said Rybachenko.
There was an especially spectacular moment when the flame hovers over the world famous Siberian lake in the hands of a helmeted torchbearer wearing a jet-propelled pack. The flame also visited Siberia's Buddhist region of Buryatia where monks took the torch around their sacred temple in the direction of the sun.
Earlier, the torch had a dip in the Amur River Blagoveshchensk with a group of famous 'walrus' ice-swimmers. The torch relay for the February 7-23 Games started on Red Square in Moscow on 7 on a 56,000 km odyssey taking in all 83 regions of Russia. More than 14,000 torchbearers and 30,000 volunteers are involved in the torch's 123-day journey by foot, car, train, plane and troika.