Not like others: Morka's feathers get wet in the water, which is usual for waterflow birds. Picture: Sergei Krasnoschekov
The trace went down the hill towards the water, following which Vladimir, an inspector in the Kronotsky Nature Reserve in the volcanic Kamchatka peninsula, found a wounded sea duck.
The bird had a broken wing and a badly damaged foot - yet she managed to crawl more then two kilometres and almost reached the water.
Vladimir could not leave the bird there to die and so took it home, cleaned the wounds and fed it with some fish. Morka, as he called her, soon started to recover. Vladimir planned to release the bird into the wild when she was well again, but it turned out to be not this easy.
At first, the duck lived in the inspector's remote house. All winter Morka did not go outside, just ate, slept, and bathed in the tub.
During the recovery it became clear that she could not fly well.
Morka was craving for short flights, but did not have enough strength for longer distances, like other migratory birds.
Her feathers get wet in the water, which is unusual for waterflow birds.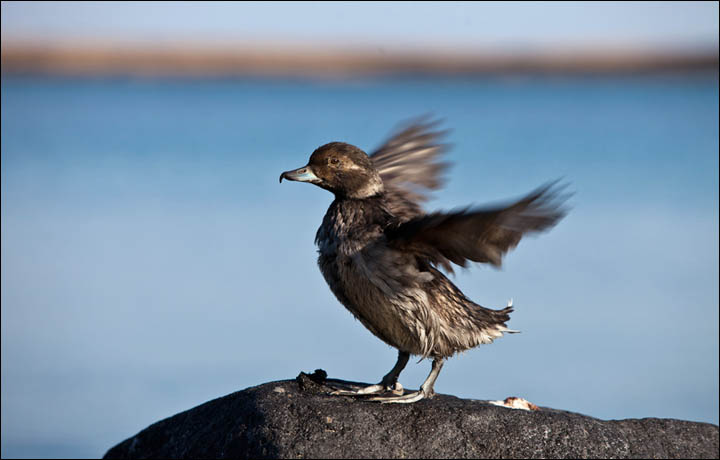 'I've got to keep dry!' After every swim Morka has to spend some time getting her feathers dry. Picture: Sergei Krasnoschekov
Vladimir decided not to risk a sticky ending for Morka, perhaps in the teeth of predators like foxes and bears, or sea eagles and hawks.
Instead Morka stayed with him at the nature reserve.
Regularly they walk together to the Semyachinsky estuary, where Morka enjoys a swim watched by her faithful master.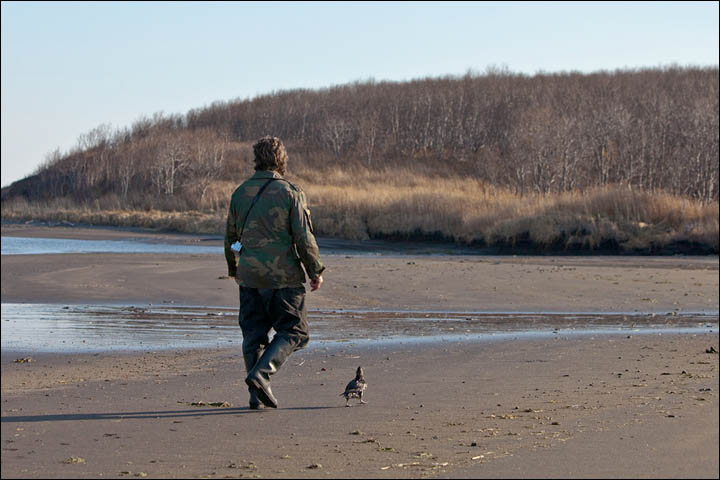 A patrol duck - Morka is unseparable from Vladimir and tries to follow him whenever possible. Picture: Sergei Krasnoschekov
Her feathers get wet and Morka needs to dry them in the sun and clean them.
Depending on the weather and her mood, Morka gets back into the water for a second swim.
Then Vladimir walks the duck back home and arranges her after-swim treat, like fish or small crabs.
---
Photographer: Sergei Krasnoschekov, aged 47.
Sergei lives and works in the city of Petropavlovsk-Kamchatskiy, Kamchatka region in the Russian Far East. He travels around Russia, Africa and South East Asia.
Sergei's favourite topics are wildlife, landscape and travel photography.