---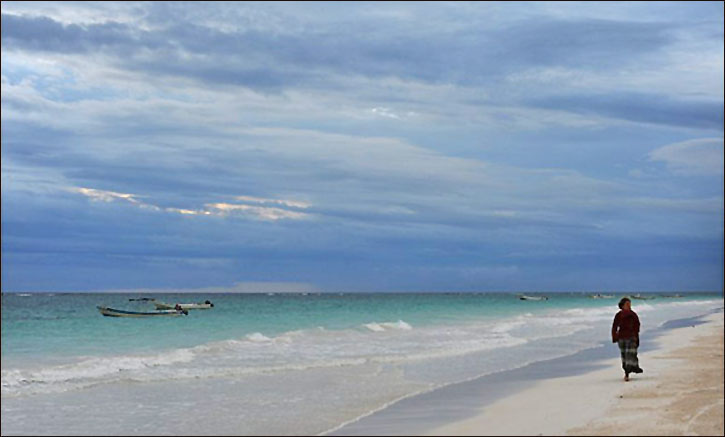 Konstantin Zhuravlyov, 31, pictured during his 777 days around-the-world hitchhike. Pictures: walk-on-the-planet.ru
'It's the sense of freedom,' he told journalists at the RIA Novosti bureau in his home city. 'It was wonderful to be able to sleep in the street, gateway, forest, swamp, on the beach.' When his tent was stolen in Cuba, he slept wrapped only in his Russian flag.
The former computer programmer explained before he left the immense joy of travel: 'You go wherever you want, you put a tent where you want, you eat when you want, what you want, you take pictures, you look around, you live.'
He met many thousands of people as he journeyed through Europe, Africa, South America, North America, Australia and Australasia, and Asia.
Among 37 countries he visited were Finland, Estonia, Latvia, Lithania, Azerbaijan, Georgia, Turkey, Syria, Jordan, Egyp,t Sudan, Ethiopia, Kenya, Zanzibar, Tanzania, Zambia, Namibia, Argentina, Chile, Paraguay, Bolivia, Peru, Ecuador, Colombia, Mexico, Cuba, Hong Kong, Thailand, Cambodia and India.
If you convert into modern currency the amount that the fictional Phileas Fogg spent when he went Around the World in 80 Days in Jules Verne's famous story, it tots up to just over $2 million.
Konstantin got by on around 250,000 rubles - or some $8,000 - which includes his plane tickets to fly across the oceans, food and clothes.
The weight of his backpack was around 10 kilograms inside which he kept a tent, camera, computer and clothing. As he travelled, he told people about his native Siberia - but also learned about the new and varied cultures he visited.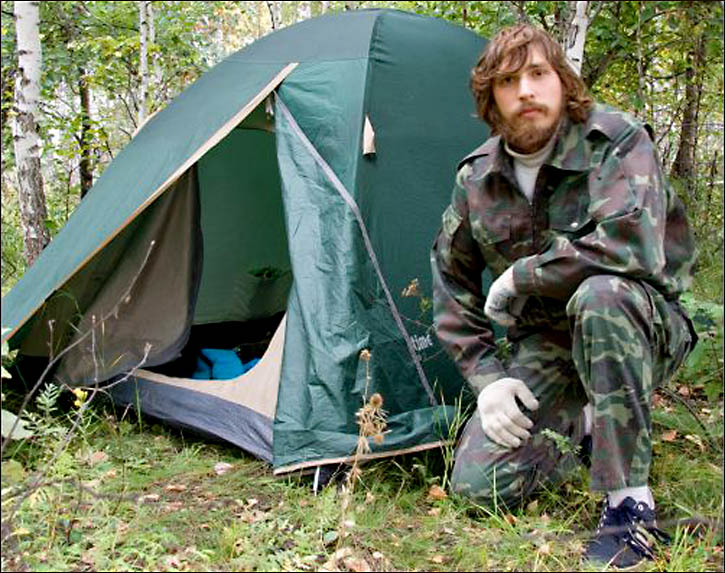 Konstantin Zhuravlyov, 31, by his trusted tent. Pictures: walk-on-the-planet.ru
'A man builds walls in front of himself,' he said. 'Sometimes he retreats from these walls, sometimes he tries to overcome them.
'The point is, these walls must not be built in the first place. There's nothing difficult in life, nothing heavy. It should be taken easily and with a light heart. The most important is to trust in life.'
The walls stopped him visiting some countries - with tough visa requirements.
His postings included disclosure of an 'emotional crisis' when he reached South America.
'I was just full of emotion for such a long journey and the road turned to me in a heavy stream of ordinary days,' he wrote.
A low moment was in Ecuador with nine months of his odyssey still to go when his Nikon D700 with AF Nikkor 50mm lenses - which he had used to record his journey - was stolen.
'This was done in broad daylight, without threats, and very cleverly, so that I did not immediately notice,' he said, making a financial appeal for a new camera to record the rest of his trip.