'Sport and outdoor activities play a major role in this culture. In parks and open areas around the city I have seen children skiing and sledging almost every day'.
I had been invited to Siberia by my son, who the year before had marred a Siberian woman.
My first impression of Russia was the in-flight meal aboard the Aeroflot jet from London to Moscow, it was surprisingly tastier than it looked and was a much needed break from flight boredom. I wasn't at all apprehensive about visiting Russia as my son had already been living there on and off for nearly 2 years.
Arriving in Krasnoyarsk, the cold was actually a welcome relief after nearly 20 hours of travel from Cardiff, Wales; I had felt more frozen-solid on the plane due to lack of mobility. We were met at the airport by Nastya, my daughter-in-law, and her brother Dima, both of whom I was meeting for the first time.
After introductory hugs and hand-shakes Dima drove us towards the city, which would be my home for the next month.
The land appeared desolate in the darkness of the early morning. I was too tired from travelling to be phased by the apartment block we arrived at, it was actually more modern than the impression I had pre-conceived.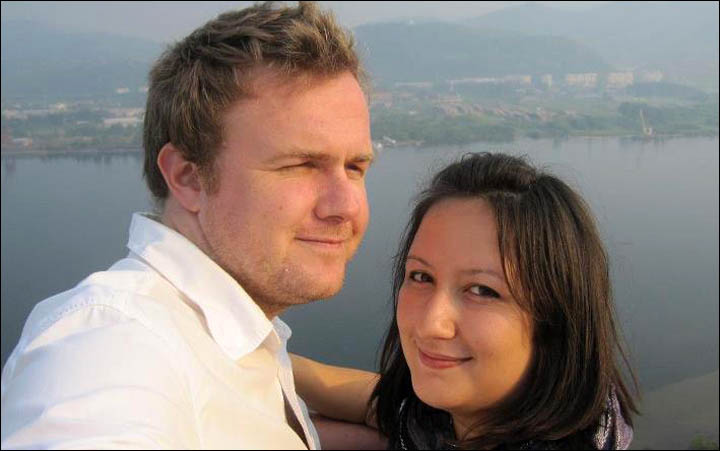 Michael Oliver Junior with his Russian wife Nastya (Anastasia) in Krasnoyarsk, Siberia. Picture: Michael Oliver
Nastya and Mao's apartment had only one bedroom, which doubled as their living room, so the kitchen became my sleeping quarters: a large sofa bed squeezed in between the radiator and the fridge.
We were only able to catch up on a few hours' sleep before Dima drove us across to the east of the city, where Nastya's mother's sister-in-law, Lilya, was having a birthday party. I met more family members in this single occasion than I did throughout the rest of my trip – so many people that I can't remember all their names.
I felt underprepared for the protocol of such a situation in a culture so different from my own.
My concerns were unfounded as I was made to feel extremely welcome.
It helped that some relatives could speak some English. Everything about the gathering was quality, the food, all 6 or 7 courses of it, the drink, and the company I was in. Even the crystal glasses and crockery were to be admired. Did I feel like a stranger? Absolutely not!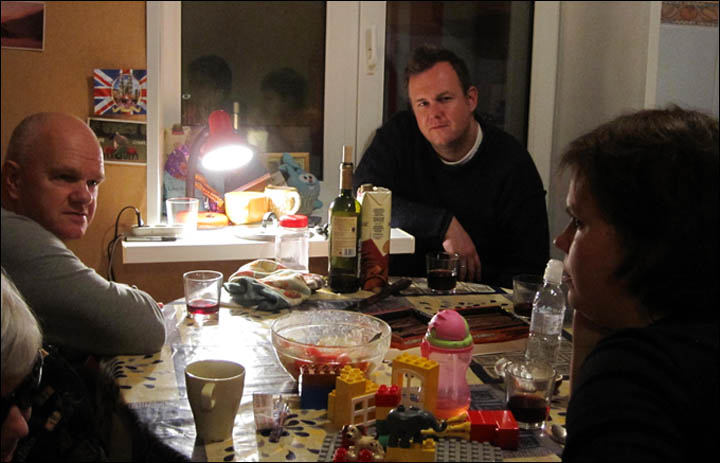 Did I feel like a stranger? Absolutely not! Picture: Michael Oliver
Russia to me appeared quite a desolate place at first, at least on the outside, but inside the apartments I found warmth and a kind of hospitality that was equal to the best I had experienced before. I couldn't say that I experienced any culture shock, I think this may be due to various conversations with my son, prior to my visit, or it may be that I was already partially prepared by the bombardment of global news that familiarizes us with places we have never been before.
One of the first tasks I had to complete was city registration, an alien concept where I come from. This wasn't too difficult to accomplish with the help of Nastya, and it removed any concern I had about being stopped in the street by militia and being asked for my papers (which never happened the whole month).
I had a lot of trouble reading, and navigating because the Russian alphabet was new to me. To help with this I spent any free time I had attempting to become familiar with the Cyrillic alphabet.
Having just visited Spain I had already recently experienced living among a people who I wasn't able to communicate with due to my lack of ability to speak any foreign languages. This was compounded during my visit to Russia.
One day, while buying some food at a Russian café, there was an elderly Siberian fellow having some friendly banter with the cashier who was obviously making some humorous comment, and gave me a knowing look as if I would understand. I tried to explain to him that I wasn't Russian (in English).
At first I said I was British, then Welsh, and finally English, which he seemed to understand and took pity on me. Although, I have to say, that I wasn't at all comfortable with him thinking I was English, it's not that I have anything against them, but as far as I'm concerned I'm welsh. It was frustrating not to be able to communicate this.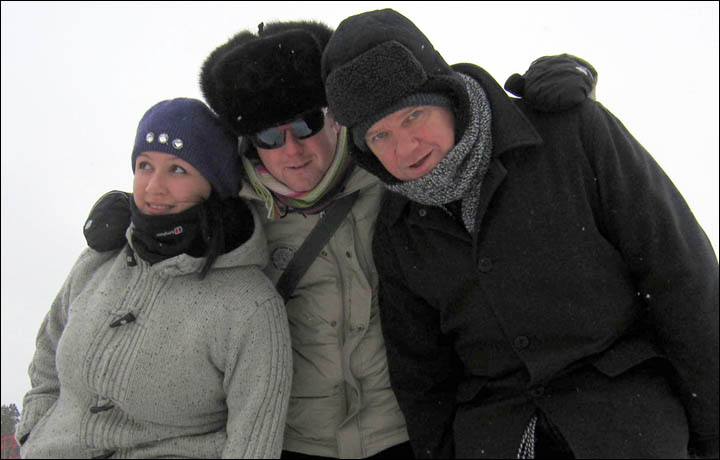 During my stay here the temperature has ranged from -5 to -31. The weather report has even predicted -35 in the final days of my stay. Picture: Michael Oliver
One of the many things I like about Krasnoyarsk is the way the traffic moves.
All the major junctions have digital signs that countdown, making it easier for drivers and pedestrians to know exactly how long they have to wait and when they can move off again. This is actually a much better system than we have in the UK, where we never know how long we have to wait before a light turns green again. It seems to create a better synchronicity of movement for everyone.
I was also impressed by the public transport system; Nastya complained that the fare had recently increased from 13 to 16 roubles.
This is still a tiny amount compared to the fares I know in Cardiff. 16 roubles (35 pence), covering any distance in the city, is great value.
In Cardiff you can be charged anything up to about the equivalent value of 250 roubles, and it's a much smaller city. Krasnoyarsk is many times larger than Cardiff, and much larger than I had expected.
I think I've managed quite well with the Russian cuisine. There hasn't been much that has disagreed with me, other than condensed milk. We used to drink that back in the 60's, and even then I didn't care for it much. One of the other things I remember not really agreeing with was a kind of milk with herbs, served in a café. It must be a popular drink, there were several people with glasses of it, and Nastya even drank two of them. I couldn't describe the taste of it. Milk and herbs don't really go hand in hand in my culture.
The foods that I have really enjoyed so far are golubtsi, the fish pies (Nastya's mother's pie especially), and the cakes.
Russians really know how to make cakes.
During the middle of my stay I was taken to Beaver's log ski resort ('Bobrovyi log') to get a panoramic view of the area.
It became apparent how sport and outdoor activities play a major role in this culture.
In parks and open areas around the city I have seen children skiing and sledging almost every day.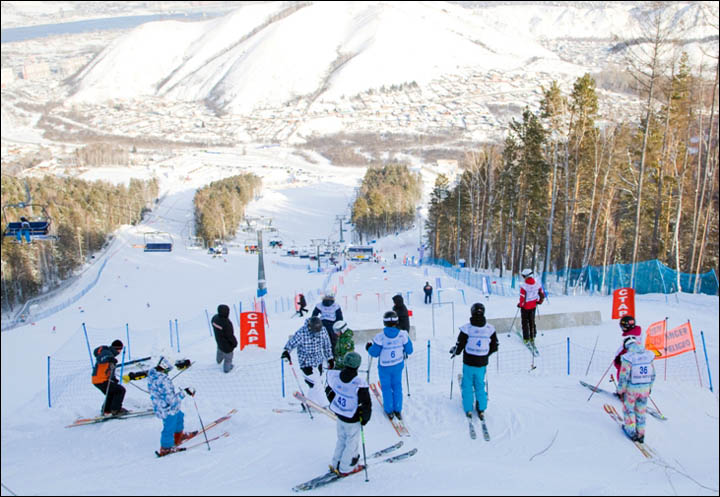 ---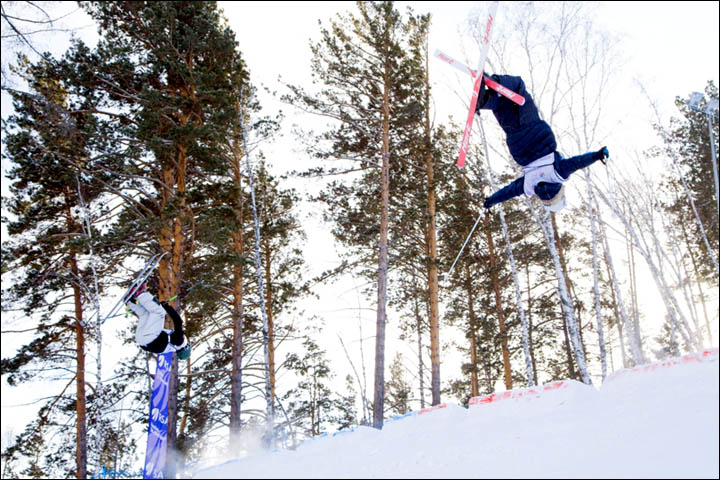 ---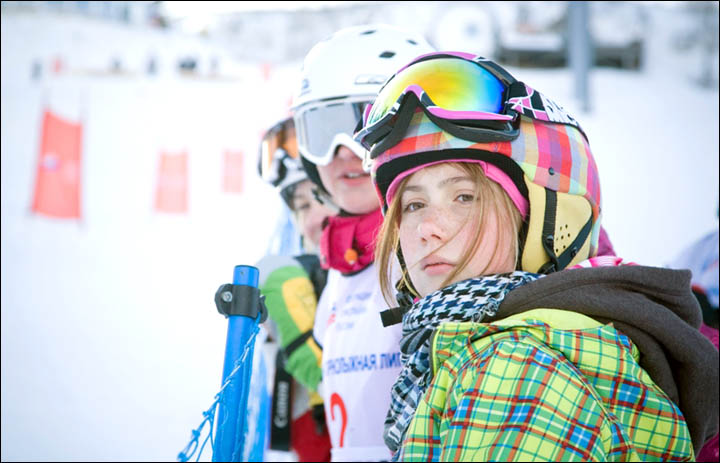 During the middle of my stay I was taken to Beaver's log ski resort ('Bobrovyi log') to get a panoramic view of the area. Pictures: Beaver's Log
Towards the end of my stay, I had two separate days out with Irina, a woman I met through a business meeting my son had the week before.
Irina drove me far into the mountains on the South side of the Yenisei, to visit a platform viewpoint high above the river, with a big metal fish ('Tsar-Ryba') on it.
It was snowing heavily on the way there, and the road was covered in pack ice; it climbed and twisted through the forest, and I felt like I was in some kind of movie. At one point I half expected a bear to jump out from behind the trees.
I can only imagine how great the view must be in the summer, which I have been told can reach 40 degrees. I'm very grateful that Irina, a CEO in a major Siberian company took the time out to escort me round the city.
To me this was an unusual display of kindness and hospitality. If I was introduced to some random Russian person in Cardiff I'm not sure if I would take time out of my working life to show them all the sites of my city.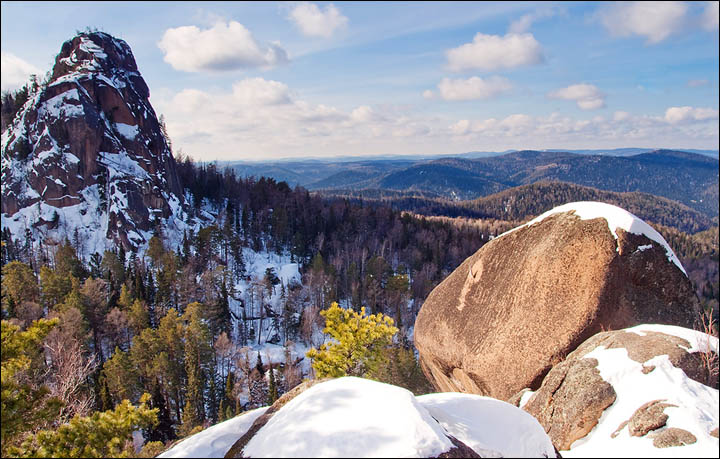 Krasnoyarsk 'Stolby' natural reserve. Picture: Vera Salnitskaya
One evening, while visiting the famous white church on the hill (Paraskeva Pyatnitsa Chapel), I experienced immediate frost bite on my fingers after taking my gloves off for just 20 seconds to take some photos. Lesson learned.
During my stay here the temperature has ranged from -5 to -31. The weather report has even predicted -35 in the final days of my stay. I'd like to say that I've dealt with the cold well, but the clothes I brought weren't really up to the job.
Thankfully Nastya's father, Boris, lent me a large fur and leather coat, and a real fur shapka. The coat is so thick I think it might actually be bullet proof!
More so here than anywhere else on my travels the wind chill can be quite deadly. Even if we go to the shop for a pint of milk, we have to suit up in thermals (sometimes 3 sets at once), jumpers, shirts on top of the jumpers, thick coats, furry hats and huge gloves. This makes even the simplest things more exertive.
One thing I must mention that I haven't enjoyed is the disappearing water. One morning when I woke, I found that there was no cold water coming from the tap. I thought it must have been down to frozen pipes but my son informs me that the water can be switched off without any notice and regularly is.
In fact, this very afternoon, there was no hot water, just when I wanted to take a shower.
It's not so bad though, a few hours without water isn't too much of a hardship.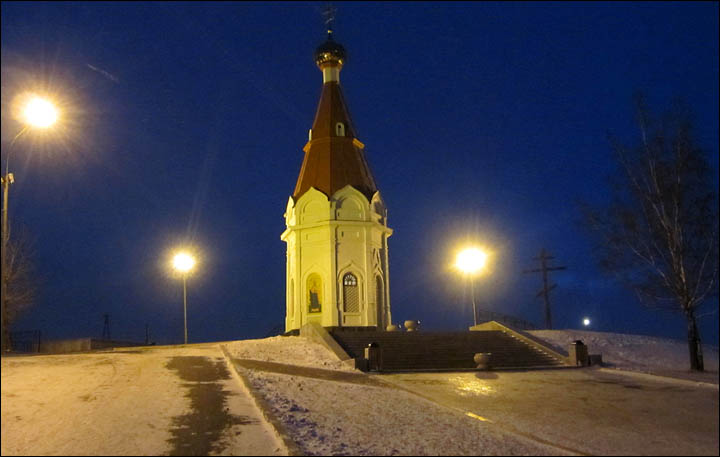 ---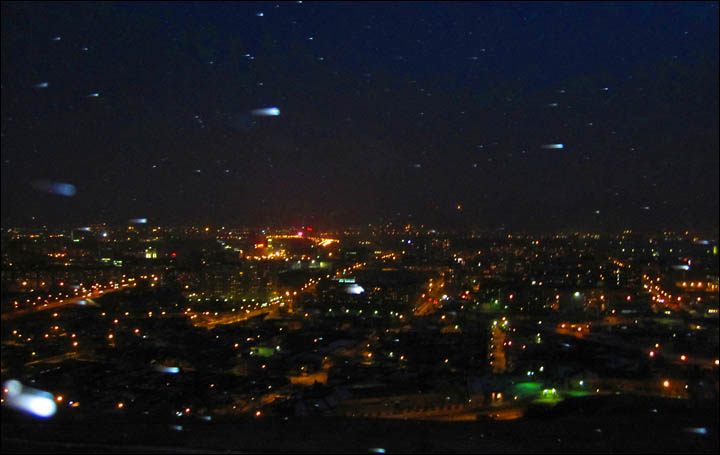 Paraskeva Pyatnitsa Chapel, Krasnoyarsk, and a view of the city in the evening. Picture: Michael Oliver
In Wales, I'm a builder, though to be honest I spend most of my time in refurbishment and redecoration.
I found it very interesting when we visited a Siberian furniture store. Some of the kitchen designs were like nothing I had seen before, in fact, I'd say they were more adventurous than what we have in the UK, and were relatively inexpensive.
A complete kitchen set can cost anything from 11,000 to 30,000 roubles. The equivalent in the UK would cost at least 5 times more.
I had to laugh when my son and I both really liked a marble effect set of kitchen units. He said he wanted to buy it one day, but Nastya threatened him with moving out if he ever bought it. It was quite a groovy design, but was perhaps a little too much colour and swirls for Nastya's taste.
One important comparison between the UK and Russia is that here you have severely low temperatures, harsh winds, snow and ice covered surfaces everywhere, and yet life goes on as normal. Nothing stops.
In the UK the whole country grinds to a halt after a few flakes of snow.
Trains even stop running sometimes after the rain, apparently because it's the 'wrong kind of rain'.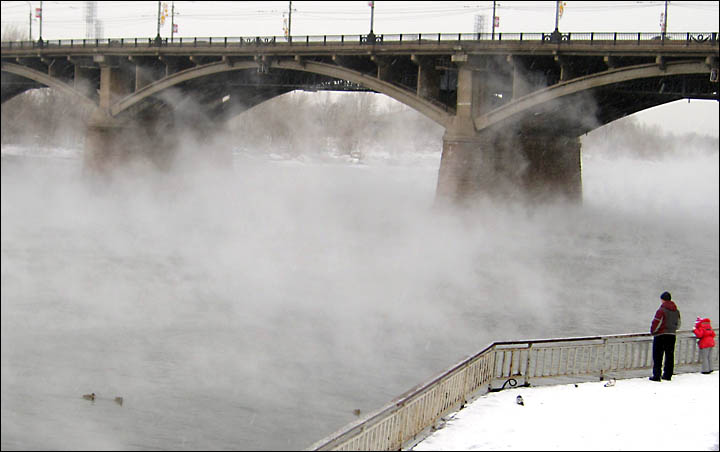 Might Yenisei river never freezes in winters since Krasnoyarsk Dam was built. Picture: Michael Oliver
I've also noticed that Russia doesn't waste time or money on salting the roads; everyone just changes into winter boots and fits winter tyres to their vehicles. This must save the country a fortune, and to me, is common sense.
There does seem to be a more common sense approach in Russia, to the movement of life in general. There doesn't appear to be any 'claim culture' in Russia either. Most of the surfaces are uneven, and I've even seen the odd sawn off metal pole protruding from the street.
The difference is that people here use their common sense to avoid these imperfections. If this was the UK, there would be people throwing themselves down on these broken pavements to try and get some free money out of the council.
This culture of litigation in the UK is very destructive in my opinion; it's just one of the ways that our country has become Americanised.
I read the recent article in the Siberian Times written by Jean-François Lagrot, who stated how refreshing it was to spend time amongst a people whose culture is still undamaged by the effects of globalization.
This made me smile in agreement, because even though the city centre and its younger generation may be cosmopolitan, you still feel and see the over-riding strength and existence of old world Siberian culture.
I think I have to some extent been enlightened by my experience here.
I have seen how the variant masses live and how they simply endure what nature throws at them.
Many things make me realize how relatively easy my own life is. I don't have to live with extreme seasonal changes, +40 summers and -40 winters, which is normal here, but people here just get on with it and don't complain.
There's a hardness and stoicism about the Siberian people that I admire greatly.
I have really enjoyed my time in Krasnoyarsk and really look forward to visiting again - only next time I think I will come in summer!