James Witkowiak, first from the right, pictured a day before the start of 2012 Omsk International Marathon. Picture: Stuart Warren
Or that's how it felt to the former local politician from Milwaukee, whose grandfather was born in the tsarist Russian empire in the 19th century before the family moved to America.
Now the businessman is on an ambitious quest to complete 100 marathons 'before I die' and he has decided to do one overseas run a year in addition to those he undertakes in North America .
This year as he Googled the options for August, the Omsk marathon was the one that caught his eye, even though it was on the other side of the world.
'About five possibilities showed up - and one was the Siberian International Marathon,' he says after completing Sunday's 42km run through the historic city and along the banks of the Irtysh River.
'I checked out all the others and nothing else jumped out at me - but I had a favourable impression of what I read about SIM,' he says.
'My grandfather was born in Ukraine when it was Russia in the 1800's - so I feel my roots are here.
'I think it was the combination of want for the homeland - and a good response from Inna from the marathon organising team.' Back home, James's decision caused some shock.
'When I told all of my friends that I was going to Siberia for a marathon, they asked if 'this is the one where you wear snowshoes?'
'But I've have been interested in Siberia for quite sometime - I see it as an extremity of my homeland.'
It certainly was extreme - though not in the way his friends expected.
Far from being cold, or even mild, the marathon was held in oven-like temperatures reaching close to 40C for the 11,000 or so participants.
Siberian summers are usually very warm, but the roasting Omsk conditions were the continuation of a blistering heat wave which has caused drought, forest fires and loss of crops in the hottest year most locals can remember.
'By coincidence, I was vacationing in Florida a couple weeks ago and I ran every day about eight to ten miles (13 to 16 km) every day in 95 F (35C) degrees - but I had a hard time getting over ten miles.'
Omsk International Marathon (here picture from 2011) is gathering thousands of participants from all over the world
Many younger runners gave up in the Siberian marathon because of the heat - but James proudly crossed the finishing line despite the gruelling conditions, and says he may well return to Siberia thanks to the warm welcome he received.
'My time was not too good by my standards - five hours 29 minutes, but considering the circumstances.......My usual time is around 4:30,' he says.
'I am 62 years old and I ran my first marathon when I was 47.
'My goal is to run 100 marathons before I die and have a wonderful experience and make new friends with each new event.
'I am a very loyal person so if I have a favourable experience and I am treated well by the event staff, I will return.
'I have run Chicago 14 times and the US Air Force marathon three times because of my loyalties.
'I believe that based on my first experience here, I will return. My only suggestions - start the race at 5am or 6am, then you have a lot less to worry about relative to the temperature.'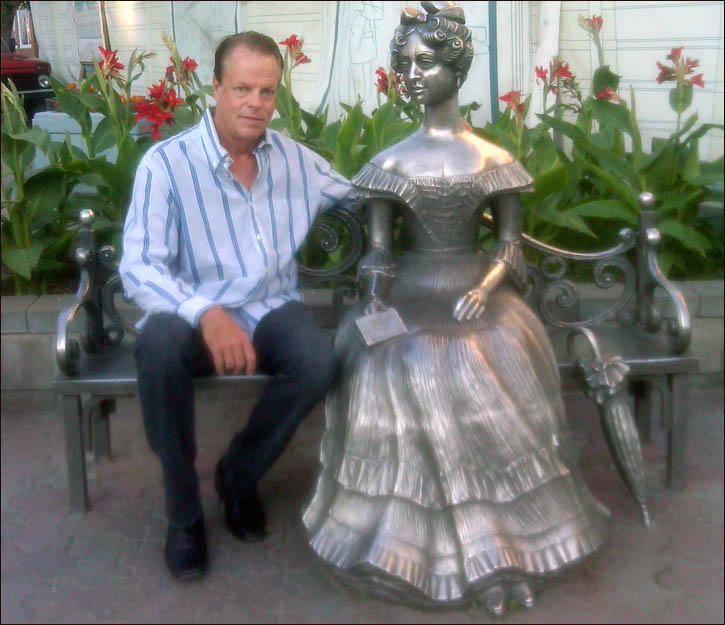 James Witwowiak, pictured in Omsk by a statue of Natalya Goncharova, wife of Russian poet Alexander Pushkin
In fact usually Omsk marathone begins in the morning - but this year the start was timed coincide with the start of the same event in the Olympics, six time zones away in London. This seemed like a good idea at the time - and was welcomed by many runners, yet the extreme afternoon heat was clearly a problem on the day.
'I had run 31 marathons in the US and one in Canada and I decided that I wanted to run at least one overseas every year from now on,' says James who runs a marina equipment company in the US Midwest state of Wisconsin.
'There was only one marathon that I did not finish and that was Chicago three years ago when I broke my leg at mile six.
'For me, this is a challenge of my mind over matter. I have always believed that if you truly believe you can accomplish something - then you are capable - so you do it.
'My most challenging marathon was four years ago. It was in St John New Brunswick - but my travel agent sent me to St John Newfoundland. I would have passed, but I was raising money for a charitable organisation I helped to form, and had pledges for $13,000.
'I spent $2,800 of my own money and got to the 'correct' St John two hours before the marathon started. No sleep and no food and finished in four hours 54 minutes.
'I also ran Chicago a few years ago when the temperature was in the 90s F.'
For James, getting to Siberia was rather simpler than the trip to New Brunswick in Canada.
'I have come to love Omsk and its people, I feel at home - because of my heritage,' he says, recovering from his sweltering race.