Agafya Lykova, pictured in the middle of eighties with father Karl, left, and Krasnoyarsk professor Nazarov
Agafya Lykova, 68, is the last surviving member of the family of Old Believers who were discovered by a Soviet geologist in 1978. They had cut themselves off from the outside world.
When they were discovered, the family comprised Karp Iosifovich (the head of the family), his sons Savvin, 45, and Dmitry, 36, and his daughters Natalya, 42, and Agafya, then 34. The children's mother Akulina had died in 1961.
The three other children died in 1981 and Karp in 1988 since when Agafya has lived alone at the family's smallholding in what is now Khakassky nature reserve.
Rangers from the reserve visited her in February and she asked them to take two kittens back to civilisation - in exchange for a goat and a rooster which they brought her. She had earlier asked for the new animals instead of a medal 'For Belief and Kindness' which Governor Aman Tuleyev of neighbouring Kemerovo region wanted to present her.
'My old cock stopped crowing, please can I have a new one? Also my old goat died and I need another one. And another thing please can I have new boots. I am feeling well thank you, do say hello to governor Aman Tuleyev.'
The reserve press office said that 'just before their departure, Agafya Lykova gave the reserve employees two kittens, a male and a female, and asked to give them into 'good hands'.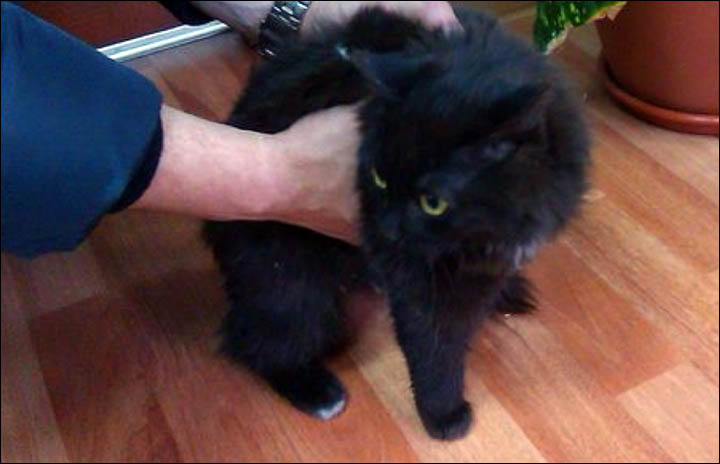 The kittens are survivors of a line of cats taken by the Lukov family into the remote forest when they fled from Stalin's civilisation in the 1930s. Picture:
Khakassky Nature Reserve
A home has been found already for one of the black cats with a family in Abakan, who heard about the 'taiga' kittens from the media.
The new owners called her Bagira because of her black colour and green eyes. The fate of the second cat, which the staff of the natural reserve have called Erofey, will be decided soon.
Agafya is reported to be in 'good health' but finding it harder than ever to manage her remote home.
The rangers carried out some running repairs, chopped firewood, and cleaned her animal yard before departing by helicopter.
She now has two nanny goats, a male goat, eight cats, a rooster, hens, and a dog called Taiga.