Michael Oliver: 'I have fallen in love with Siberia, and especially Krasnoyarsk, as much as anyone can'.
Michael Oliver, 31, explains the odyssey that brought him to Siberia - and what it's like to live there. ('Owning two homes is an alien concept where I was born. Only very wealthy people in the UK are so privileged').
I was born and have lived most of my life in Wales, the tiny country just west of England. Not many people outside of the UK know of its existence since it has been colonised by the English and is mostly controlled by their government.
I am 31 now, and I have worked professionally as a poet since 2009 (the year of my first publication); although I have had to work many menial jobs just to keep the wolves from the door, so to speak. I am also the resident poet of, and researcher for, 'Blown', the British Magazine for cultural intelligence.
In 2009 I found myself working on a stage performance in Wales named 'D Day'; it was a sort of collaboration between myself and several other Welsh poets focusing on patriotism and Welshness.
As I find the notion of patriotism rather vulgar, being more of a humanitarian, I decided that my performance should be read in a language nobody would understand.
I chose Russian. In a haphazard fashion I searched the internet and social networking sites for someone who would agree to translate some of my poems into Russian at very short notice.
That is how I came to meet my wife Nastya.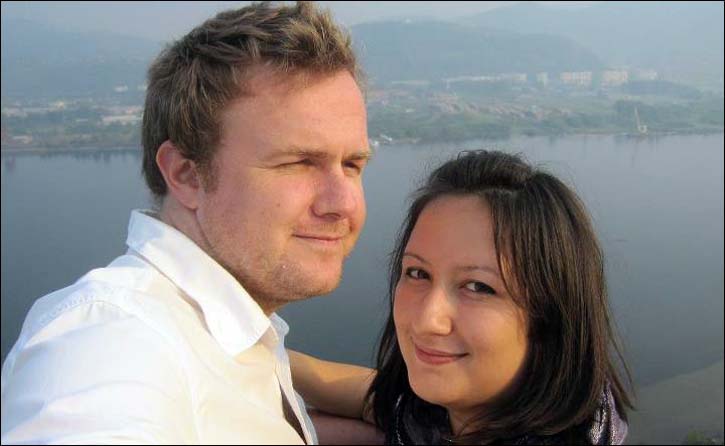 Michael with Nastya, by Yenisei river in Krasnoyarsk. Picture: Michael Oliver
After the performance, which went down like a lead balloon by the way, Nastya and I kept in touch.
We first met in Paris in January 2010. We chose Paris for two reasons: Nastya was not able to obtain a British visa and secondly because I wanted to be cautious.
You must understand that in the UK there is still a lot of anti-Russian propaganda. I was told by friends that Nastya might not even be a real person and that if I came to Russia I might be kidnapped and roasted on a fire.
Being of moderate intelligence I wasn't altogether convinced I would be eaten by Siberian cannibals.
However, as most of my knowledge of Russia came from the works of Alexander Solzhenitsyn, which as you know doesn't paint the most inviting picture, I thought it best to be cautious.
Long distance relationships being the arduous affairs that they are, I packed up my life in March 2011 and came to Krasnoyarsk via the Trans-Siberian Railway, where Nastya and I got married.
Since then I have been piggy packing tourist and private visas. It has been difficult because it has cost a small fortune in plane tickets; I have no Russian work permit and have only brief periods of work in the UK.
We have only this month decided to settle here, and so I have just applied for residency.
My family back in Wales aren't too pleased about it, but as far as I'm concerned it's none of their business. I have fallen in love with Siberia, and especially Krasnoyarsk, as much as anyone can.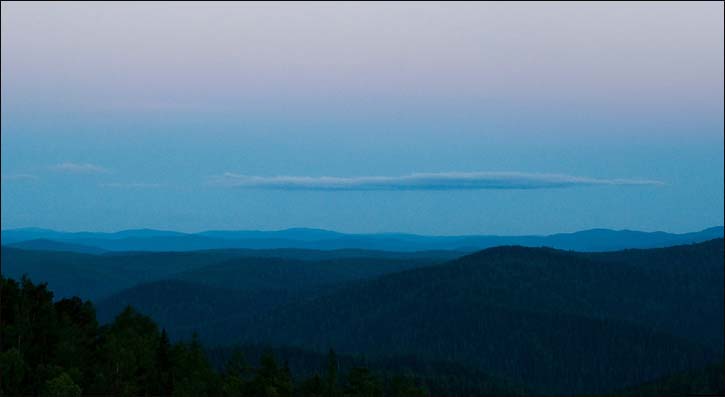 ---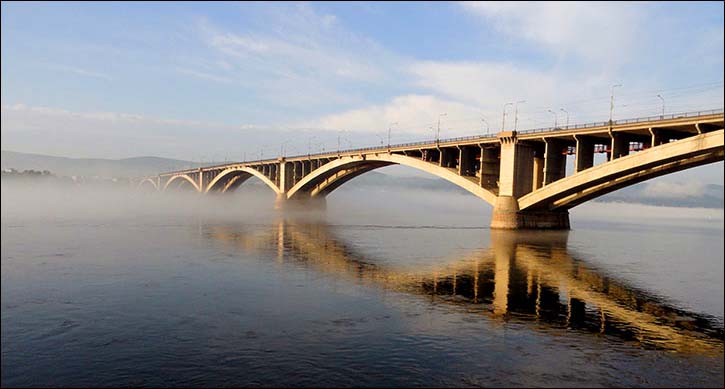 Krasnoyarsk GVs: Stolby rocks, and bridge over Yenisei river. Pictures: Vera Salnitskaya, The Siberian Times
There are obvious differences in culture and some of these have taken a great deal of getting used to.
For a start Russia is 821 times the size of my country. There are bears! Lynx! And more birds of prey than I can count.
The food has also taken some getting used to. My father-in-law is a hunter from Evenkiysky District, so Caribou has become a major part of my diet.
At Nastya's dacha we also grow a lot of our own vegetables and tea.
Owning two homes is an alien concept where I was born. Only very wealthy people in the UK are so privileged.
This is one of my favourite things about Russian culture. I love spending time at the dacha.
Although I do not have official employment in Krasnoyarsk, my time isn't wasted. Due to my new found sense of freedom I have been able to intensify my research for 'Blown' magazine and negotiate with British publishers better.
I know it sounds ironic, knowing Russia's history, but I have never felt so free anywhere. The landscape here and my having the time to enjoy it has allowed me to become more ambitious as a writer.
In fact a series of poems I have been working on are all Russia themed and recently took 2nd prize in a major writing competition in Wales.
I would argue that the censorship of the Soviet years and the current political climate in Russia adds an unnameable charm to the art and literature of Russia that is completely unique, and I wouldn't dare to compare myself with any Russian writers.
To me the arts here are more dynamic, because they exist and have been created in an environment where ones artistic pursuits could land them in severely hot water.
Saying that I don't want to be seen as someone who continues to perpetuate the negative stereotype of Russia; corruption and hostility to the arts and literature exist everywhere: The persecution of Julian Assange and the incarceration of the British poet Talha Ahsan (6 years in a UK prison despite having never stood trial or being charged with any offence) are in no way different to the incarceration of Pussy Riot.
I spent five years working in a British bank; I could talk to you about corruption all day.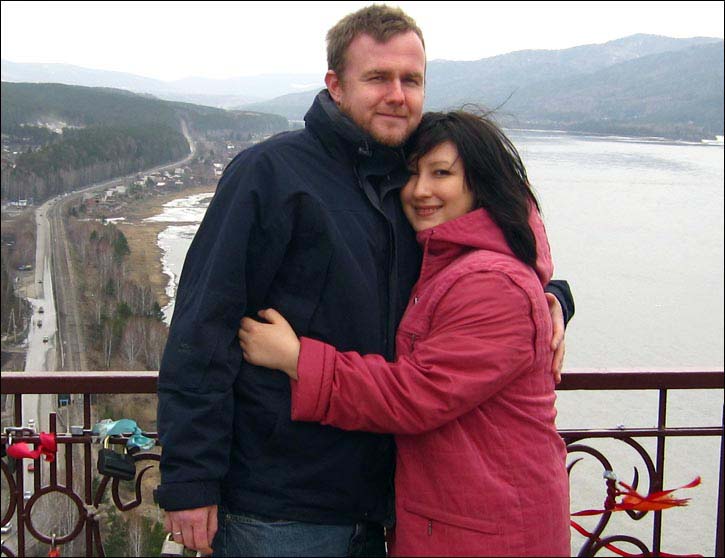 Michael Oliver with wife Anastasiya (Nastya). Picture: Michael Oliver
Although it is only in recent years, since the UK has become the poodle of America that one can make a comparison between the UK and the USSR.
Besides what I have talked about already there are several other characteristics of Siberia that were a complete surprise.
The weather to start with.
I had no idea it was so hot in summer. British summers, especially the most recent so I'm told, mostly consist of rain, rain and more rain.
In Britain summers have almost become a thing of the past.
I have also found the Siberian people to be a lot kinder than those I have left behind in the UK. Russian hospitality has to be the best in the world!
So far I haven't been able to visit anyone here without being sat down and offered food and drink.
The stereotype of Siberians I came to know as a young man has been completely annihilated; I have found people here to be educated and open minded, not the cannibals I was lead to believe. I am very happy in Krasnoyarsk and will be happier still if the authorities grant me permission to stay permanently.
As to my favourite places, besides the dacha my main source of inspiration comes from the Krasnoyarsk Museum Centre.
The architecture alone is genius. It is a terrifying building but beautiful none the less. I have never seen red ceramic toilets anywhere other than there!
I try to visit the centre as often as I can. I am particularly impressed with the current Rodina exhibition.
I didn't think such an artist venture would be permitted in Russia. It is so bold, so courageous. I hope they make prints because I'd love to hang some of those pictures on my wall.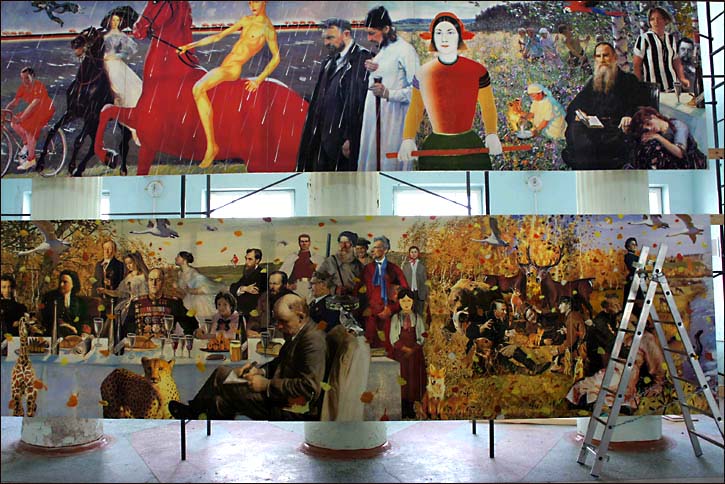 Rodina exhibition. Picture: Anna Tereshkova, Siberian Centre of Contemporary Art
I am also impressed by the Lenin exhibition they have had there since 2009. I try to see it often because they update it quite frequently.
We have an art centre similar to the Krasnoyarsk Museum Centre in my home city of Cardiff, but it's housed inside a reclaimed school building, and most of the art works are mediocre.
In the UK there is a trend for art works to have large vacuous descriptions, while the art itself says nothing.
I know this may seem controversial, but it is something that people in the UK talk about to each other though rarely in public. Unfortunately, arse kissing is ingrained in our culture.
I have worked with artists in Wales and found the formation of the description of our project was always as important if not more so than the work itself!
I hope it isn't so in Russia. It doesn't appear to be. I have left every exhibition in Krasnoyarsk completely inspired.
It is my wish that I one day become a part of the art community here and readily offer my contribution.
I should first of course learn to speak Russian fluently. This is the only major obstacle right now. I have never been able to roll my 'Rs' so even things as simple as РЫБА are quite difficult.
I have learnt all the characters of the alphabet, and am able to pronounce some words as I read them, I just don't know what they all mean yet!
Hopefully time and persistence will remedy this.



Michael Oliver, also published under Michael Oliver-Semenov, Mao Jones, Mao Semenov, Mao Oliver-Semenov is a contributor to 'Blown' magazine: http://blownmag.com/
Michael's website: http://thepoetmao.webs.com/
Please also see some of his works here: http://lampeter-review.com/issue-5/#more-144