---
Stuart Warren pictured during his first visit to Omsk and, below, Omsk International marathon 2011
I am 24 years old. My day job is working for the Cancer Screening Programme in a London National Health Service hospital, although I also do media and sports journalism work part time - as this is my real passion.
I love running, and I love travelling - so what could be better than a combination of the two, especially in a place as fascinating as Siberia?
I also have some unfinished business with this marathon, having travelled out to compete in last year's event, however a stomach bug picked up in the run up to the event meant that I was unfortunately unable to participate.
Having watched last year's race from the sidelines, I remember being amazed by just how good the atmosphere was, and how much the people of Omsk get behind the athletes; it really symbolises how an event like this can help to bring a community together.
When I think back to my experience of last year, it only makes me more excited to run the race after 12 months of waiting.
This year's event is made that bit more special by the fact it will be run simultaneously with the Olympic marathon in my home city of London.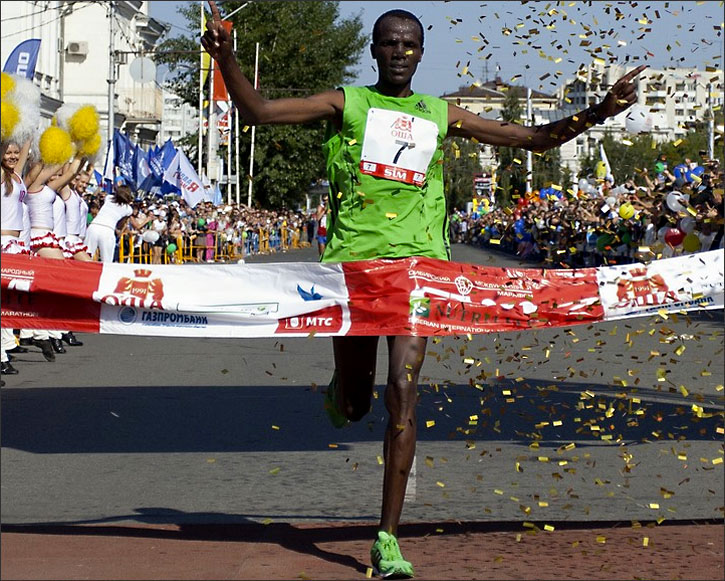 Omsk International marathon 2011, pictures: Omsk marathon organisers
It will also be the first time I have competed in a foreign event, having only ever run in my own country.
With more and more English people travelling abroad to compete in marathons nowadays, I would strongly recommend anyone interested in doing this to look at the Siberian International Marathon.
Whilst it is not perhaps as grandiose and well known as some of the bigger foreign events such as New York or Berlin, it has a much more intimate and friendly feel, where being a foreign competitor is even seen as a bit of a novelty. Where else in the world would you be featured on the evening news just for being an overseas competitor in a marathon?.
It is also in a part of the world which you would perhaps not even think to visit - which to me is just another reason why this event so unique.
I initially heard about the marathon through my friend Ksenia, who grew up in Omsk before moving to England a few years ago.
She said what a great event it was, and how there was always a great feeling around the city on the weekend of the event. Having always fancied running a marathon I decided to give it a go.


Omsk International marathon 2011, picture: Omsk marathon organisers
Despite Ksenia's recommendation, I really had no idea what to expect as, like most people in England, I had very little knowledge of not only Omsk, but of Siberia as a whole, with literature on Omsk in books and English websites also being very limited, apart from a few references to Dostoevsky.
However, what I found upon arrival was a city full of a charm, and one which British tourist guides appear to have sadly missed over the years.
Having been lucky enough to also visit St Petersburg whilst in Russia, and, as impressive as some parts of it were, it still didn't have the charm of a smaller and a more 'off the beaten track' city like Omsk.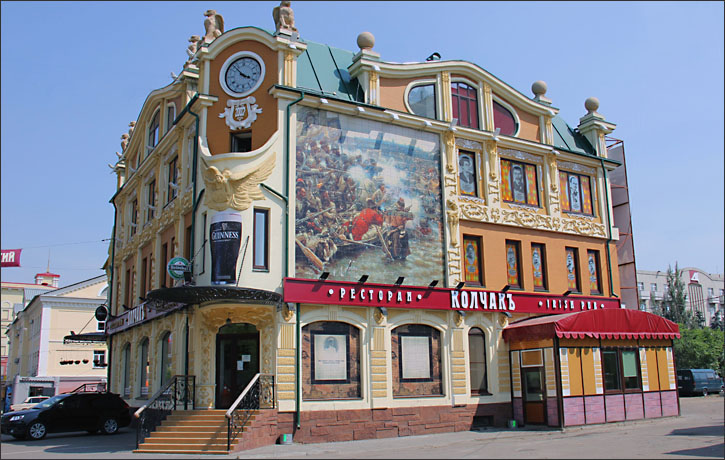 One of the best Irish pubs in SIberia... The Kolchak Pub, Omsk. Picture: The SIberian Times
You get the feeling whilst walking round St Petersburg that in many ways it really doesn't differ too much from a number of major cities across Europe. Omsk, in contrast, holds a bit more of its own character and identity.
I also found the people of Omsk to be extremely warm and welcoming, even more so when they discover that you are English.
Whether they wanted to know why you were travelling around Siberia, or just wanted a chance to practice their English, it seemed everyone wanted to chat.
On leaving Omsk last year, I found it was very easy and accessible to travel to other parts of Russia by either road or rail.
The marathon event itself is run extremely well, with the SIM staff doing an absolutely sterling job of looking after all foreign competitors, not only during their time in Omsk, but also in the build-up as well.
Having a very limited Russian vocabulary, I found this not to be a problem at all as the staff were always on hand to provide assistance with the logistics of the trip, from hotel reservations, to making sure you got smoothly to and from the airport.
I also look forward this year to experiencing a Russian Banya for the first time - the night before the marathon - thanks to a trip organised by SIM, something which is sure to put us in a relaxed mood ahead of the following day's 42km race.
Though I am, of course, really excited about the coming race, I am also under no illusions as to how tough it's going to be.
A full marathon is the ultimate challenge, and the fact that it is so difficult just adds to the feeling of pride and satisfaction that myself and the other runners will hopefully feel when crossing the finishing line on Sunday.

For more information on Siberian International Marathon 2012, see http://www.runsim.ru/en

TRAVEL TIP FROM The Siberian Times
---
Getting to Omsk from outside Russia is easy. Don't believe anyone who tells you Siberia is inaccessible.
The simplest way is initially to fly to Moscow. If you use any of Russia's three major international carriers, Aeroflot, S7 or Transaero, they will offer onward connections from the Russian capital to Omsk. Moscow to Omsk is a three hour flight.
A good source for comparing flight options and prices is anywayanyday.com - or you could take the train.
Omsk is a major hub on the famous Trans-Siberian Railway, and the journey will take you around 43 hours.
On the way, you will pass through the Ural Mountains.
Omsk has good mid-market hotels, including a modern and stylish 'Ibis'.
Other central three star hotels are the Mayak and Tourist, which both have great views over the Irtysh.
The city also boasts delightful cafes, good restaurants - and one of the best Irish pubs in Siberia - the Kolchak.... but that's for after the marathon!