Memorial to missing children by Liza Alert in Moscow. Picture: philanthropy.ru
Grigory Sergeyev is founder and chairman of 'Liza Alert', a pioneering Russian voluntary group which use the talents and the goodwill of their dedicated online supporters to hunt for kidnapped children, a problem which unites all countries, knows no frontiers, and terrifies families everywhere.
Here, he agonises over the fate of Vika, a three year old snatched and murdered by a human monster from her kindergarten in the historic city of Tomsk in Siberia.
'I was deeply worried for our volunteers when we got a group of them ready to begin searches in Tomsk. I was worried for them because I knew, all too well, the feeling they were likely to get at the end of their searches - and I was so desperately hoping that their hunt would end differently.
'This is what we are like, when via the people who work for Liza Alert, you feel their pain. We are like the nervous system of our organisation.
'In situations like this the strategy is clear - to co-operate and get searching as soon as we possibly can, to try and snatch whatever small chance Vika had from her destiny's teeth. We had to follow the route of a mass information attack, which always helps when a child is alive.
'In order to make this attack bring right results all of us - volunteers, local businessmen, local officials, their neighbours - must get together like one fist.
'We had it all in Tomsk, with the exception of just one - time.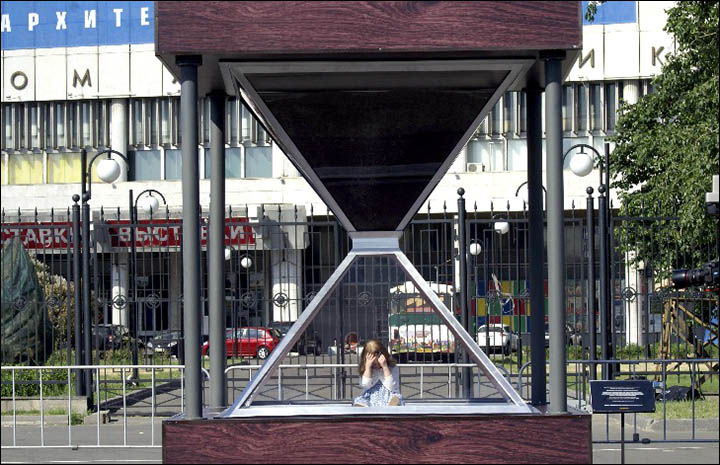 Memorial to missing children by Liza Alert in Moscow. Picture: philanthropy.ru
'Bloody maniacs who act according to statistics and only leave their victims this (tiny) amount of time after kidnapping. There is a bloody stability of their behaviour all around the world.
'We've got to act faster. We have to learn.
'We must be faster than fear spreading in the air. We've got to start mass searches during the first three hours after the kidnap. Please remember this figure.
'We know that in Russia we will be getting towards it for a long, long time. But we will get there.
'We will break the mentality - and we will make it happen'.
* If you can help 'Liza Alert' in any way, please do.