'I wouldn't say that he beat me, but there were some physical altercations. I just feel like he left a scar on me, and that's something I'm going to have to live with for the rest of my life'. Picture: NTV channel, Russia
Sofia Petrova - also known as Sofia Roberts - was sent a few days after her 15th birthday to Siberia by her mother as punishment for bad behaviour. She was supposed to live with her biological father Igor Petrov and attend a Russia school, even though her mother had taught her no Russian, but is now planning charges against him for alleged inappropriate behavior.
Sofia also accuses him of drunkenness - and as our previous story explained - she has moved out of his flat. During a recent visit, her father turned violent against Sofia's friend Nikita, in footage screened across Russia, but her mother Natalia Roberts, 36, continues to ignore her daughter's desperate pleas to be allowed home.
For Sofia the clock is ticking: if she cannot get home to America, where she was raised since she was a small baby, by her 18th birthday in March, she may never have the right to be there. Parents in America, Russia and the world over have expressed horror on Moms' websites at the cruel parenting tactics of her mother, a high-flying academic, and her husband James 'Jim' Roberts, an attorney.
The disturbing footage from NTV (see below) shows Sofia on the phone to her mother in America.
'Mom I know I made mistakes - like any person does, like any 14 years old does', pleads Sofia, now 17. 'But I am not just a piece of furniture you can throw to the rubbish. I am your daughter and I still love you. And please forgive me, I will mend my ways'.
Her mother is heard replying: 'As soon as your family, your father says that everything is normal, that 'she is behaving adequately'. At school they'll say that everything is normal and you get adequate marks, and I see that you've realised your mistakes, we with great joy ... '
She implies that when these conditions are met, Sofia can go back to the only place she feels at home, the US. The camera then follows the teenager with friend Nikita going to her father's flat to ask him to tell Natalia that she is now behaving adequately. The visit quickly descends into shouting and shoving as Petrov seeks to get his daughter inside the door, telling her that Natalia, his ex-wife, had gagged him and not given him 'permission to speak'.
An emotional Sofia asks him: 'And did you need to get permission when you were coming home drunk? Did you need permission then?'
At one point, there is an ugly scuffle as Petrov tries to kick Nikita out of the flat. Petrov then tells NTV: 'Her mentality cannot be changed. It is purely American. And she is trying to - I don't know how to say it right - she is trying to set her own, American, laws here. So that everything here goes the way she likes it'.
Sofia said she is preparing a legal case against her father.
'All of the claims against my biological father are 100% true. And I will be seeking to press charges,' she said. 'I am making all of these statements because they are true. Whether I stay here in Russia, or return to my homeland, I will not be silent!
'What he did is not right, and never will be. So many children stay silent out of fear, and I was also this way. But then I understood that I am strong, and I have a voice. And I can be a voice not only for myself, but for all children that are dealing with these same problems as I am. You should never be afraid of anyone, even if the whole world is against you. Always stand for the truth and stand with god and everything will be okay.'
Ask what he had done to her, she replied: 'I wouldn't say that he beat me, but there were some physical altercations. I just feel like he left a scar on me, and that's something I'm going to have to live with for the rest of my life.'
Asked what punishment she sought for him, she said: 'I don't know, I just want him out of my life for good.'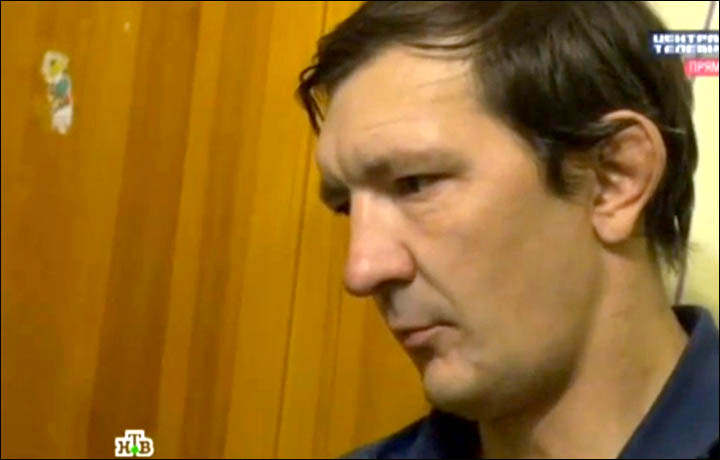 'What he did is not right, and never will be. So many children stay silent out of fear, and I was also this way'. Picture: NTV channel, Russia
In a desperate appeal to her mother - who appears deaf to her daughter - she said on Facebook: 'I love my mom and my sister very much, and don't know what I would do if something bad happened to them'.
She begged critics of her mother and stepfather not to 'terrorise' them and to stop passing their contact details to people who have harassed them.
'They don't deserve harassing and threatening phone calls. It's not helping me in any way. All it's doing is adding more hate into this world, which is unneeded. I love my parents and don't want to fight fire with fire. Please share this so everyone is aware!'
Of her plight, living and working in a hostel in Novosibirsk which has given her a home and care denied her by her parents, she said: 'Everyone says that love hurts, but that's not true. Loneliness hurts. Rejection hurts. Losing someone hurts. Envy hurts. Everyone gets these things confused with love, but in reality, love is the only thing in this world that covers up all the pain and makes someone feel wonderful again.'
Sofia said she is overwhelmed by the support she has had, even if she doesn't yet have a route back to the US.
In one entry, she wrote: 'Sitting here at almost 4 in the morning, and can't sleep. Yes, the reporters and blogs have helped me a lot to get my story out there, and I am very thankful for that. But it is you, regular people, that really make the difference, I read every single message and every comment, and while I cannot answer to all of them, I do want to say a huge thank you to all my supporters.
'You guys are amazing! You guys give me the strength to keep fighting. And I hope that someone can take me as an inspiration and not be afraid, as a child we were told that adults were always right. But that's not true, they make mistakes just as children do.
'I hope this all is not just going to help me, but help children all over the world. Children need to have a voice, and never be afraid. Remember always, that there are so many kind people all over the world that love and care about you. I am one of those. Thank you everyone for all the support!'
In another message, she said: 'If any of you are in the process of talking to lawyers and attorneys, please be aware that my legal name is Anastasiya Petrova. But I am known as Sofia Roberts.'
Unlike her mother, who obtained US citizenship, Sofia remains a Russian citizen.