The rescued Amur tiger cub is 9 to 10 months old. Picture from a trail camera courtesy PRNCO 'Tiger Center'
The young Amur tigress was seen walking close to houses and resting for long hours in back yards of Gornovodnoye village in Primorsky district, and on a side of a motorway.
The big cat showed no aggression, and no pets or livestock were missing, but the tiger's presence around humans for nearly three weeks was unnerving for the residents and signalled serious health issues with the animal. The endangered animal was also an easy target for poachers.
Experts from the regional Hunting Surveillance department hoped that mother tiger would appear, but after two weeks of air and land monitoring they concluded that the cub was orphaned and needed help.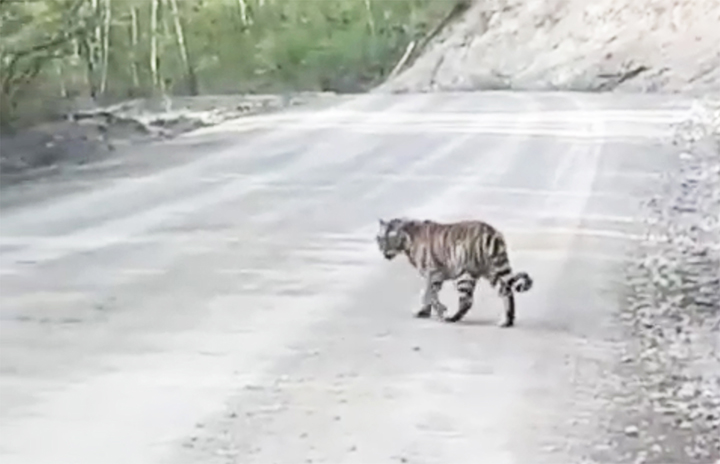 ---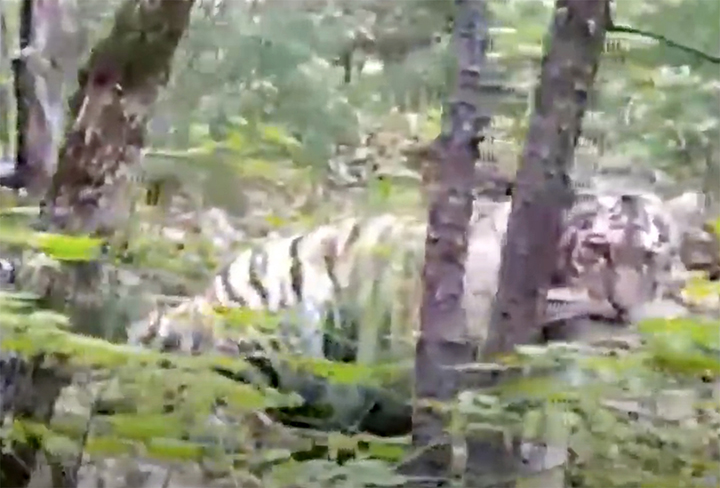 ---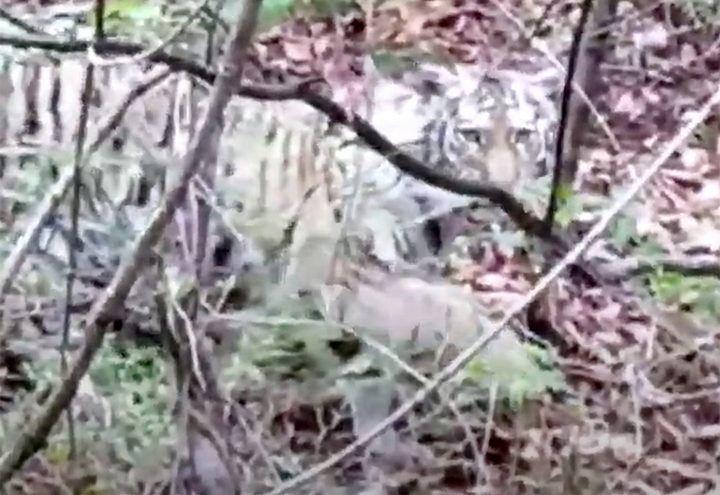 ---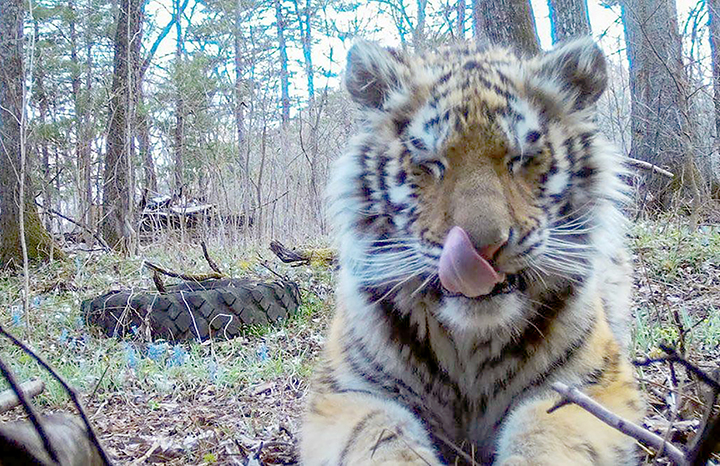 The rare predator was caught after weeks of wandering into a village in Russian Far East. Pictures: PRNCO 'Tiger Center'
---
The tigress was caught on 16 May and delivered to 'Centre Tiger' for medical observation and temporary stay. First checkups showed that the cub had no wounds. Her complete blood count was normal, results of separate virus tests are yet to arrive.
The cub's weight is 54 kilogram and despite her looking quite well-fed experts believe she is quite malnourished due to issues with feeding. Her teeth hasn't changed from milky yet and are in good condition except for two broken incisors.
The cub's age was identified as nine to ten months, which is half a year younger than the experts thought earlier.
What puzzles the Centre Tiger's team is the tigress's behaviour which continues to be nowhere near as aggressive as it should be with an Amur tiger.
'It's rare to see orphaned tiger cubs in May as normally mothers don't give up on cubs of that age. Quite likely the tigress was killed by a poacher or died from a natural cause, though it is not impossible that the cub was kept by people before it escaped or was thrown out.
'Certain strange traits in the tigress's behaviour allow us to think that the cub could have stayed with humans', said Sergey Aramilev, director of Amur Tiger Centre in the Far East of Russia.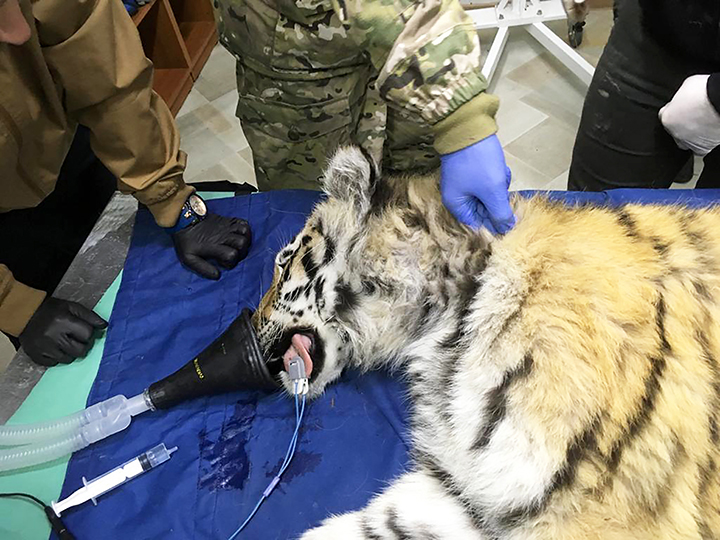 ---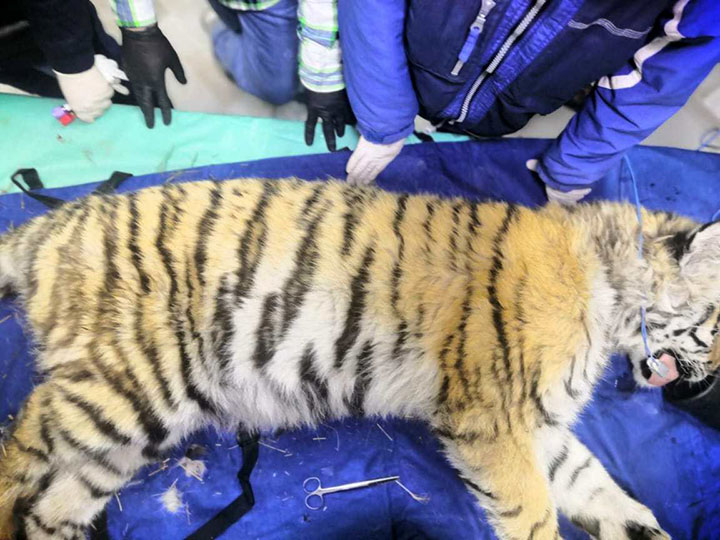 ---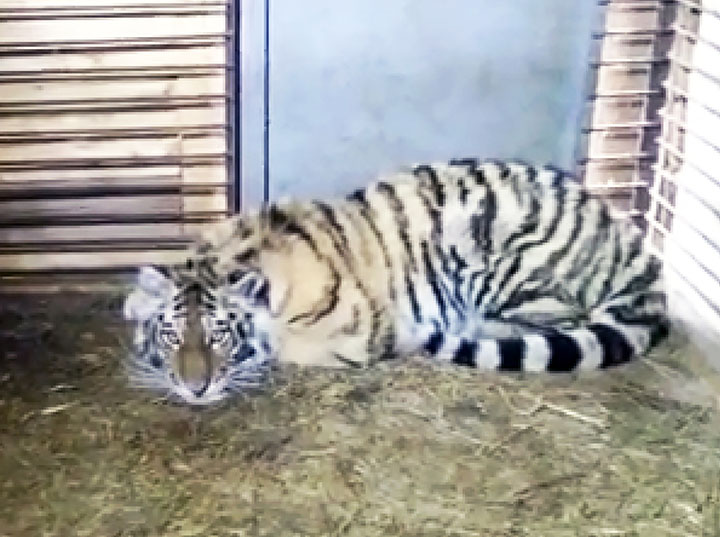 ---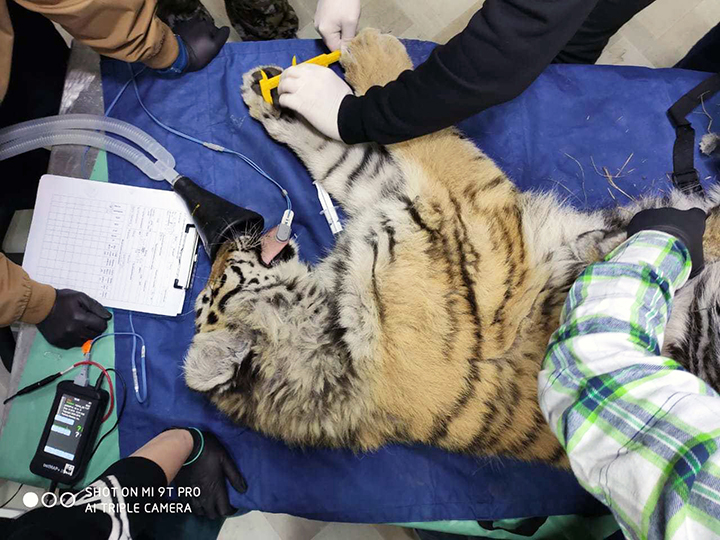 ---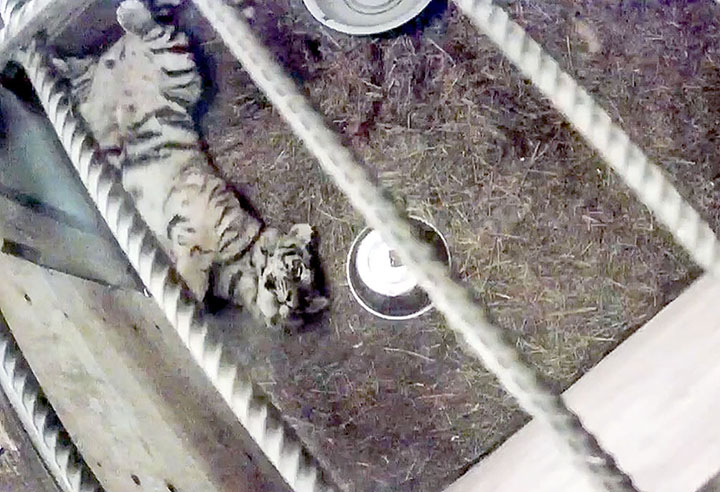 The tigress spends most of her time sleeping, the rehabilitation centre team's said. Pictures: Anna Blidchenko/PRNCO 'Tiger Center'
---
The latest update on the tigress's health was received on 26 May and suggests that the she is beginning to feel better. The cub still doesn't drink water and prefers meat broth, her digestive system seems to be working fine, but her behaviour remains unusually calm.
'She doesn't even attempt to get out of the enclosure and spends her days mostly sleeping', the Centre Tiger team said.
After the rare cat completes all medical tests, the rehabilitation centre's team will concentrate on her re-introduction to the wild.
It will be possible if the tigress will show that her hunting instincts are intact and that her attitude to humans is back to being a lot more cautious.
ORPHANED AMUR TIGRESS, videos PRNCO 'Tiger Center'
---
The Amur tiger is the largest of the world's big cats. About 600 grown up animals - 95% of the world population - live in Primorsky Krai, Khabarovsk regions, Amur region and the Jewish Autonomous region in the Far East of Russia.
Some Amur tigers live in China and in North Korea.
Next tiger census in Russia will be held in winter 2021-2022.
SUPPORT

THE TEAM THAT HELPS ENDANGERED AMUR TIGERS IN RUSSIA AND SUCCESSFULLY REINTRODUCES THEM BACK TO NATURE
Team of PRNCO 'Tiger Center' have rehabilitated 7 tigers and 1 African lion.
Of them, 6 tigers were released into their natural habitat. Five of them became fully adapted to life in the wild.
The first female Zolushka (Cinderella), which had passed the full course of rehabilitation, was observed with two cubs in December 2015. The tigers Svetlaya (Bright) and Boris, released in 2014, formed a couple.
The Centre was founded September 19, 2012.