The moment of landing, re-played by Valentina Tereshkova several years after the event. Picture: 1tv Russia
It was a giant propaganda coup for the USSR, outsmarting the Americans. Three days later she landed in southern Siberia, where amazed locals brought her food and drinks and she offered the leftovers of her space rations, contrary to regulations.
'When I landed, it was Altai region, many people met me. People working in the fields, they ran towards me', Valenting Tereshkva recalled.
Among them was a babushka with what - at the time in the Soviet Union - was a very politically incorrect question.
'I will never forget this one elderly woman,' said the cosmonaut.
'She came close to me, her eyesight was quite bad. And she asked me: 'Dochen'ka (darling daughter), can you tell me: did you see God?
'What could I possibly say then? We were brought up like atheists (under Communism). I looked at her and said: 'Do forgive me Matushka (dear mother). I think perhaps my spaceship was flying on another road. On another trajectory.
'Perhaps God was higher above and maybe this is why I didn't see Him.'
'And she told me: 'Thank you'.
'But what for, I didn't answer your question?' I said.
'She smiled coyly and said back: 'Because you didn't offend me'.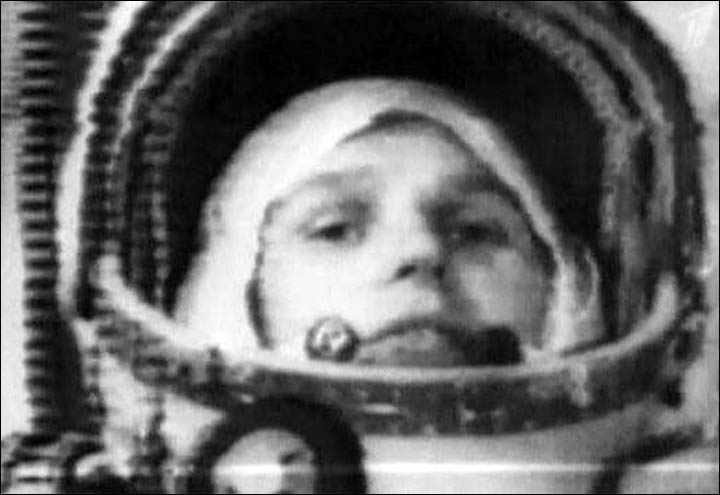 'We were all young, we were just burning with desire to go to space'. Picture: 1tv Russia
Valentina's memory of the conversation is supported by Maria Kopylova, a local from Bayevo district, who recalls the old lady approaching Tereshkova - call sign Seagull - soon after she fell from the sky and clambered out of her capsule.
Today a memorial on the Barnaul-Slavgorod highway commemorates her touchdown in southern Siberia. Half a century on, now 76 and a member of parliament in the ruling United Russia party, she was honoured last week by President Vladimir Putin, receiving the prestigious Order of Alexander Nevsky for meritorious public service.
'We were all young, we were just burning with desire to go to space', Valentina says.
The provisional group of 400 women was narrowed down to just five, all of whom began an intensive training programme.
'We were all amateur parachutists, but we weren't pilots, so the main thing was to train us as pilots', she told The Independent last week.
'Nowadays, space crews have different people to do different tasks, but back then you had to be the pilot, the engineer, the doctor and the navigator.'
On her flight, she said: 'You don't think about the danger'.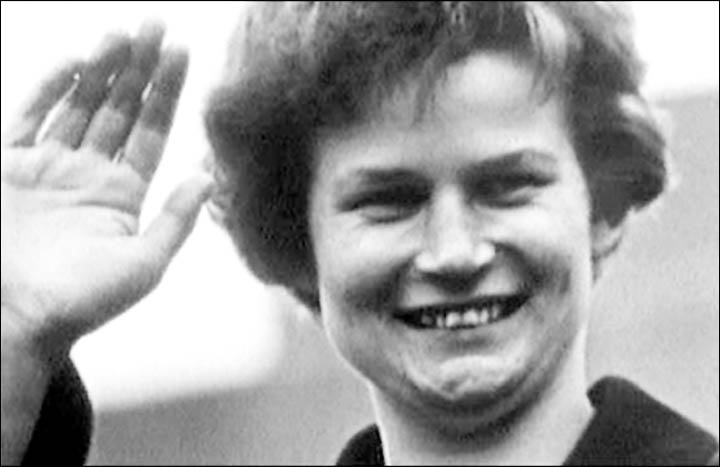 'Nowadays, space crews have different people to do different tasks, but back then you had to be the pilot, the engineer, the doctor and the navigator'. Picture: 1tv Russia
Valentina has previously denied claims that she became listless and unconscious in space and repeatedly vomited. During the meeting with Tereshkova, Putin expressed hopes for the new Vostochny space launch site in the Russian Far East.
'The construction of the Vostochny space launch pad, a new home space launch facility, is currently under way. This is a very big project', he said.
'In fact, this is not just a launching site but an entire scientific town. I am sure that the construction of the Vostochny space launch facility will be a serious step forward in the development of space science in general and of high technologies in particular. A country with space traditions like Russia should certainly have its own space launch facility.
'The work is under way. I hope it will be done on time and to a good quality.'
Of Tereshkova's historic flight, he said: 'Many of us remember that exactly at this time 50 years ago our space pioneers were not just well-known people but national heroes. These are significant and milestone events in the history of our country and space exploration.'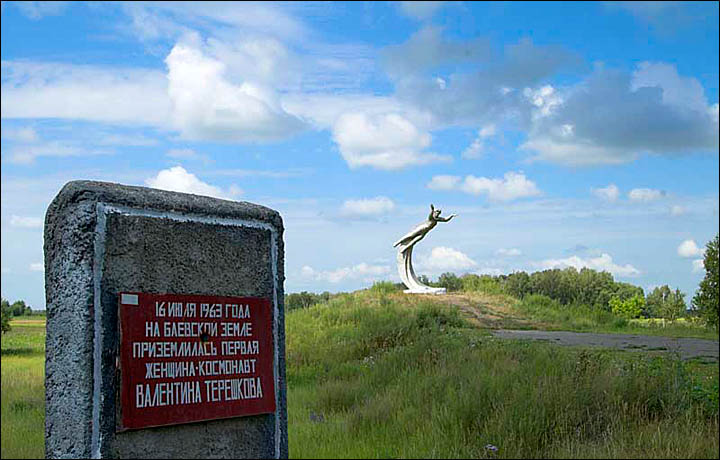 ---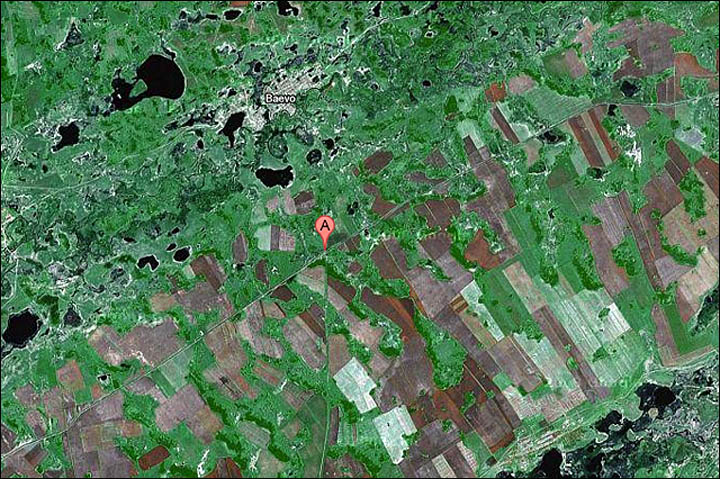 We remember: the memorial in Bayevo district of Altai region, marking the area where Valentina Tereshkova landed, ground and aerial views. Pictures: topinworld.ru, Google maps
Many of those space pioneers and discoverers continued to be actively involved in social and political life.
'Valentina Tereshkova has always been in the spotlight of public life, in absolutely different areas. She has always been very active. Today, she is a State Duma deputy', Putin said.
He stressed: 'When events of this kind take place, when women do things, which far from any person and even any man can do, it naturally becomes a landmark and historical event.
'It is very pleasant for us to realise that it is a citizen of our country and a citizen of the Soviet Union who became the first woman in space'.