Welcome to 600-year-old Whale Bone Alley, once so remote that only few knew about its secrets. Picture: Evgeniy Basov
When photographer Evgeniy Basov captured the beauty of giant bones towering high into the Siberia sky, he said they resembled the majesty of England's Stonehenge. Learning more about their unusual layout, and the significance of their creation, he insisted they were even as important to the Russian Far East as the Pyramids. It's little wonder.
To many the location appears nothing more than some eerie graveyard of the damned, a last resting place for the whale carcases of yesteryear – but that is where they would be wrong.
For it's here, at Siklyuk on the tiny Bearing Sea island of Yttygran, where Eskimos created a 14th century shine and sacred meeting place, made with giant bones. Welcome to 600-year-old Whale Bone Alley, a location once so remote that few outside this part of the world knew about its secrets.
'It is the same kind of historical treasure, and means the same for the history of the North East of Eurasia, as Stonehenge or the Pyramids of Egypt,' wrote Mr Basov, who also runs a tour company, in a blog following a visit last year. '
And just like these, more well-known, monuments Whale Bone Alley raises more questions than answers. Anyone who is not familiar with the history of the Eskimos will never believe it that Whale BoneAlley is made from whale jaws vertically pitched into the ground'.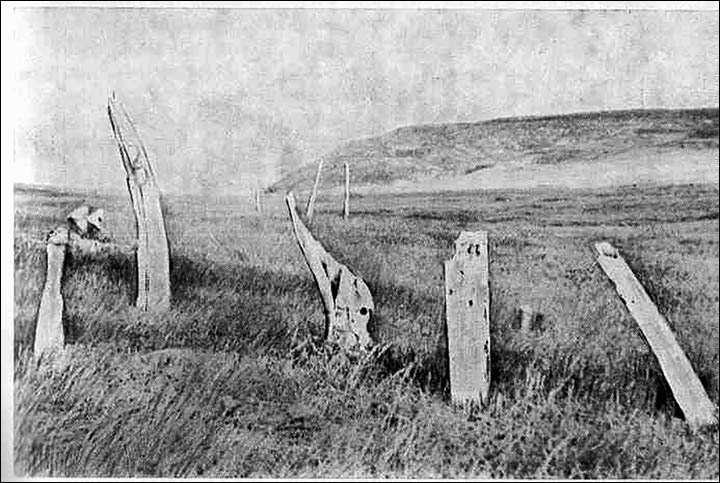 ---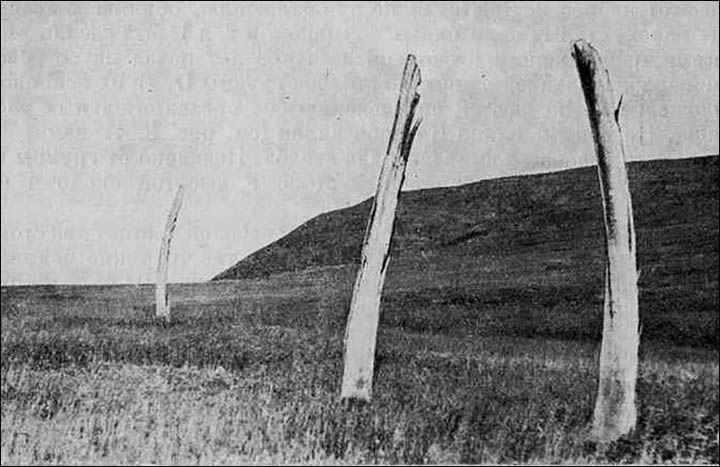 ---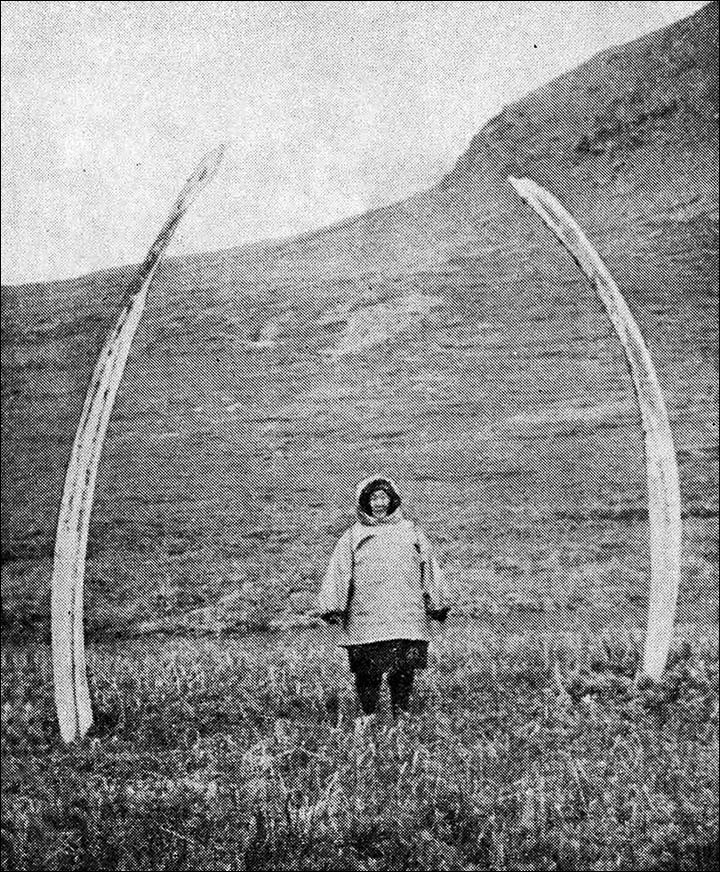 Old black-and-white photographs show Eskimo people standing in the alley. Pictures: S.Arutyunov, I.Krupnik, M. Chlenov
It was in 1976 that Soviet archaeologists discovered dozens of bowhead whale bones standing horizontal in the ground, arranged in a double line running parallel to the shore. Between the 'alley' of giant jaw and rib bones, propped up by rocks, were huge skulls and square pits once thought to have contained tonnes of meat.
More than three decades on and the site is still as strange and compelling as ever.
It is thought Whale Bone Alley dates as far back as the 14th century and was created by Eskimos based in what is now Chukotka as a shrine and sacred central meeting place. Archaeologists believe its construction coincided with a mini ice age and a period of crisis, with severe winters causing a food shortage.
Both Asian and American Eskimos people suffered, and they urgently needed new places where they could huntwhales and other sea animals. Facing hunger and death, it led to armed conflicts between different communities, before eventually the Asian Eskimos formed a military and political union.
Despite its small size and mountainous interior, Yttygran became the religious and ideological base for the union, and it was at some point during the 14th or 15th century that Whale Bone Alley was built. At least 34 whale jaw bones, standing five metres high and weighing about 300kg each, were erected to create a neutral place of worship.
It is thought that male representatives from each of the Asian Eskimo communities would gather once a year to take part in joint sacrificial offerings, and discuss their problems. The site extends some 1,800ft along the northern coast of the island and is likely to have been chosen because of the ease by which local people could kill and butcher a whale.
Square-shaped pits were dug in the ground to make temporary meat storage facilities for the gatherings. Local Yupik people have a different explanation to the archaeologists, however, and say the site was simply a collective centre for the butchery and storage of whale meat.
Whatever its origins, despite more than 600 years having passed, the site is extremely well preserved, with bones clearly still visible jutting out of the ground.
In Mr Basov's pictures the jaw bones look like giant boulders lurking beneath Siberia's winter snow, while the ribs resemble the tusks of long-gone woolly mammoths as they tower up towards the blue sky. Old black-and-white photographs do exist showing local Eskimo people standing in the alley, while archaeological sketches give an indication of how the sacred site once appeared.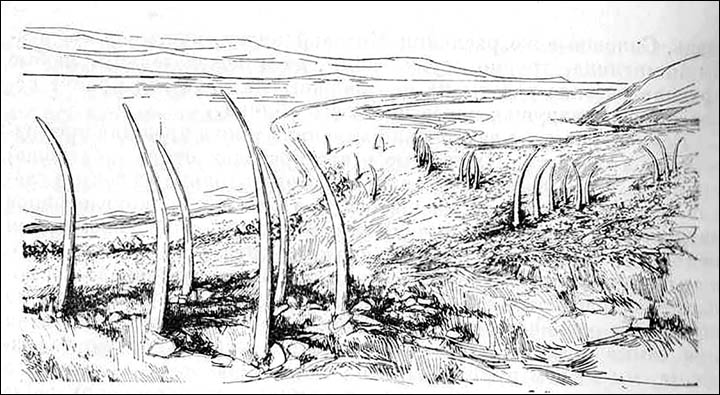 ---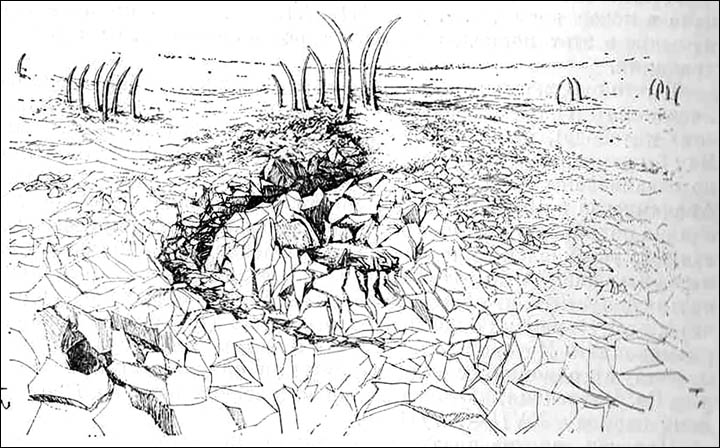 ---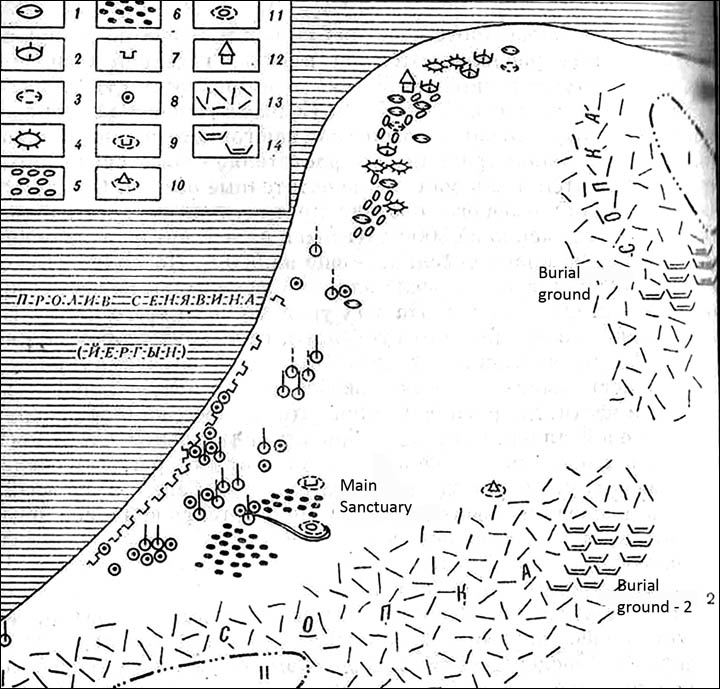 It is thought Whale Bone Alley dates as far back as the 14th century. Pictures: S.Arutyunov, I.Krupnik, M. Chlenov
On his website Mr Basov, who lives in Anadyr, in Chukotka, tells readers how the whale was an important food for the Eskimos at the time the alley was built.
He wrote: 'Before the 8th century they hunted walruses, but between the 8th and 13th to 15th centuries they mainly hunted whales. The Eskimos settlements consisted of about 50 related people, with many small settlements all along the eastern coast of Chukotka.
'The whale was the most wanted kill, but hunting was extremely dangerous and 30 to 60 people were needed for such a hunt. This is why people from several settlements would unite to hunt a big Greenland whale.
'Between the 14th and 15th centuries, there appeared a place of public worship where at least 34 whale jaws were erected. Five meters high, they were pitched into the ground in groups of two to three jaws.
'Whale skulls were also buried there and at the neighboring hill meat holes were dug – as temporary meat stores.'
He added: 'This is where there was a sort of military and political union of Eskimo hunters founded that united Eskimo people from Mechigmen bay to Ungazik.
'Yttygran island was a kind of spiritual monument, annually attended by the representatives of the Asian Eskimos settlements. We suppose that they gathered at the end of summer, or beginning of autumn, when they had a break in their day-to-day activities.
'Only males attended the meetings, and they took part in joint sacrificial offerings, then discussed their military and political problems. The participants brought with them the jaws and skulls of whales and dug meat holes.'
---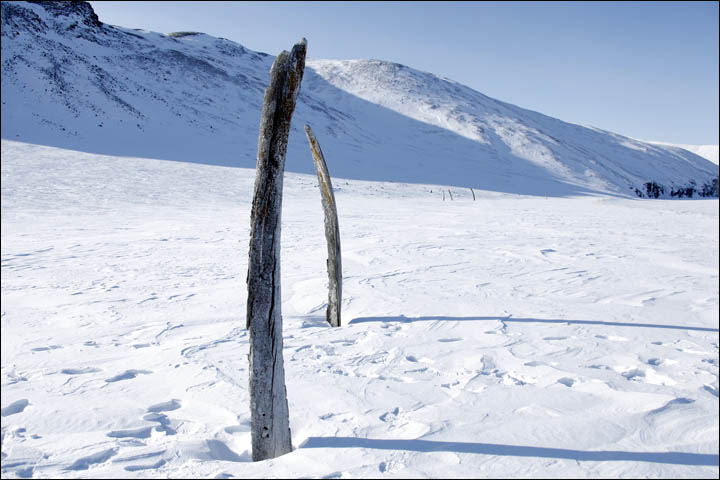 ---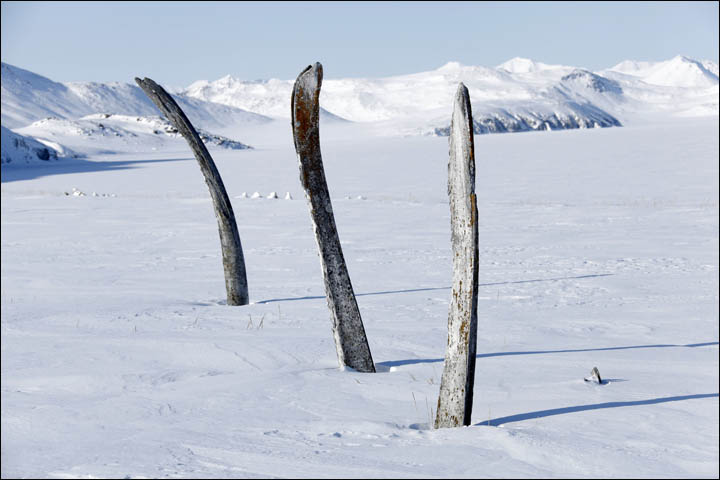 ---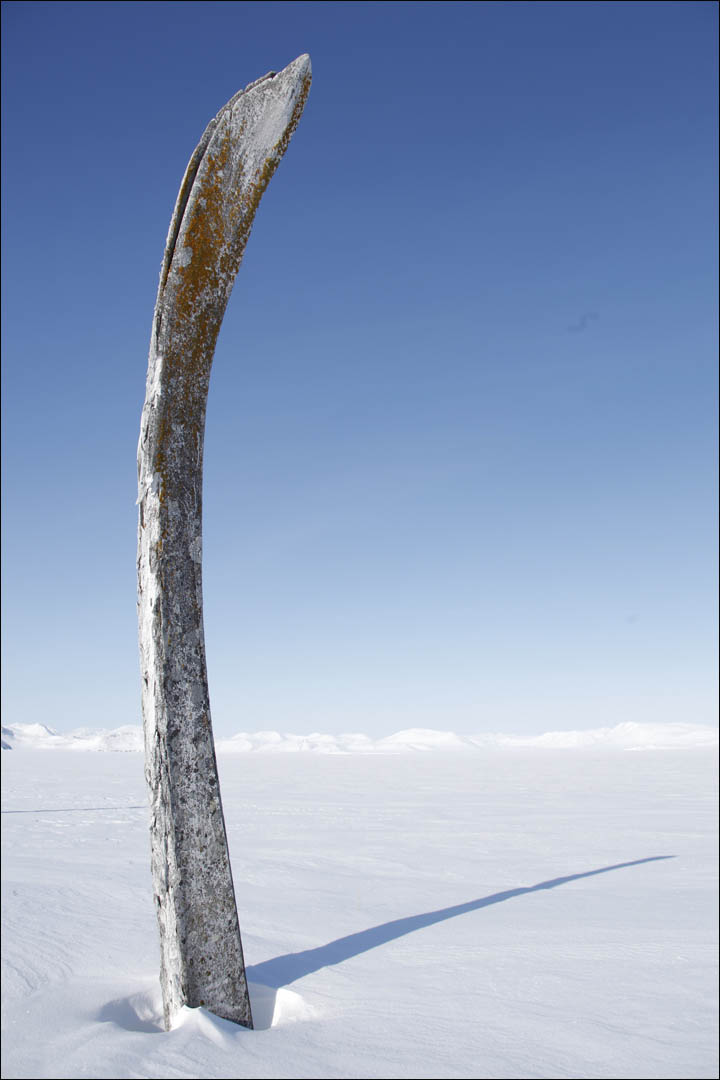 ---
Yttygran island is just 82km (52 miles) from the coast of Alaska. Pictures: Evgeny Basov
Only 13.5km long and with a maximum width of 5km, Yttygran island, is just 82km (52 miles) from the coast of Alaska.
It is beginning to become popular with western tourists, particularly on cruises from the United States, thanks to its geographical proximity to the peninsula.
While Whale Bone Alley itself is now a World Heritage-listed site, visitors are also keen to study the region's local wildlife, including the migratory birds, polar bears and Arctic foxes. 'In many ways, Russia's Chukotka Peninsula is a geographical reflection of Alaska, with similarities in landscape and wildlife,' wrote the New York Times in one travel editorial.
An article in the Los Angeles Times described an island 'alive with the sounds of birds' and described the region as a 'bird watcher's fantasy'.