Airport security are unsure how the ginger cat sneaked into the terminal. Picture: Vladivostok airport passenger
The hungry cat that sneaked into an airport shop and munched through $1,000 of gourmet fish has been offered a new home as a 'revolutionary' to inspire others. A video of the cheeky feline tearing into expensive delicacies, including squid, plaice, flounder, and flatfish went viral on the internet and turned her into a global star.
Now officials with the Communist Party in St Petersburg are ready to welcome her into their fold following the daring exploits at Vladivostok airport in Siberia.
Leading members say the cat is a perfect role model and would love nothing more than to give her food and shelter, and name her Vasily after Red Army commander Vasily Chapayev.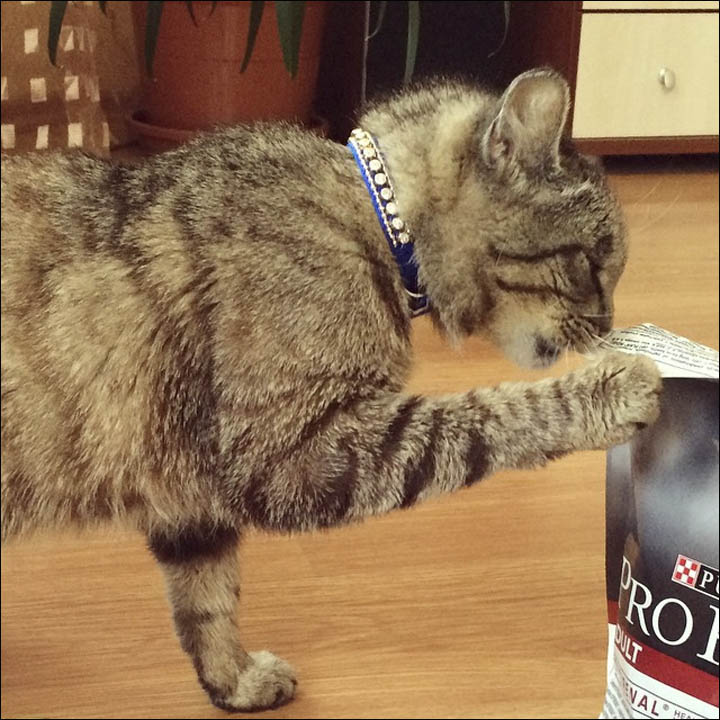 Cat was taken in by members of the local Admiral hockey club, who named her Matroskin and made her an official team mascot. Picture: Hockey team 'Admiral'
Sergey Malinkovich, the head of St Petersburg Communists, said: 'This cat is a Robin Hood or a Che Gevara. She sneaked into a glamorous Rybnyi Ostrovok shop and ate everything there, because only the bourgeois and foreigners can buy food there.
'But the cat is from our working family. The red whiskered, four-legged, Bolshevik decided to strike and sabotage the plans of these bourgeois.
'Walking around the airport for years, she could see how ordinary airport workers were eating, how passengers couldn't even afford to buy a tea in a cafe, and how transit passengers were chewing their humble sandwiches.
'Yet there was salmon, lobsters, imperialistic prawns... She was eating them and purring for all of us.' He added: 'I'm asking Piter's cats (St Petersburg's cats) to follow the example of the Far Eastern revolutionary.'
The five-year-old stray was caught red-pawed as she munched his way through smoked squid at Vladivostok International Airport.
Security staff are unsure how she managed to sneak into the terminal, but CCTV footage has now revealed how she pulled off his dastardly feat in the shop.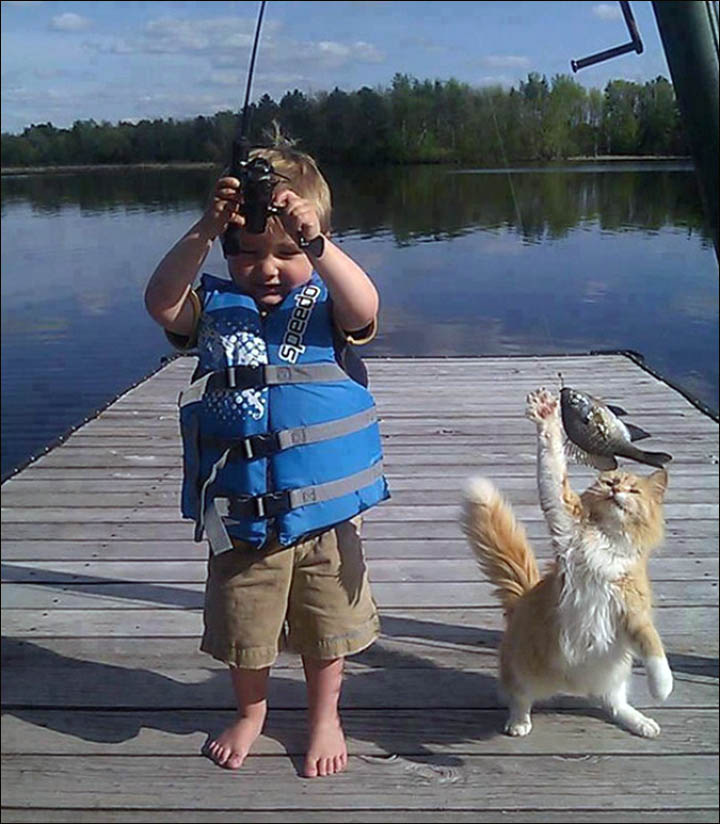 ---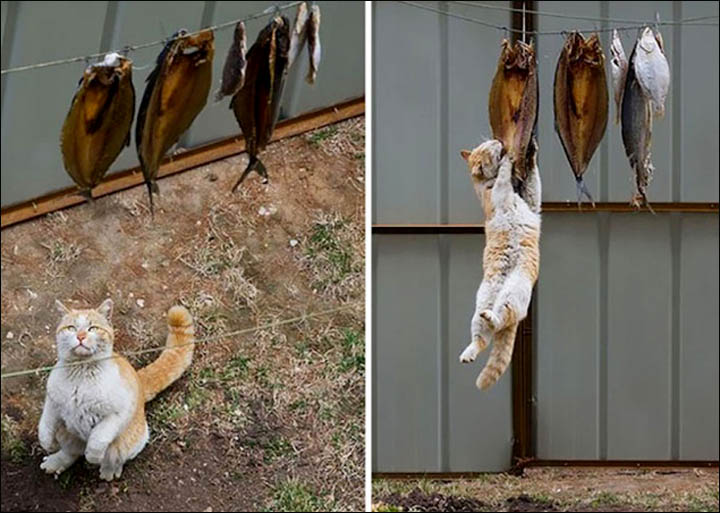 There are numerous pics in social media with the cats caught red-pawed while stealing the food. Pictures here and below: Social media
Videos show that she walked into the duty free store at 9pm on December 4 and was not spotted by staff who then closed up for the night and locked her in.
At 10.43pm the cat was at the glass door waiting for it to open but then meandered towards the fridge, which was likely unlocked, and began her feast.
Airport police discovered her 13 minutes later tucking to her gourmet supper.
Shop owner Irina Kuzmina said all the food had to be destroyed, leaving her with about 60,000 roubles-worth of wasted food. Her claim to airport authorities to have the money reimbursed has been refused.
Last weekend the cat was taken in by members of the local Admiral hockey club, who named her Matroskin and made her an official team mascot.
The club's president had viewed the video of the animal's exploits and offered a temporary home. He also said the team would pay for the damaged food from their merchandise sales.
On Tuesday Matroskin was taken to a vet for a medical check-up and found to be in good health, if still hungry.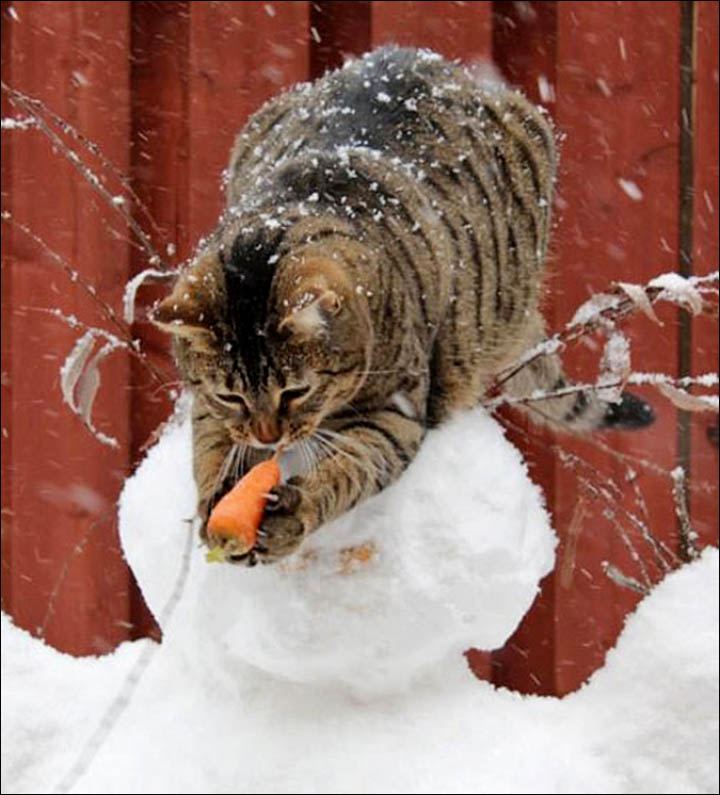 ---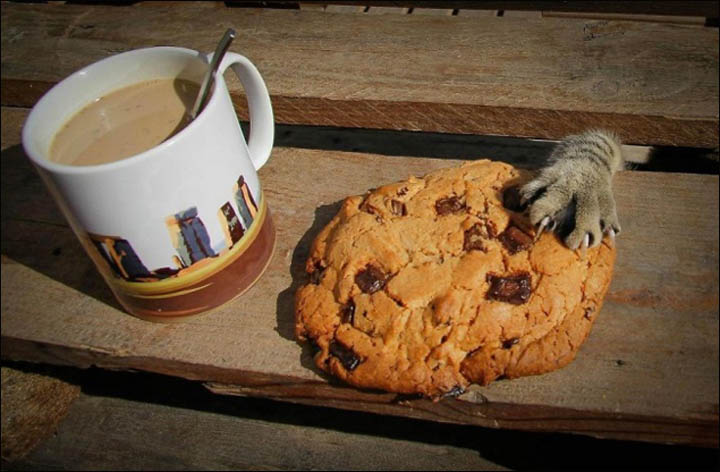 ---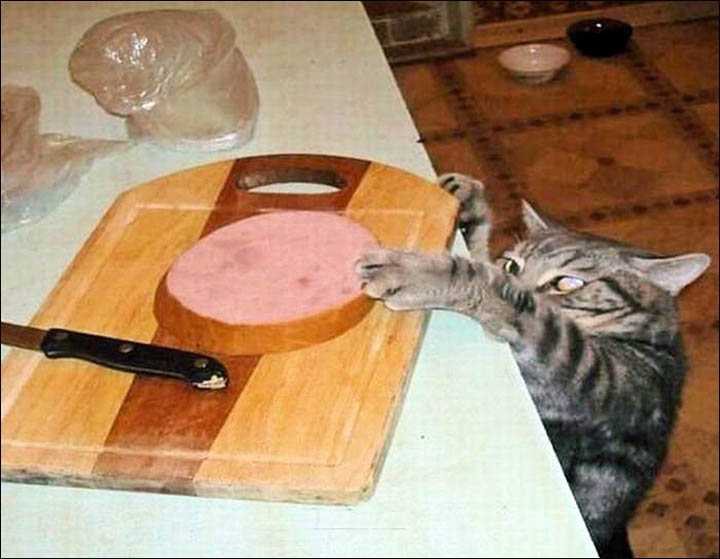 ---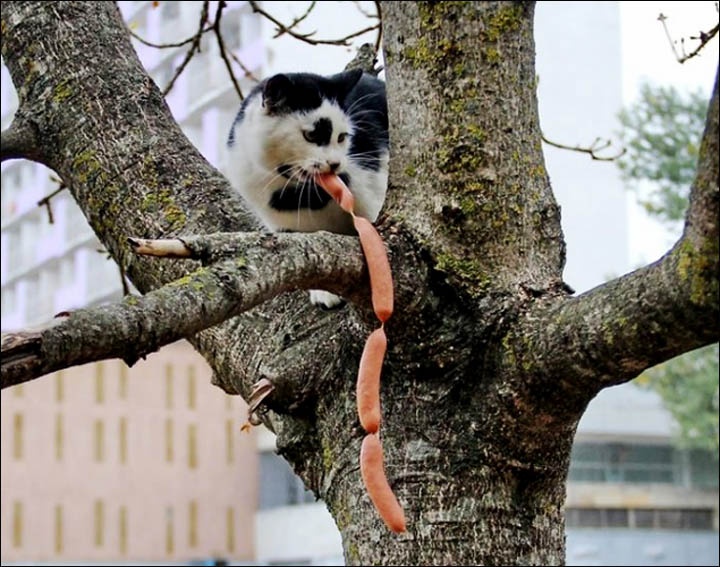 Alexey Chechelev, the head of the hockey club's press office, said: 'The animal is feeling well. She's quiet. We got her smoked squid immediately because we know her preferences.
'Our medical office and our head doctor are designing her a special diet. So, she'll be in perfect shape.'
He added that she also enjoys soup and salmon and she may be pregnant with kittens. It is not clear yet where she will live on a full-time basis but she has already been on her first tour around Vladivostok's Festisov Arena, where the hockey team plays.
Meanwhile, Russia's former chief public health officer, Gennadiy Onishenko has been vocal in his support for the cat.
He told Govorit Moskva radio: 'The cat is not to be blamed – it's their nature. They have an instinct to eat proteins. From its mindset and ethics, it hasn't done anything wrong.'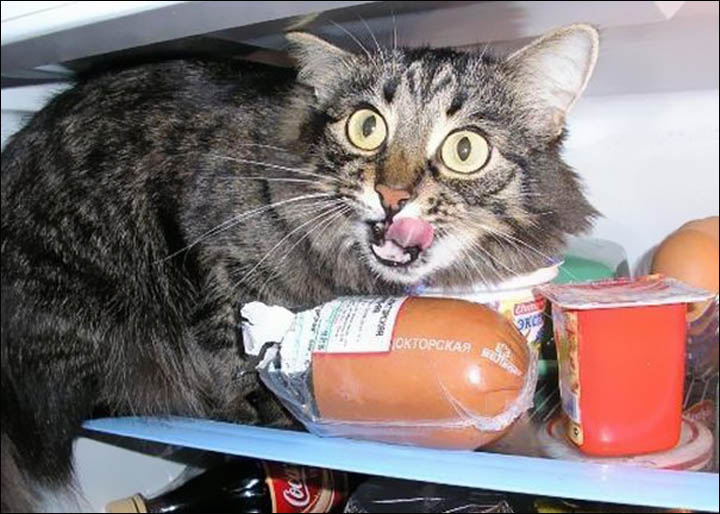 ---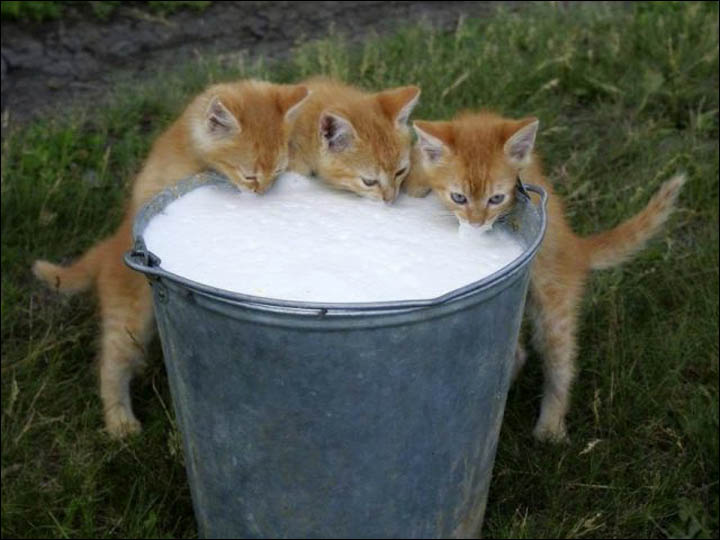 ---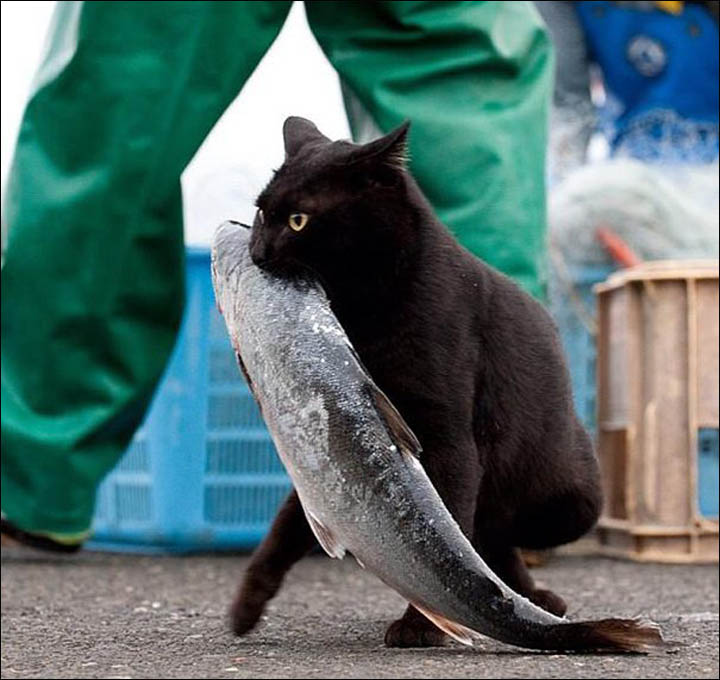 ---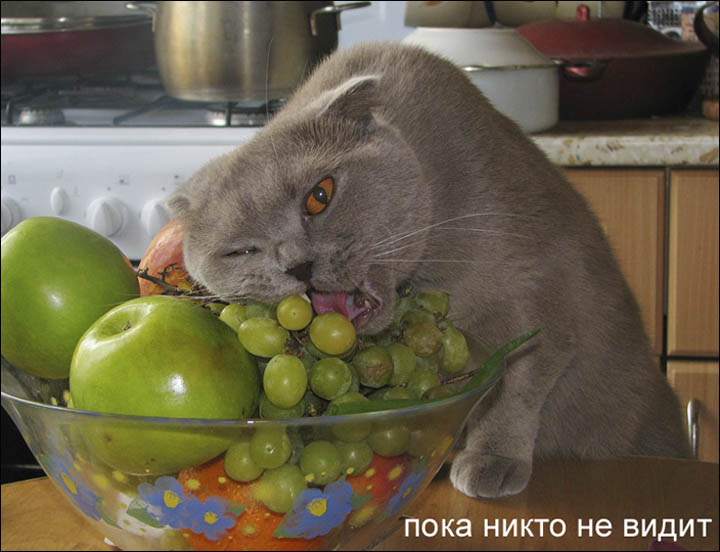 ---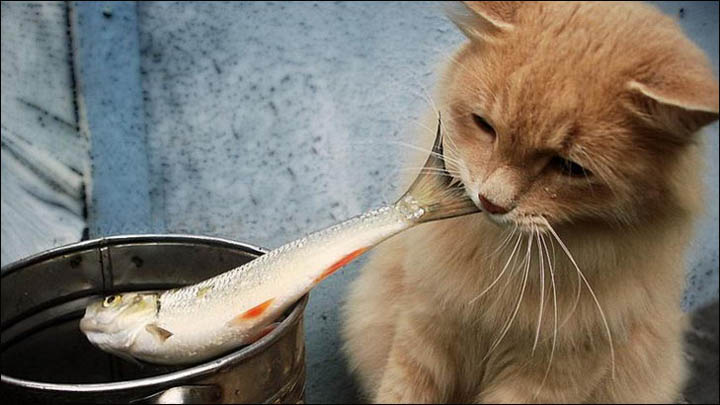 ---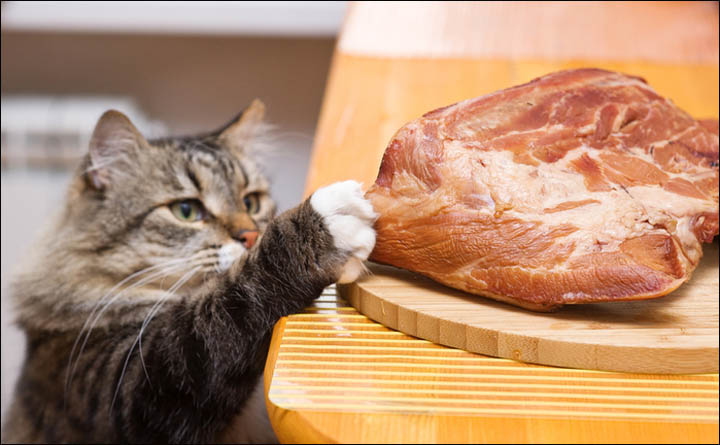 ---