A swimmer greeted by Grandfather Frost. By Boris Yelin (1960s)
It is an intriguing pictorial glimpse into Russia's New Year celebrations of yesteryear, to a period of history all but unknown to the western world.
With smiling faces and seemingly plentiful food and drink on the table, it is far removed from the stereotypical image of how the Soviet Union was viewed outside the Iron Curtain.
Some photographs depict families huddled around a table, eating traditional meals and sipping sparkling wine, while others feature Christmas trees, parties and the Russian 'Santa Claus' Grandfather Frost.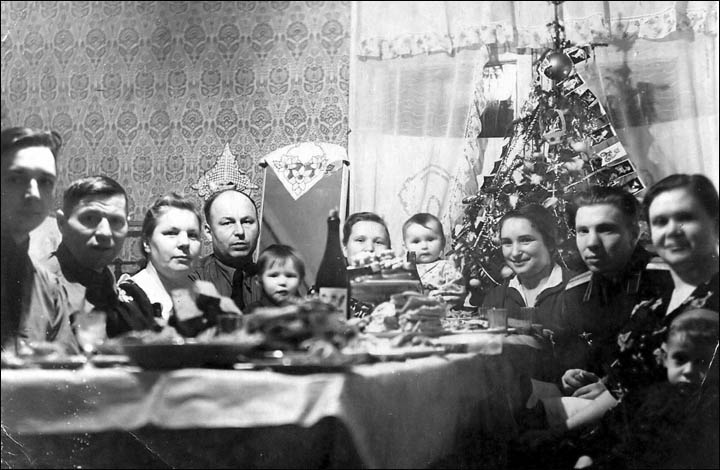 ---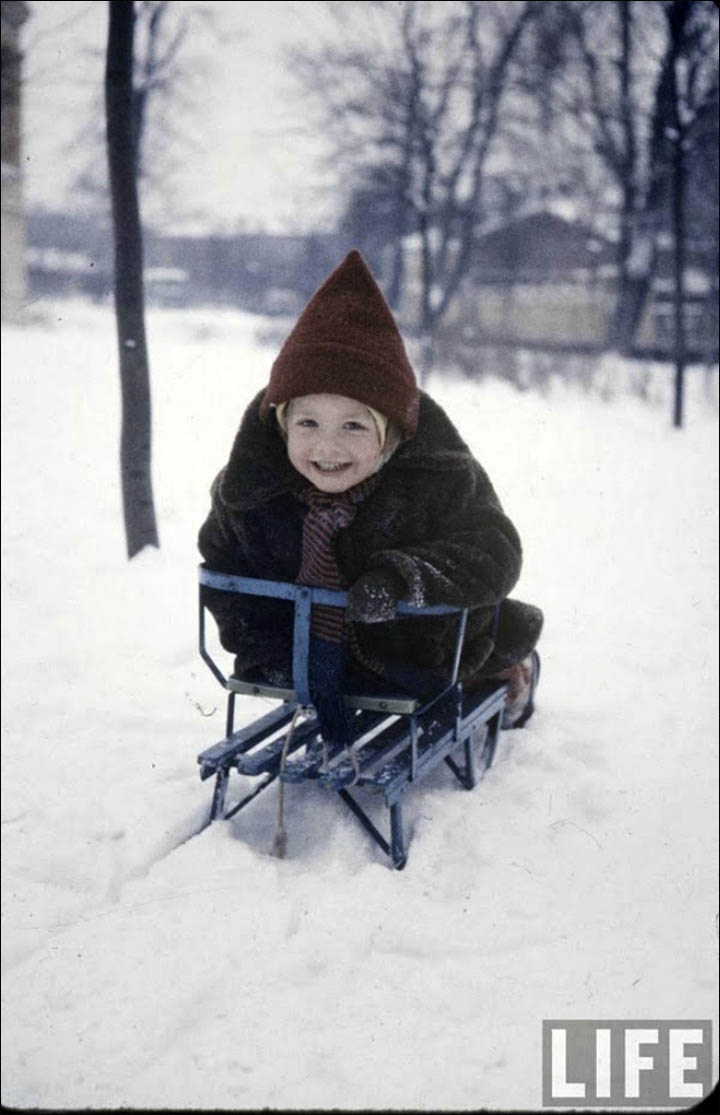 New Year's eve in an officer family, village of Murmashi, Murmanskaya oblast (1956), and Moscow in 1959, by Karl Midas
Indeed, if it wasn't for the military uniforms worn by some of the men in the black-and-white pictures, the images could easily have been taken last week.
This is New Year USSR-style, captured in a series of fascinating photographs spanning more than four decades of Communist rule.
Almost all of the pictures show how much people relaxed and clearly enjoyed this time of the year, despite the strict regime.
'New Year was the favourite holiday for children, because there was so much winter fun,' recalls 55-year-old Natalia Ledovskikh, from Novosibirsk. 'We spent lots of time outside skiing, skating, sledding down the hills and playing with snowballs – even if it was -30 degrees outside. We never felt the cold.
'Most of the children were dressed in New Year costumes, not just for school events but also for when we celebrated at home with our parents, relatives and friends.'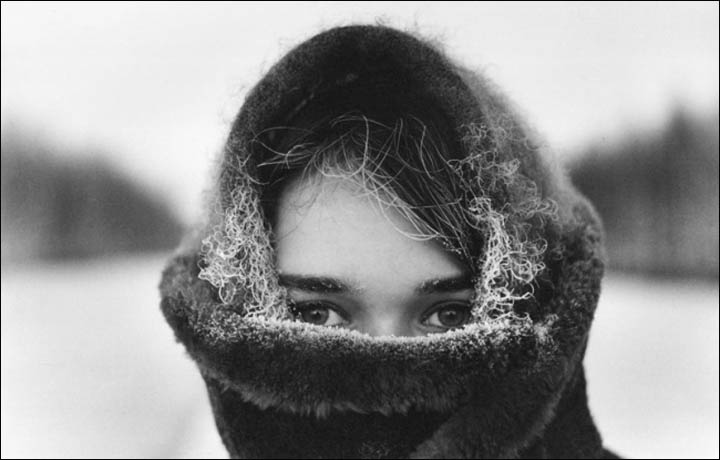 ---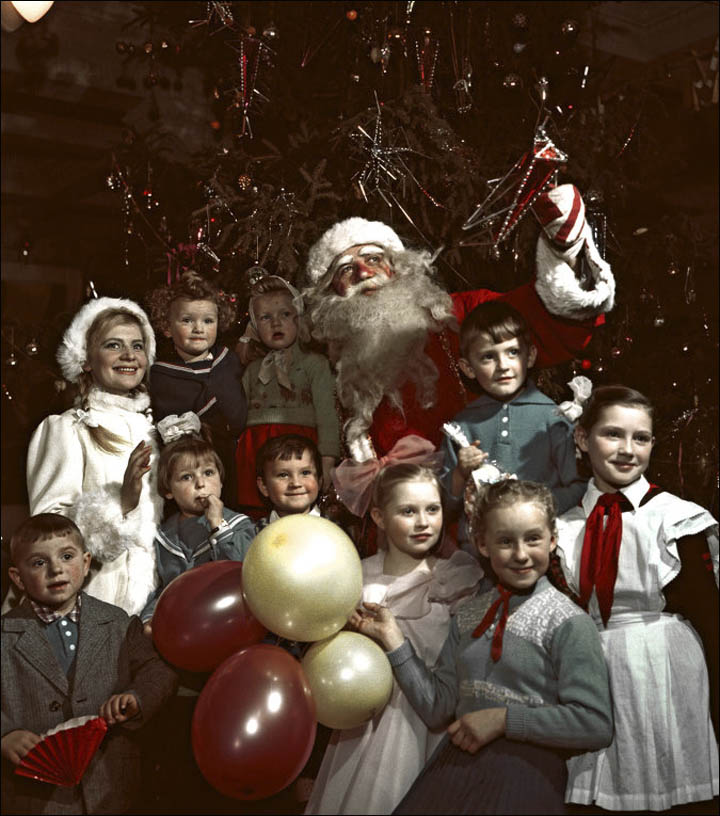 ---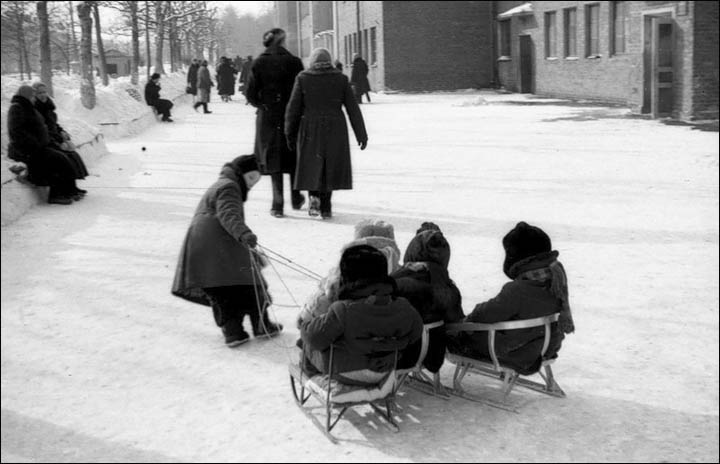 Pretty girl in winter, by Yuryi Lunkov (1965). New Year 1960 and kids playing outdoors. All pictures taken in Moscow, photographers unknown.

It was at this time of year – shortly before the Russian Christmas in early January - that people were able to relax and enjoy things they normally never got the chance to, whether that be trying unusual dishes, getting presents or simply socialising without worrying about politics.
Many of the photographs from the archives depict Christmas trees, which were actually banned in Soviet Russia from 1921 until 1935. It was only after the first official tree was set up in Kharkiv in 1935 that Stalin allowed families to have them.
However, in true USSR-style, a booklet was produced in 1937 instructing people how to decorate their pine tree properly, including a guide to what toys were allowed and what colour the star on top should be.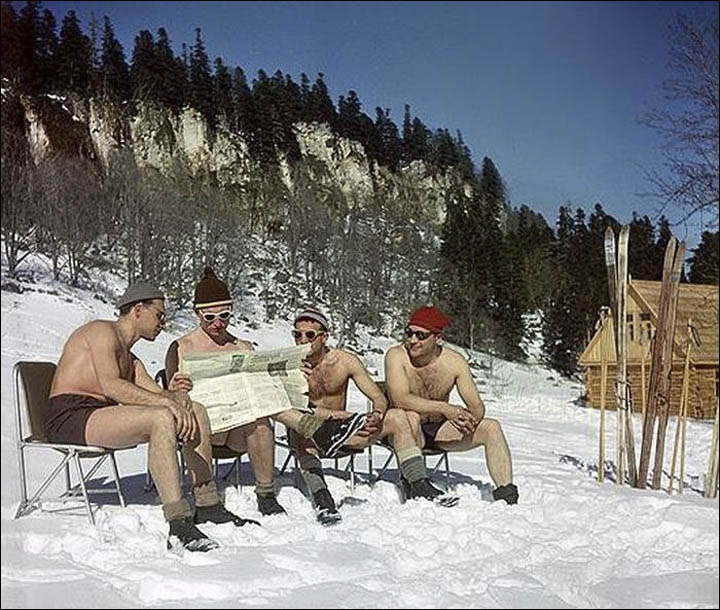 ---
---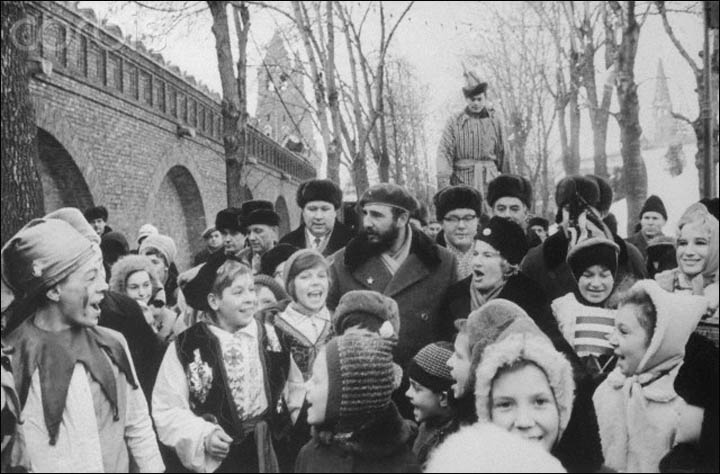 A tourist camping in LagoNaki (1961), Moscow riverside (1960s), pictured by Marc Riboud and Fidel Kastro in Kremlin (1964), photographer unknown.
In the 1920s, in line with Soviet secular policy, Altai hosted something called Komsomol Christmas, an anti-religious celebration in which youngsters would take part in performances making fun of Christmas traditions.
It was only in 1936 that New Year celebrations were made legal, and for the residents of Novosibirsk, in Siberia, they became one of the most important parts of the calendar.
Public celebrations in the city were moved outdoors to an ice rink in 1945, while a year later a fancy dress party was held for young people. The first official tree was put up in the 1940s.
For many living in the Soviet era, the post-war winter celebrations of the 1940s and 1950s were a particularly golden time for them.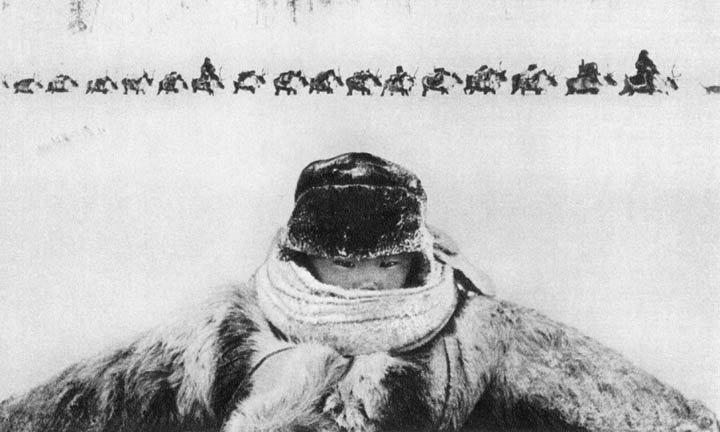 ---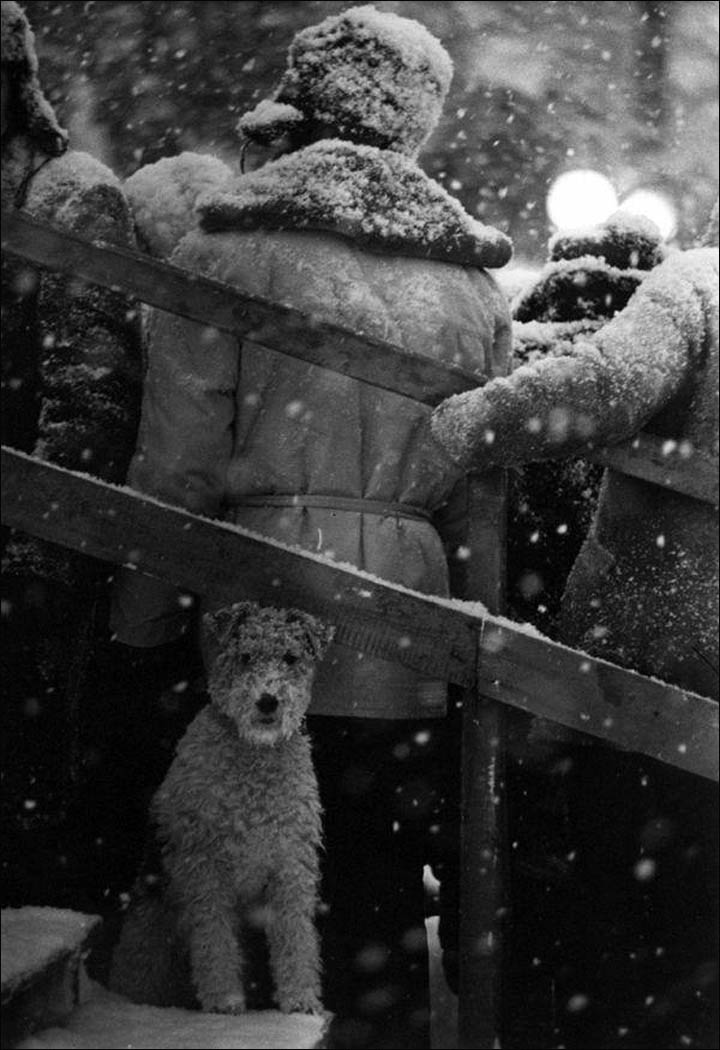 -55C (1964), by Gennadyi Koposov, and 'None of dog's business' by Vladimir Bogdanov (1965)
'The most memorable for me was 1947,' recalls Raisa Menshikova, from Krasnoyarsk. 'I was doing my first year at school, and my dad was a pilot and we lived in a small town.
'Like most of the time, we didn't have enough to eat. Sweets were rare. But all the kids of the officers were given presents: paper bags with a few candies, caramels mostly, tangerines, apples and biscuits.
'We were running, showing each other the bags, counting sweets over and over again. We didn't start eating the sweets for a couple of days - just looked at them. It was so great.'
Valentina Khaltuyeva, who was born in Irkutsk in 1933, also remembers the Soviet-era festive period with great fondness.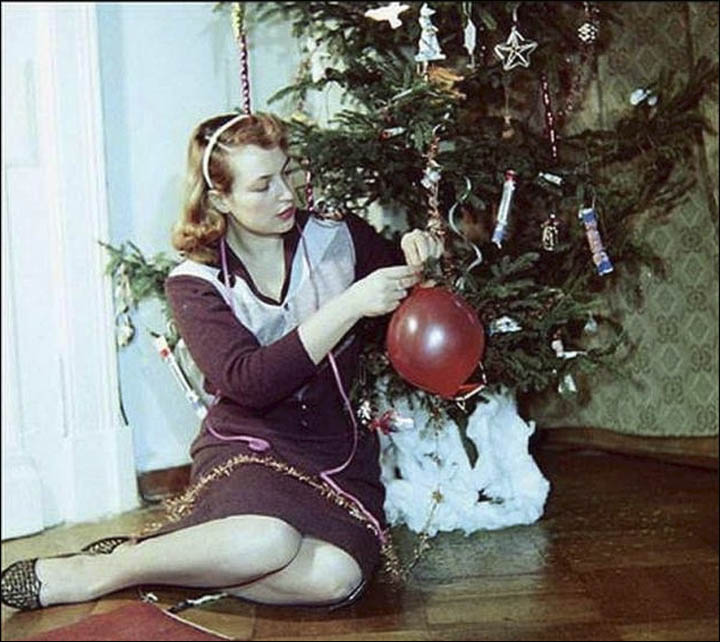 ---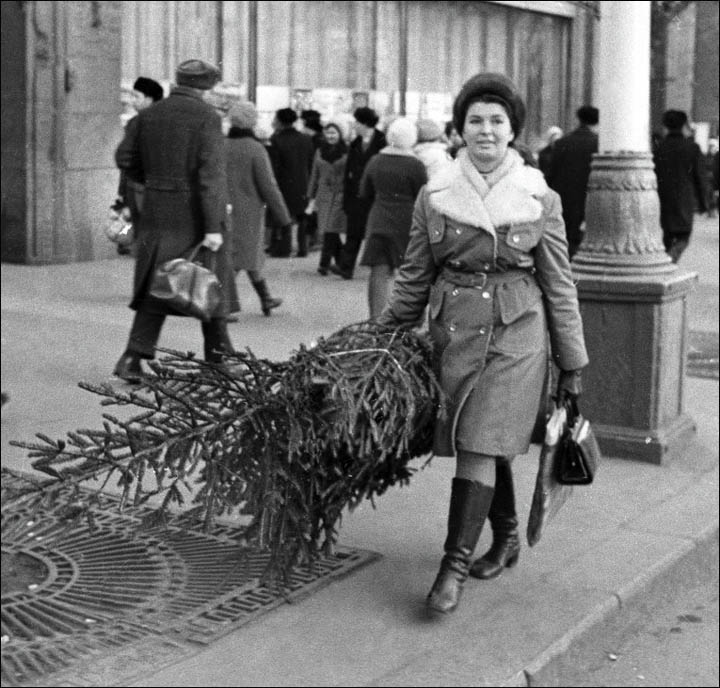 ---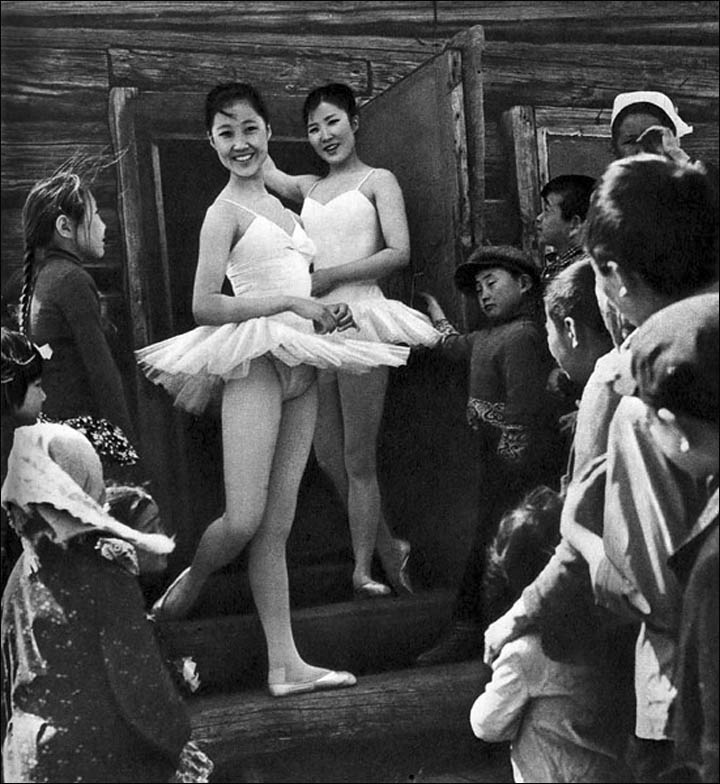 Actress Klara Luchko (1968), woman carrying Christmas tree in Moscow (1972), photographers unknown. Balerinas from Buryatia by Mikhail Mineyev (1973).
She says: 'We went to the forest, close to the Red Army barracks, to collect pine trees, before decorating them with mostly wooden pre-war toys. We also made some ourselves out of egg shells, paper, and pine cones, and painted them.
'We gathered together, sang songs, even made some costumes. Once a wonderful thing happened - my mum brought two apples from somewhere for me and for my brother. I still remember the taste of those apples.'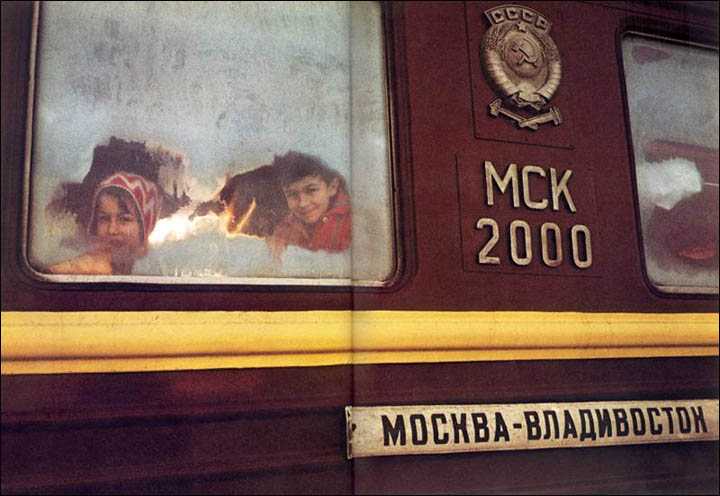 Kids traveling from Vladivostok to Moscow(1977). Picture by photographer Dean Conger for the book journalist Bart McDowell about USSR.
Mealtimes were one of the most important elements of marking the winter festivities, and that was made easier after the Second World War when ration cards were no longer used.
'After the war everyone would bring whatever they could for the New Year dinner,' says Valentina. "Someone would bring vegetables, someone else would buy fish.
'We also had homemade wine but no one would get drunk.'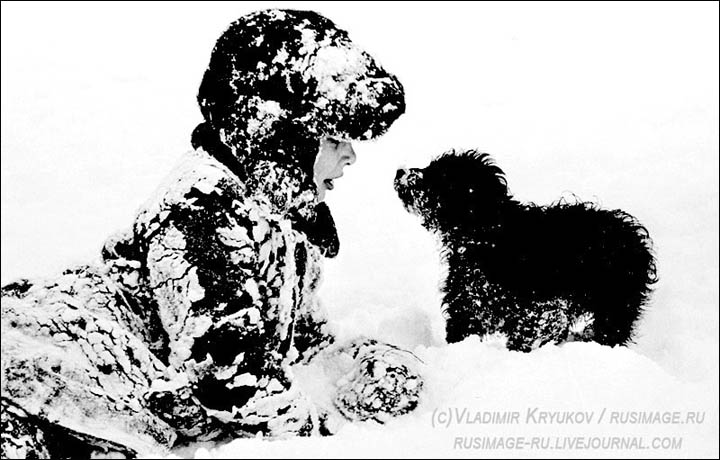 ---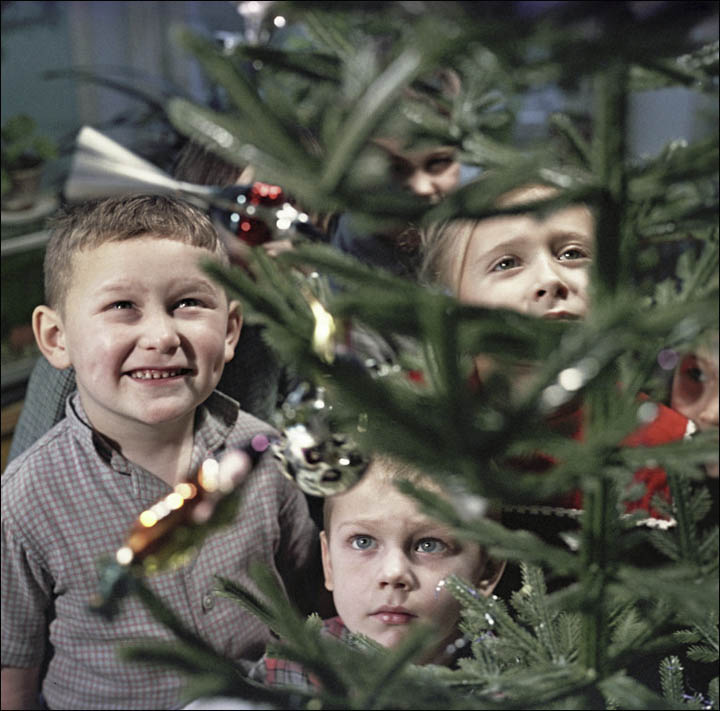 ---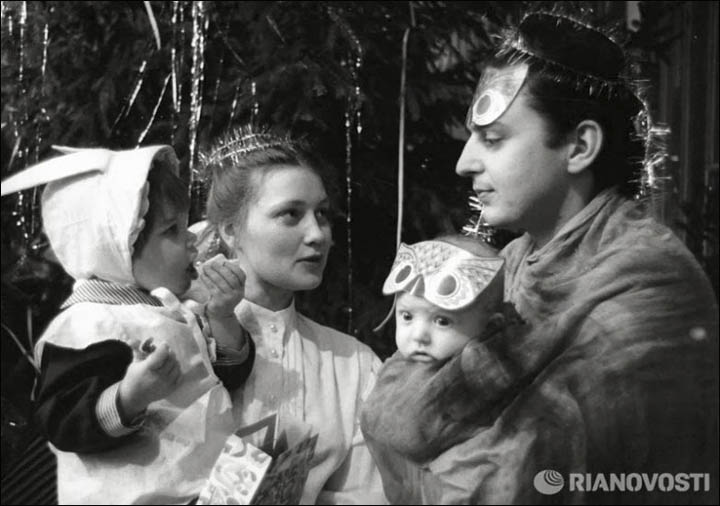 Boy plays with dog in Moscow, photographer unknown (1978). Children on New Year's event, by Miroslav Murazov and New Year party at Moscow Physics & Engineering Institute, by Sergey Noveselov-Semyonov (1980's)
By the 1970s when food once again had become scarce in the Soviet Union, special New Year food sets appeared, mainly in the cities. The pack included canned fix, a box of chocolates, a bottle of Sovetskoye champagne, salami, a pack of Indian black tea, marmalade and, sometimes, a tin of red caviar.
Food remains an important tradition at this time of the year with pelmeni – minced meat wrapped in thin dough - still enjoyed by families.
Woman sells Christmas toys, photographer unknown (1980's). Boys in Bratsk and Irkutsk, photographer unknown (1980's). New Year 1987 in Blagoveshensk and people walking on the street (1988), photographers unknown. Girl on the snow by Lord Patrick Lichfield (1989).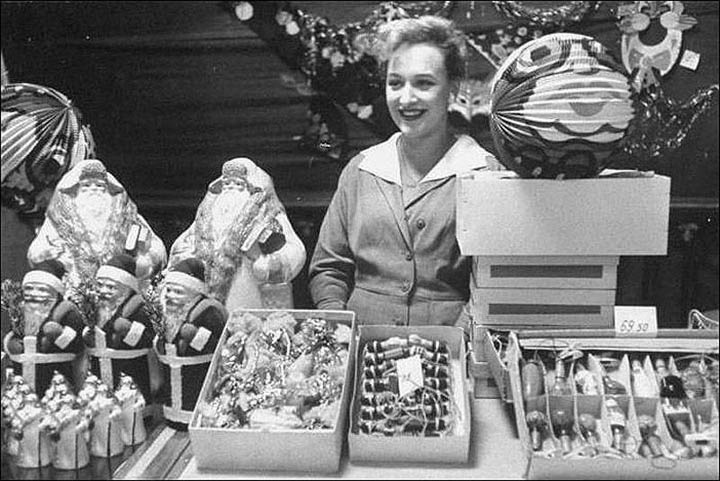 ---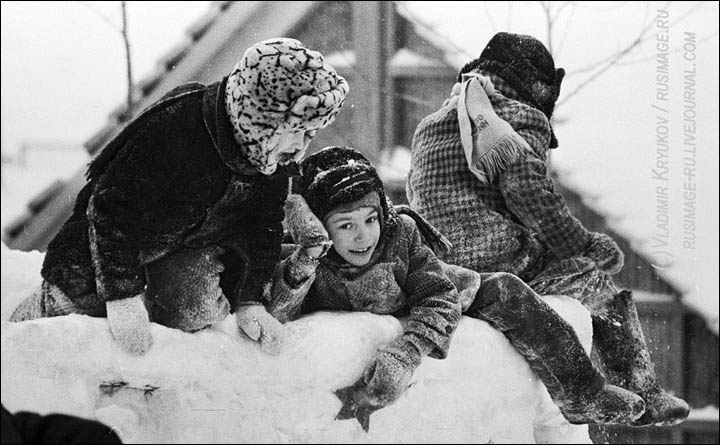 ---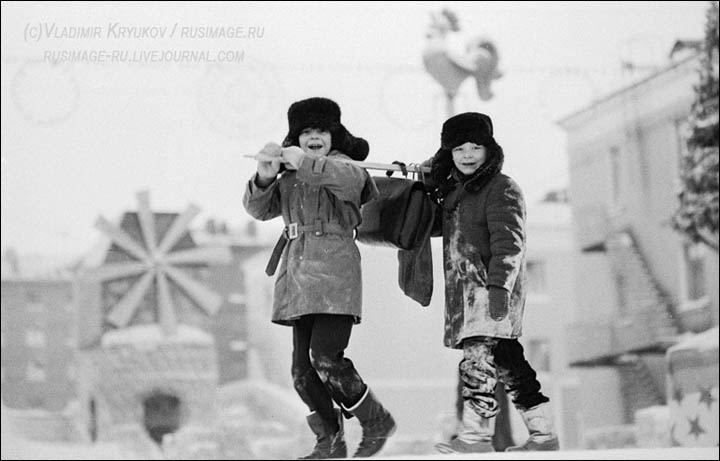 ---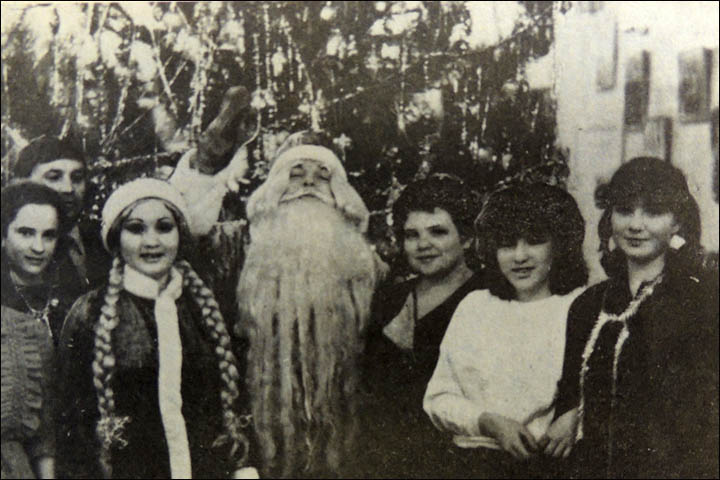 ---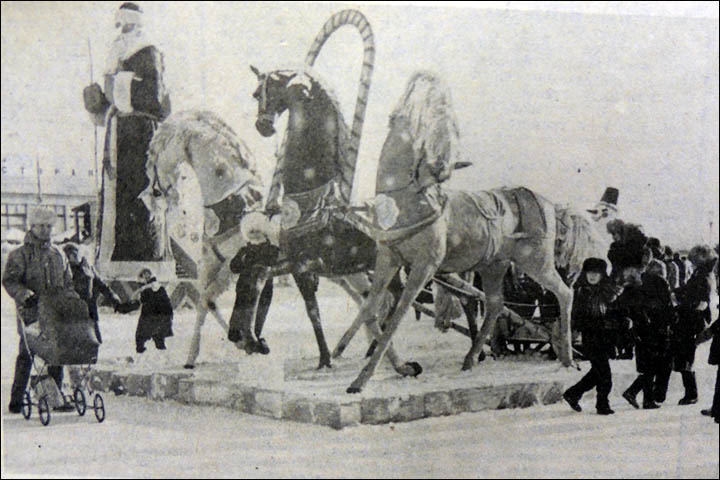 ---