Lyubov Rabchevskaya, 27 with her 10-year-old son Almaz: 'I really would like to stay here, but I do not want to risk my son's health.' Picture: The Siberian Times
The cause of the strange sickness sending residents of a Kazakhstan town to sleep for days at a time remains a mystery with no proof it was caused by radon gas.
More than 100 people in the remote village of Kalachi – which has been given the nickname Sleepy Hollow – have been afflicted by the unexplained disorder, which has left doctors and scientists puzzled.
Almost all of the victims have fallen asleep suddenly, some literally as they walked, and remembered nothing at the point of awakening. Last week there were claims from one scientist that radon gas from nearby Soviet-era uranium mines was to blame for poisoning the residents.
But this theory has been dismissed by one of Kazakhstan's leading radiation experts, who has a number of specialists on the ground taking samples to be analysed.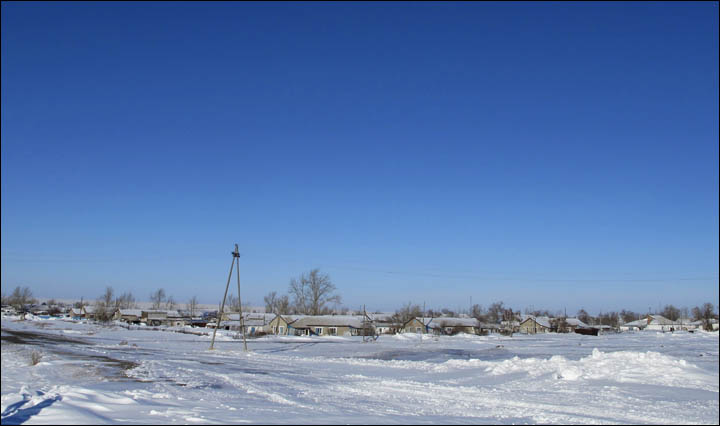 ---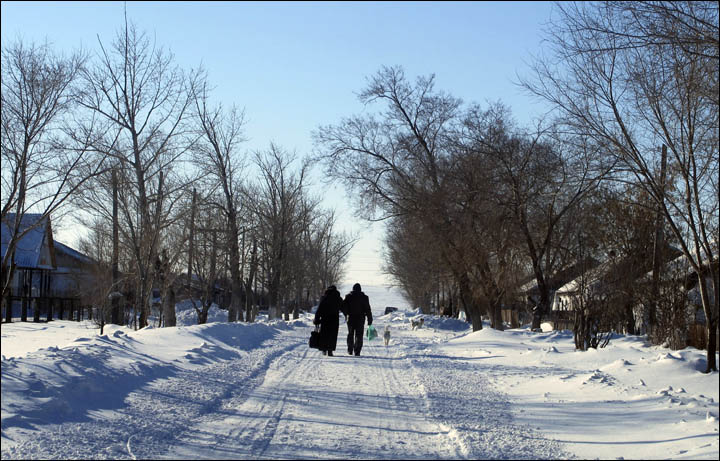 ---
More than 100 people in the remote village of Kalachi – which has been given the nickname Sleepy Hollow – have been afflicted by the unexplained disorder, which has left doctors and scientists puzzled. Pictures: The Siberian Times
The growing crisis comes as concerned residents continue to leave in their droves, with officials saying they plan to close off the entire village by May.
More than a dozen experts are working in the area to fathom out what is causing the epidemic, with unexplained high levels of carbon monoxide having been reported in the air.
But Sergei Lukashenko, the director of Kazakhstan's National Nuclear Centre's Radiation Safety and Ecology Institute, insisted he is 'positive this is not radon'.
He added: 'Carbon monoxide is definitely a factor, but I can't tell you whether this is the main and vital factor. The question is why it does not go away. We have some suspicions as the village has a peculiar location and weather patterns frequently force chimney smoke to go down instead of up.'
Lukashenko said 15 specialists are 'trying to crack this mystery' with 'four to five scientists taking samples and sending results to the institute'.
The first reports of a problem in the area emerged in early 2010, but the number of incidents has been steadily rising in waves since March 2013. As many as 117 people have now been treated for signs of the condition, which leaves victims feeling dizzy, unable to stand, fatigued and with memory problems.
A number of children have been also affected by strong hallucinations and many of 582 residents have now suffered the condition several times and have even been unconscious for as long as five days at a time.
It has left them no option but to leave their homes.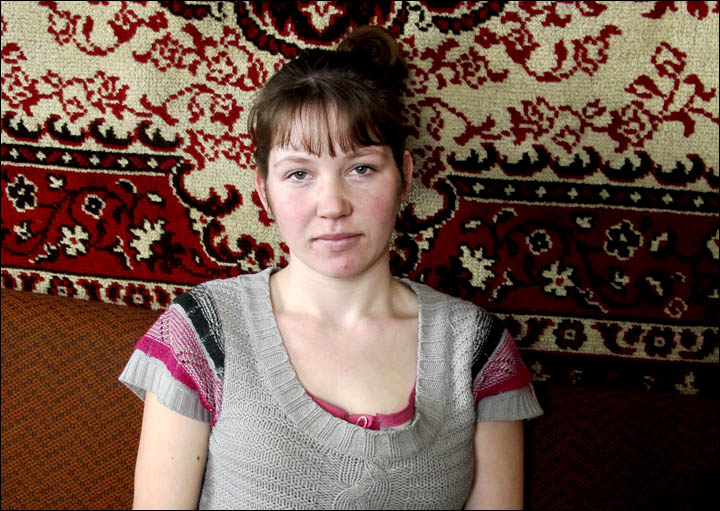 ---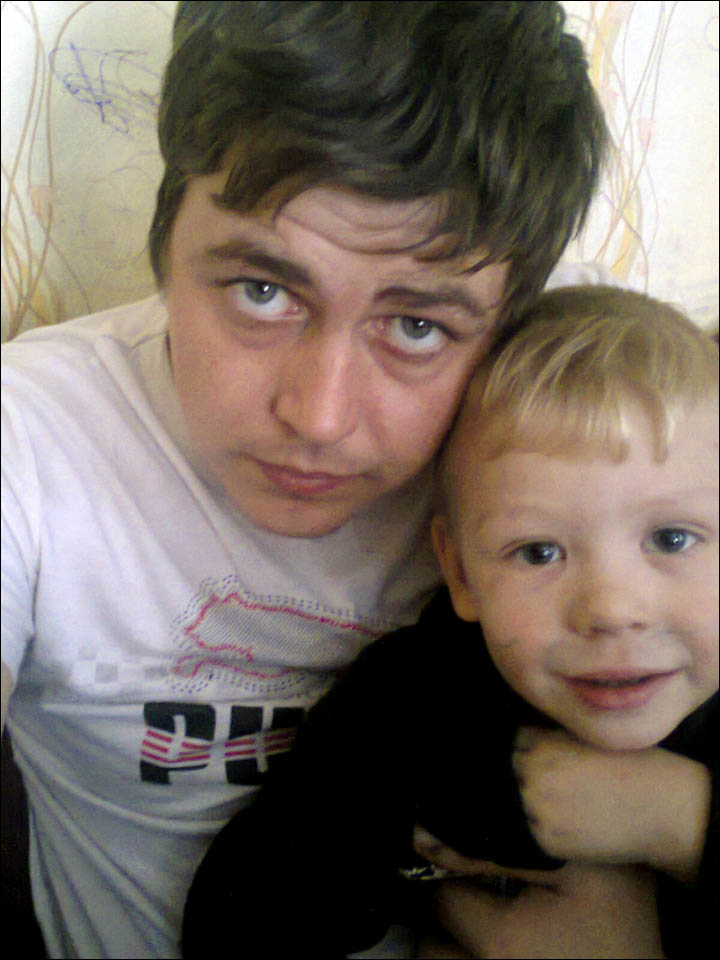 ---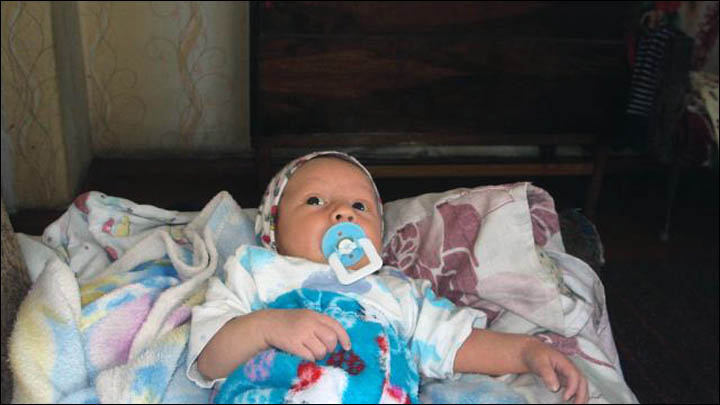 Olga Samusenko, 21 yo. Igor and Stanislav Samusenko. Kirill Samusenko, who survived sleeping decease, when he was in utero. Pictures: The Siberian Times, Olga Samusenko
Among them is Olga Samusenko, 21, who is seeking for somewhere else to live with her husband, Igor, and two children, Stanislav, aged two, and eight-month-old Kirill.
She said: 'We need to escape now, there is no future for us here. Everyone is leaving. Many people have sent their children to relatives in other cities and villages. It is so scary. No one can explain us anything. We still do not know what's going on. My children have not been outside since September. I am afraid to let them out.
'We were at the parade of schoolchildren on September 1. My children are small, so we just went to look at the celebration. After that Stanislav played outside in the yard, then he came home at about 4pm and just fell down on his face.
'He couldn't sit, he couldn't stand. I tried to put him on his feet, but he was falling. His eyes were looking in different directions, as if he was drunk. It was so scary.'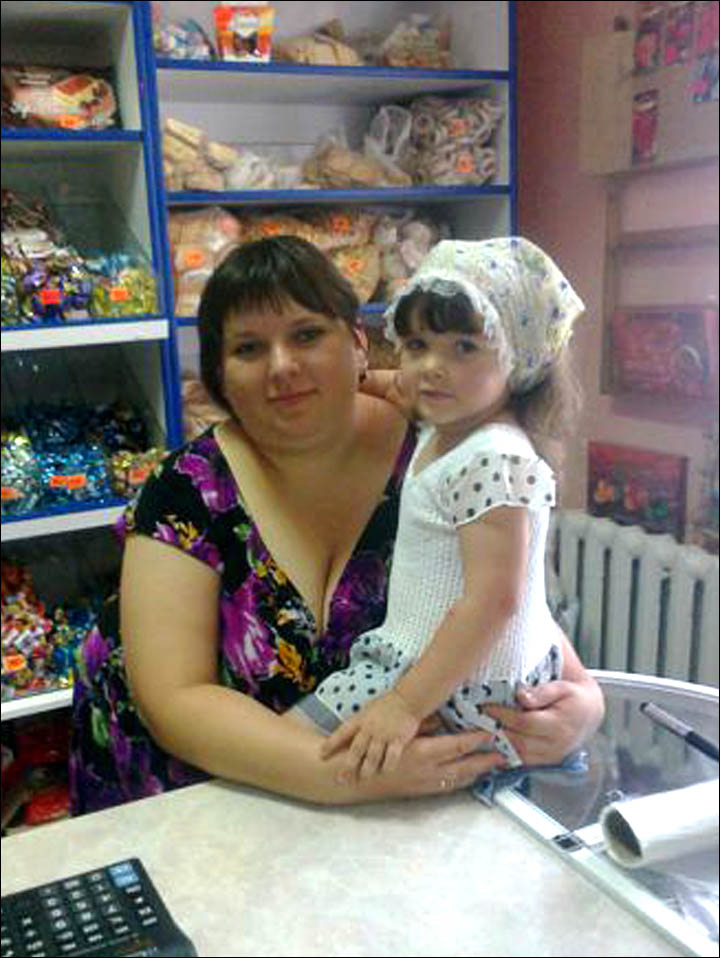 ---
Vera Kolesnichenko, 32 yo and her daughter Margarita, 4 yo. Pictures: Vera Kolesnichenko
Lyubov Rabchevskaya, 27, said her 10-year-old son Almaz has also been affected, and has watched as her friends and neighbours have left the village.
She said: 'Usually husbands do the searching, but I am alone - my husband died eight years ago so I'm doing this all by myself. I really would like to stay here, but I do not want to risk my son's health. He has fallen asleep twice and now he often has headaches and he feels pain in his back.
'The first time it was very scary. He went to bed in the evening and I could not wake him up in the morning. I asked for help and when we managed to wake him up he could not say a word, he could not speak, only moaned. He moaned and his eyes are full of tears.'
She added: 'Sometimes I think that they all know what the cause is and maybe they're doing this specially to drive us away from this place. Now they want to resettle us to some remote places. I saw the houses that they propose. My shed looks better. I would not go there with my son. I do not want him to live in such conditions.'
Shop worker Vera Kolesnichenko, 31, said her four-year-old daughter Margarita has suffered from hallucinations, while her husband spent three days in hospital.
Speaking about their decision to leave their home, she said: 'I saw my daughter in delirium and do not want to see this again. Margarita had horrible hallucinations, she looked at me and cried: 'Mama, you have three eyes!' Then she looked over my shoulder and said: 'There is something crawling on the radiator!'
'Initially my husband was strongly against the idea to move from Kalachi. He has lived here all his life. Now we will leave together with our relatives.'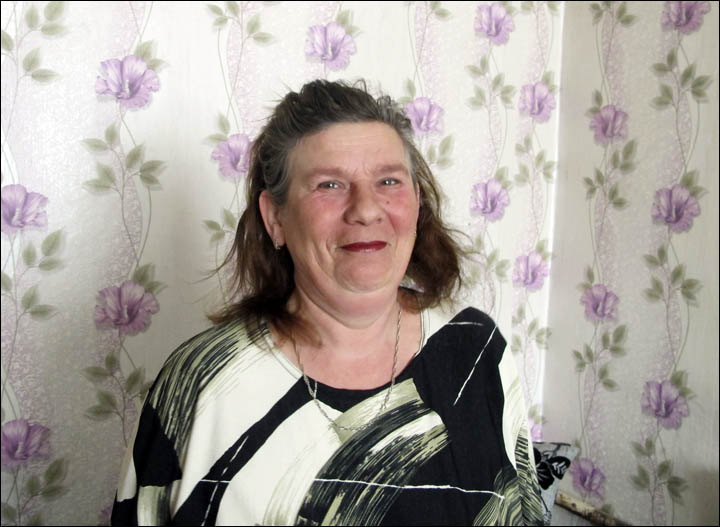 Marina Felk, 52 yo: 'I will not resettle, I will stay here. I am not afraid of falling asleep and here we have everything: our home, our household.' Picture: The Siberian Times
More than 25 families have already left, moving to Atbasar, Bulandy and Ereymentau districts. The crisis has also prompted taxi drivers from the nearest town of Esil to refuse to go to Kalachi for fear of catching the disease.
Last week Professor Leonid Rivkhanov, from Geological and Mineralogical Sciences of Tomsk Polytechnic University, said he had concluded the local mines were to blame - despite the fact he had never been to the village.
He said: 'The mines left open spaces underground which were slowly filled with water that has risen upwards, driving pockets of gas inside them to the surface.'
But Kabdrashit Almagambetov, the chief doctor of the hospital, said he is not convinced. He said: 'The cause of the decease is still unknown. The radioactive background is normal, the water has been tested, and there is nothing harmful there.'
Despite the problems engulfing Kalachi, 52-year-old Marina Felk, one of the first victims, insisted she is going nowhere.
She said: 'I will not resettle, I will stay here. I am not afraid of falling asleep and here we have everything: our home, our household. We have tree cows - where will I go with them? Besides, who need us elderly people? I am 52 years old. What will I do in another place?'