'We met at a bus stop, when my wife intervened to rescue me from the aggressive attentions of a homeless man'. Picture: James Brooks
An Englishman who gave up his career for a new life in Siberia is hoping to turn the story of his adventures into a best-seller. Fed up with the day-to-day drudgery of his nine-to-five job in the UK, James Brooks learned Russian, answered an obscure advert looking for English teachers, and boarded a plane for a place he had never even heard of.
It was a leap into the dark, but over the course of the next 18 months he fell in love with the region and its peculiarities as much as its strengths, in an experience that eventually led him to finding a wife. Now he has penned a travel book about his journey, charting the wonderful friendships he made and helping to shed light on a region little known and understood by the West.
The book also has a light-hearted touch, describing his initial confusion at Russian life and telling of strange visits to uranium mines, muggings and even run-ins with the mafia. James, who is 38 and is once more living in the UK, told the Siberian Times: 'I feel that people in Britain often misunderstand Russia and have little idea of how life is lived there. So writing a book - in as humorous a style as I could muster - proved to be a cathartic means of easing my longing for Siberian life somewhat, whilst hopefully helping any others who may be interested, to read about life in the Wild East'.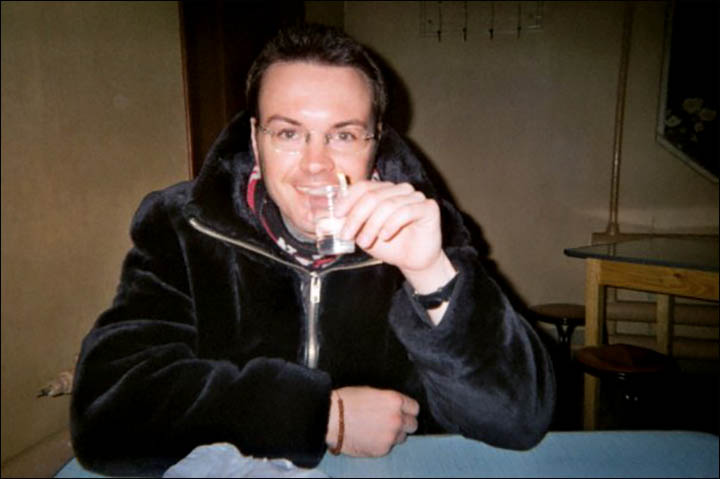 'Drinking vodka - I don't often do it, honest!' Picture: James Brooks
---
It was in January 2005 that James embarked on his Russian adventure, having developed a keen interest in the country from studying the language.
Two years earlier he had been working in Nottingham for an American bank, but left his job because he did not feel comfortable with the 'commuting nine-to-five lifestyle'. The bank had paid for him to attending evening classes in Russian, on the grounds they may do business in Russia.
When he quit in 2003 he went on to spend a year as a postgraduate student in Norwich, undertaking a Masters in Russian. His grandfather also told him he believed he may have had Russian ancestry on his side of the family, and it was only a matter of time before Siberia was calling.
James applied for an Internet job advert for an American charity seeking English teachers in Chita, a city about 300km from the border with Mongolia and with 360,000 residents. He stayed there until July 2005 but missed it so much he returned just a month later and remained until June 2006.
In his blurb for the book, James writes that Russia is a 'country barely understood by foreigners and only a little less baffling to Russians themselves'.
He adds: 'Russia is life in the raw. No ordinary story of a traveller passing by, An Englishman in Siberia is packed with considered observations on the many differences between Russian and Western life.
'As the natives say, 'Once you leave, you will miss Siberia but you will not know why'. Perhaps this book will shed just a little light on why this vast land claims a part of the soul of all who come to know it'.
---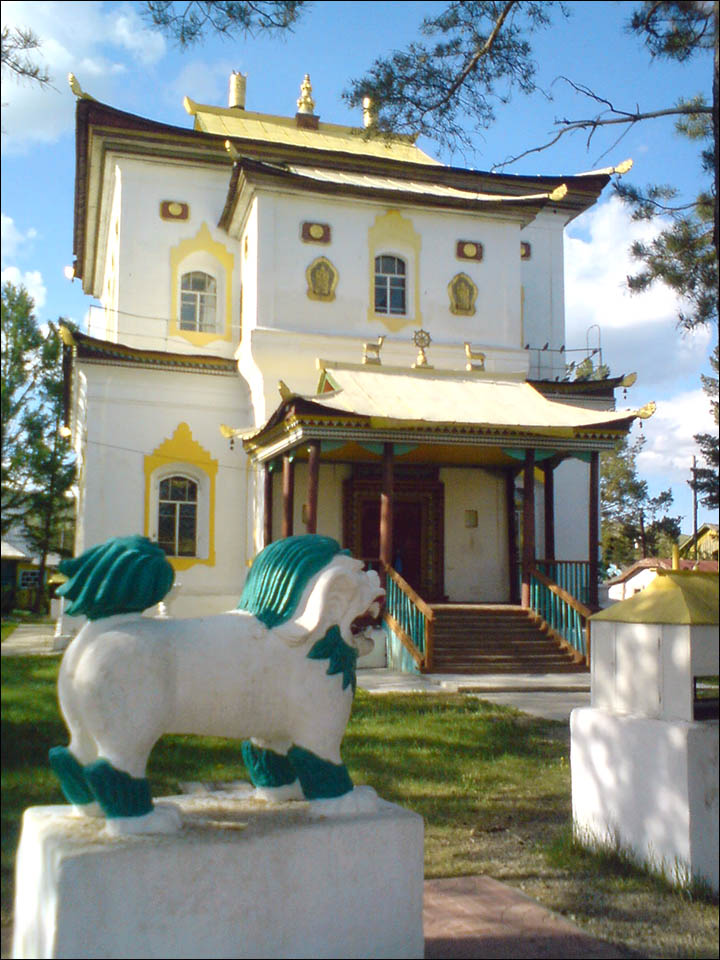 Aginsk Datsan. Pictures: James Brooks
---
The book opens with a tale of being targeted by attempted robbers in the street at midnight only to be rescued by a militia policeman who dragged one of his attackers off to prison. He tells readers about marvelling at being able to enjoy two Christmas and two New Year celebrations, shares his experiences about exploring towns and cities, and he jokes about the unusual Siberian cuisine.
James also writes about local driving habits – 'Russian drivers are crazy. It took very little time to learn this', he says – and about the misfortune of suffering from frostbite as temperatures dipped to -50C in winter. But, above all else, throughout his book is a sense of how much he fell in love with the region and its people.
In one chapter he writes: 'In private and amongst friends, Russians can be wonderfully open and have a tradition of hospitality which puts Britain to shame.
'Foreigners are readily welcomed to 'kitchen table' conversations, in Soviet times the place to air grievances to trusted friends. I often found that on visiting a Russian home I would be offered food and drink even if it was apparent that the host may not have the means to eat tomorrow.
'Guests are usually invited to view the family photo album, the smiling faces inside a further illustration of how private happiness can contrast with the sternness of official or public life.
'Russians love to take photos of each other, and sometimes seem not to understand why anyone would photograph a beautiful landscape if there are no people in the scene. Younger Russians almost always hold up their fingers in a Churchill-style victory 'V' gesture when being photographed, the gesture apparently symbolising 'peace'.'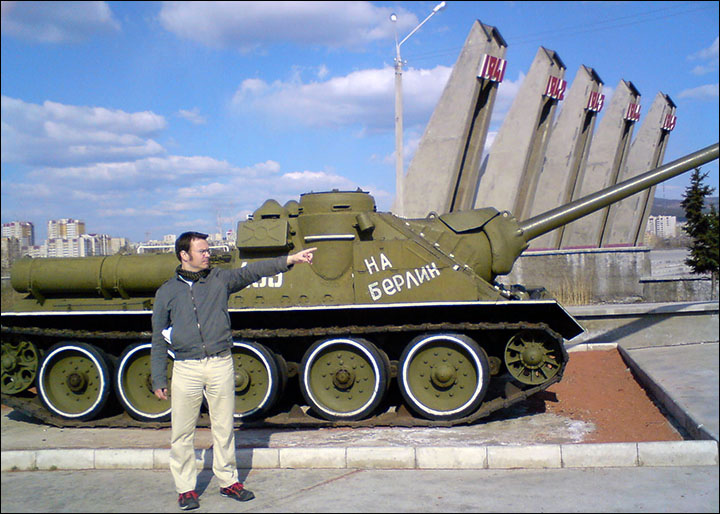 'To Berlin! Victory Park, Chita'. Picture: James Brooks
---
Despite the harsh cold at times, he also stressed that he grew to love the crisp winter.
He writes: 'One of the most eerie and beautiful aspects of the winter was a phenomenon known locally as inei. I had never come across ini before and was mesmerised to see what looked like little hundreds of tiny flakes of gold dancing in the still winter light, bringing to mind a cluster of golden fairies.
'At first sight I wondered if I was witnessing something unique but the Russians had seen it all before'.
James said his short stint in Siberia left a huge impression on his life and he feels 'inexplicably drawn to Russia' and hopes to return.
He said: 'Back in England, I found myself unable to stop comparing our way of life to that of the Russians, and boring people with endless anecdotes of my time in Siberia. Russia represents life in the raw - warts and all - and though the downsides are often unpleasant, the sheer delight of knowing Russian people makes persistence more than worthwhile.
'Some Russian friends have asked if, nowadays, I feel slightly Russian, though they know that I can never truly appreciate what it is to be Russian, their society being so opaque from outside and so difficult to fathom even for the natives'.
He added: 'I do not feel that I have become at all Russified. I feel, rather, that now more than ever I am a citizen of the world.
'A person's nationality should not determine how they are treated by the rest of humanity. In Russia, those who did not know me would view me as 'The Englishman'. Those who knew me would treat me, with open arms and open hearts, as James - another unique human being who, whilst hailing from a different society, shared the same needs, wants and dreams as any other inhabitant of this shrinking globe of ours'.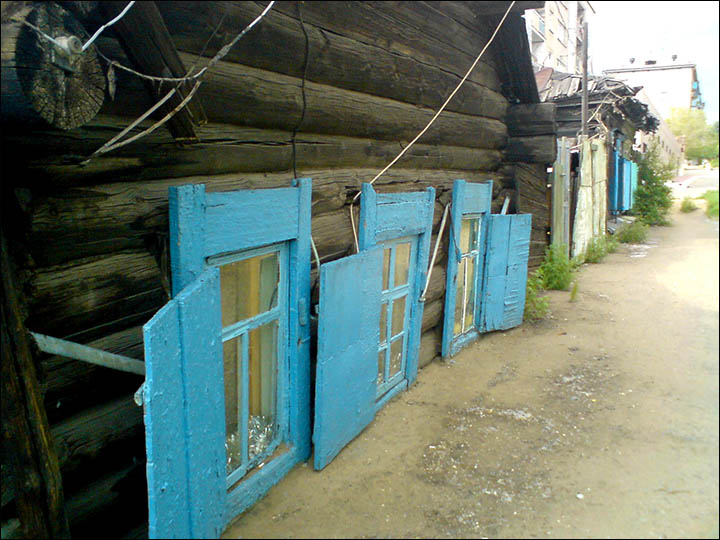 Permafrost often sinks older wooden houses in Chita. Picture: James Brooks
---
James said he decided to write a book after returning to the UK in 2006 because he ached for his life in Siberia. And while it is currently available free of charge as a web download, he harbours hopes it can be published properly and become a travel best-seller.
He also revealed his adventure to Russia had one final prize - it led to him meeting and eventually marrying his wife, Anna, during a return trip to Chita in 2008.
James explained: 'We met, and this is the absolute truth at a bus stop, when my wife intervened to rescue me from the aggressive attentions of a homeless man who had decided I was a rich American and that I should give him some money.
'She recognised me as a former teacher at her university and very bravely told him to clear off. I thanked her, and we became acquainted from there. At the time she spoke no English but she quickly became absolutely fluent by insisting that we only communicate in English'.
The pair were married in 2011 and now live in Derbyshire. James has self-published his book, An Englishman's Year in Siberia, and it is currently available to read and download via www.siberia.eclipse.co.uk