'It started as a test of my abilities, and got me because it was harder than I expected - and certainly a lot more interesting than I thought'. Picture: Vera Salnitskaya
In these pictures, she shows off her female fox Vilya in the spring snow in Novosibirsk in Siberia. By now her neighbours are used to her walking Vilya at the same time as her five year old German shepherd Kiva.
'I took Vilya home when she was one and a half months, was around her all the time and started training her immediately,' she said.
Earlier, she had experience working with two foxes - called Nyuta and Elma, but these were not living with her, and sharing her life.
'I started training Nyuta and Elma since they were two months old. I'd come every day for two months and the cubs would be hungry when I was training them. Eventually, I managed to make them pay attention to me.
'There is a real lack of information on training foxes, so I had to try over and over again to see what worked.
'Another difficulty was to understand what's the best age to start, and I was doing it too late. But also I was treating the fox in the same way I would deal with a dog. However, foxes are freedom-loving animals, if they feel you're trying to push them, they feel the 'call of freedom' - and leave'.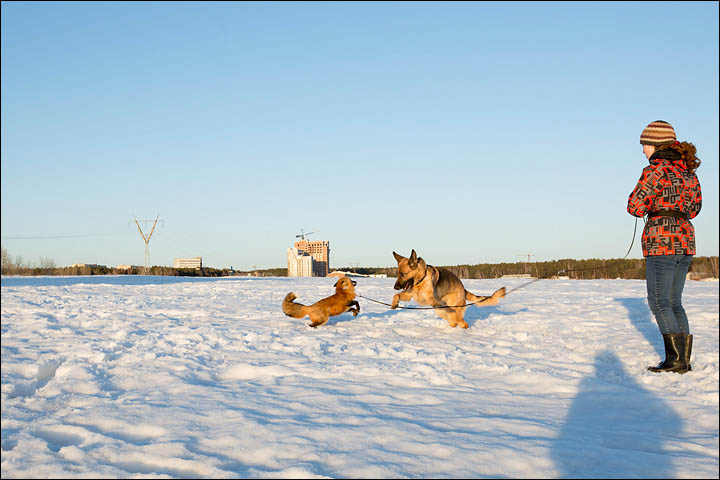 ---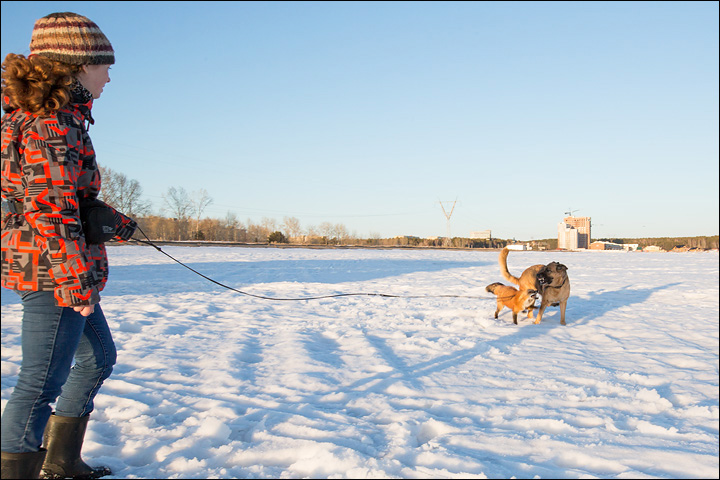 ---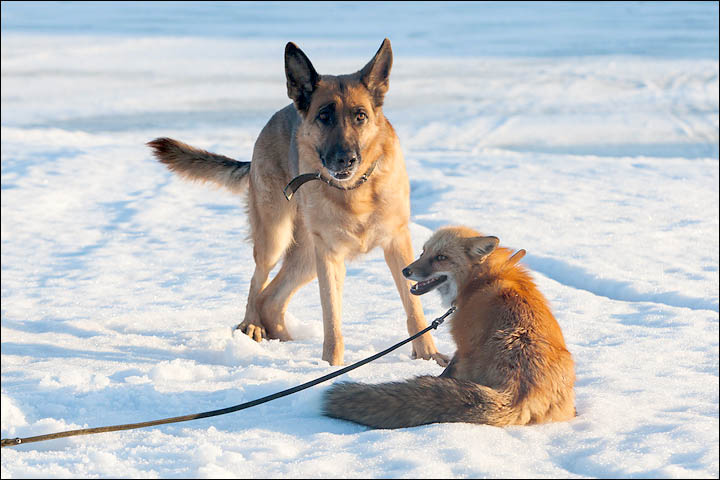 ---
---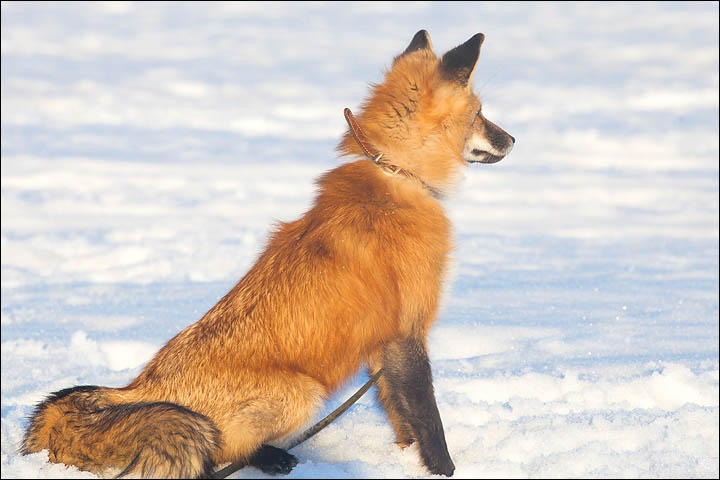 ---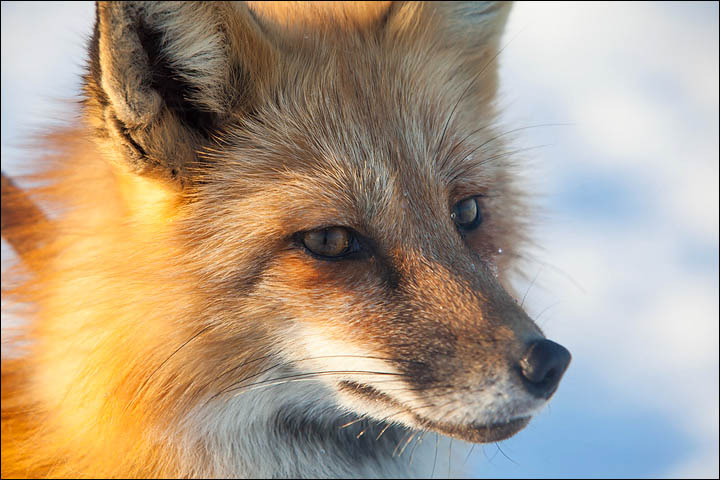 A fox-whisperer. Irina with 2yo fox Vilya and 5 yo German shepherd Kiva. Pictures: Vera Salnitskaya
'I had to compromise and create such conditions, that would make the fox think it was them deciding what to do. Although a lot of effort is made to socialise a fox, a wild animal will be a wild animal.
'So, for example, I only let Vilya run without a leash in open spaces where I can clearly see what she's doing and where she's running. This way I can send a dog to catch her if need be. Otherwise a fox can forget about you and run away.'
Irina had initially come into contact with foxes as a student at a special farm set up at the Novosibirsk Institute of Cytology and Genetics, where research into taming the animals have provided remarkable insights into how - over many thousands of years - man domesticated wild animals into pets.
'I got really curious about the possibility of working with them the same way as I used to do with dogs', said Irina. 'Since I also worked as a dog handler, I was always curious to see if perhaps there might be similar patterns in working with foxes, given how intelligent foxes are.
'It started as a little test of my abilities, and then got me because it was harder than I expected - and certainly a lot more interesting than I thought.
'There were numerous times when I asked myself just why am I doing this: why not to leave the experiment at this stage, just knowing that domesticated foxes can perform basic commands? But I always wanted - and hoped - to see if there is more to what they can do.'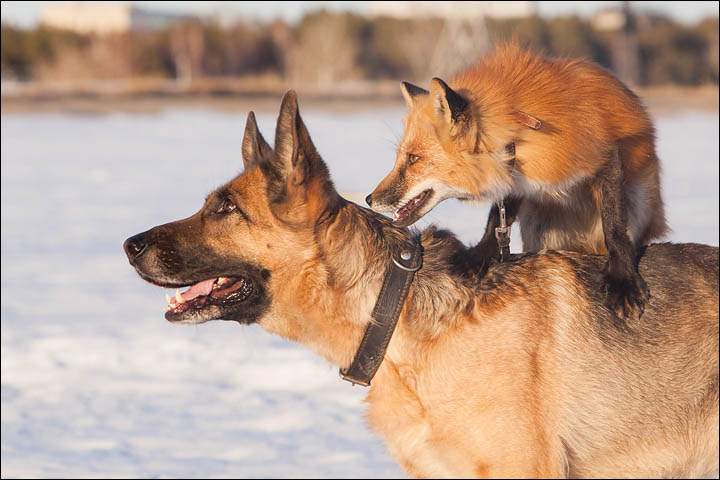 ---
---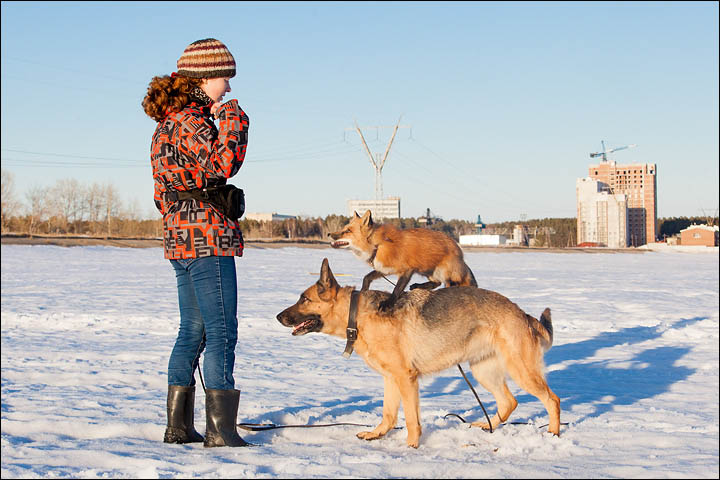 ---
---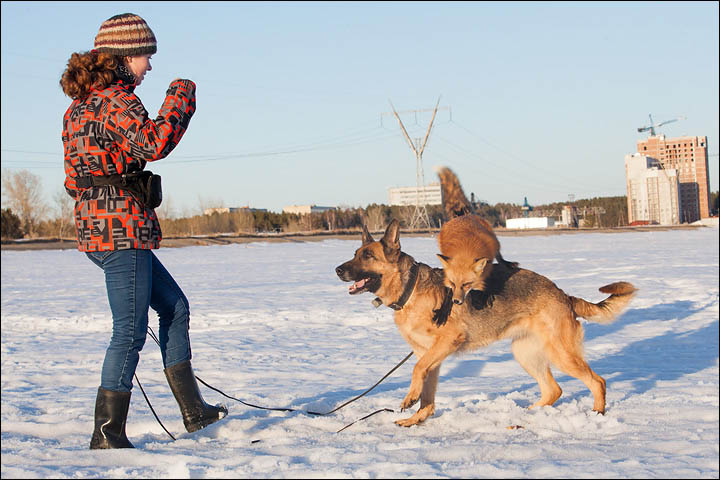 ---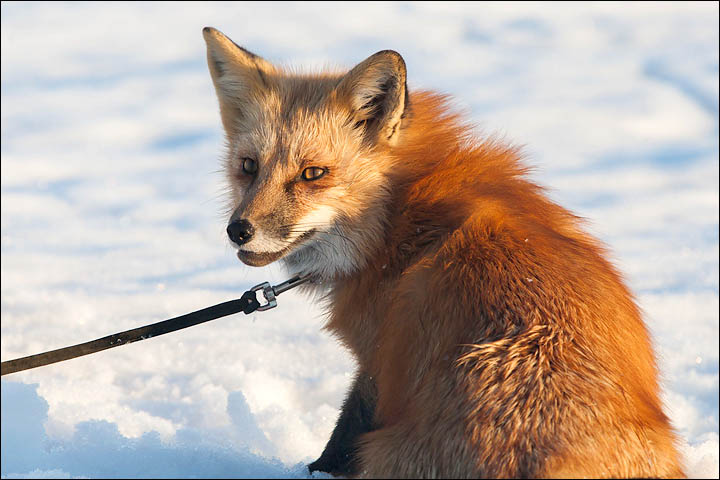 'A fox is a very beautiful animal, with a lot of personality'. Pictures: Vera Salnitskaya
Irina explained: 'Vilya is quite aggressive and stubborn. When I just started working with her, she wouldn't even eat from my hands, she'd just bite me.
'It was impossible to touch her, she'd get furious. Vilya couldn't get that why she needed to deserve the food, or why she couldn't get the food although there was some ready to be eaten.
'Foxes are not submissive in their natural habitat, hence I try not bothering her because she'd easily become aggressive.
'Perhaps my difficulties training Vilya can be explained in comparison to Nyuta and Elma: when I worked with them, I'd bring them from the cage to an unfamiliar territory where they didn't feel confident.
'Vilya got used to living in my home in three days and feels like the queen of the world and stands up for her rights.
'She feels it's actually her home and I'm only there on her say so. I couldn't easily put her on my balcony, that's where she resides, but it's exhausting to have a fox around all the time. It's necessary to keep an eye on her at all times, although we both need some space from each other. Besides, she was fighting back when I tried taking her to the balcony.
'Handlers are quite tough people, and dog-handling is based on submission'.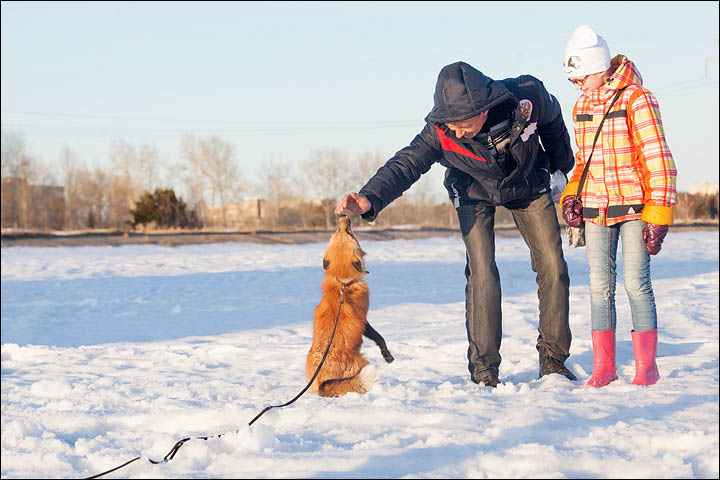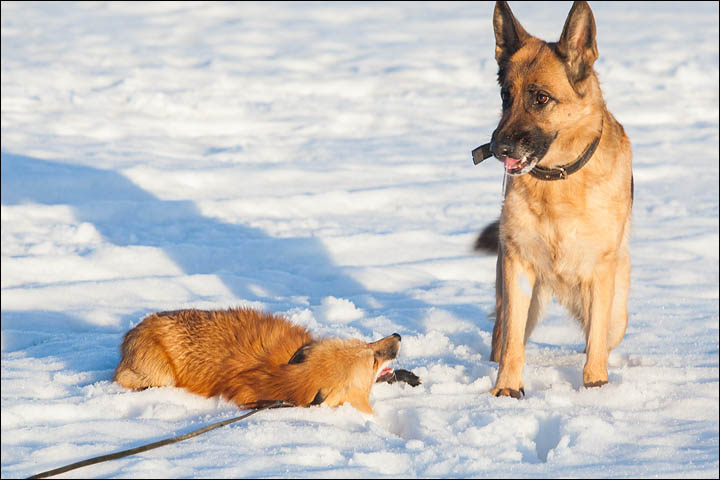 ---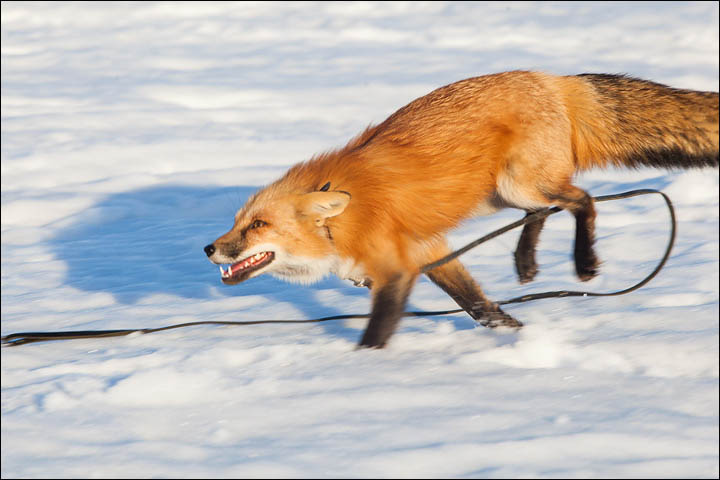 'It foxes feel you're trying to push them, they feel the 'call of freedom' - and leave'. Pictures: Vera Salnitskaya
---
'That doesn't work out with a fox, so I spent a while trying to find a way to approach the animal. Now I always walk her when she's hungry, and when we return I tell her 'Forward!' and she runs to the balcony where I feed her and don't let her inside the flat after she's eaten. She runs to the balcony herself, it's not me trying to push her to be there.'
Irina takes part in dog shows with Kiva, but also shows Kiva's abilities too.
'Vilya and I participate at contests. She knows basic commands sit, lie down, stay, but in contrast with dogs, all the commands are optional for her. If she doesn't want to do something, she won't do it. Now we're working on 'crawl', and it's hard going because Vilya can't grasp why she needs to crawl if she can easily run the same distance.
They say dogs are like their owners - or is it the other way around? - and the same seems true of foxes.
'It is surprising how much Vilya and I have in common, my clone is sometimes tiring me,' Irina says. 'I think I have done a unique job, and although quite a few people suggested keeping a diary, I didn't.
'I just don't know how to do it. But I'd love to write a research paper based on my experience. There is a lot of people interested in it, but not too many to help. My thesis on fox behaviour is currently the only one in Novosibirsk.
'It was really hard for me to swim against the current, but with time the idea of training fox was becoming more and more popular... though it is a really difficult thing to do and requires a lot of time and effort.
'Sometimes I want to give up but then I see she's getting better, she's trusting people more, and fears that seemed insurmountable melt away, and I realise I can't leave her. I got attached to her. A fox is a very beautiful animal, with a lot of personality. You need to put such an effort into her and she'll take a lot of space in your life.'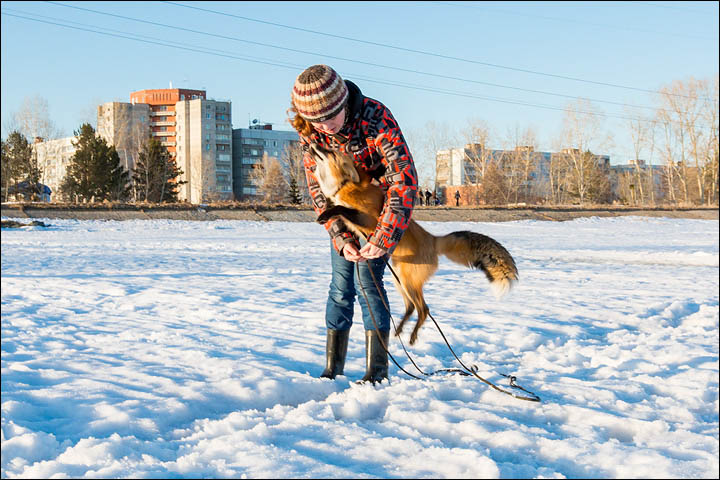 ---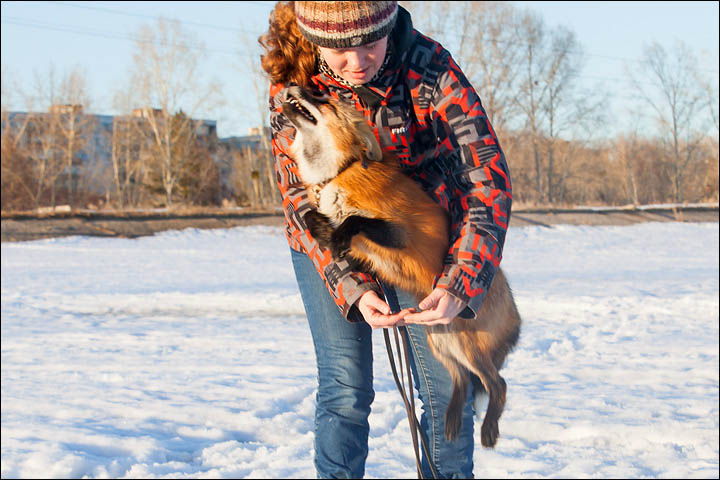 ---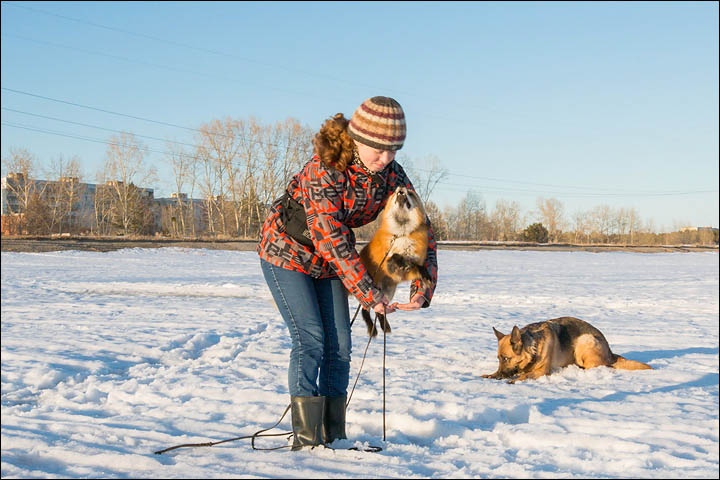 ---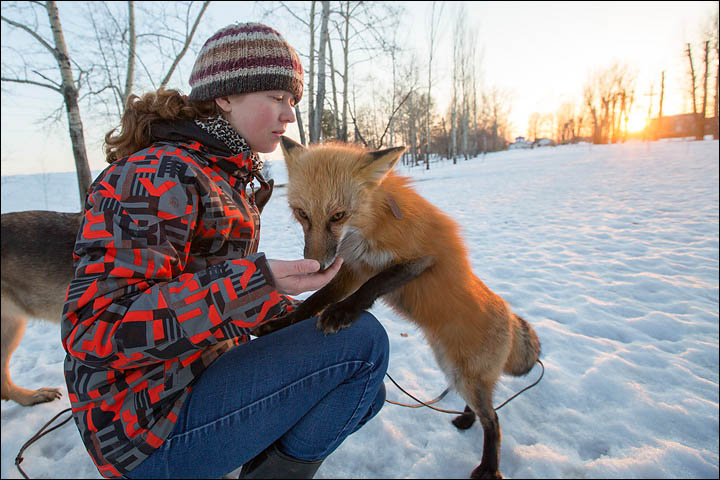 Love me - love my fox. Irina Mukhamedshina with German shepherd Kiva and Vilya. Pictures: Vera Salnitskaya
Irina dreams of a house, with land for a proper cage for the fox, so that they have more space than her flat.
'She is definitely not a sweet, tender animal. Tenderness is not the word you use for foxes. I used to have 'strokes of admiration' when I'd bend behind her and she'd try to bite me on my face, sweet as she is.
"Nonetheless, she needs socialising and also gets used to me. I was sick recently, had a fever for about a month, and was forced to leave her at the farm and she ran away from there.
'Thank God, it was the day when I was taking her back. She was caught, I brought her home, and she was really quiet, perhaps, she missed me and home, too.
'I suppose a fox gets used to a habitat more than to a human. It's better for a fox to live somewhere where she's used to living, and where they speak her language.
'It often happens that when one brings a dog to a handler, they think that the dog loves and respects the handler, not the owner, but the thing is the handler speaks the language the dog understands. It's the same with foxes. When tiredness and problems build up, it gets really difficult to deal with a fox because it requires a lot of effort. When all goes fine, it's pure pleasure spending time with her'.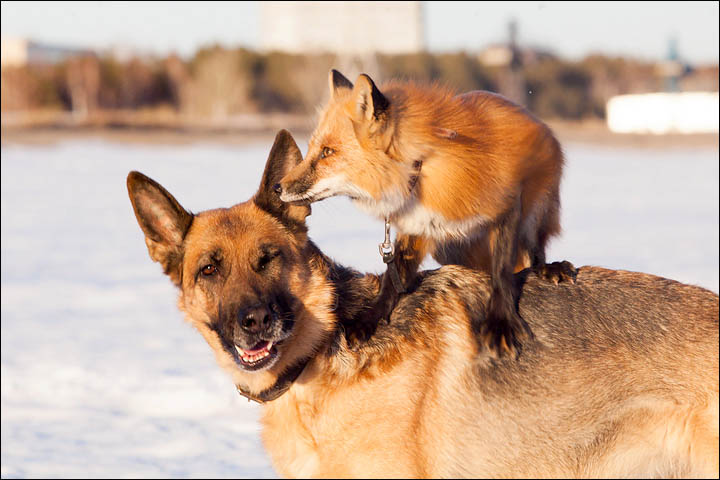 'There is a real lack of information on training foxes, so I had to try over and over again to see what worked'. Pictures: Vera Salnitskaya
'One of my biggest problems is the neighbours. Although we have sound insulation, the neighbours kept complaining the fox was noisy at nights.
'They are very understanding, but still it would be so much better to keep my fox at a house with a cage. Another thing to remember is there should be no little children in the family. If you have kids, a fix is not the right pet.
'If you have no kids and there are money to spare, make sure there is nothing broken in the house before you let the fox in. Be prepared to repeat it over and over again once the fox is in'.
'When I didn't have the fox, I was thinking of maybe breeding her, but this desire is disappearing. I didn't sterilise Vilya because she can't bear any intervention in her life; she gets rid of all the bandages and I'm afraid she'll get rid of post-surgery sutures.'
'The more we live together, the less I think of breeding her. Maybe one day when I have my own house and cages, perhaps, but not with this particular fox'.