There is nothing bad in 'oldness', it is not to be afraid of advancing years, that women - and men too - can still look great as they age. Picture here and below: Igor Gavar
His project Oldushka sets out to investigate the contemporary character of an elderly people in Russia as seen through street fashion. The 29 year old photographer's heroes are always random passersby, pictured on the streets of various cities, among them his native Omsk.
Igor avowed aim is to show society that there is nothing bad in 'oldness', it is not to be afraid of advancing years, that women - and men too - can still look great as they age, and that every stage of life has its own beauty. He hopes to show that grandmothers (babushkas) can be modern, stylish and really beautiful in their old age, regardless of negative stereotypes.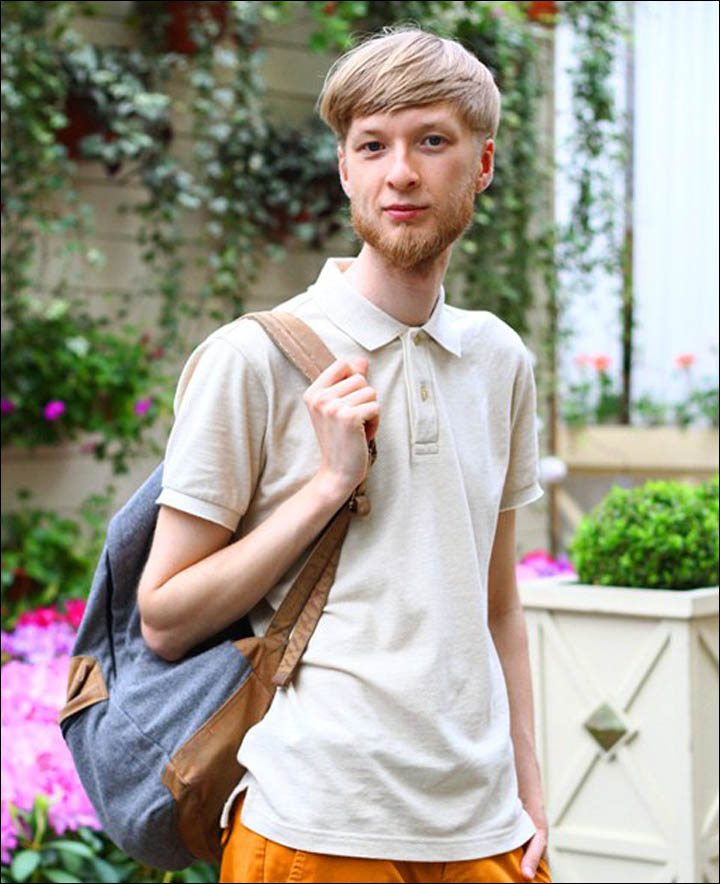 Igor Gavar, 29 year old photographer investigates the contemporary character of an elderly people in Russia as seen through street fashion.
His project 'Oldushka' has been running for four years, and his collection features more than 900 'street style photos' from six cities, namely Moscow, St Petersburg, Omsk, Izhevsk, Perm, and Ulyanovsk. Here, Igor explains his project, and how it came about:
'The first stage was the impact of my childhood. I was brought up by two grandmothers and a great-grandmother. In Omsk, I lived between two houses: my parents and grandparents. My parents were busy with work, but my grannies were retired and they had a lot of free time which they spent with me.
'The second stage - my university years. I am a graduate of the Faculty of Interior Design. On my fourth course I realised that clothe and costume is much more interesting for me. On the interior design I had to work with schemes, papers but the seamstresses made real, material things. It wounded me. I watched with admiration as the seamstresses worked. Then, at university, I started to travel on my own to Moscow and St Petersburg on summer vacations. These cities are seething with cultural life, people are more beautifully dressed. Returning to Omsk, in Siberia, I yearned for the beauty that I'd seen in these larger cities.
'I bought a camera and began to shoot my colleagues in university. Then I created a blog about street fashion. I did not set age limits and photographed people of all ages: the main aspect - that the person stood out in a crowd. In 2011, there was a festival "Afisha Picnic" in Moscow. I photographed a huge number of beautiful young people there.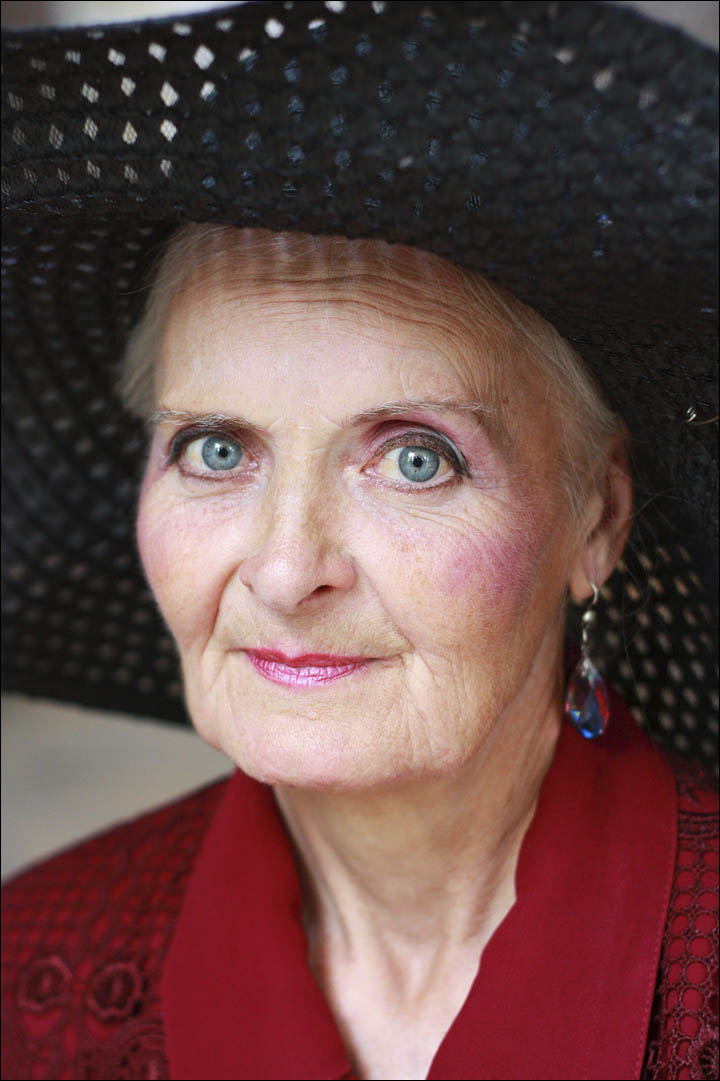 ---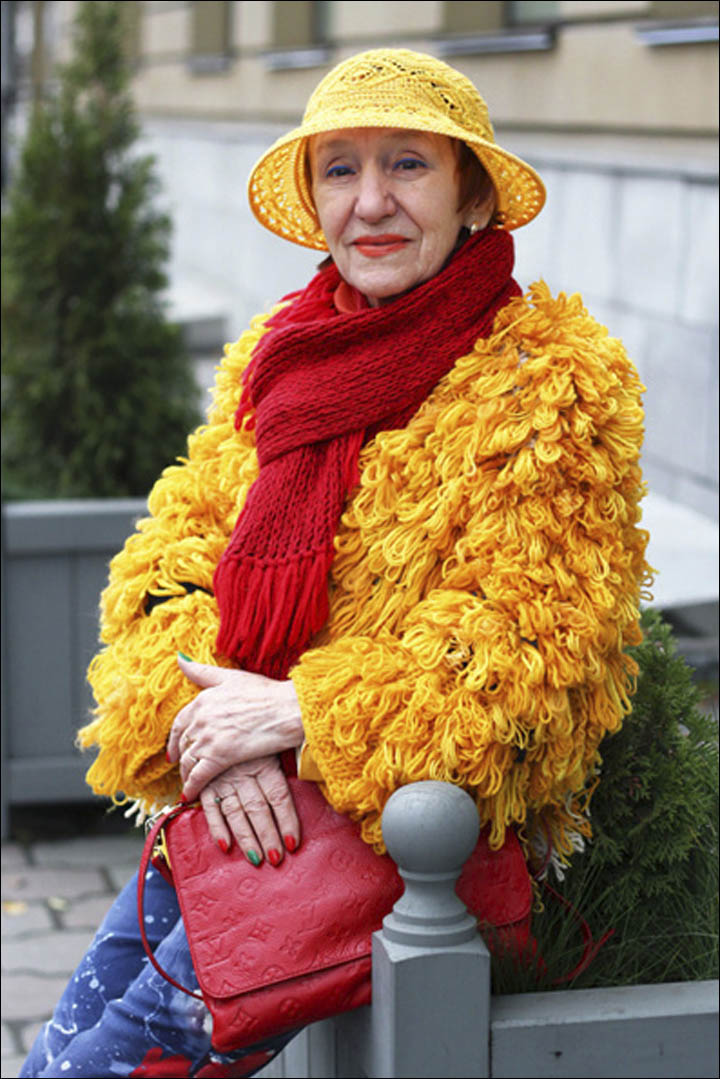 Larisa Iosifovna, 63 years old. Nelly, psychologists, 72 years old.
'Returning to Omsk, I realised that I would not find so many stylish people here. But I also realised that I was not interested to take young and beautiful, and I wanted to remake my blog.
'One day, I was walking in the centre of Omsk and I spotted a dance floor. The orchestra were playing, and elderly ladies and gentlemen were dancing. The first heroes of my blog I found on this dance floor. I met with them, took theirs phone numbers and invited them to a photo session. From that moment I began to photograph people of this age. It was new and unusual.
'At this stage it wasn't called Oldushka. I put a selection of some of the first grannies whom I photographed on the website 'Look at me' (a site where people post pictures of themselves stylishly dressed). They were quite rustic, in scarves, cardigans, blouses with a bright flower pattern. Most of the comments that came back were negative. They accused me of mocking pensioners and poverty... They wrote that these grandmothers have no style. And I thought, why do so many people see it differently from me? Why can we not talk about poverty in the context of style?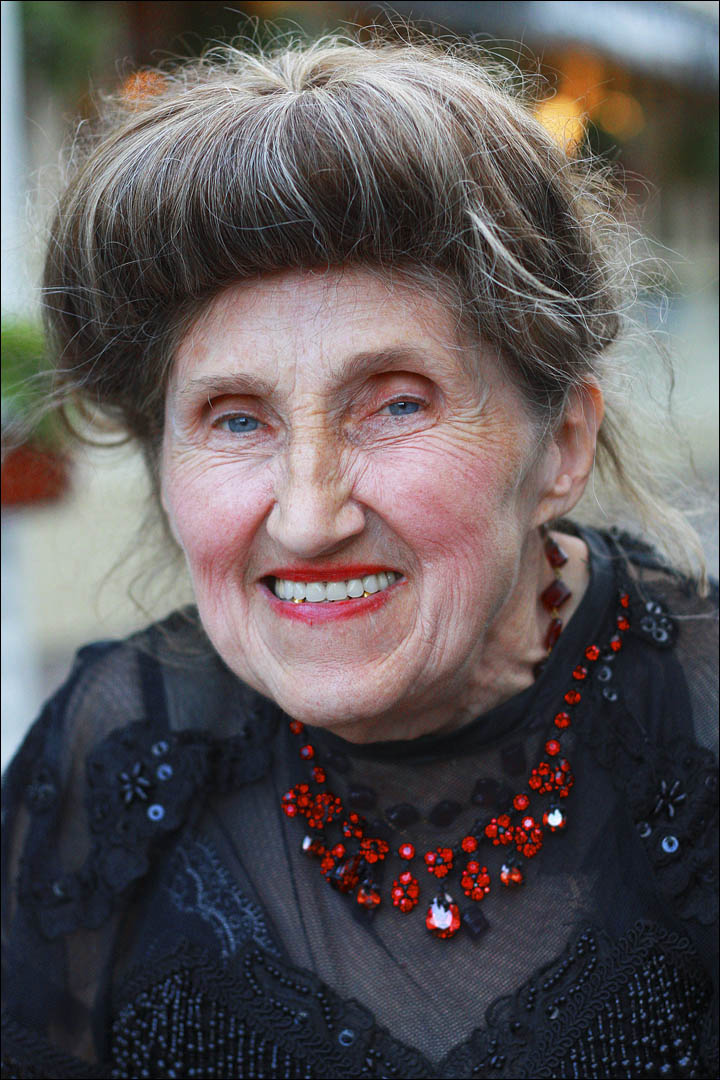 ---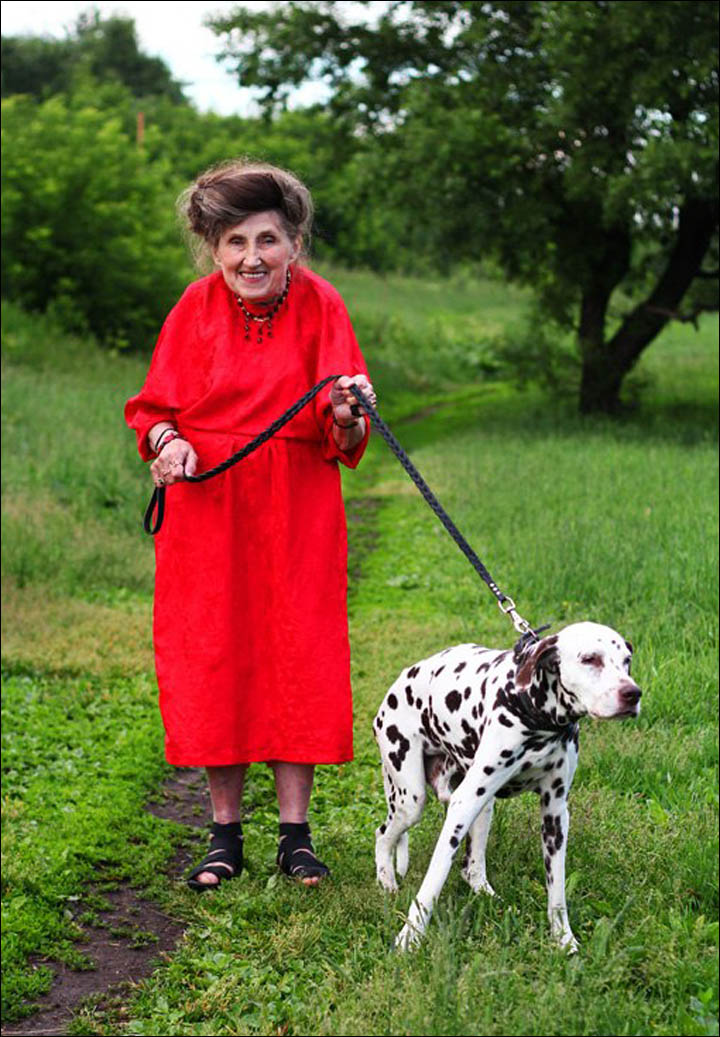 Albina Stanislavovna Evtushevskaya, after retiring, became a baker, then a cleaner in the university. Now she is an actress.
'I'm sure these grandmothers have style and taste. I thought maybe the public is mistaken. I decided that the best way to solve this problem would be my heroes' stories about theirs style. It was the first moment when I thought about the social side of my blog. The newspaper 'New Times' was the first to write about Oldushka. Later I received a grant from the Italian charity fund 'Unhate', which belongs to Benetton. Then the TV channel 'Rain' told the story of my blog, and next Channel 1 did it. So it began to develop. I began to realise that the project is interesting for people.'
Q: Your project has an interesting Anglo-Russian name 'Oldushka'. Why did you call it this?
'When I realised my blog's format needed to change, the question arose about the name. I was with my good friend Demyan in a cafe. I said, 'Deem, let's create something.' He always supports me. We mixed some words, wrote them down on napkins. I wanted a name that was not too literal. Not 'grandmother', not 'old' because people react differently to these words. Demyan suggested the name 'Oldushka'. It was a 100% hit. By the way, I've kept the napkin with the name 'Oldushka' written on it.'
Q: You add a little interview near the portraits of your characters. About what are they? What are the key questions you ask them?
'I ask what changes in them with age, how they perceive themselves in the context of time, what they acquire as the years go by. Then I ask about the components of theirs suit, do they dress up like this every day, do they think about theirs suit or not.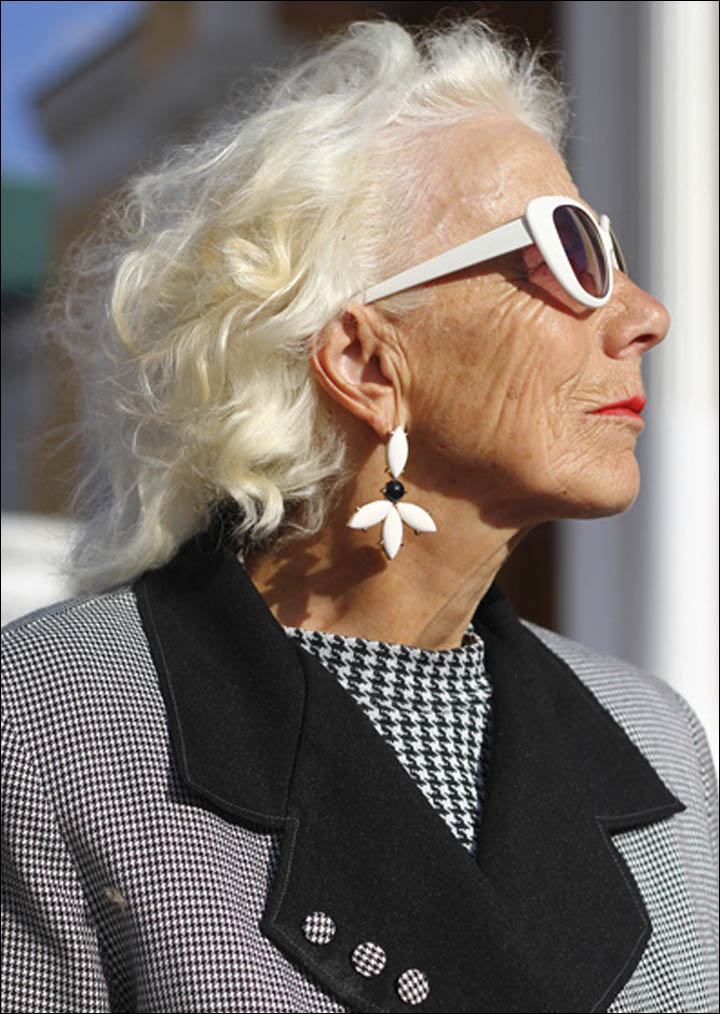 ---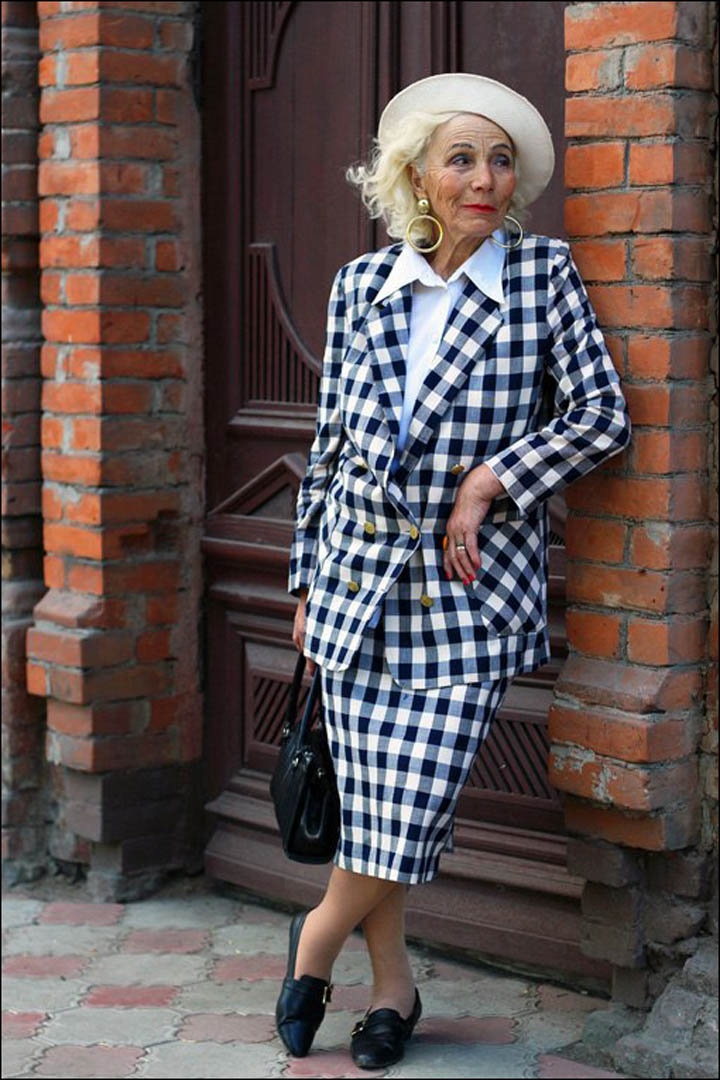 ---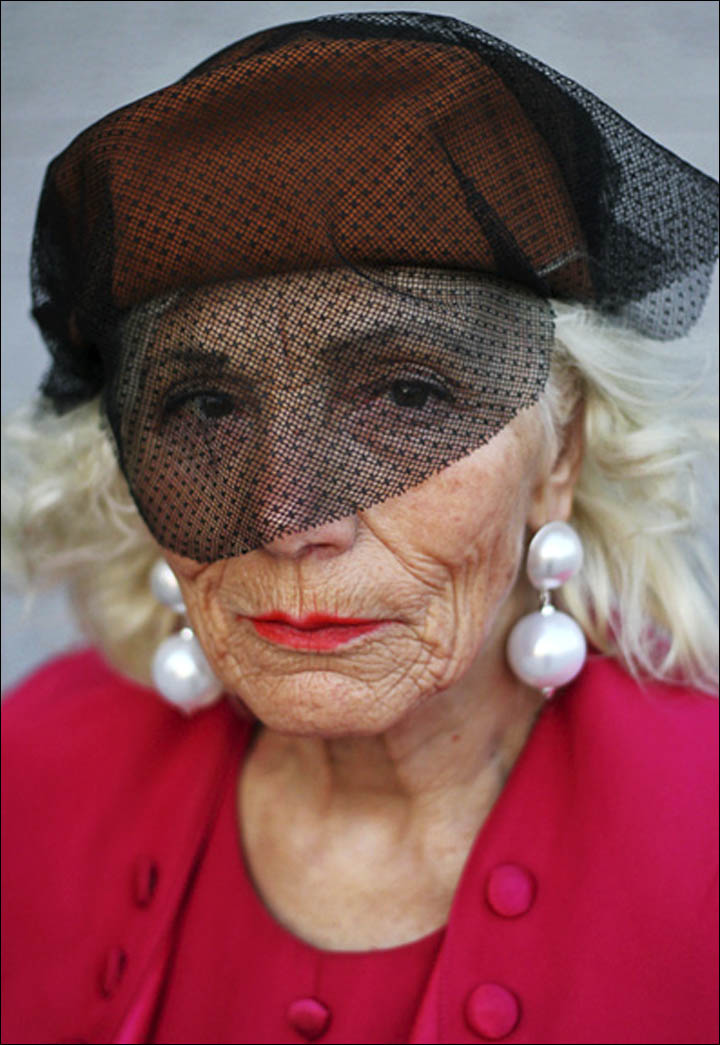 Irina Andreevna, 76 years old, worked as a stewardess on the testing flights.
'Many heroes are fortuitous stylists, they mix clothes without thinking. I even have a selection which I have not published yet. There are forms from fashion show and similar forms which I saw in grandmothers on the street. Also I ask them about which period did they like to live in the most. A majority answer 'in the USSR'.'
Q: What is the most interesting story?
'About one well-known lady - Albina Stanislavovna Evtushevskaya. I met her at the Moscow International Film Festival, during premiere of Renata Litvinova's film 'The Last Tale of Rita'. I spotted this lady because she was playing the exotic role. I took a picture of her, we met and I interviewed her. She worked at a textile factory for most of her life. After retiring, she became a baker, then a cleaner in the university. She is remarkable lady, she looks stylish and wears colourful outfits. Once she was noticed and invited to a casting of the film 'Mermaid'. Further, she was given the role of grandmother of the protagonist. Since then, she has made more than 150 projects, including commercials, TV shows, movies, and participated in many television talk shows. She says she is not interested in the money but because of communication with talented people.'
Q: What criteria do you use to choose your models?
'There is one principle. My eyes fall on a person. The main point is that a person should stand out from the crowd. I do not distinguish on social grounds. I take pictures of everyone, from the poor to doctors and so on. They are people who attract my eye by their costume, hairstyle, or expressive face.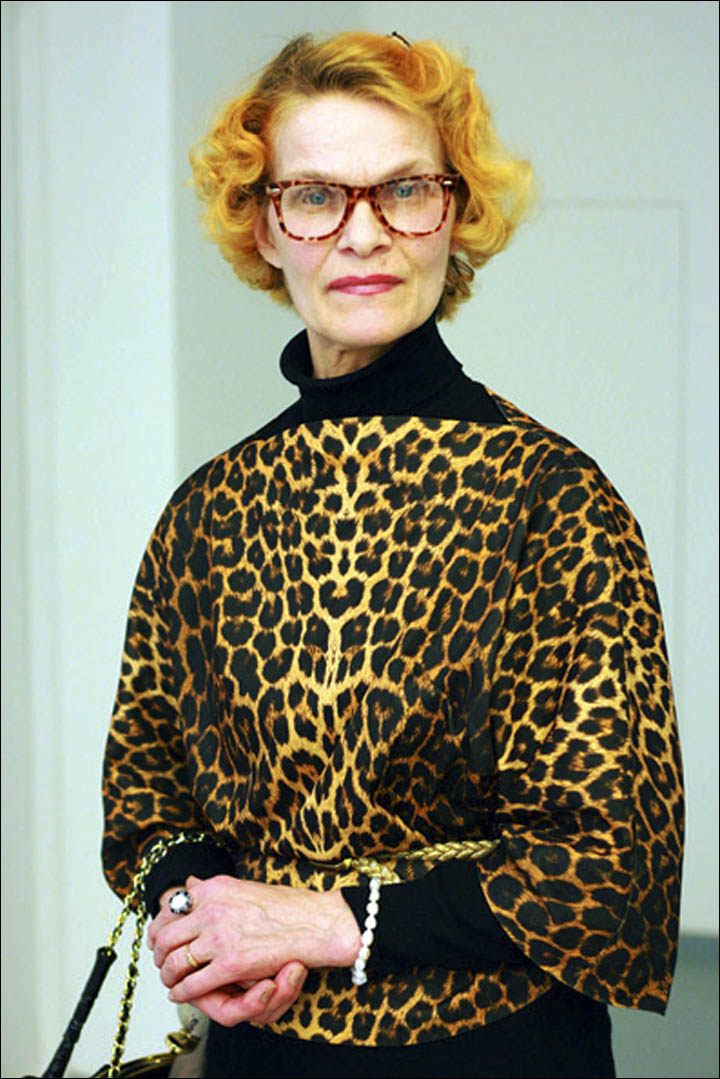 ---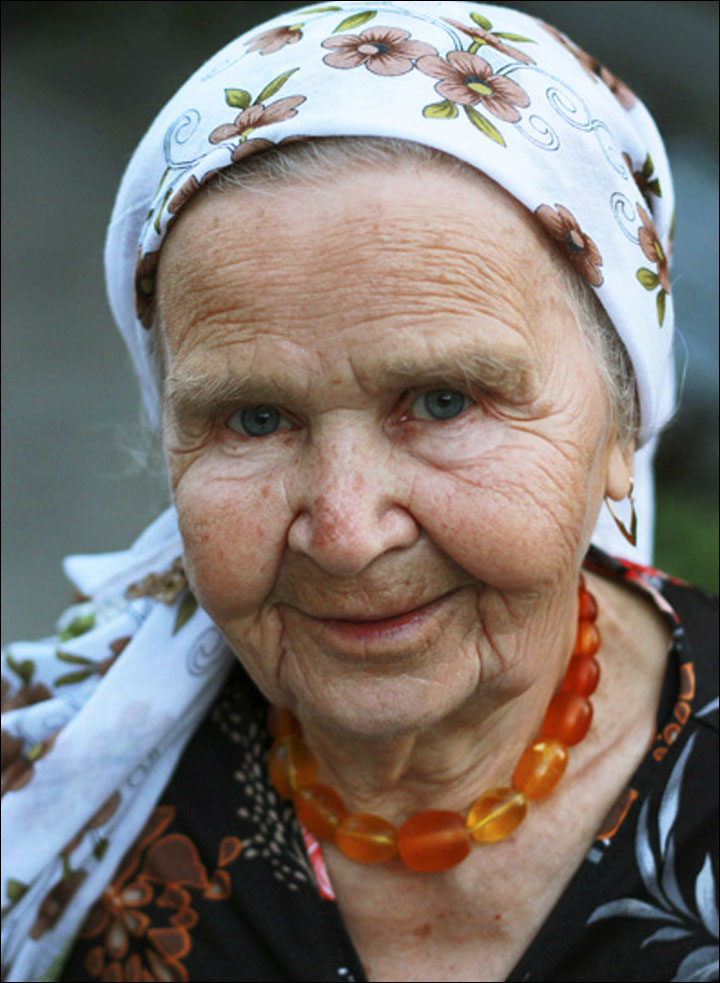 Lyudmila Andreevna, 70 years old. Sofia Mikhailovna, 89 years old.
Q: Do Omsk grandmothers have a particular qualities?
'I have been to Izhevsk. The grandmothers there are rustic. Omsk is between Moscow and Izhevsk. There can be rustic grannies but also modern, in hats, coats, and other nice clothing. There is an opinion that the standard of good style of an old woman is obligatory as an elegant lady. I cannot stand this word anymore, because the style is always different. You can also speak about a grandmother in a shawl in the context of style. I would like to broaden people's perceptions of the style of the age.'
Q: Tell us about your grandmothers.
'My great grandmother, Poina Efimovna, was a rural teacher. She loved needlework, always embroidered, quilts, sewing slippers in addition to her work at school. Fate was cruel to her: in old age her hands stopped working. She was very kind. She instilled in me a love of nature. She often walked with me in the area Sibniiskhoz, there were beautiful fields, meadows, and she told me about trees, animals, plants. One of the two grandmothers, Galina Vitalevna, who, unfortunately, is no longer alive, was a teacher, too. All her life she has worked with children, and she was a very kind person. She instilled in me a love for all creative things, drawing, and contributed to the development of these qualities in me.
'My second grandmother, Lidia Ivanovna, who, thank God, is alive and well, worked all her life at a knitting factory. This was very close to the fashion industry of Omsk. She went on fashion shows in Moscow, chose models, bought the yarn. Sometimes now she wears a stylish models of clothes from that time. Actually, I remember that my grandmothers always looked good. When I was about 14 or 15 people took them for my mother. Mt grandmas sewed dresses for my toys, we had a good time together, they were to me the main family members. Childhood was something amazing. It is with great warmth and regret I remember the feasts, and gatherings in the country, that will not happen again, because my family has already thinned.'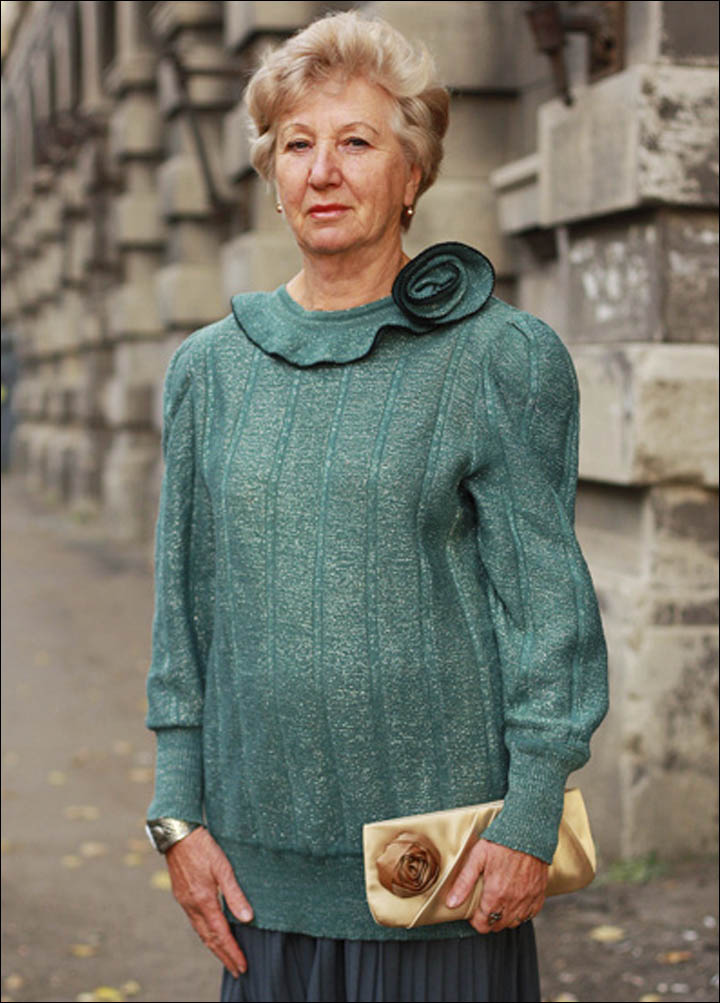 'My second grandmother, Lidia Ivanovna, who, thank God, is alive and well, worked all her life at a knitting factory.'
Q: Did exactly your grandmothers and great-grandmother inspire you to create this project?
'They created the emotional component in me, which later manifested itself through this blog. The history of my family and the emergence of 'Oldushka' are inextricably connected. The foundations of this project were laid in my childhood.
Q: What do you want to tell public by your work?
'People who have passed some age limit don't need to try to be young in order to be beautiful. It is believed that the old age is ugly. I refute that with my photos. I would like to help create confidence in the elderly: they can be beautiful with a minimum of effort. And I want to release young people from the fear of old age. Many stereotypes about old age grow out of poverty and loneliness in the lives of the older generation.
'I thought it cannot be all bad, because I see the bright smiles of these faces. There is a programming of the young generation about bad old age. I want to prove to them that it is not bad, to debunk these stereotypes sot people will have an example of how to get older beautifully. For example, a 25 year old girl wrote in the comments on my blog that because of my project, she is not afraid of becoming older. She picked out a grandmother from my photo shoots, and said she wants to be like her in the old age. It is really cool.'
Q: How do you think your project can affect people? Can it really change their stereotypes about old age?
'Even if it does not change stereotypes about old age on a national scale, it can help some people on a personal level to hold different attitudes to this age. In comments that I get, people say that because of my project they have began themselves to notice 'Oldushka people' on the streets. I hope some people will change their minds about old age.'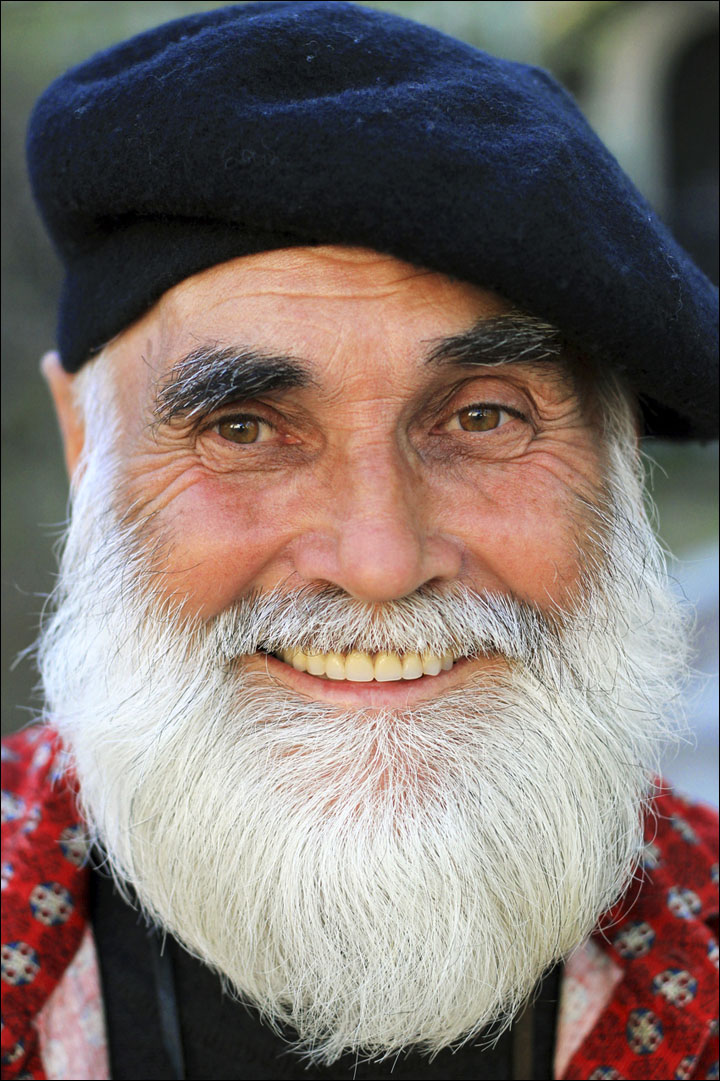 ---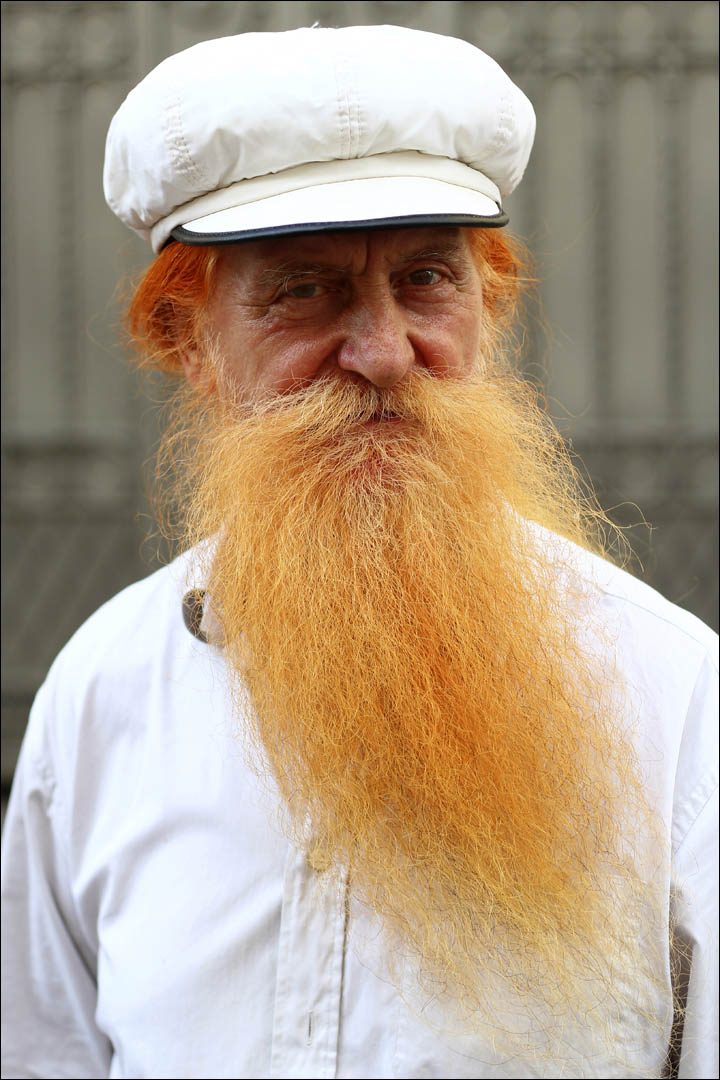 Viktor Afanasievich, 71 years old, artist. Andrei Viktorovich, 72 years old.
Q: How do you think that Russia's attitude towards old age compares with that abroad?
'I've been abroad only twice, to China and Prague. By the look of a similar blog of New York's fashionable people, Americans respect personal choice more than Russians. There, they are can boldly and independently break away from stereotypes. They are not afraid to wear excessively large jewellery. Our elderly ladies are more modest, but tasteful. Americans are tasteful, but not modest. The amount of jewellery says a lot. We avoid bourgeois excess. But I am happy when we meet people who 'jump out from the crowd'. In Omsk there is a lady, Nellie, who is more than right for New York.
Q: Do you plan to work and open the exhibitions in other cities or abroad?
'Yes, I have this plans, but proposals have not been received. With the Ministry of Labour and Social Development in Omsk, I am planning a project in which I will travel to regional centres. I want to go to some small towns and shoot in the outback. After that we will make the exhibition. It is in my interests to see a geographical expansion of the project. After all, everywhere has local colour, detail, even a new way of tying a scarf. I'm into in exploring.'