'Amur and Timur are friends, not a predator and a victim.' Picture: Dmitry Mezentsev
Last week we disclosed the remarkable story of how the goat - meant to be the tiger's lunch - ended up staying alive and bossing the big cat. After eyeballing the tiger, the goat took over the predator's shelter, with Amur seemingly content to sleep on the roof to allow Timur to rest in comfort in the predator's bed.
Today we go back to the Far Eastern Safari Park at Shkotovsky, Primorsky to find their relationship blossoming one week after the goat was thrown into the Siberian tiger's enclosure as live prey.
These pictures and videos show the warmth of a relationship nature never intended.
But messages from worried Russians have called for the brave Billy goat to be rewarded for his courage - and to be urgently removed from any risk of Amur suddenly turning on him.
In fact the keepers have now given them separate night shelters, but allow them to roam together during the day. They insist that Timur is perfectly safe, and that he has had a calming psychological effect on the big cat.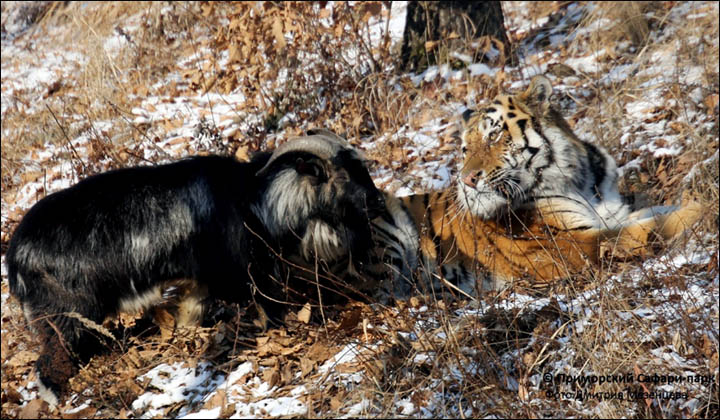 ---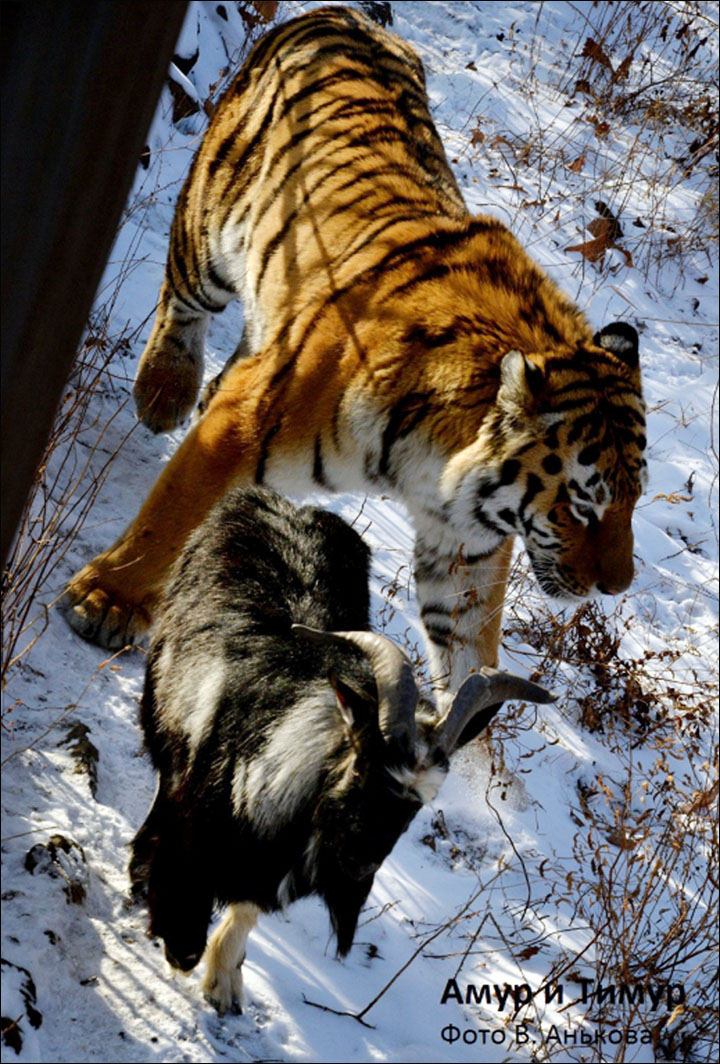 These pictures show the warmth of a relationship nature never intended. Pictures: Dmitry Mezetsev, V. Ankov
Dmitry Mezentsev, Safari-park director, insists: 'Amur and Timur are friends, not a predator and a victim. The situation is, of course, unusual, amazing and quite phenomenal. I would have not believed it if someone told me. But this is a reality. They are friendly and they are inseparable. Look at these pictures and say who do you see: are they a victim and a predator, or are they the best friends?'
The tiger has begun protecting his new comrade from unwanted human attention, too.
'Yesterday evening during meal time Amur waited until the goat finished his food and entered the shed,' explained the director. 'He even hissed at a member of staff who has always fed the tigers.
'It was like a 'Don't get too close to my friend!' message. He was never before aggressive with the park members. When the goat finished his food and came inside the shed Amur sniffed Timur.'
This is not the only sign of a deepening friendship. 'They started eating together,' said Mr Mezentsev. 'Amur is feeding on meat, Timur is having hay, oats and wheat.'
Not to confuse matters, the safari park keepers are no longer sending live goats for Amur's lunch, but he is still getting live prey - rabbits.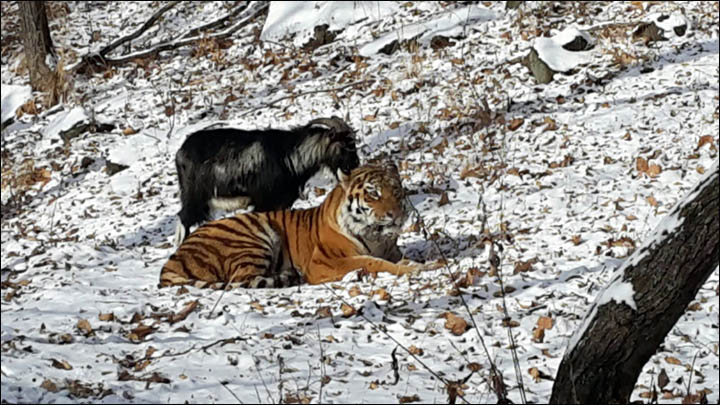 ---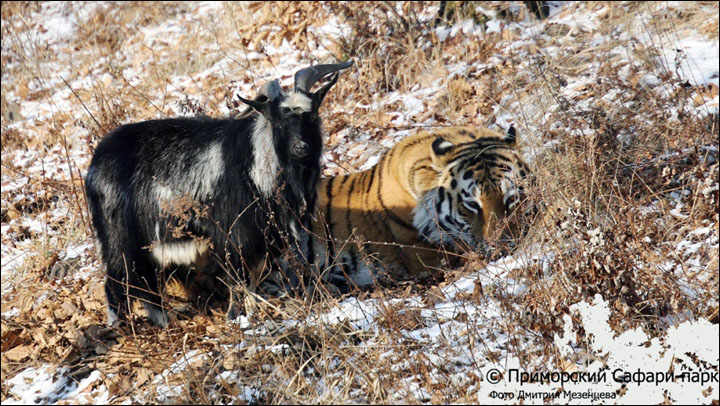 Normally big cats don't think twice about eating the live prey placed helplessly in their enclosures. Pictures: Dmitry Mezentsev
'We have now stopped feeding Amur with goats altogether. He will continue getting live prey twice a week, but it will be only rabbits.' And these he is killing and eating without a second thought, while preserving the life of his friend.
'Yesterday they slept in different night enclosures, and then did a morning walk around their territory together. The animals will continue being together and will not be separated. The goat is in no danger.'
This does not convince many people who are fascinated by the relationship.
'Many experts say that this union is not going to last. Please rescue Timur!' demanded Irina, in one of many messages on the safari' park's website. 'Please keep him safe, he deserves a separate enclosure and love from Safari park visitors,' added Sergei.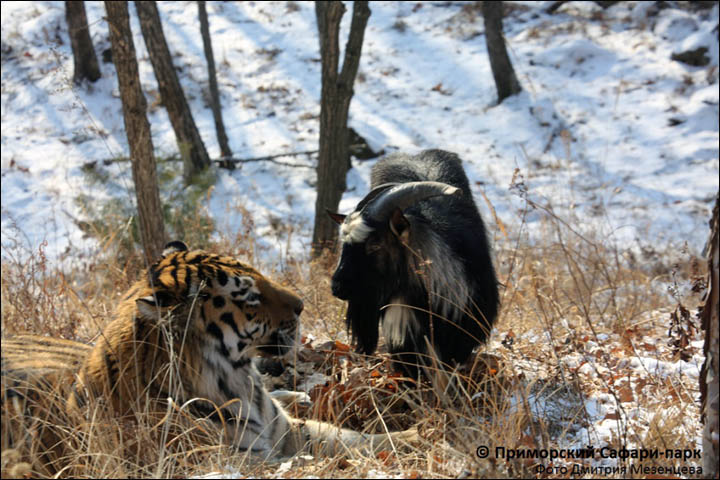 ---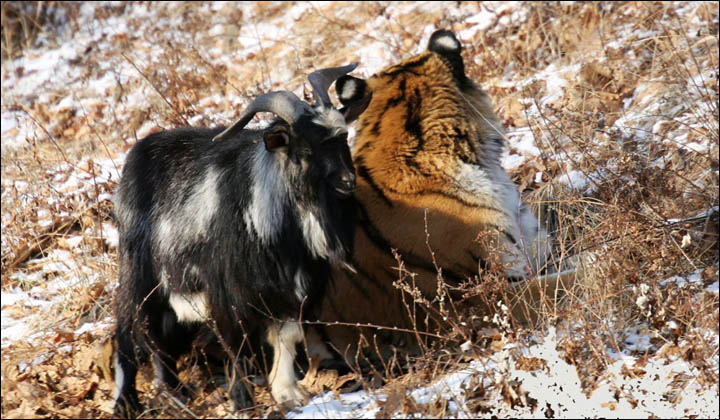 ---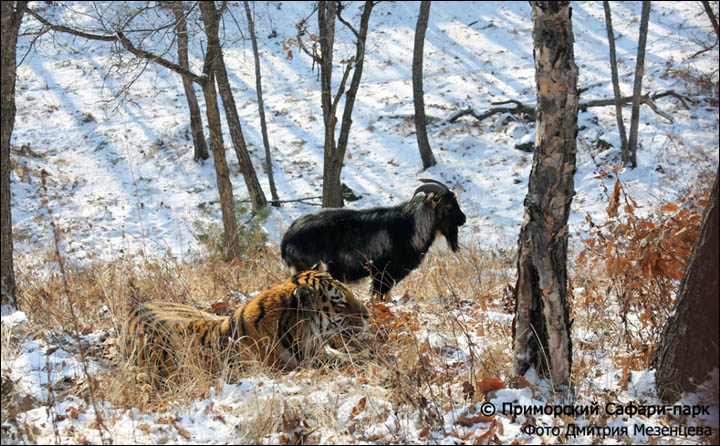 'Yesterday they slept in different night enclosures, and then did a morning walk around their territory together. Pictures: Dmitry Mezetsev
Olga wrote a personal plea to Mr Mezentsev: 'Dear Director: you must notice that the majority of people are asking you to move the goat to another enclosure. Why don't you take their voices into account? And make a special plate for Timur the Hero. This friendship and the whole situation should have a good end. Don't tempt fate and don't make it that poor Timur ends up eaten. People will never forgive you.'
Anna urged: 'The park had good PR, now everyone knows about them. It's time to guard the goat from the inevitable. Everyone understands that it is only a matter of time, and then all the positive PR will turn negative. Why are you stretching it to the limit. End it well.'
Another Olga expressed similar sentiments.
'The goat's and tiger's lives are not well-arranged. The tiger has to live on the roof open to all winds. The goat is out in the night in conditions that domestic animals are not used to. They both might get cold as a result of that. You must be having night time temperatures as low as minus 35C. Prove that you are caring by solving this issue responsibly.'
The safari park keeper sees things differently.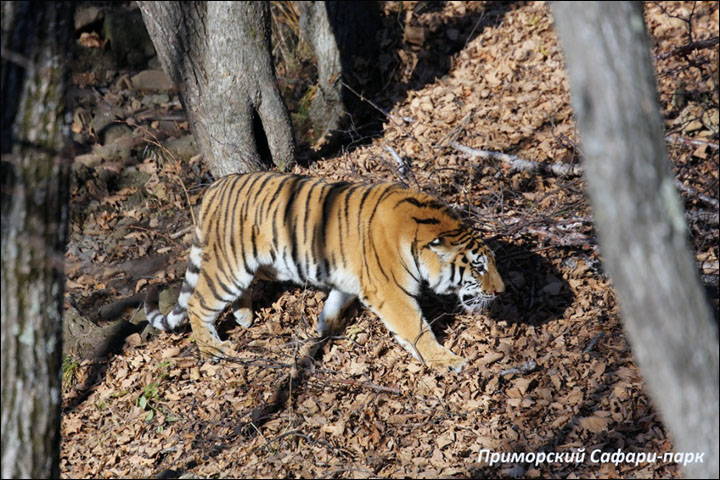 Will the tigress-bride Ussury as caring to her husband's best friend? Picture: Dmitry Mezentsev
'If earlier Amur was going out in the morning and immediately leaving to walk around the territory, now he waits until the goat joins him.' said the director. 'We believe that it is unlikely that Amur might attack the goat. We think he doesn't perceive the goat to be his prey but rather takes him as an equivalent to himself.
'We are not afraid of the goat's life because if Amur wanted to eat him, it would have happened a while ago. Amur is a strong predator, he dealt with prey much bigger than Timur. We think that brave Timur proved that he can live with the tiger and so be it, he will stay with Amur. They even started drinking water together.'
Before the friendship began, the tiger often roared day and night. Now, say keepers, he has become 'calmer and more balanced'.
Still, the safari park has a plan to pair the tiger - he is an Amur big cat native to eastern Siberia - with a tigress which arrived recently at the park. They will not be put together for another year or more, but will the tigress be as caring to her husband's best friend?