A house with a view! Apakhonchich observation station, Kamchatka. Picture: Sergey Makurin
The famous volcano has been especially active in recent months, spewing ash at least 7.5 kilometres into the sky, posing a hazard to passing aircraft. Last months its plume spread 734 kilometres west and northwest of the volcano.
Yet here from the volcano's Aphakhonchich observation station, there is a grandstand view of Klyuchevskaya Sopka, the highest peak on the Kamchatka peninsula, known as Russia's Land of Fire and Ice.
It is also the highest active volcano in all Eurasia, with an elevation of 4,750 metres.
Photographer Sergey Makurin, from Yekaterinburg, said: 'We heard that Klyuchevskaya Sopka volcano started erupting in April and decided to go on a photo tour.
'We reached Kamchatka in September and immediately got stuck in bad weather and fog, which stopped us from reaching the volcano.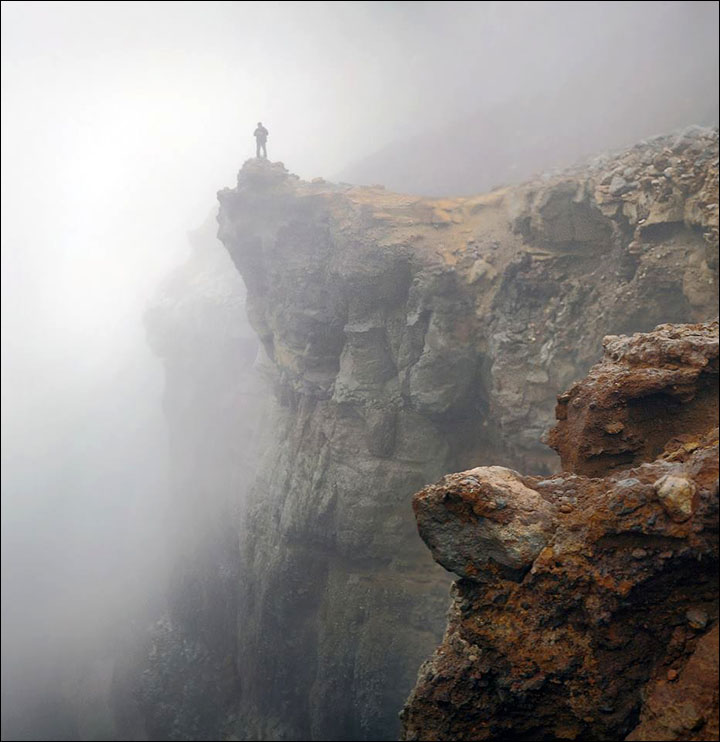 Don't look down. Picture: Sergey Makurin
---
They made a visit to highly active Shiveluch volcano.
'We were going up the canyon, walking on a hot river that was as white as snow because of volcanic gases and ashes. The temperature on the surface was 40C or 50C, and just half an hour deeper down it was over 100C.
'As soon as we got closer to the crater, the volcano showed its temper by throwing another cloud of ashes and gas. Luckily, it was a relatively small emission but we rushed back anyway.
'Three days later volcanologists said that Shiveluch spewed ashes several kilometres high, so that a hot river covered everything around including the canyon that we were carelessly walking in.'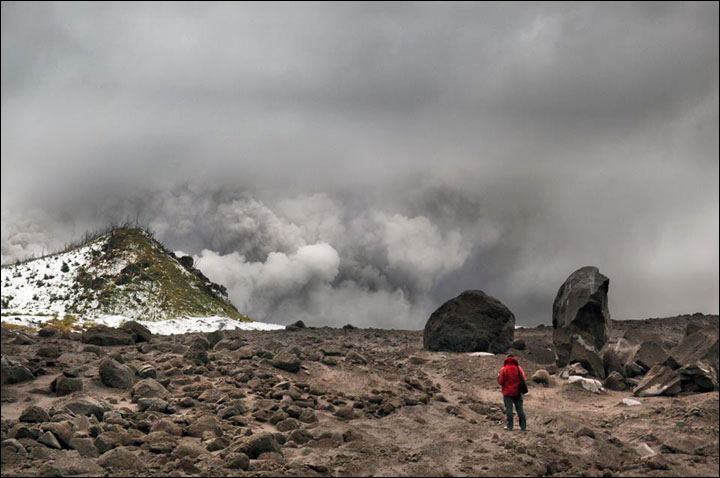 ---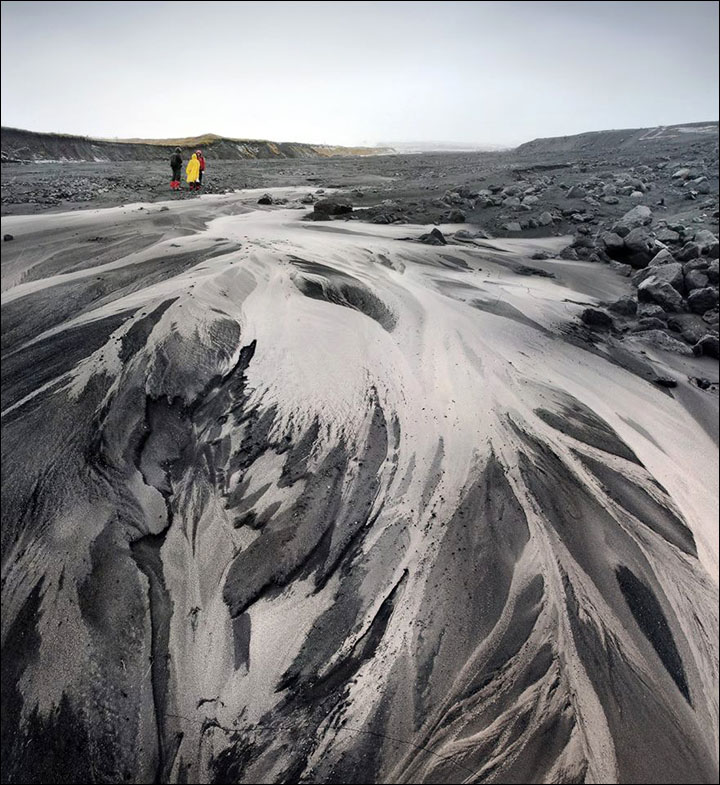 'The temperature on the surface was 40C or 50C, and just half an hour deeper down it was over 100C. Pictures: Sergey Makurin
---
The team waited for a chance to get to Klyuchevskaya Sopka volcano for several days and got lucky just as they reached Apakhonchich observation station.
'It was a clear night and we could take photos of the glowing lava. No picture can express what you feel standing in front of the volcano of this size and might.'
In June, an explosion was observed on the eastern side of the volcano, at an altitude of approximately 4,500 metres, according to specialists from the Klyuchevskaya Volcanology Station.
The explosion made a hole of approximately 500 by 500 metres in the side of the volcano's crater, causing lava to spurt from the eastern side, flowing down to an altitude of 2,500 metres.
Volcanic bombs were ejected as high as 600 metres.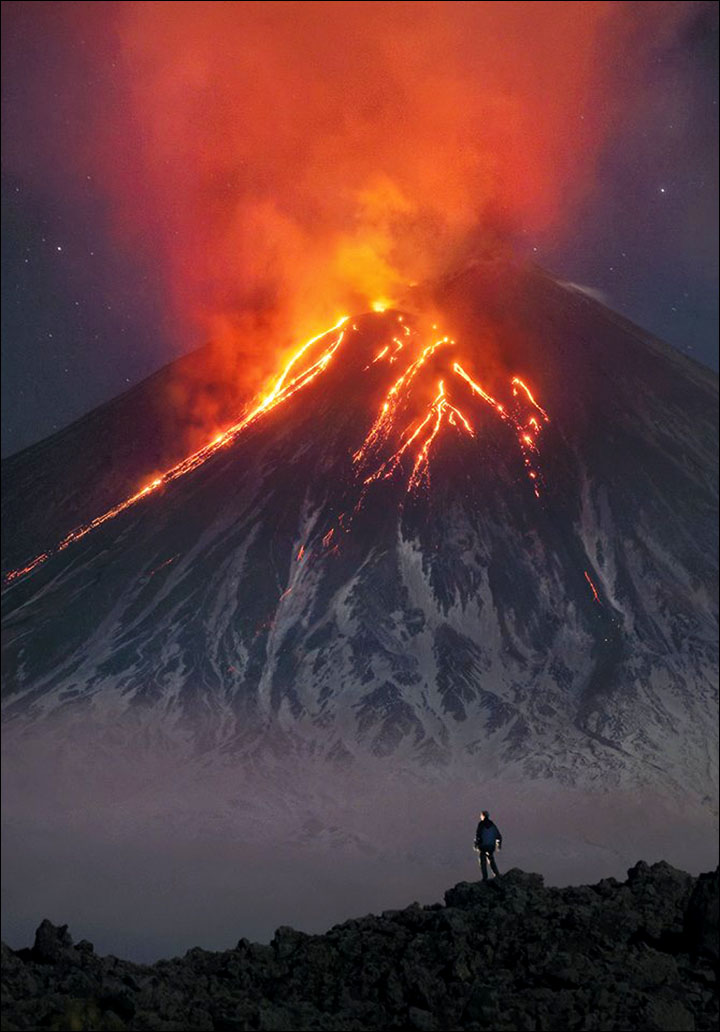 Klyuchevskaya Sopka is the highest active volcano in Eurasia. Pictures here and below: Sergey Makurin
---
The 7,000 year old volcano is located 360 km to the north-west of the capital of Kamchatka region, Petropavlovsk-Kamchatsky.
The nearest town, Klyuchi,some 30 km away, and home to about 5,000 people.
Kamchatka peninsula has 29 active volcanoes.
Klyuchevskaya's first recorded eruption was in 1697. It has been almost continuously active ever since, as have many of neighbouring volcanoes.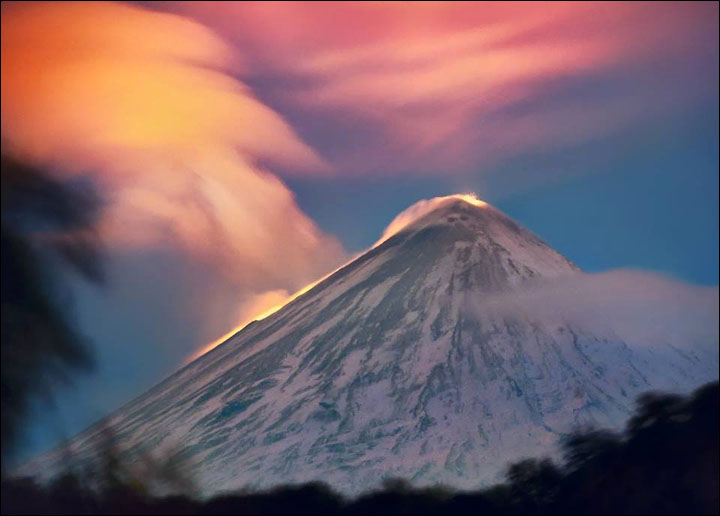 ---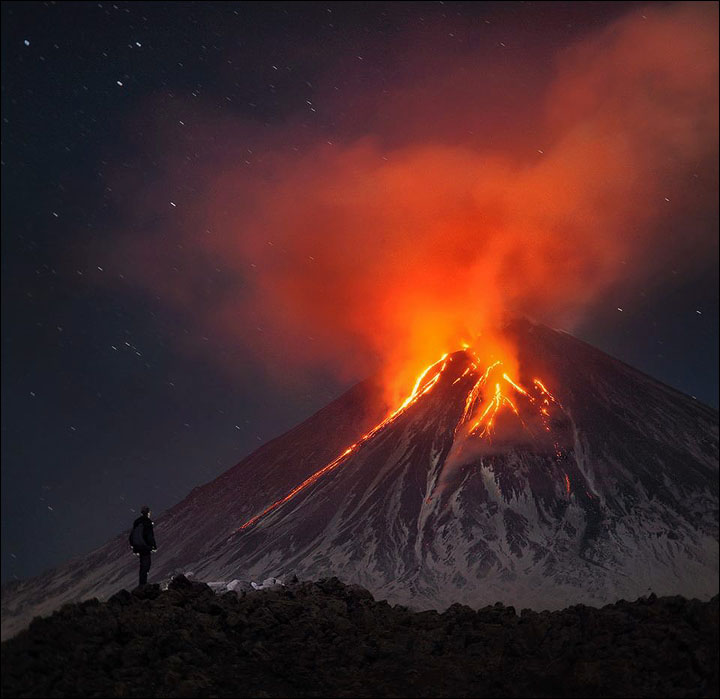 ---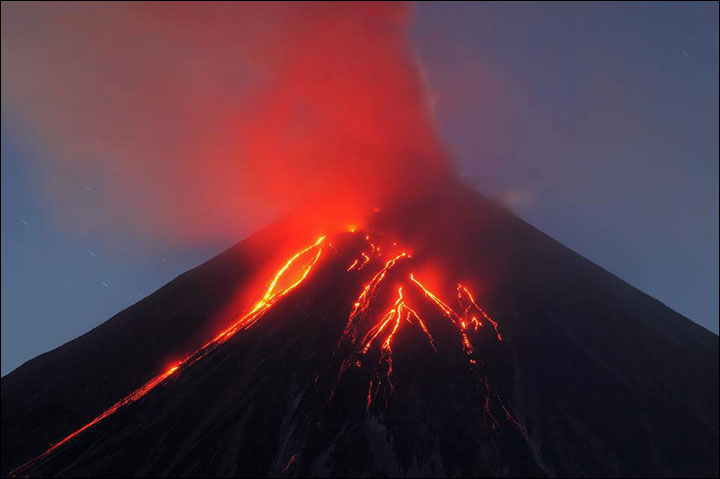 ---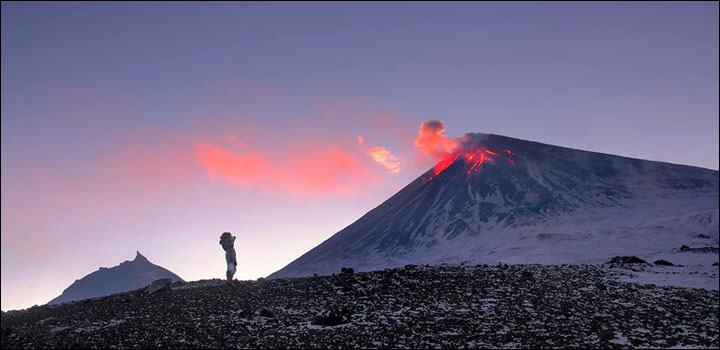 ---