A fusion of the heathen and Christian traditions. Picture: Vera Salnitskaya
Here in the centre of Novosibirsk on Tuesday around 50 people, aged mainly 7 to 17, but with some as old as 30, armed with buckets, water pistols and the cheapest weapon of all, plastic bags were happily getting soaked. They were mostly concentrated on each other, and air was filled with happy cries and screams, but from time to time there were cries - 'splash this dry one!', and another passer-by was sprayed with water.
Police was there watching, but when one very active 'splasher' was ticked off, a strict looking granny got up to give the cop a passionate lecture in how he shouldn't spoil the holiday.
One participant Olesya, 22, said: 'It's a great holiday, I think it helps us all to understand that a person should always keep hold of their inner child'
Sergey, 30, added: 'I can't describe how much I like being here. I am even skipping my office to splash and get splashed'.
Yelena, 14, said: 'It's fantastic here, this is my favourite holiday after New Year!'
Alexandra, 17, told how she 'put my dress on with a purpose, because it dries faster after you get splashed.'
This is the only day in the year when you know you can be splashed anywhere around the city.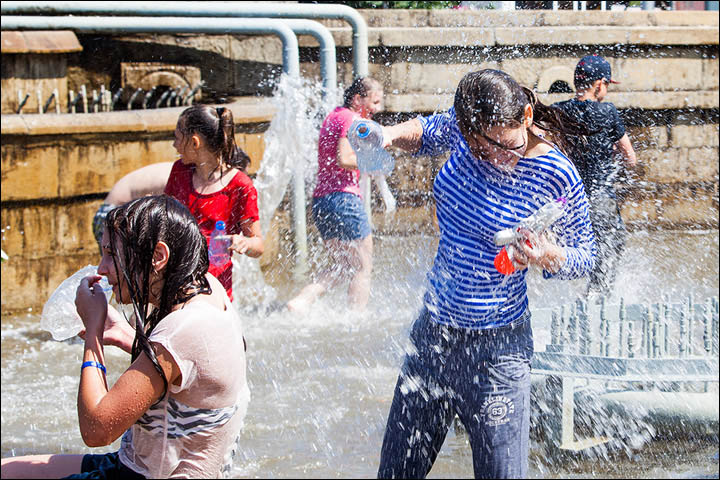 ---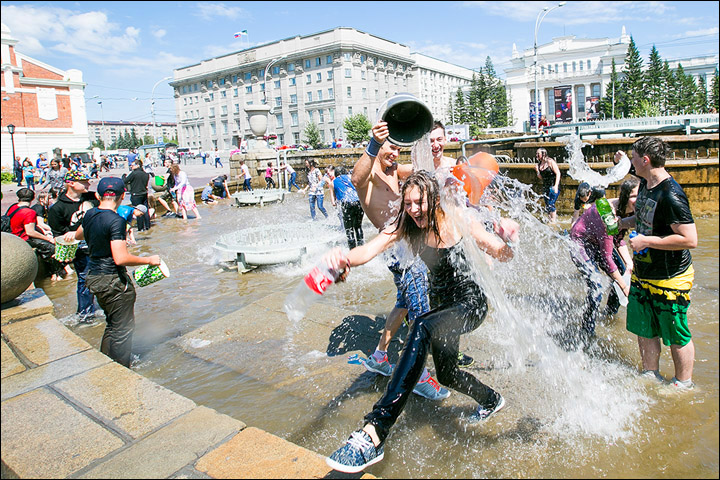 ---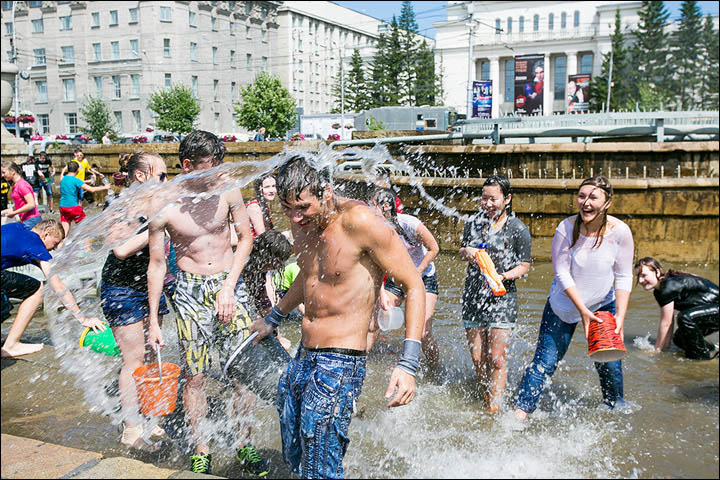 ---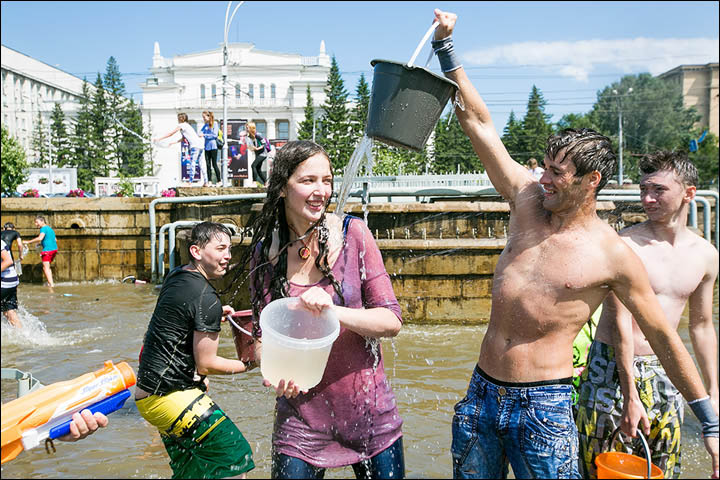 ---
A day Siberians have fun drenching each other. Pictures: Vera Salnitskaya
---
A clerk, or a businessman, no matter how well you are dressed and what age you are, the unofficial rule saying 'Splash everyone on Ivan Kupala day' means that you are likely to be splashed even during a ride on a public transport. To avoid accidents, the authorities urged the festivities to take place in an area opposite Novosibirsk City Hall is declared an official playground for everyone that wants to celebrate the day.
The scene resembles Songkran in Thailand when you are lucky to escape dry. So what's going on?
The festival certainly has ancient origins, with one version that the Kapula holiday was a pagan fertility rite which later found its way into the Orthodox Christian calendar. In Russia - and other Slavic countries - the name combines Ivan (or John, as in John the Baptist) and Kapula which derives from the word for 'bathing'.
So it is a fusion of the heathen and Christian traditions.
Just to add some confusion, it is also seen as marking the summer solstice, so why it is marked on 6/7 July. The reason is that under the old Julian or Old Style calendar, 6/7 July is what we now know as 23/24 June, when the shortest night is marked.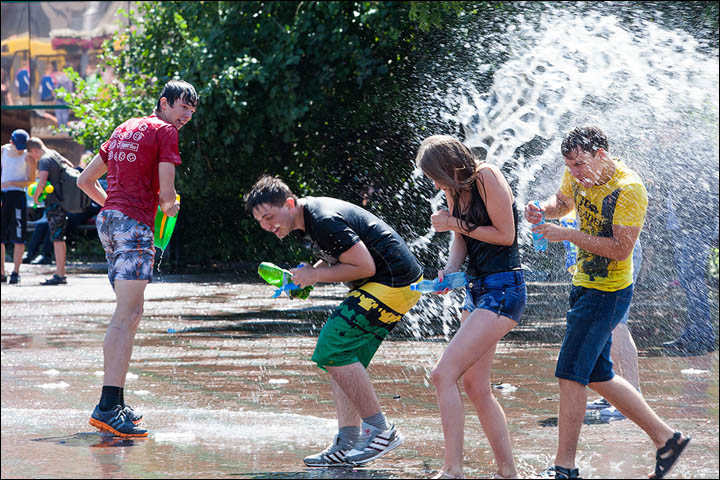 ---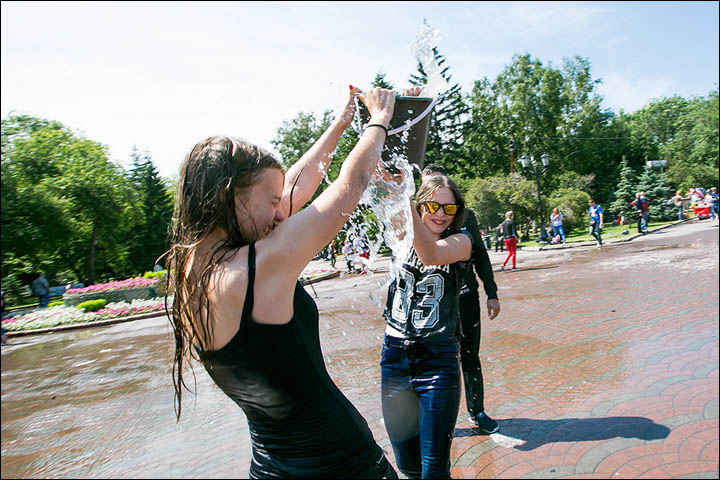 ---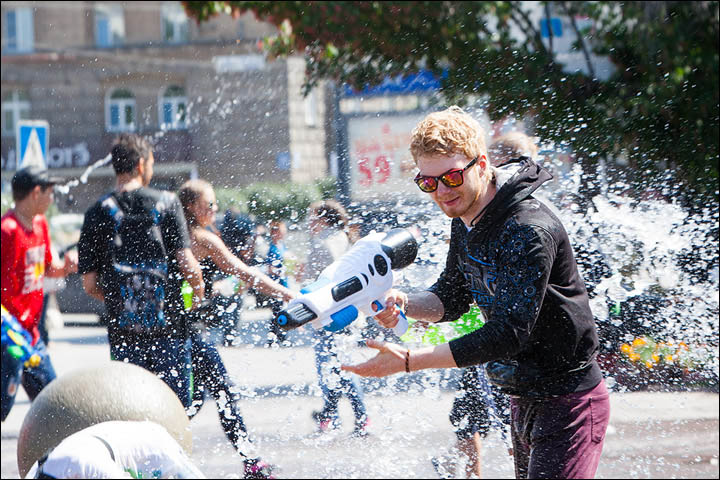 ---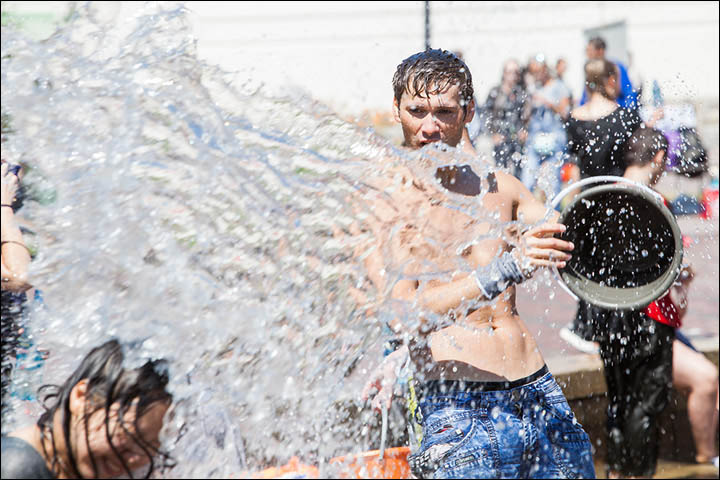 ---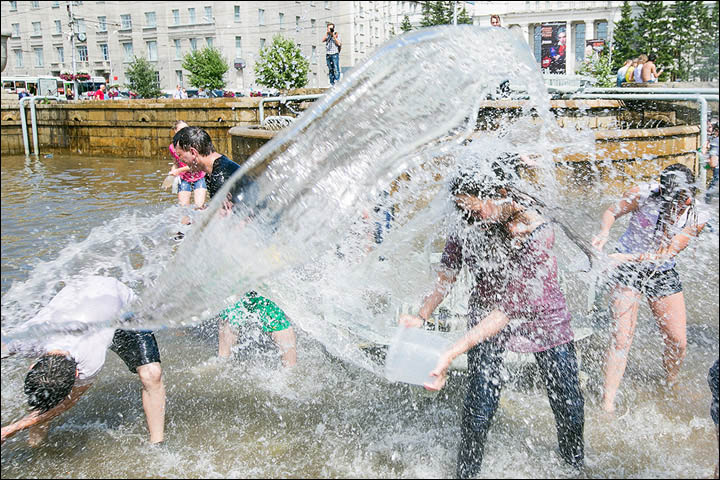 The scene resembles Songkran in Thailand when you are lucky to escape dry. Pictures: Vera Salnitskaya
---
Rites related to Ivan Kupala by tradition include jumping over flames, but if a couple fails to complete the jump, hand in hand, then they are destined for separation.
Girls can float wreath of flowers lit with candles down rivers, watching to gain an insight into their future love fortunes.
Men may try to capture the wreath - or you can simply splash one another and have fun.