The troves include the personal jewellery and valuables of the tsar, his empress Alexandra, their four princess daughters, and son and heir Alexei, all of whom were shot to death in Yekaterinburg in July 1918. Picture: Hermitage Museum
A wide array of treasures including the personal riches of the tragic Russian royal family went missing in Siberia in the aftermath of the Bolshevik revolution exactly a century ago.
The lost riches in the ensuing chaos includes vast bullion reserves worth tens of billions of dollars, along with precious gold and silver awards dating to the brief period of Siberian 'independence' after Lenin's seizure of power - all of which had been in the hands of White forces seeking to roll back the Red advances after the defeat of Russia's post-tsarist provisional government.
The troves include the personal jewellery and valuables of the tsar, his empress Alexandra, their four princess daughters, and son and heir Alexei, all of whom were shot to death in Yekaterinburg in July 1918.
It is probable Nicholas intended some of these personal riches as dowries for his unmarried daughters, aged between 17 and 22 at the time they were slain.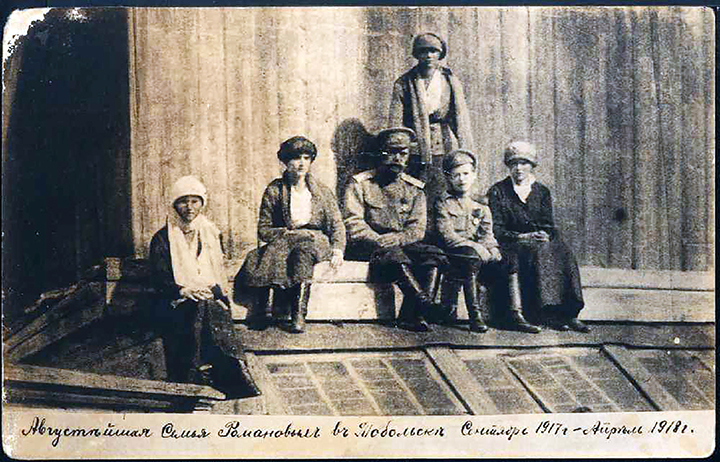 ---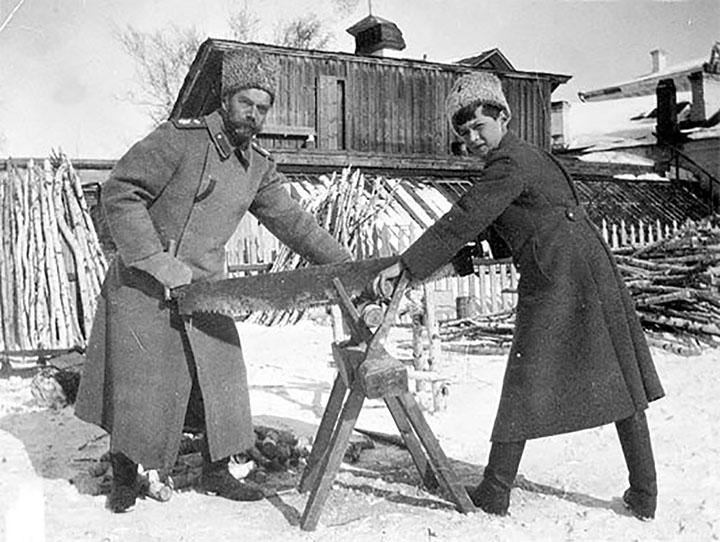 ---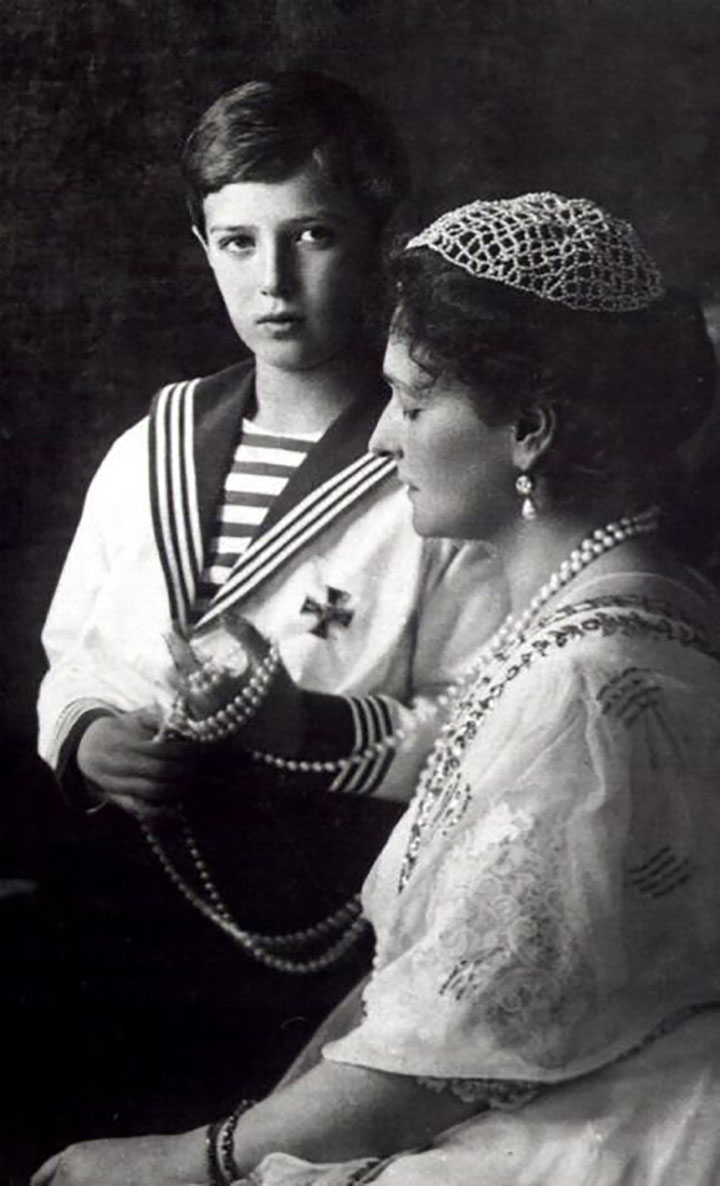 The Romanov family in Tobolsk, and Empress Alexandra pictured with Alexei before 1917 Revolution. Pictures: Zlatoust City Museum, Hermitage Museum
---
Remarkable new evidence points to at least newly-disclosed FIVE locations for the lost treasures which includes diamond encrusted sabres and dirks, belonging to the ex-tsar and, Alexei, Russia's last crown prince, who was 13 when he was brutally executed.
The Soviet authorities repeatedly hunted for the treasures, and while they discovered some of them, large quantities have remained missing.
A bizarre but abortive Nazi-backed attempt was also made to find some of the valuables in the middle of the Second World War, we can reveal.
The Siberian Times has unearthed a document held in KGB - Soviet state security - files indicating that 26 boxes of tsarist-era gold were stashed at a depth of 2 to 2.5 metres deep in ground around five kilometres from Taiga (Tayga) railway station on the Trans-Siberian railway route in modern-day Kemerovo region in late October 1919.
Despite a major KGB operation in the early 1940s, this gold was never found - more details about it are below.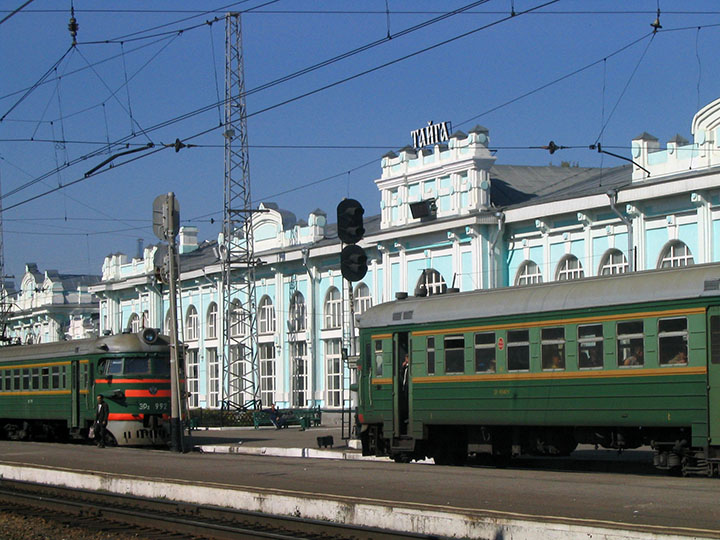 ---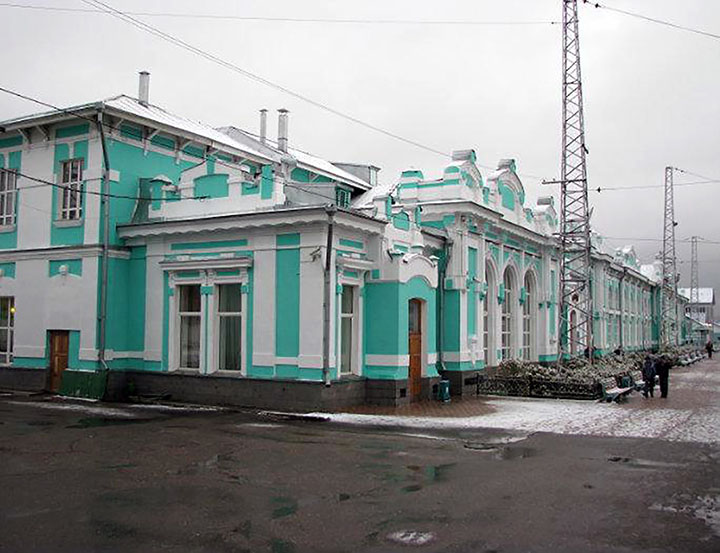 ---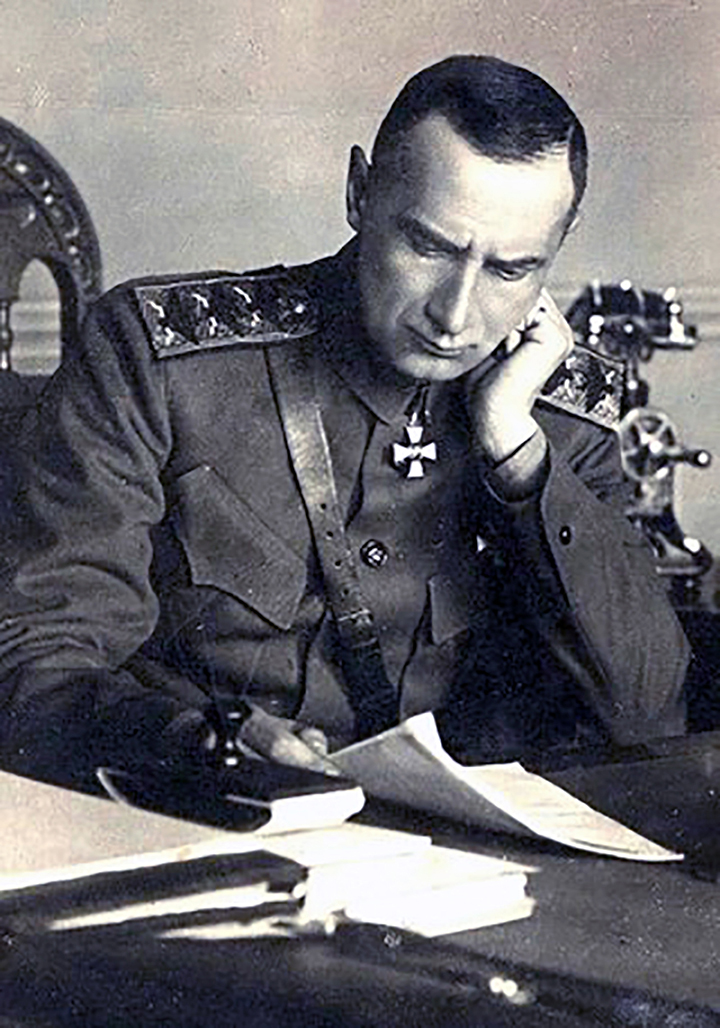 26 boxes of tsarist-era gold were stashed at a depth of 2 to 2.5 metres deep in ground around five kilometres from Taiga (Tayga) railway station (pictured above) on the Trans-Siberian railway route; Admiral Alexander Kolchak. Pictures: Taiga Museum
---
Separately, retired FSB colonel Alexander Petrushin, 67, for many years in charge of the secret services' offices in Surgut and the Khanty-Mansi region, has just published a book detailing other stashes of riches linked to the Romanov family and the putative Siberian administration.
Some of these treasures relate to the period the abdicated tsar Nicholas II and his family were held exile in the historic Siberian town of Tobolsk, between August 1917 and April 1918.
Before being shifted westward to the Ipatiev House in Yekaterinburg, where they were shot, they left their riches with trusted locals.
One dizzying collection, itemised below, was retrieved by Stalin's secret servicemen in 1933, but at least two others - believed to be similarly jaw-dropping, one including crowns and tiaras - have never been located.
They could still be in Tobolsk or Omsk, it is believed.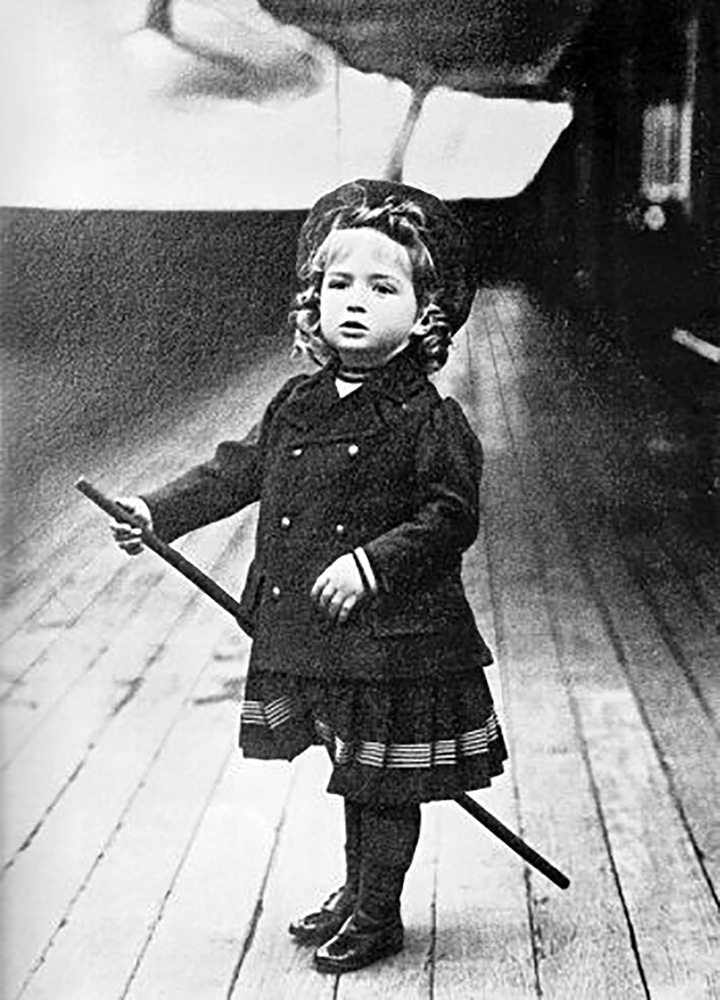 ---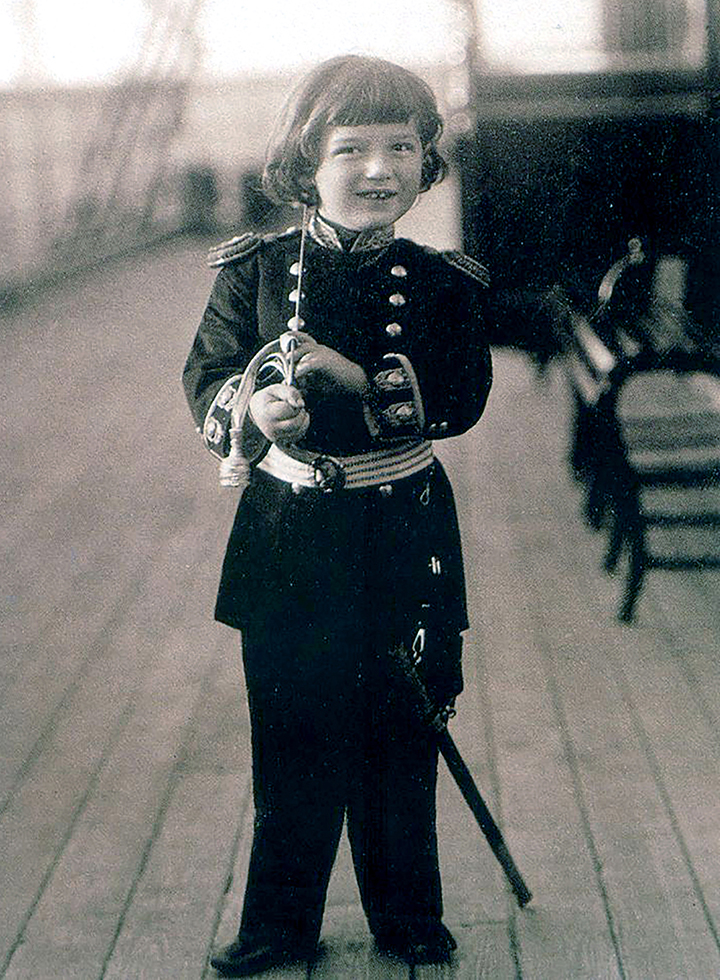 ---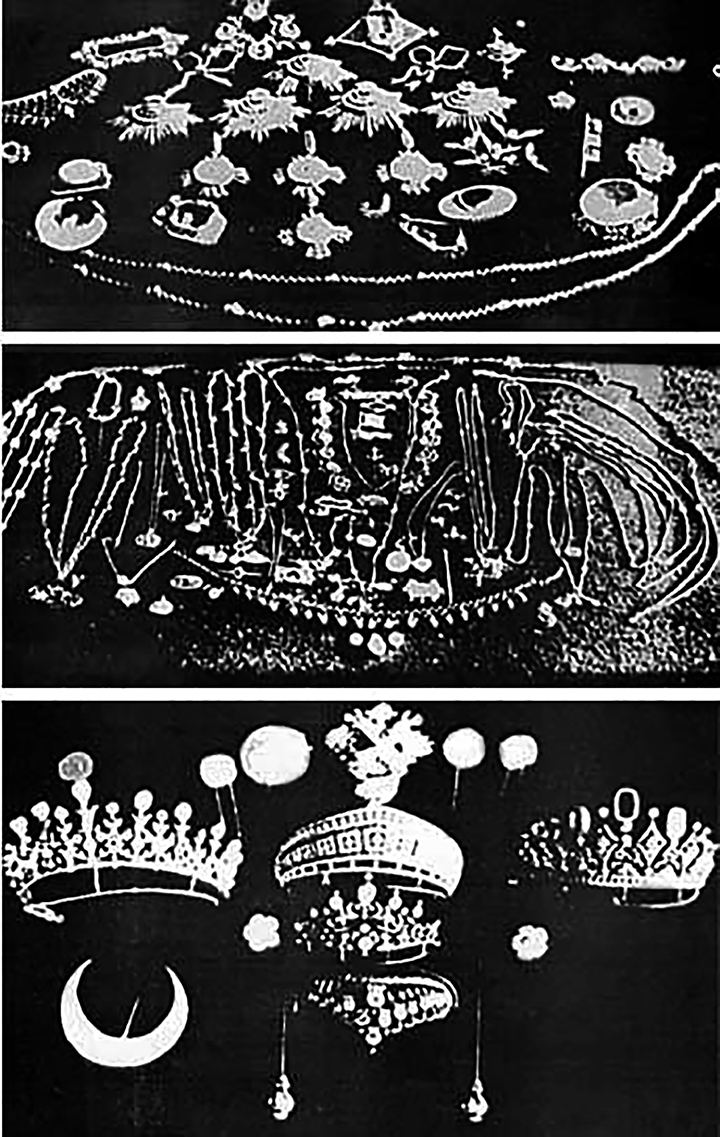 ---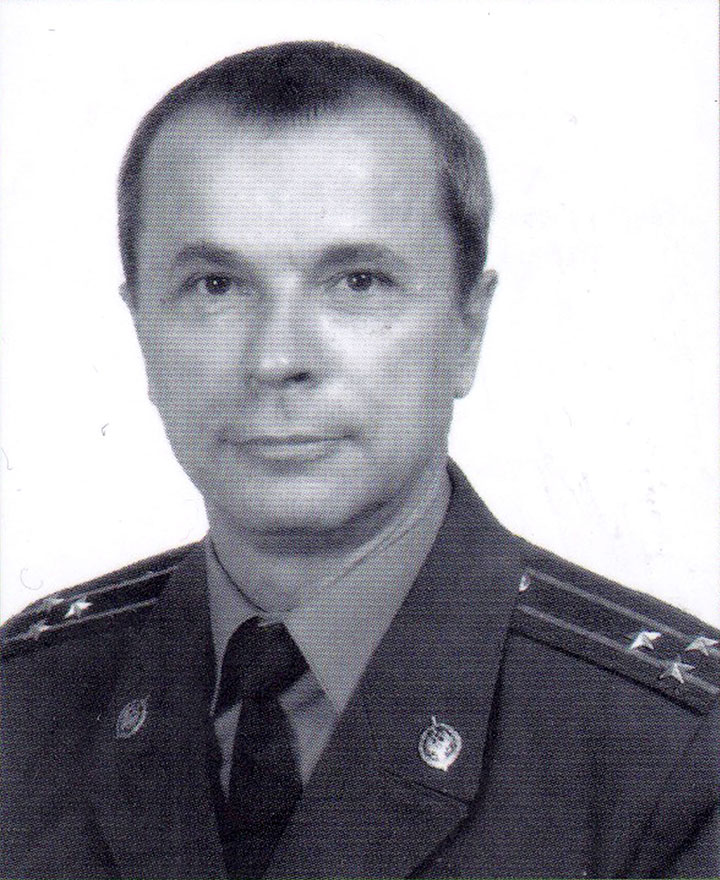 ---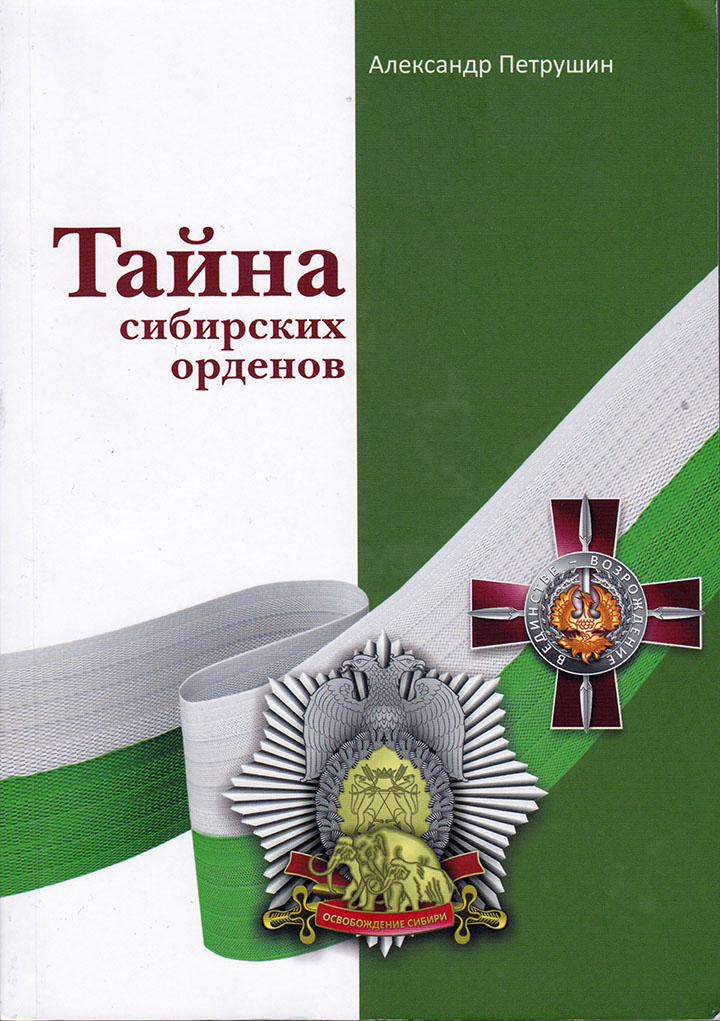 Alexei Romanov; picture of Romanov diamonds found by Bolsheviks; Alexander Petrushin and cover his newly-released book. Pictures: Hermitage Museum, SU MB RF Archive, Alexander Petrushin
---
Separately, Petrushin has produced an account of other valuables that were in the hands initially of the Siberian authorities, and then the forces of anti-Bolshevik leader Admiral Alexander Kolchak, designated between 1918-20 the Supreme Ruler and Commander-in-Chief of All Russian Land and Sea Forces.
These comprised gold and silver honours minted for the anti-Bolsheviks in Siberia.
These fell in and out of the hands of Lenin's forces in the turmoil of battles to control western Siberia, but are now believed by Petrushin to be buried in two specific locations: one in Khanty-Mansi autonomous region, the other in the polar Urals.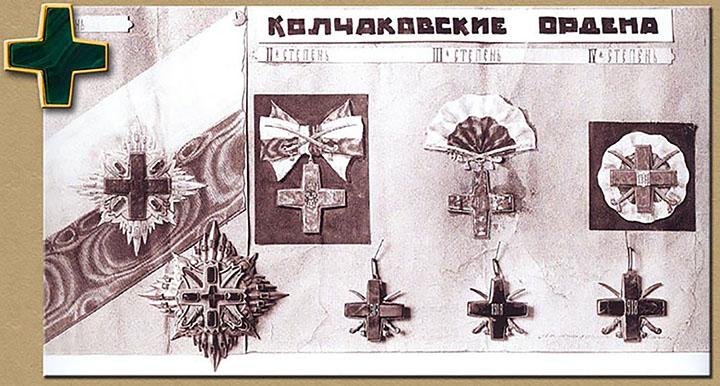 The only picture of sketches of the Siberian orders, exhibited in the museum of Novosibirsk in 1930s. Picture: Novosibirsk Museum
---
The treasures believed to have been buried at Taiga (Tayga) railway station in Kemerovo region, were almost certainly part of a vast stash bullion and other Russian state valuables, photographed in Kazan during the First World War before being moved eastward in a bid to keep it out of Lenin's hands.
This collection has been estimated at some $66 billion in modern prices.
Yet it was divided up: some used before the revolution to buy armaments, some perhaps smuggled abroad for other purposes, and some falling into the hands of the White forces, then divided.
Rumours abound on the location of what was once 1,600 tons of gold - and the alleged gold at Kemerovo is likely part of it.
For years there have been rumours some was stashed but not found at several sites in Omsk, capital of the Kolchak resistance to the Bolsheviks.
Another theory is a site close to the now disused Ob-Yenisei canal in Kransoyarsk region.
One more hypothesis is that it lies in the depths of Baikal, the deepest lake in the world, after a train derailed into the pristine waters.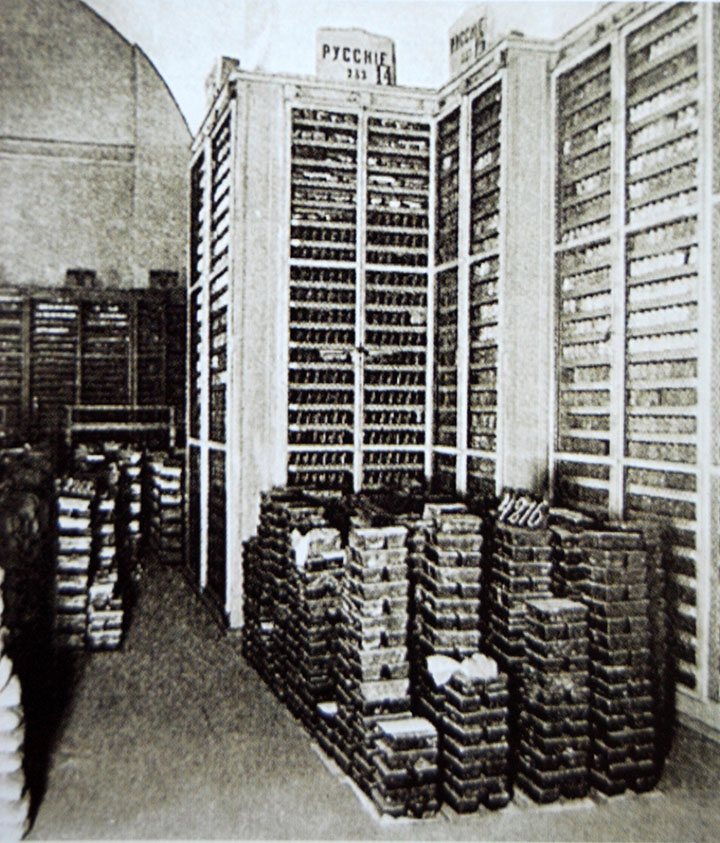 ---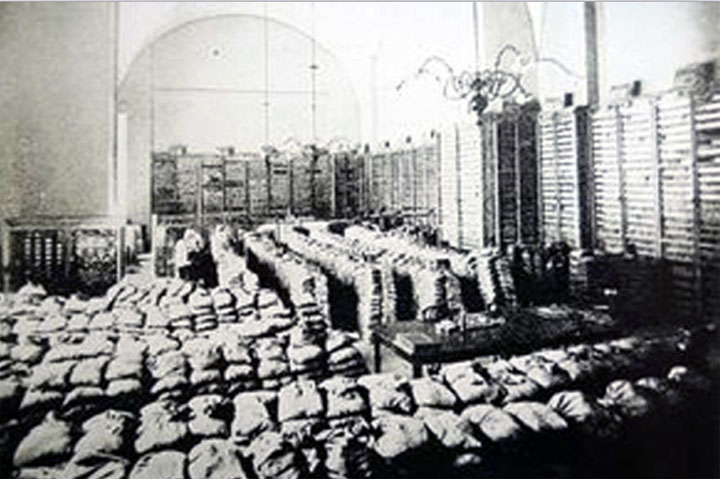 ---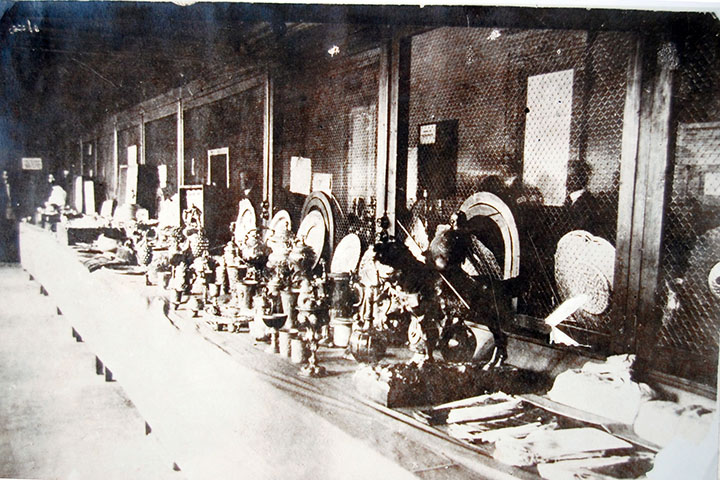 ---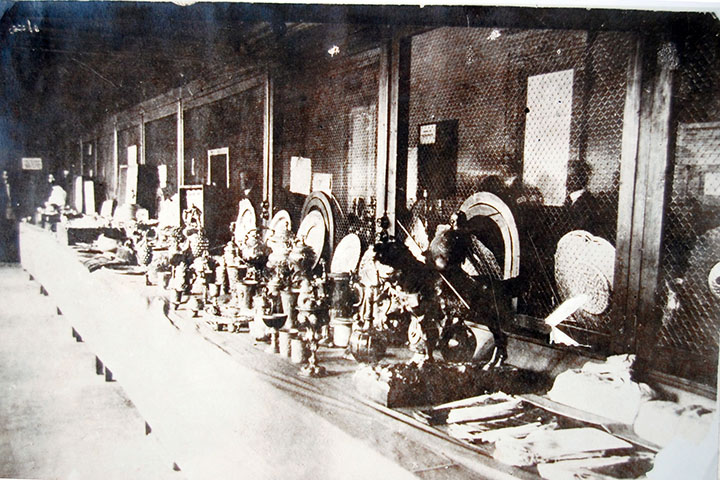 ---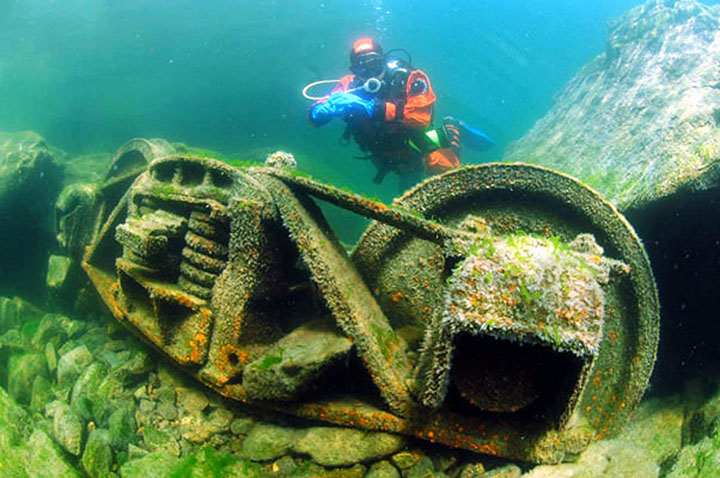 Russian gold, stored in the State Bank of Kazan and pictured there days before it was moved east - and disappared; seaches for the so called 'Kolchak Gold' included dives in the lake Baikal. Pictures: The Siberian Times
---
Here we outline the intriguing new information on three specific cases of lost treasures believed to be still hidden in five locations: Taiga (Tayga) railway station, Kemerovo region; in the polar Ural, the Yamalo-Nenets Autonomous region; Khanty-Mansi Autonomous region; city of Tobolsk; city of Omsk.
1. Gold hidden at Taiga (Tayga) railway station, Kemerovo region, in 1919
Documents from KGB archives relate to the depositing of gold as the White forces faced attack from Bolsheviks in Kemerovo region in 1919.
The station is some 3,565 km east of Moscow on the Trans-Siberian line.
The incomplete documents are from 1941 and relate to KGB attempts to find the gold, which had been identified as existing by Estonian Karl Purrok, one of those who purportedly buried it.
The man had earlier attempted a mission with his nephew in 1931 to retrieve the gold. Another effort failed in 1935.
The modern day value of this gold has been estimated at around $34 million.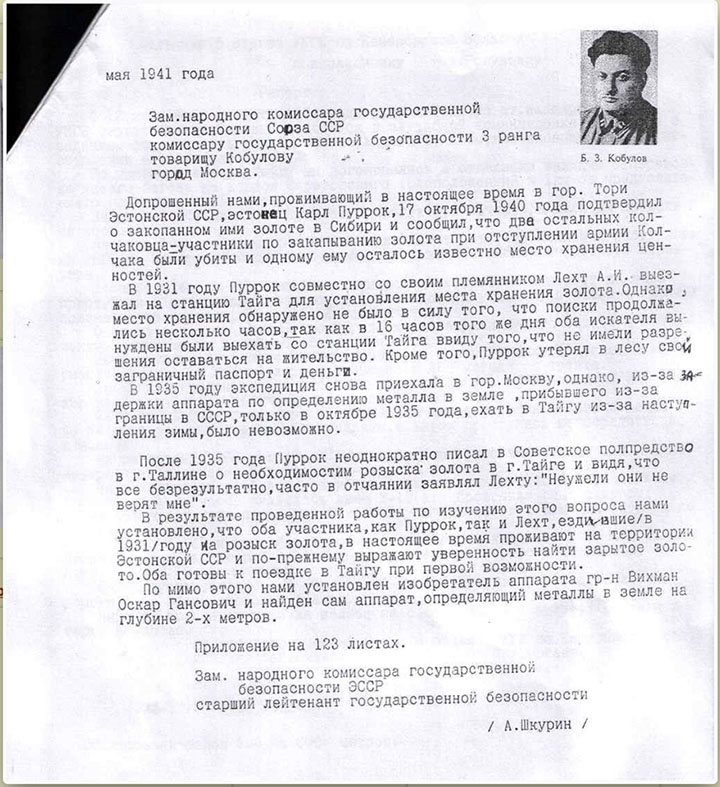 KGB document related to 26 boxes of gold stashed in Kemerovo region. Picture: Taiga Museum
---
Taiga railway station gold, first document
Report to the deputy People's Head of USSR (N)KGB
Tovarishch Kobulov in Moscow
May 1941
We interrogated Estonian Karl Purrok who currently resides in the town of Tori, Estonian SSR, on 17 October 1940.
He confirmed that he hid gold in Siberia, and also that two other Kolchak army officers that helped him were killed as the army retreated, so he was the sole keeper of the treasure trove coordinates.
Purrok has been to Taiga (Tayga) station in 1931 with his nephew A. Lekht.
They aimed to locate the gold, but didn't succeed because they had to leave the station after several hours, due to them not having permits to stay.
Purrok had said he lost his foreign passport and money in the woods around the station.
In 1935 the expedition returned to Moscow. This time it didn't succeed because the equipment allowing to seek for metals hidden underground, which they ordered abroad, was late to come.
It finally arrived in October 1935, when it was too late to go searching because of winter.
After 1935 Purrok has been writing multiple letters to Soviet representative office in Tallinn, stressing the necessity of searching for the gold in Taiga.
His letters were not answered, and often he was emotionally saying to Lekht: 'Don't they believe me?'
After studying this issue, we established that both Purrok and Lekht, who currently live in Estonia, are still confident in their ability of finding the gold.
They are both ready to go to Taiga at the first opportunity.
We found inventor of an apparatus that detects metals at depth of 2 metres underground, he is called Oskar Gansovich Vikhman. We also found the apparatus.
The unseen supplement to this memo stretches to 123 pages, presumably outlining attempts to search for the gold, but it is not believed it was located.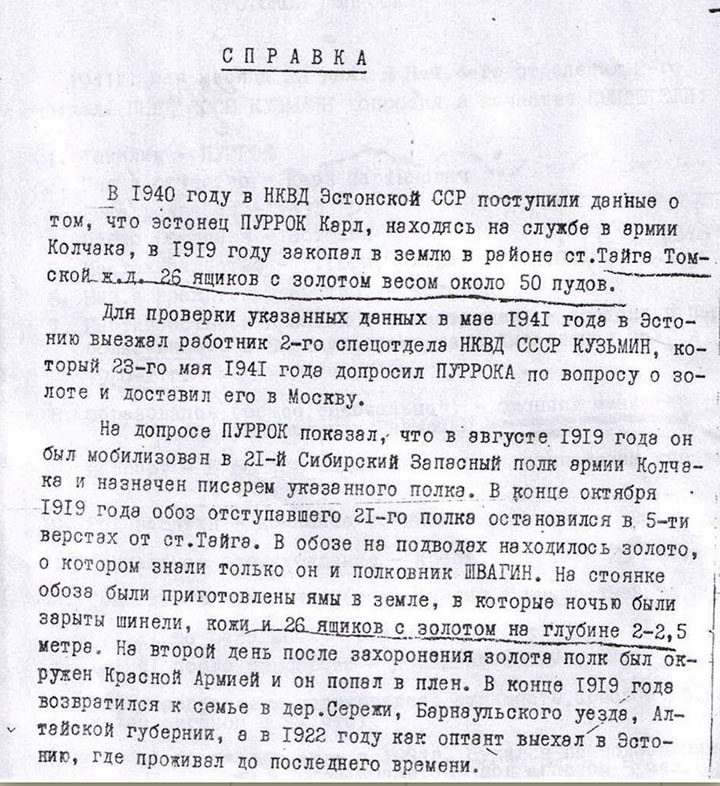 KGB documents related to 26 boxes of gold stashed in Kemerovo region next to Taiga (Tayga) railway station. Picture: Taiga Museum
---
Taiga railway station gold, second document
By deputy head of Estonian SSR KGB people's commissar
Senior Lieutenant
A Shkurin
Estonian SSR NKVD (KGB) received information in 1940 that an Estonian called Karl Purrok, while serving in Kolchak Army, buried around station Taiga 26 boxes with gold, weighing about 50 pudi (an old Russian measure equalling around 820 kilograms).
To verify the information, an NKVD officer Kuzmin went to Estonia, interrogated Purrok on 23 May 1941 and delivered him to Moscow.
During interrogation Purrok confessed that in August 1919 he was conscripted to the 21st Siberian Reserve Regiment of the Kolchak Army as a scribe.
At the end of October 1919, a train of the retreating Kolchak Army 21st Regiment stopped some 5 verst (5.33 km) from the Taiga station.
The carriages of the train were loaded with gold. Only Purrok and Colonel Shvagin knew about the gold.
During the stop, holes were dug in the ground. In the night, overcoats, leathers and 26 boxes with gold were dug at depth of 2 to 2.5 metres.
On the second day after hiding the gold, the regiment was surrounded by the Red Army and Purrok was taken captive.
At the end of 1919 he returned home to the village of Serezhi in Barnaul district of the Altai region. In 1922 he went to Estonia where he lived until recently.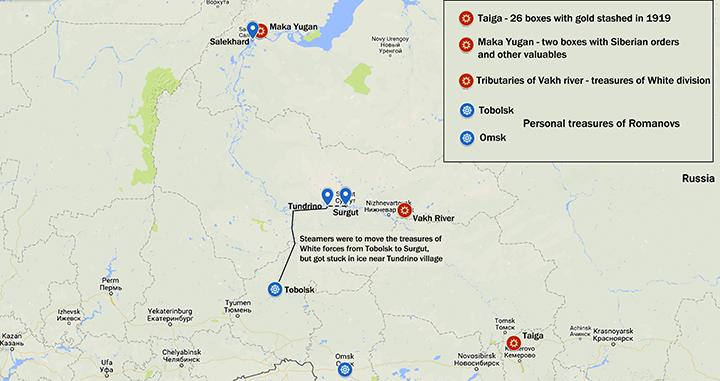 ---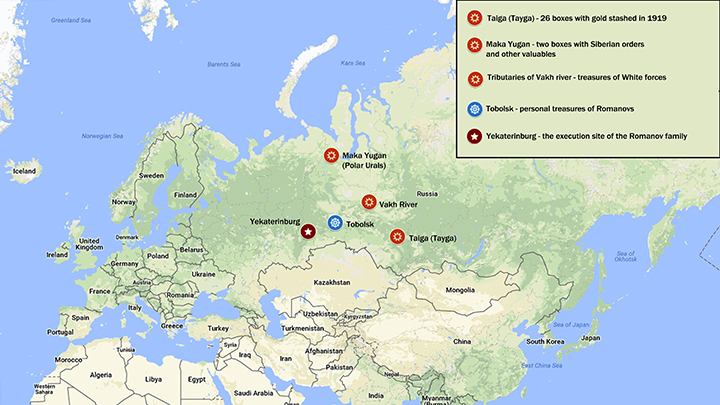 Here we outline the intriguing new information on three specific cases of lost treasures believed to be still hidden in five locations: Taiga (Tayga) railway station, Kemerovo region; in the polar Ural, the Yamalo-Nenets Autonomous region; Khanty-Mansi Autonomous region; city of Tobolsk; city of Omsk
---
2. Personal treasures of the last Tsar Nicholas II and his family
When they went into exile, the former emperor and his family were no paupers.
They took untold treasures from their personal wealth, as well as some state items.
There is no clear list of these items but it is clear it included not only jewellery with diamonds and other precious stones, but also crowns and diadems and hereditary weapons - daggers, sabres, and dirks.
Some of this collection was sewn into their clothing - and in fact led to their slow agonising deaths in 1918 because bullets ricocheted off their diamonds.
Others, as Petrushin and earlier author Igor Zimin made clear, had been left in Tobolsk, entrusted to loyal locals in 1918.
Of three collections left in Tobolsk, only one was located by Stalin's agents in 1933.
This had been handed for safekeeping, as Petrushin recounts, to the abbess of a nunnery in Tobolsk. The nuns had been providing the royals with milk and eggs during their exile.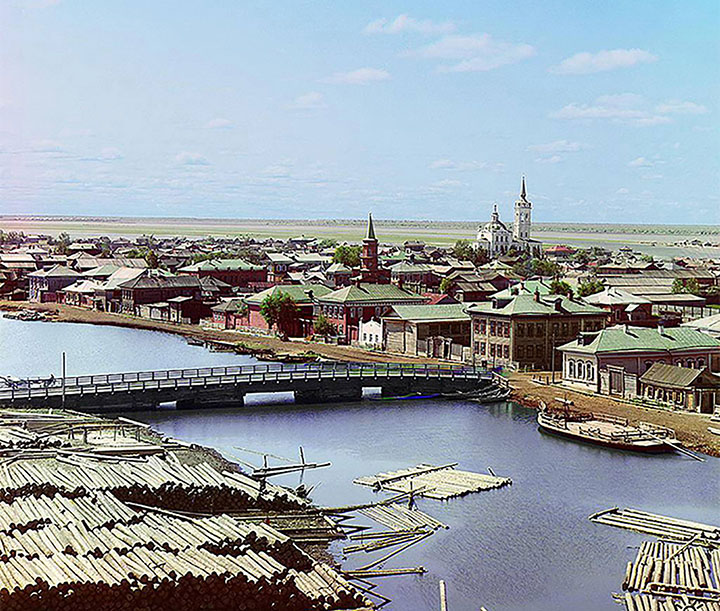 ---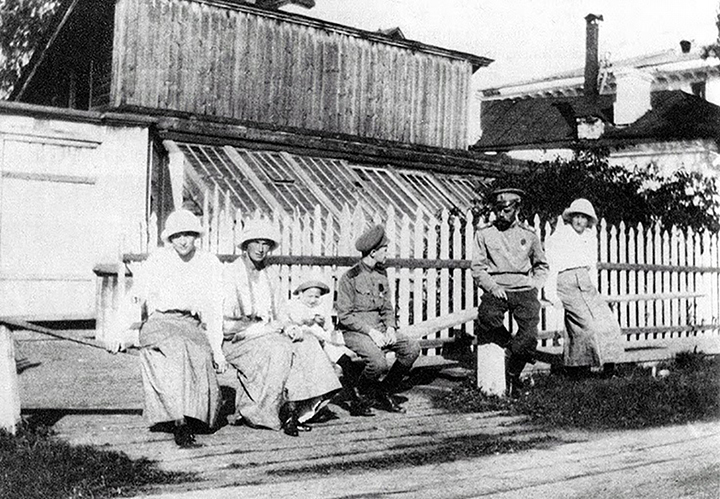 ---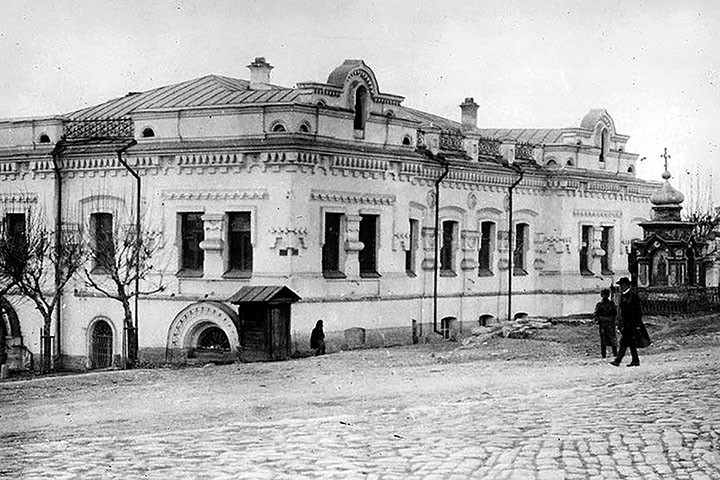 ---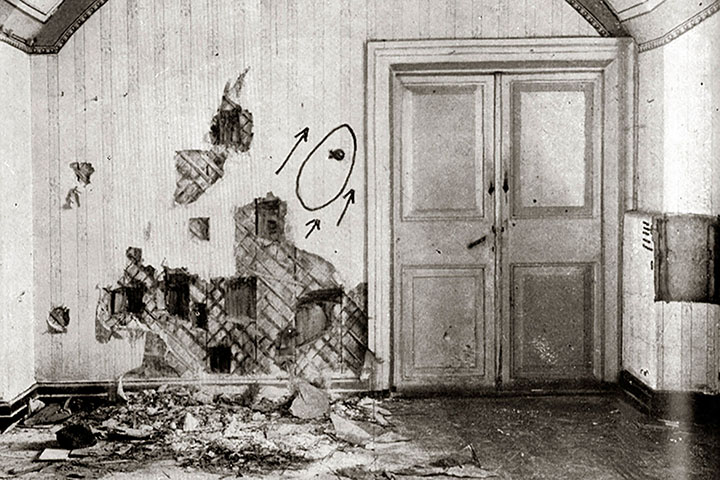 ---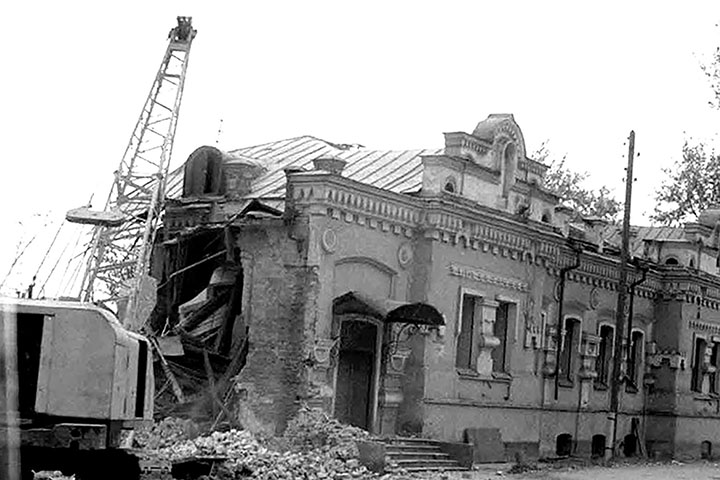 Tobolsk as it looked in 1910, the Romanovs in Tobolsk; Ipatiev House in Yekaterinburg at the beginning of 20th century; the execution site, and demolition of the Ipatiev house at the beginning of 90s. Pictures: Tobolsk and Zlatoust City Museums
---
According to the testimony of nun Marfa Uzhentseva to her inquisitors in 1933, she said: 'Before the last [members of royal family] were taken away [from Tobolsk] to me in the nunnery came the Tsar's valet Terenty Chemodurov and passing be a big package, asked to give it to the Abbess to monastery.
'Giving me the package, Chemodurov told that there are the treasures of Tsar's family.
'I immediately went to the abbess and passed her the treasures. The treasures were kept by abbess until the spring of 1923 when the abbey of nuns was closed.
'When it was was closed, the abbess hid the treasures and encouraged the nuns to resist when the authorities seize these valuables.
'When she learned that she may be detained she passed the royal treasures to me, asking me to keep them until the 'real power' comes back.
'I took the package, and put into the nunnery's well. Soon I was detained (by the Soviet authorities) for 18 days and worried that the treasures can rot in the water. As soon as I was released, I rushed to the well and take them away.... '
Later she his them at the house of a local fisherman Vasily Kornilov. It was here the NKVD found them in 1933, valued at the time at some 3.3 million gold roubles.
The astonishing list of valuables in this collection is shown in fully below, but it was only one of three Romanov stashes, and the two others are still missing.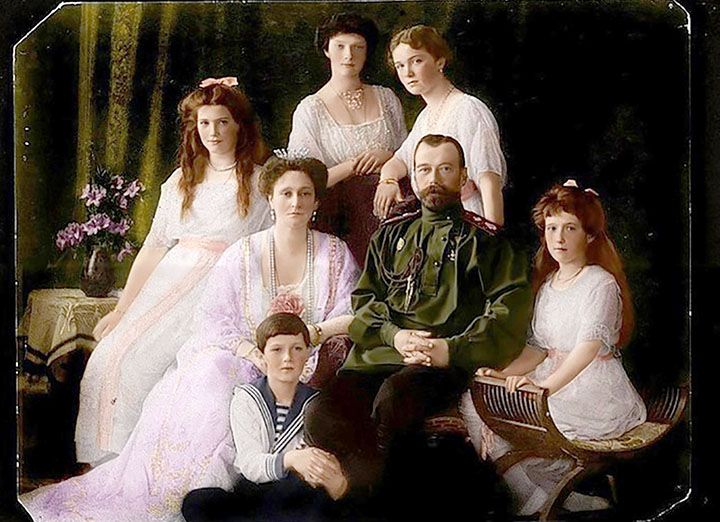 ---
---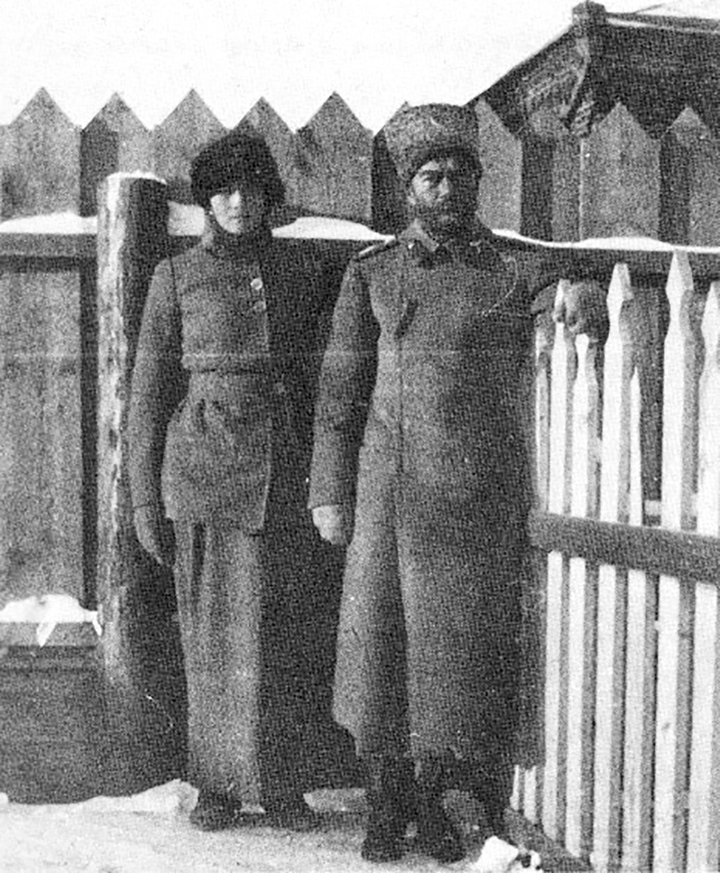 ---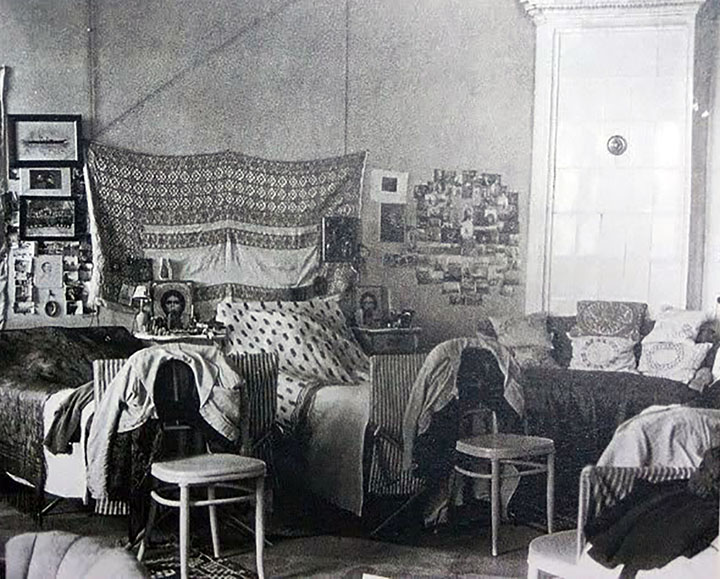 ---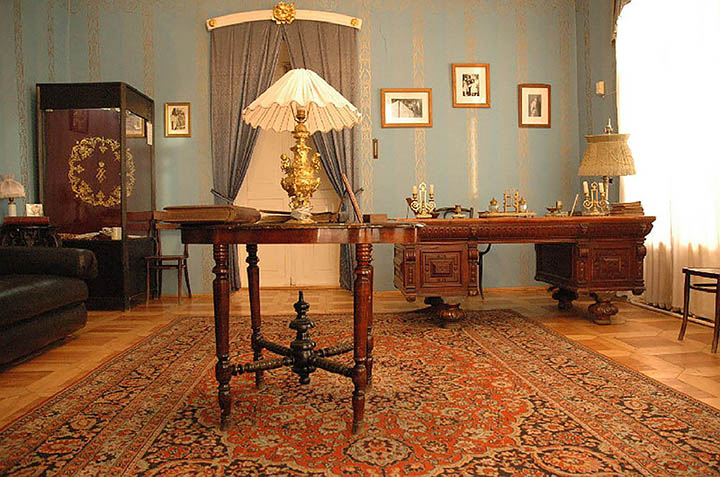 The Romanovs during happier times; Romanov in Tobolsk, Princesses' room in Tobolsk, Nicholas cabinet in Tobolsk. Pictures: Hermitage Museum, Tobolsk City Museum
---
Priest Alexey Vasilyev, who was close to Romanovs in Tobolsk, received a leather suitcase with gold and diamonds.
Royal servant Paulina Mezhenas testified in 1931 that Father Alexey, had been entrusted with the crowns of the former empress and her four daughters, and other valuables.
She herself 'saw the crown of Alexandra Feodorovna, and it was all of diamonds'.
Father Alexey died in 1930; the whereabouts of the suitcase weighing 16 kg is still not known.
His wife and other relatives, by then in Omsk, were repeatedly interrogated, but the treasures were never found.
The best guess appears to be that this suitcase was successfully hidden either in Tobolsk or Omsk, and may well remain here.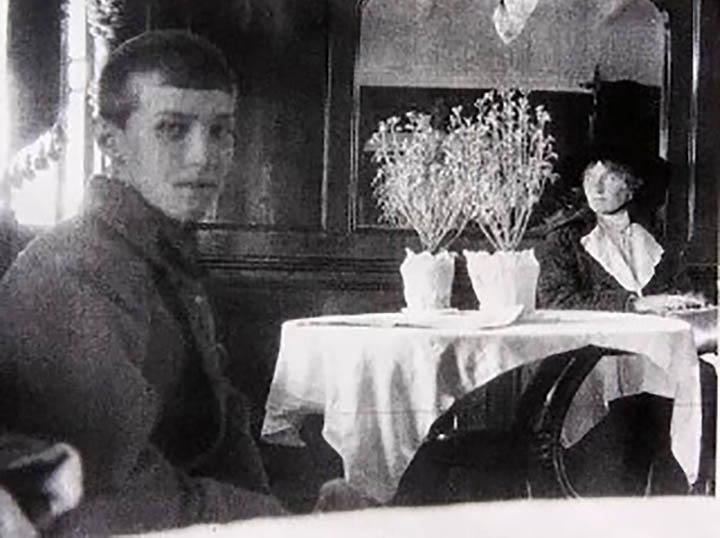 ---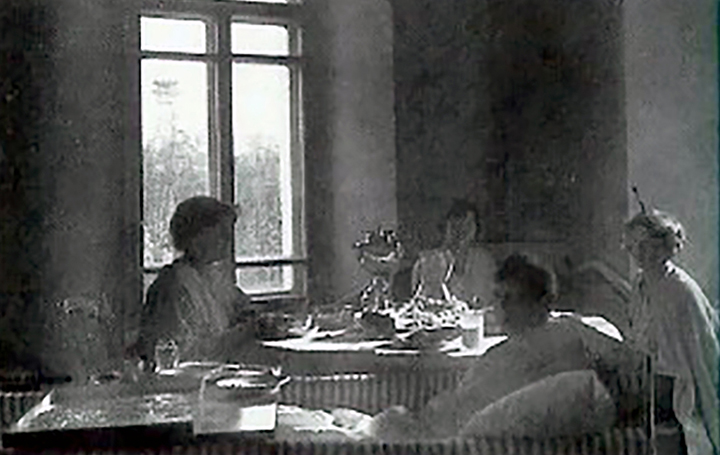 ---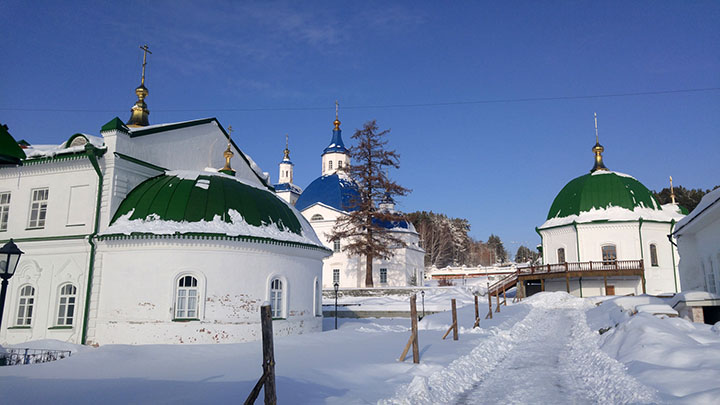 These pictures of Alexei and sisters are belived to be the last photogarohs of them, made on board of Rus board that took them from Tobolsk to Yekaterinburg less than 2 months before the execution. A nunnery in Tobolsk region, where some of the Romanovs personal diamonds were stashed. Pictures: Hermitage Museum, Tobolsk Museum
---
Klavdia Kobylinskaya, wife of the head of Romanov's guard in Tobolsk, also received a casket with jewellery - other than crowns and tiaras - then worth more than one million golden roubles.
She has allegedly passed it by her husband who had been - surprisingly - entrusted personally by the ex-tsar.
Colonel Kobylinsky died before he could be questioned. The casket had been in turn passed to Konstantin Pechekos, said his wife.
Pechekos was detained in April 1934 and falsely told his interrogators that he hid the treasures were in Omsk, in his brother's house.
He then made a suicide attempt, after which the real whereabouts of the treasures could not be established, but again Omsk or Tobolsk would seem the most probable places to search.
3. Siberian orders - or honours - and the sabres and dirks of Nicholas II and Crown Prince Alexei
These treasures had to be moved from Tobolsk to Surgut as White forces retreated in autumn 1919.
They were loaded onto steamers and sent upstream on the Ob River, but got stuck in ice near Tundrino village.
Pro-Bolshevik forces hunted for the treasures and secured some of them, but later lost them again. At one point, some were exchanged for bread to save the starvation in Surgut district.
One set of these valuables was stashed in boxes in the tundra at Maka Yugan, in Yamalo-Nenets, including the royal diamond-encrusted sabres and dirks, church relics, and the valuable Abalak icon.
This was found later by White fighters Vladimir Smirnov and Captain Kiselyov, who had fled to Harbin in China, but returned in 1922 on a mission to find the treasure from under the noses of the Bolsheviks.
They found the boxes at Maka Yagan, according to Petrushin, but in battles with the Bolsheviks Kisyelov was killed.
Smirnov hid the treasure again at a nearby location in the Polar Urals, made a map, and fled to Finland where he changed his name to Nikolaev.
In 1942-1943 - with the Second World War at its height - he would make another attempt to relocate this treasure and get it out of the USSR.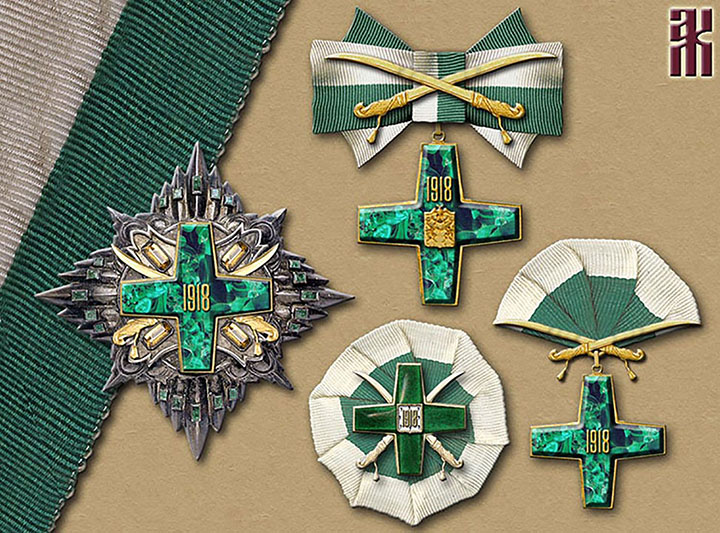 ---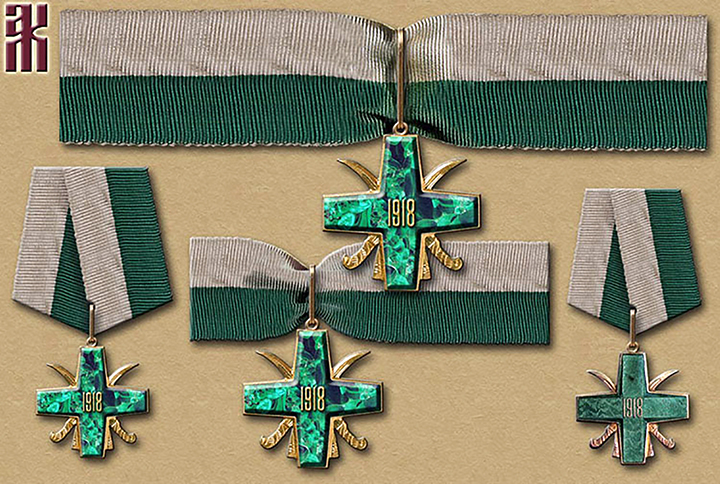 Siberian orders, reconstructed by A.Karevsky
---
On the night of 6-7 June, troops from the former White forces, but with active Nazi support were landed in the Komi republic with the aim of freeing Gulag prisoners, arming them, and creating an anti-Stalin front. The madcap scheme was by an anti-Bolshevik grouping that had support from Hitler.
Smirnov-Nikolaev was killed by a member of his own group, who accused him of treason.
Later these troops were detained; the map was never found.
Karl Valk, commander of the labour camp Kedrovy Shor, possibly did find the map - but there was no evidence he located the treasure.
Another batch of this treasure, says author Petrushin, is hidden somewhere in a sacred place of the indigenous Khanty people, on the tributaries of Vakh river in Khanty-Mansi region.
The Siberian orders - to be awarded to anti-Lenin forces - were made of gold or silver.
One called 'The Liberation of Siberia' depicted strongly stylised snowflake, and the Siberian coat of arms in the centre: Siberian pine branches with cones, two ermines and the heads of mammoths.
Orders showing swords were military, without swords - civilian.
The order 'The Revival of Russia' was a cross, but as if with the tips of Old Russian spears. Also depicted was a laurel wreath with a phoenix, its wings spread.
On the left and right ends was the motto - 'The rebirth in the unity'.
The orders were minted after July 1918 decree on the independence of Siberia.
Four months later Kolchak cancelled them and restored tsarist military symbols.
Petrushin said: 'I got interested in this story back in 1991, when KGB archive documents held in Tymen were transferred to the state storage... accidentally discovered were Chekist documents from the 1920s, describing the orders 'Liberation of Siberia' and 'Revival of Siberia'.'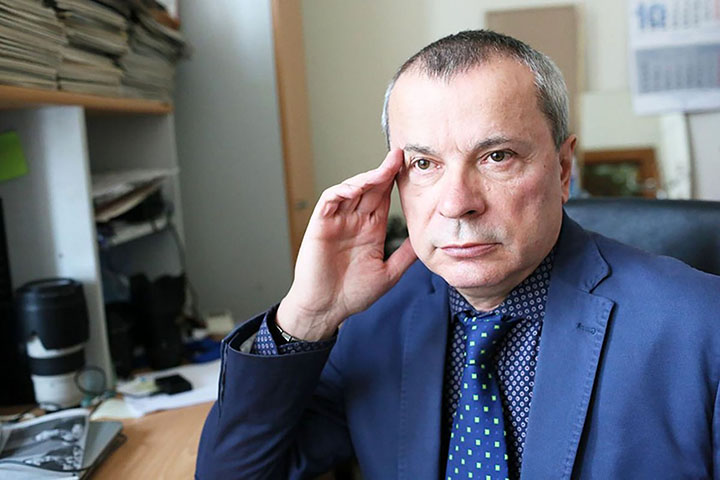 ---
---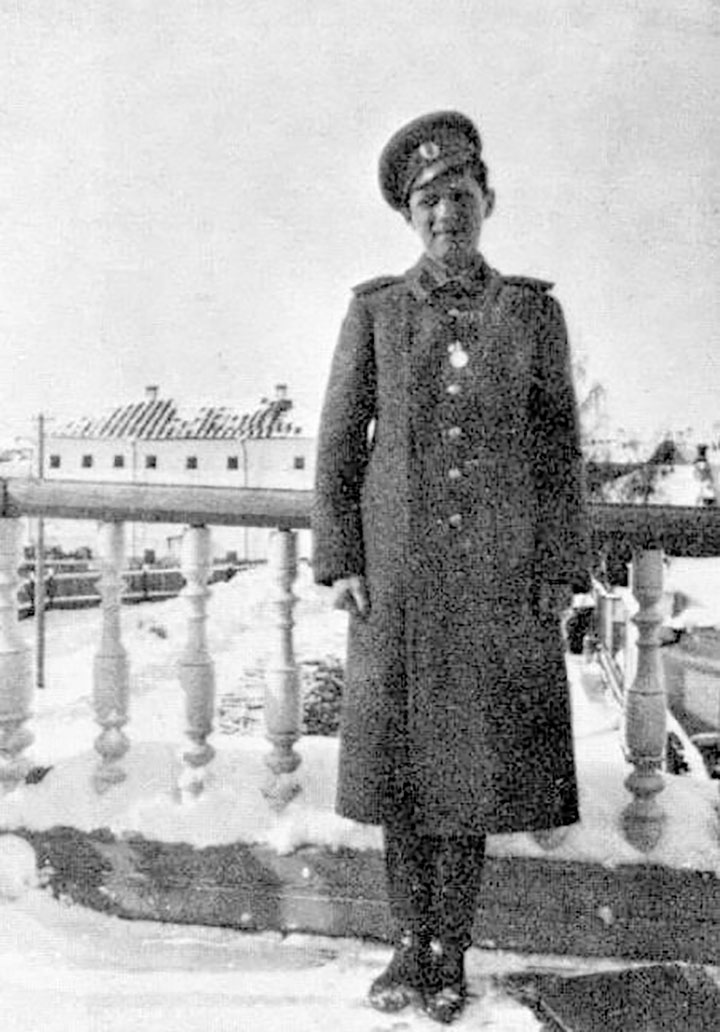 Alexander Petrushin, author of the new book; Romanovs in Tobolsk. Pictures: Alexander Petrushin, Tobolsk Museum
---
List of treasures kept by the nun Marfa Uzhentseva in Tobolsk, and seized by NKVD in 1933:
List of Imperial Valuables Found in Tobolsk, 1933:
"On November 20, 1933, we the undersigned appraisers Zverev and Borovskikh, evaluated the valuables below, shown to us in the presence of ECD PR officials Maksevich and Borodin, whereupon it was found:
Item Quantity (when more than one) Value
1. Diamond brooch 100 carats 1,200,000
2. Diamond crescent with 5 big diamonds up to 70 carats 310,000
3. Diamond hairpins, 2, 36 carats each 700,000
4. Diamond pin 44 carats 700,000
5. Diamond necklace with pearls and ruby pendants 50,000
6. Tsar's diamond emblem with big diamonds 8 carats 22,000
7. Diamond pins for headdress, 2 7,000
8. Diamond brooches - bows, 2 6,000
9. Diamond brooch with a pearl twig 8,000
10. Hairpins with diamonds and pearls, 2 20,000
11. Diamond diadem with big middle diamond of 8 carats and others of small size 25,000
12. Diamond diadem with pearls 25,000
13. " " with kuntzite stones 2,000
14. " " with almandin stones 5,000
15. " " with turquoise 7,500
16. Diamond hairpin 1,000
17. Diamond medals, 5 25,000
18. " panagia, 2 4,000
19. " " 2 3,000
20. Pendant with diamonds and double gems 9,500
21. Brooch with diamonds 1,500
22. Gold chain with emeralds 3,000
23. " with pearls 2,500
24. " with pearls and small trinkets 1,500
25. Pendant " with medals, roses and pearls 1,500
26. Gold chain with small turquoise and trinkets 120
27. Twisted chain with petals of pure gold and diamonds 150
28. Gold chain with emerald dross, pearls and diamonds 250
29. Gold chain with amethyst cabochon and pendants 150
30. " " with small medals and pendants 200
31. " " with big pearl, turquoise and trinkets 150
32. Lady's waistband with amethyst and moonstone 100
33. Lady's enamel watch with gold colored chain 50
34. Lady's watch with engraved monogram [cyrillic] "T.N." 50
35. Gold necklace with little bells 50
36. " " with pearls, open work 150
37. " " of aquamarine, with diamonds and pearls 2,500
38. Pendant with diamond portrait and small pearl chain 2,500
39. " " with a diamond of 5 carats, amethyst and pearl weave 6,000
40. Brooch with a diamond and a beryl 2,000
41. Necklace with small diamonds and amethyst 1,200
42. Bracelet with diamonds and amethyst 800
43. Pendant with chain of diamonds and kuntzite stone 600
44. " with platinum chain with shorls [sic] and chrysophases 150
45. Diamond band 600
46. Pendant with gold chain and 4 small hanging balls 200
47. Cross with pearls and emeralds 100
48. Pendant with hanging cross and mounted gems 700
49. Pendants with platinum chains, 9 900
50. Brooch in form of twigs studded with diamonds and aquamarine 800
51. Hairpins with small diamonds, 4 1000
52. Watch in bracelet with diamonds, rusty 200
53. Pin in form of anchor with diamonds 300
54, Pendant with moonstone 80
55. " studded with diamonds and aquamarine 100
56. " with a small diamond and aquamarine 120
57. Pendant - globe with shorls [sic], with diamonds 130
58. Aquamarine trinket 40
59. Studs with moonstone, 3 30
60. Small trinket with agate 20
61. " lily of the valley with moonstone 15
62. " studded with diamonds 80
63. " and an ametheyst [sic] 60
64. Studs with diamonds, 2 70
65. Platinum trinket with date 1912 20
66 Cross with aquamarine 40
67. National brooches, 4 20
68. Brooches - fascist symbol 5
69. " medal shaped 15
70. Trinket - fascist symbol 2
71. " with monogram "T", 2 10
72. " " [cyrillic] "A.F" 5
73. Silver " with monograms, 3 5
74. Various pins, 3 6
75. Trinket with roses and rubies 30
76. Red medical crosses, 2 5
77. Gold pencil with pearl 15
78. Trinket with a monogram and a sapphire 10
79. Gold coin of 7 rubles, 50 kopecks 7.50
80. Gold cross with alexandrite 5
81. Gold trinkets, 2 10
82. Pendant with emerald bas-relief of woman, with diamonds 7,000
83. Pearl pinhead studded with diamonds 2,000
84. Pearl pendants, 3 3,600
85. Brooch of gems with diamonds 2,000
86. " with gem of golden rock crystal studded with diamonds 2,000
87. " acquamarine studded with diamonds and roses 800
88. " round, of aquamarine and studded with uncut diamonds 800
89. Pendant of colourless amethyst with diamonds 700
90. Aquamarine brooch inside rim with small diamonds 200
91. " of aquamarine, triangle with diamonds 300
92. " with emerald, ellipsoid, studded with diamonds 300
93. " of agate with small diamonds 100
94. " citrine, studded with diamonds 120
95. " of amethyst with diamonds and two pearls 250
96. " with colourless amethyst and studded with diamonds 200
97. " of beryl with diamonds 150
98. " with colourless amethyst with diamonds in form of marquise 400
99. " with a moonstone in form of a heart with small diamonds 175
100. Pendant from small pearls 700
101. Brooch with small emeralds and diamonds 500
102. Amethyst brooches studded with diamonds, 2 300
103. Brooch with small aquamarine of ellipsoid form with diamonds 75
104. " with rubies, square and diamonds 250
105. " with three small crowns with sapphire and garnets 120
106. " with four moonstones and studded with diamonds 75
107. Quadrangular brooch with an inner small crown with pearls and small diamonds 60
108. " with two small clasps with amethyst and studded with diamonds 45
109. " in form of cross with almadin gems and studded with diamonds 85
110. " agate studded with small roses 40
111. " of sapphire, 2 30
112. " round, enameled with small pearls and studded with diamonds 60
113. " shorl 20
114 " with oblong aquamarine and roses 120
115. " with three pendants - carnelian, garnet and amethyst 60
116. " with image of flag 3
117. Pendant with sapphires, diamonds and uncut diamonds 175
118. Brooch with a round aquamarine 300
119. Cut blue aquamarine, ellipsoid 300
120. Pendant of aquamarine in form of pear, studded with diamonds 180
121. Chain bracelet with three rubies and diamonds 2,500
122. Platinum bracelet with three aquamarines in form of heart and 2 kuntzite stones and small pearls 250
123. Bracelet with small emeralds cabochon, one pearl and studded with diamonds 50
124. " with four aquamarines 35
125. " with turquoise and studded with diamonds 50
126. " with agate 30
127. " with amethyst 55
128. " with two rubies 250
129. " with gold, ordinary form, 2 20
130. " gold, engraved "Alexandra" studded with uncut diamonds 500
131. " Chain bracelet with trinket 1914 10
132. Bracelet, ordinary, iron, 2 -
133. Gold locket 5
134. [illegible] with emeralds and studded with diamonds, one of them is platinum, 2 750
135. " with diamond and rubies 500
136. " with ruby 500
137. " with aquamarine and small uncut diamonds 50
138. " with two sapphires and diamond 75
139. " with agate and small uncut diamonds 20
140. " with diamond 150
141. Waistband from small pearls with 11 big rubies, studded with diamonds and rubies 75,000
142. Silver panagia with gold chain 200
143. Silver " with gold chain and gems 300
144. Silver panagia with gems 100
145. Mother of pearl " with silver chain 50
146. Silver " with pearls 150
147. Silver " 25
148. Crosses " with gems, 3 450
149. " ", 1 80
150. " " 75
151. Mother of pearl " 25
152. Silver " with pearls 180
153. A gold chain with Father Superior's Cross 100
154. Small silver icons, 5 -
TOTAL according to our expert's appraisal 3, 270, 693 rubles, 50 k.
Signed by Appraisers Zverev and Borovskikh, Officials ECD 8th Department. Urals OGPU Operations Plenipotentiary Maksevitch and Borodin.
[Note: the addition is incorrect in the total in the original document, the actual total is 3, 270,793 rubles 50 k.]