Officials at the college where the victim studies described her ordeal as 'a nightmare'. Picture: NTV
Three schoolboys are facing trial accused of torturing and raping an unconscious college student and posting the brutal attack on the Internet in a case that has appalled the country. The teenagers - aged just 14 and 15 - are alleged to have been part of a gang of five who set upon the female first year during a drink and drug-fuelled party in Novosibirsk, the largest city in Siberia.
Prosecutors say the 16 year old victim Anya S had fallen asleep and was raped for 'punishment' in a sickening act of revenge instigated by her boyfriend after being seen kissing another boy. During her horrific ordeal, the student was also filmed being tortured, with graphic photos uploaded onto social media sites Twitter and Russian-based Vkontakte.
The Siberian Times has seen the revolting images - which is key evidence in the case against the alleged rapists.
The alleged attackers are shown approvingly in Twitter images with a 'thumbs-up' over the naked student. The girl is now under state protection, amid fears families of the alleged attackers are pressuring her to retract her testimony.
The alleged perpetrators are held in pre-trial detention for two months on a court order.
Mother of the alleged victim's boyfriend spoke of her shock on TV, saying her son is 'not guilty'. Picture: NTV
Church and community leaders say they blame the 'vulgarity' and influence of modern television shows and movies for the alleged actions of the accused.
Alexander Novopashin, rector of the Cathedral of St Alexander Nevsky, said: 'It is an abomination, I can find no other words for this. These people are scoundrels. 'Society is sick. We do not have a proper system of upbringing. What we offer the younger generation is the chance to emulate TV and movies, all full of cruelty and aggression.'
Nina Shalabayeva, the commissioner for human rights in Novosibirisk, said it was a 'bestial and cynical act'. She added: 'Did they get fame? Or glory? For those who think this is normal, I think they've returned to a time when mankind came up against mammoths.
'The media and filmmakers are to blame. On television, you can see rivers of blood and vulgarity, as if that's OK.'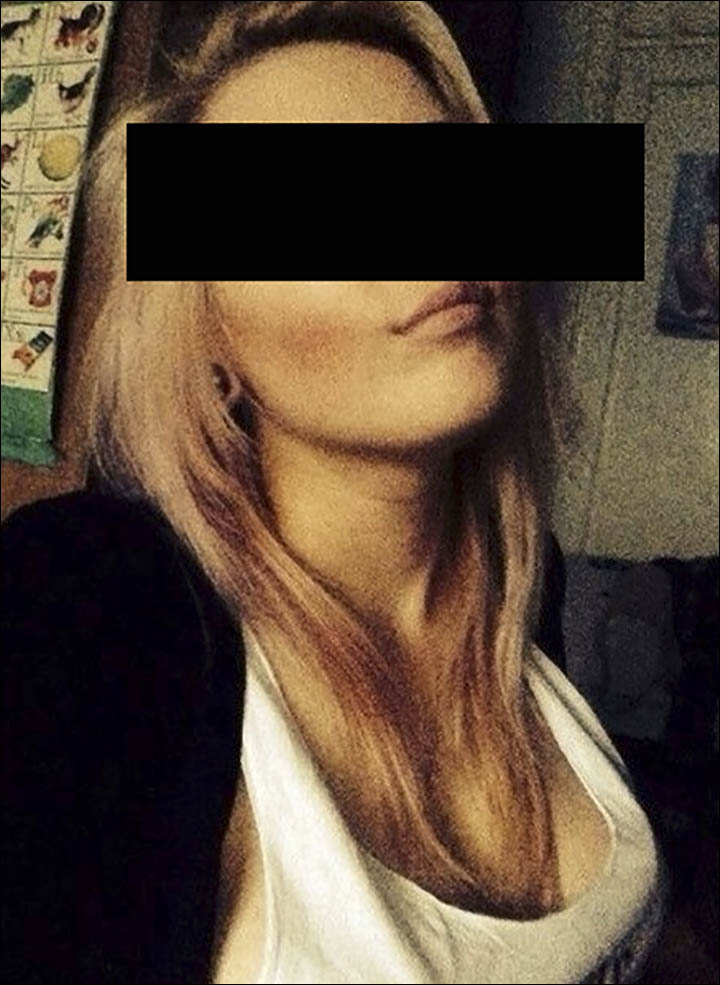 'It is an abomination, I can find no other words for this'. Picture: NTV
Anya was only three weeks into her course at Novosibirsk Trade College, in Siberia, having moved to the city from Kemerovo - 260km away - and was living in student accommodation. On the night of the attack she had returned to her dormitory late, only to find it locked and was unable to gain access, it is alleged.
With nowhere to go, she called her boyfriend, Ivan K, 20 who came to collect her along with a number of his friends. The group then headed to a nearby flat for a party, where Anya was the only female. Posts on social media boast about how the teenagers smoked drugs and drank vodka.
At one point Anya's boyfriend left to buy vodka and upon returning found her kissing another of the boys, leading to an argument.
When she fell asleep, her boyfriend said she had cheated on him and had to be punished, telling the group to undress her and torture her by placing objects inside her private parts. The group are then accused of raping her one at a time and placing pictures of her naked and unconscious body on social media, boasting about how they punished 'the whore'.
One of the teenagers, using an online nickname, wrote: 'We all got aroused, of course, and proposed to f*** her in turn. Her boyfriend agreed and we, all stoned, f***ed her. Then we laughed a bit and threw her down the staircase'.
The teenagers also filmed the horror ordeal and while it was not uploaded to the Internet, police later found the footage and confiscated it. Once the confessions were posted online, many Russians reacted with outrage and urged the victim to call the police, among them famous prankster Evgeny Volnov.
Two days later four people were arrested, with their own posts on social media used as the main evidence against them. The youngest suspect is a 14-year-old European silver medallist in taekwondo, while another of the teenagers, a 15-year-old, claims he only took video footage and did not rape the girl.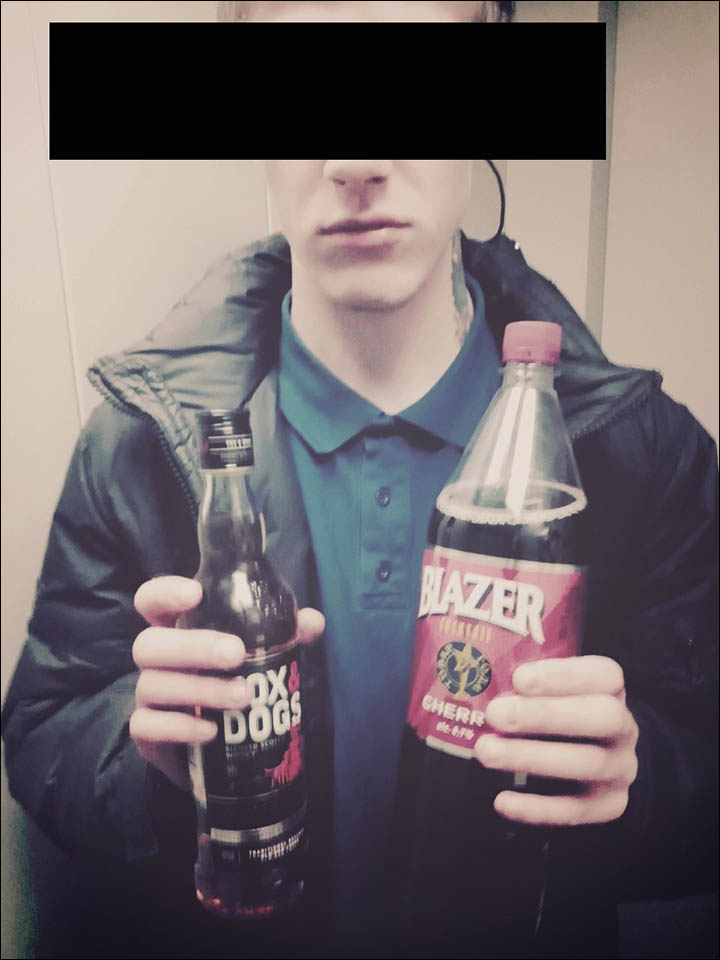 The alleged victim's boyfriend. Picture: NTV
Anya's boyfriend also insisted he is not guilty, stating: 'I did not do it. I did not do anything, I was slandered. You should ask her. We had no sex that night, and I did not see if anyone else did.'
His mother claimed: 'I do not believe my son raped anyone. I am shocked. I saw this girl and she doesn't look like a 16 year old. I was sure she is about 18. He is kind and gentle. I think she is herself guilty. They did not rape her - she consented'.
Friends of the accused have started an online campaign to clear their names, despite the fact they allegedly posted confessions to the crime on the Internet.
Officials at the college where the victim studies described her ordeal as 'a nightmare'.
Svetlana Begunova, deputy director for academic affairs at Novosibirsk Trade College, said: 'The police are working with her and her mother and grandmother are close to her now. We are worried about all of this because we do not understand how to live with it.'
An official statement from police in Novosibirisk said they had 'established' the fact that the victim had been raped and said they had now instigated a criminal inquiry.
Aide to the prosecutors, Dmitry Piunov, told Sib.fm: 'People concerned about the fate of their loved ones who are currently in detention want the girl to retract her testimony. They are putting all possible psychological and moral pressure on her.'
He added: 'Considering all the circumstances and the severity of the crimes committed, the court has issued a ruling to take all the suspects into custody. The term of their pretrial detention will last for two months'.