Common sense victory: Alevtina Rapatsevich, 85, inspects the block of flats she and fellow residents of the village live in
So with other villagers she set up her own company to keep the locality's apartments in good shape.
'They do not perform nearly 70 percent of the work for which we pay', complained pensioner Maria Anisimova, a supporter of Aleftina.
'The district is dirty and neglected, we see the street cleaners once a week. We even have to catch the mice in the basement ourselves. What do we pay for?'
So Aleftina and her fellow residents set up their own operation to manage and repair their flats. Everyone chipped in from their pensions and got the authorized capital of 10,000 roubles. They registered CC 'District 'Beregovoe'.
'Personally, I started working at the age of 11', Alevtina said.
'Many of us have been in the war, worked, and built cities. Are we not able to take care of our own village?'
The pensioner has won national recognition in Russia for her stand, as a result of which she was invited onto the recent television question and answer session with the president, who compared her courage with that of Bismarck.
Saluting Omsk region's Aleftina, we run her televised exchange with the president in full:
MARIYA SITTEL: I suggest that we move on to the topic of housing and utilities. This is an issue that concerns millions of citizens regardless of their gender or socioeconomic status. The costs of water supply, electricity, gas and rent have risen.
One of our heroes (Aleftina Rapatsevich) lives in a small town of Beregovoy (Omsk Region), but was born in Leningrad. She survived the siege and is now 85 years old. In spite of her age, she created a management company in the housing and utilities sector. And today, she is here in our studio.
ALEFTINA RAPATSEVICH: Hello, Mr President.
VLADIMIR PUTIN: Hello.
ALEFTINA RAPATSEVICH: I come from Omsk, I live in a small town of Beregovoy. Given that our management company was engaged in serious fraud, we appealed to the court, won the case and liquidated it. Granted, I must say that they are still managing several buildings, but I think we will finish this work.
We took into account the fact that you instructed the Prosecutor General's Office to look into the housing and utilities issues. Together with my action group, I attended an appointment with officials on 7 November 2012, but there were no results.
Now, the question. In order to get an appointment with someone, it is absolutely necessary to go into attack mode; there is no other way.
You have to storm in like it's Berlin. (Applause.)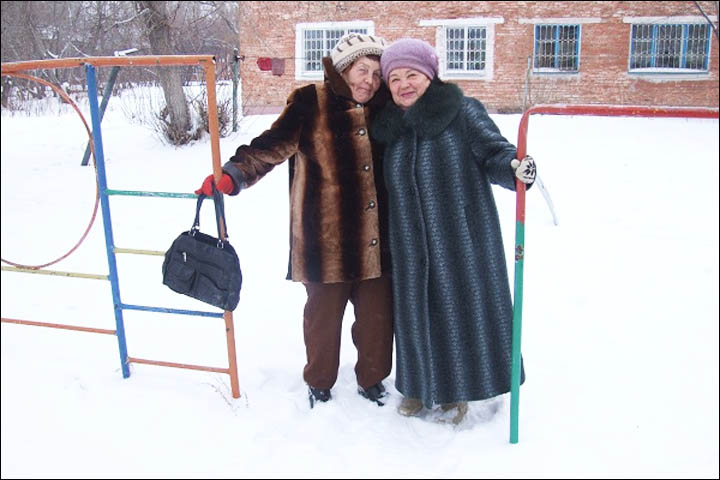 Alevtina Rapatsevich, left, with a friend and a colleague of her poses in front of her block of flats in Omsk region
As for what they stole, in our house alone (I live in a two-story building), they took off with 21 million roubles they charged us for just two services - mopping floors and repairing entrance halls, which we actually do ourselves. That's four companies taken together.
That's how these management companies rob people.
I have one strong request: to adopt the law currently scheduled for 2014 that would clearly define the management companies' functions, already in 2013. So that they do not steal, but instead do what they actually charge for. They include many things in the tariffs they set, but do nothing.
Our town is growing old, many houses have been dismantled, and there is no new construction.
We have 10,500 residents in our village, both young and old, and there haven't been any jobs since the Beregovoy timber plant was closed - it was a very profitable company, I worked there for 40 years.
KIRILL KLEYMENOV: Thank you.
VLADIMIR PUTIN: Ms Rapatsevich, with whom were you unable to get an appointment?
ALEFTINA RAPATSEVICH: The town mayor.
VLADIMIR PUTIN: Shame on him. (Applause.)
MARIYA SITTEL: There you go! Just ten thousand residents in Beregovoy, and no way you can get an appointment.
ALEFTINA RAPATSEVICH: Ten thousand people. And in order to get an appointment, I had to... they refused to see me (there is a woman working in his office named Loshachenko), they said, 'We will not make an appointment for you, you are a very dangerous person'.
After I sent a telegram to Omsk Mayor, Mr Dvorakovskiy, they called me every day - this happened on 22 November and the appointment was for 5 December - they called me every day to say, 'You have an appointment, you have an appointment'.
And the prosecutor's office wrote that they had violated my constitutional rights. But they told me, 'Well, you ultimately got your appointment'.
VLADIMIR PUTIN: Ms Rapatsevich, there was a very famous figure in world history, a German politician Otto von Bismarck.
When he became involved in European politics, unifying Germany, there was a rumour going around that he was a very dangerous person because he would say what was on his mind. Apparently, judging by this story, you are also a very dangerous person. (Applause.)
Now to the prosecutor's office, Prosecutor General Yuriy Chaika is waiting to see you. I am sure he is watching this programme now. (Laughter and applause.) And he is rubbing his hands, thinking about what he can do.
This is Omsk Region, right?
MARIYA SITTEL: Yes.
ALEFTINA RAPATSEVICH: Yes.
VLADIMIR PUTIN: Ok.
ALEFTINA RAPATSEVICH: I went to the regional prosecutor's office; there were two people there. I spoke to the captain.
VLADIMIR PUTIN: Ok.
ALEFTINA RAPATSEVICH: But nothing happened there! No sympathy, no concern, nothing!
VLADIMIR PUTIN: I see. They say that she has already been made a lieutenant, but let's not be too quick. (Laughter.) Let's not be too quick, let Mr Chaika look into this. But I think the Governor of Omsk Region will also find a common language with the mayor. I promise you that the things will move as fast as you would like them to.
As for the core of your question. This is certainly a very important issue. Why? Because we need such interested and involved people in this sector.
You can tell that the old guard is in demand. In Italy, Napolitano, who is 87 years old, has been elected President again. The old guard is needed not only in our nation, but throughout the world overall. The issue you are dealing with is extremely important and can be fixed only - well, not only, but largely - with active engagement by civil society.
At one of the meetings with my authorized representatives, a suggestion was made by some of my colleagues on organizing corresponding public structures to oversee the situation in the housing and utilities sector. And what Ms Rapatsevich is doing is exceedingly important and right. After all, we know what is happening there. I also spoke about this publicly many times.
After making corresponding decisions - overall, they are aimed in the right direction with regard to these management companies, but unfortunately, these management companies are often affiliated with local municipal governments and there are not enough of them on the market.
They are micro-quasi-monopolies on the market, and they include in the tariff - the payment, actually - almost everything they can, even if it has nothing to do with what it is being charged for. For example, heated buildings include unheated attics and other similar sections.
They make enormous money off of this, sums that are absolutely unmanageable for the public.
Ms Rapatsevich, do not leave Moscow too quickly.
In addition to speaking with Mr Chaika, you also mentioned the law going through the Duma, specifying the functions of management companies - I promise you, my colleagues in the State Duma will also be happy to meet with you and discuss all the details.
The Cabinet will also give this matter its attention.
ALEFTINA RAPATSEVICH: There was an article in Rossiyskaya Gazeta saying that this law should be adopted in 2014, but that's too late.
VLADIMIR PUTIN: All right! I will look into it carefully myself, to see what is being revised or updated in this law, and speed up this work as much as possible. My colleagues from the State Duma will certainly meet with you.