The remarkable story of 'forest boy' Odzhan Naumkin has captivated Russians. Until now, he has only lived in the Altai wilderness in a simple hut with his parents who opted out of society around the time the Soviet Union was falling apart. Apart from occasional passing hunter, he had almost no contact with other humans and did not receive normal vaccinations.
He emerged from the forest several weeks ago, and now newspaper Komsomolskaya Pravda has taken him to Moscow to see the kind of civilisation his parents rejected. Offered the chance to eat at the world's most famous fast food restaurant, he politely declined.
'He refused to go to McDonalds, but asked to be taken to Tretyakov Gallery as he dreams about becoming a big artist,' reported the newspaper on Saturday.
Here he was captivated by the paintings at the world famous gallery, many of which he was familiar with from reading books given to him by his parents Alexander and Elena who educated him in the primitive taiga hut where the family lived.
The newspaper had to drive him across three time zones to Moscow, because he has no birth certificate or internal Russian passport, which means he cannot travel by train or plane.
'It is Odzhan's first time in the city, but he holds himself up very well and speaks confidently, demonstrating a wide scope of knowledge in art and history,' reported Komsomolskaya Pravda. 'Anyone would find it hard to believe that he was never taught by a formal school.'
In the Tretyakov, someone came up to him and tactlessly asked him if he was 'the same Mowgli' highlighted in the media. His cheeks flushed but he confirmed he was. On Red Square, tourists asked to pose for pictures with him.
The name Mowgli suggests he was raised by animals, but in his case it is an unfair label. As one Siberian official noted after meeting him, he appears to have had had a better upbringing than many who lived in the civilised world.
His parents have made clear he must now choose his future, and he is ready to go to university, despite having never set foot in a school. This means he will be required to sit the unified state school exam to qualify for entrance to higher education.
Is he nervous? 'No, I think I'll manage', he replied calmly.
He is likely to have much to teach his teachers and fellow students when he gets there. He also wants to travel, having had such a sheltered life so far. But he already speaks English, having learned it from a dictionary his parents gave him, and tuning in on the family radio to occasional English language programmes.
In Moscow, he is taking part in several TV shows as he comes face to face with the world his parents left.
When he was first found he said: 'I'm living well thank you,' he said. 'We are living well. This is the reality we have that we live here, and its quite a good reality. To move closer towards the city? For that we need to have a more cultural society, and of course to change how the cities smell and the pollution.
'I am happy here.'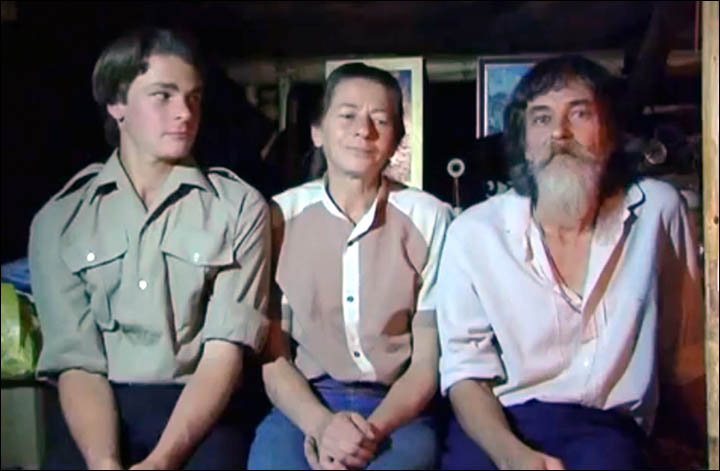 Odzhan with parents Elena and Alexander. Picture: youtube
His bearded father - an artist - had some contact with people, selling mushrooms they gathered, as well as his paintings. But he and his mother, a music teacher, only met the occasional hunter in the forest near Belokurikha, a famous spa and mineral spring resort in Altai region, 250km south of the city of Barnaul.
'To survive, we are selling mushrooms and my father's paintings,' he said.
His father said: 'I don't think that the fact that he skipped the school was a disadvantage for him. Our school programmes were far better than modern ones. They were broader, deeper, better. He even studied English all by himself.
'We don't want to get back to the city - and smell petrol or at best various cleaning and washing powders'.
Elena said of her humble home in the taiga: 'It's more comfortable here and happier than in civilisation. I am a musician by education, and I get upset and insulted by the quality of what's going on in the music industry these days. This is what stops me from coming back to society.
'Our son knows what labour is, and what creative work is. He could read and write aged five, and it all came naturally.
'What kind of destiny do we want for our son?'
Alexander: 'We want him to have the best destiny. We want him to become a big artist, perhaps a poet'.
Elena: 'A writer...
Alexander: 'But above all we want him to be a clever man'.
Elena: 'And a kind man. A true man'.