For me the true Altai starts miles away from Chemal. Picture: Vera Salnitskaya
Most people reach a place called Chemal, popular among Russian and foreign tourists.
Nothing wrong with it, especially for those who love partying in a big group, as the area at times looks like a gigantic disco mixed with a pub mixed with a barbecue spot. There is a choice of accommodation from wi-fi hotels with saunas, nice restaurants, and fun camp sites.
But for me the true Altai starts miles away from Chemal, and you recognise it by crystal clear air, icy cold water, stunning snowy peaks. And silence.
This time we only had several days, so we started our short trip from Yoki-Koby mountain range at an altitude of 1,589.5 metres - a rather mysterious place unknown even to some experienced travellers.
Chuya highway (Russian Federal M52 route, part of Asian AH4) went through this mountain range; years ago it was a part of the Great Silk Road.
Now it looks like an abandoned and hardly walkable track, overgrown with bushes and larch trees. But if you look carefully - and we did - you notice an old stone work right along the serpentine. It looks impressive, especially when you remember that all the work was done manually.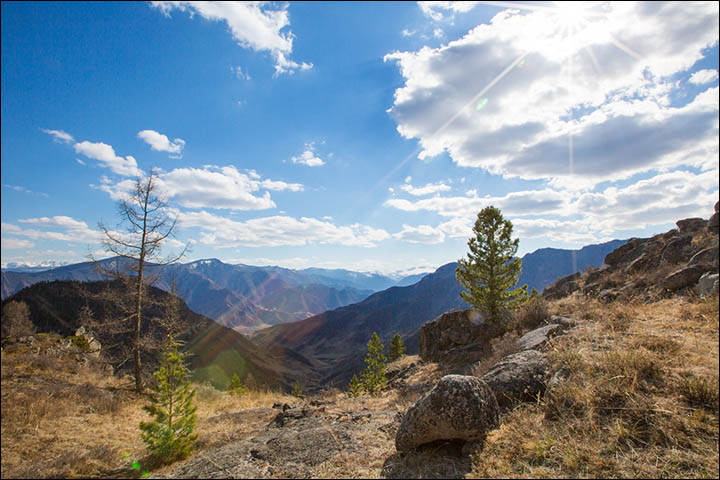 ---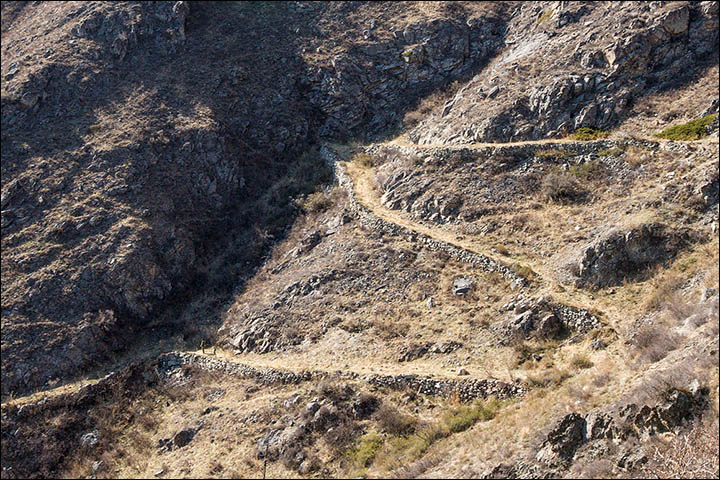 ---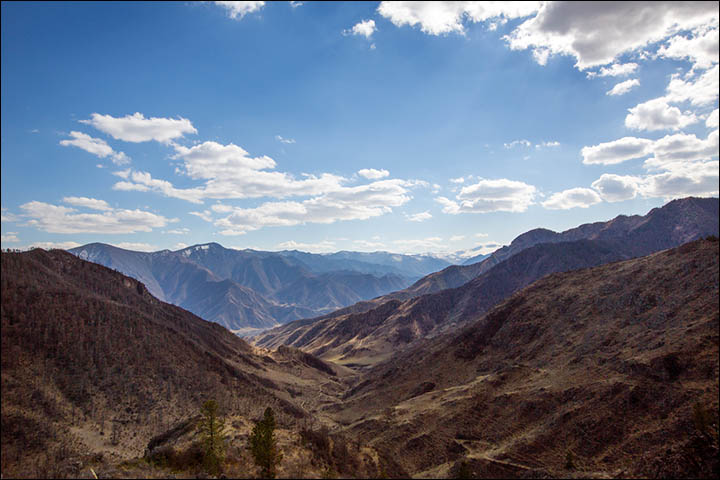 Yoki-Koby mountain range (1,589.5 m) with parts of the old stone work still visible along the serpentine track. Pictures: Vera Salnitskaya
We kept along the old Chuya highway, laid in Stalin times in the 1930s, and drove through Chuya River canyon. That part of the route took us about eight hours.
Experienced drivers say that earlier they could be driving for days to get through it safely, so dangerous was the serpentine. Driving there several days ago as a passenger of a modern SUV seemed to be equally stressful - at times I shut my eyes, thinking that this time we will certainly fall.
Remember this area if you are into rafting. Russian rafters know it as Mazhoysky Cascade, or Mazhoysky Clamp - there are 54 rapids of five different categories for 17 kilometres of the river, or rivers, since the rapids start almost right after the confluence of the rivers Maashei and Chuya.
No wonder it is a major attraction for rafters from all around Russia, and also a well-known location for national rafting competitions.
There used to be a bridge usable by cars at the point where the rivers join, but it was washed away during one of the floods.
Then people built a hinged footbridge, but another flood two years ago washed it away along with Lake Maashei. Then people stopped building in that spot, and now use a rope to move from one side to another.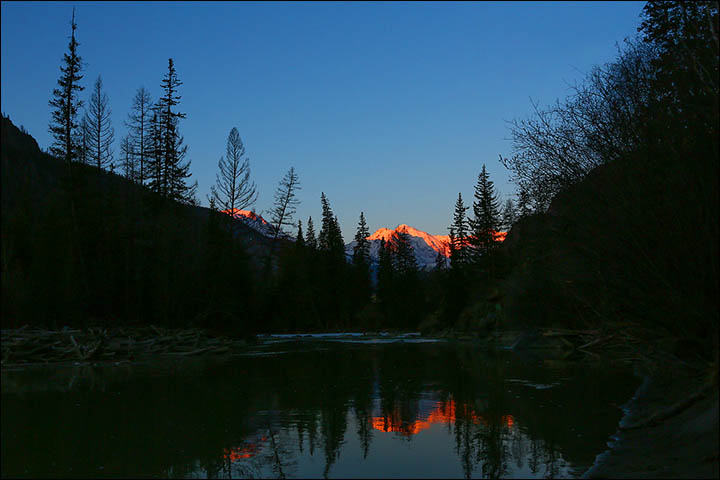 ---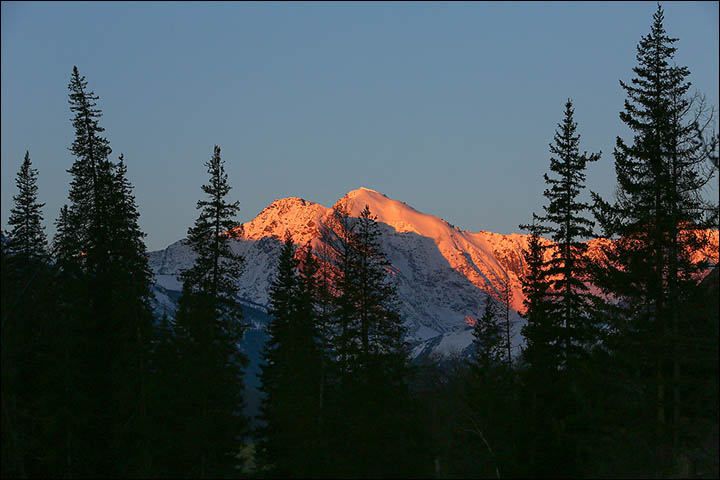 ---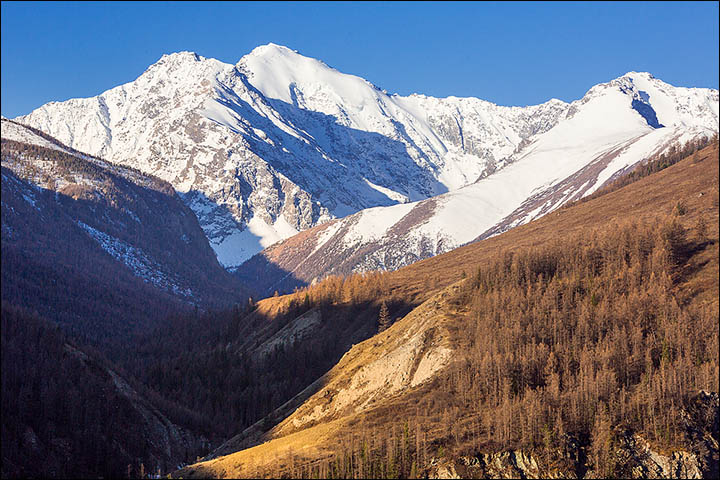 ---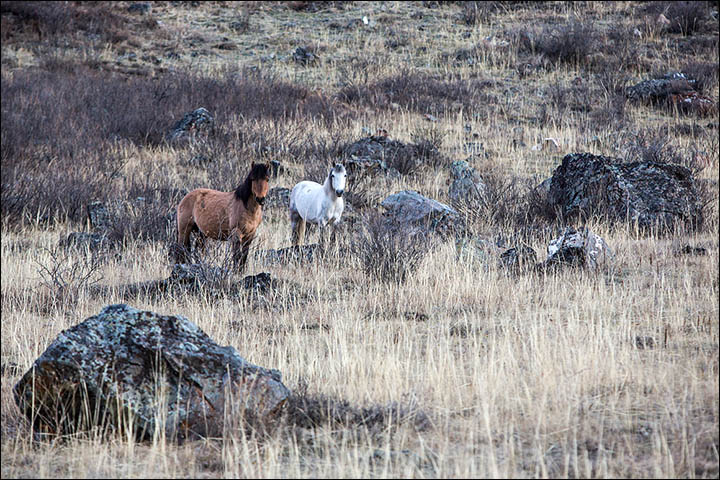 ---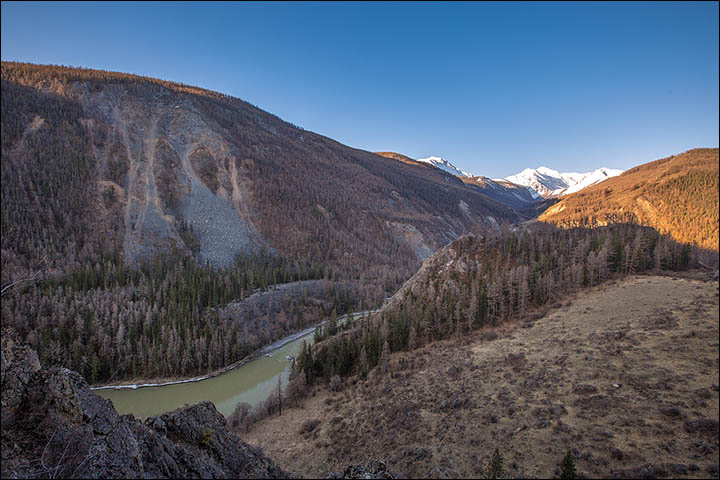 ---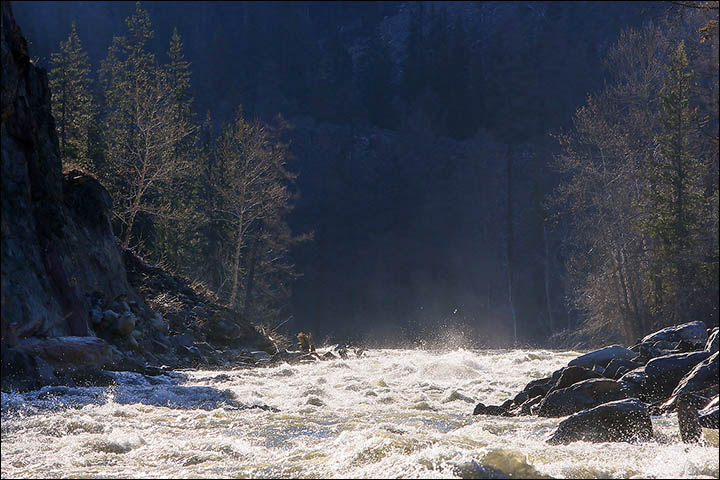 ---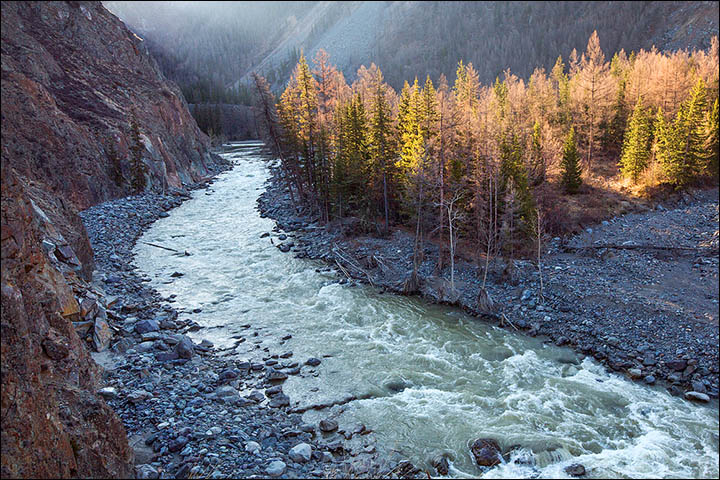 ---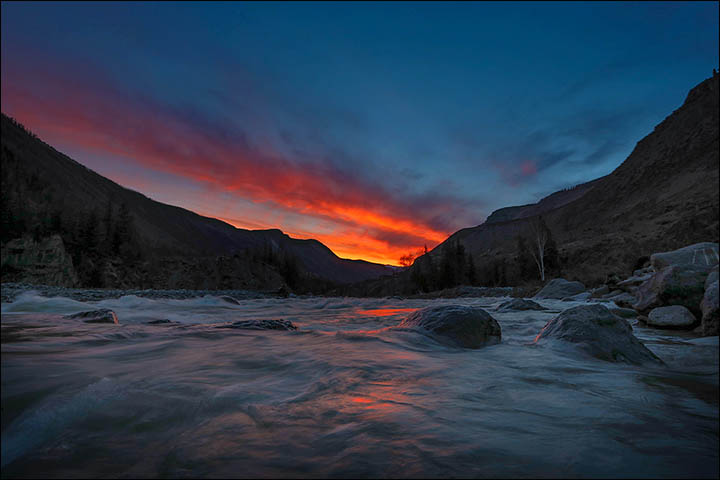 VIews of the Norhtern Chuya Ridge and Chuya river. Pictures: Vera Salnitskaya
Next stop was the Blue Geysers' Lake. Its turquoise waters are so clear that it feels the lake is only knee-deep, but actually it is about three meters deep.
It never freezers, and the pattern on its bed constantly changes thanks to the geysers.
Just recently there was no proper path to the lake, and tourists had to put on waders to reach it. Now there are two camp sites built on different sides of the lake, and a proper path which will cost you symbolic 10 roubles (around 30 US cents) to walk on.
Here is a video (not ours) showing excited Russian tourists watching these 'magical geysers'.
---
Blue Geysers' Lake, Altai Mountains. Pictures: Vera Salnitskaya, pictures below show Norhtern Chuya Ridge
At the end of our trip we decided to enjoy the view from 3,015 metre high Norhtern Chuya Ridge.
If you ask me to name the calling card of the Altai Mountains, this is it, for me.
There are 125 km of snowy peaks, some more than 4,000 metres high, like Maashei-Bash. You see some of these, as well as the 175 kilometres of glaciers, when driving from Novosibirisk to Mongolia. It takes your breath away even if you only look from the window of a car.
If you have time, do go there. You will think of only one thing -to return, and spend there as much time as possible.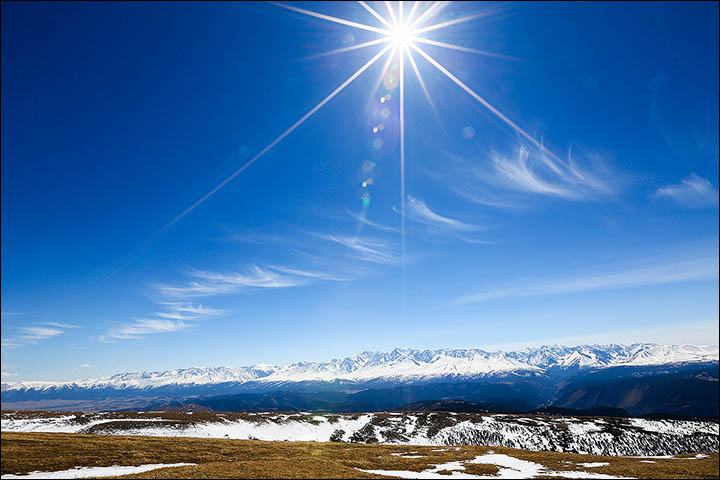 ---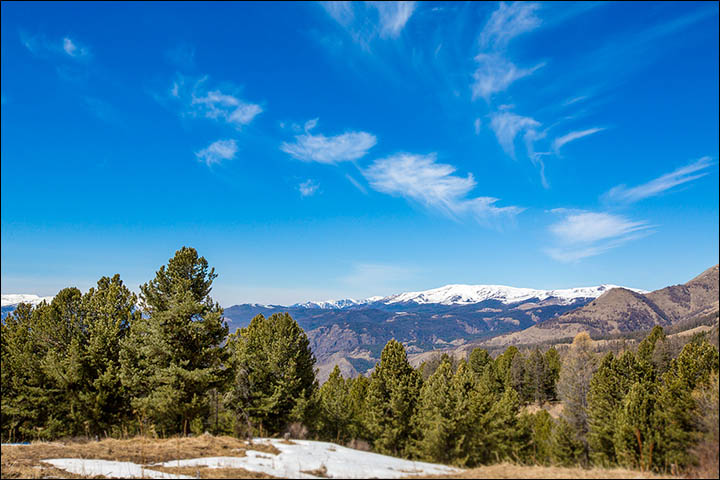 ---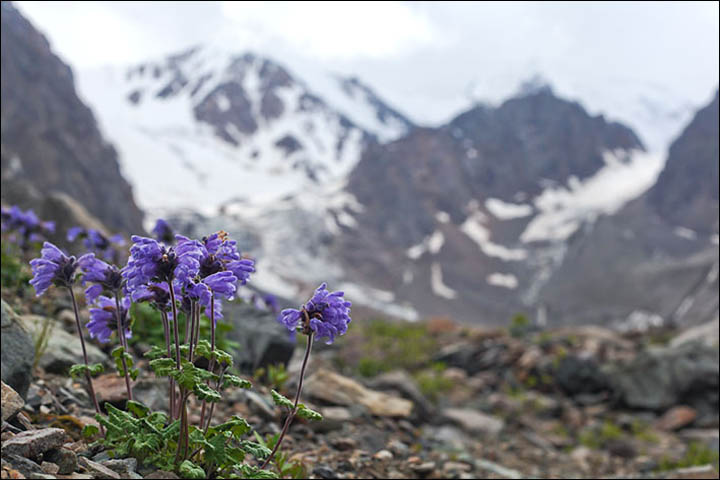 ---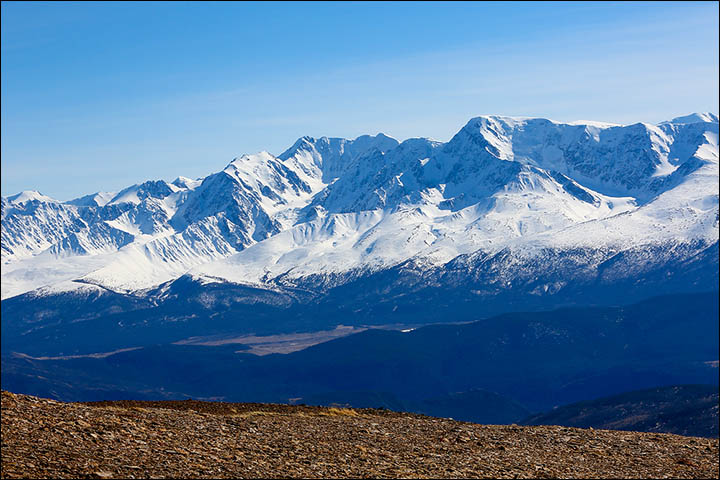 ---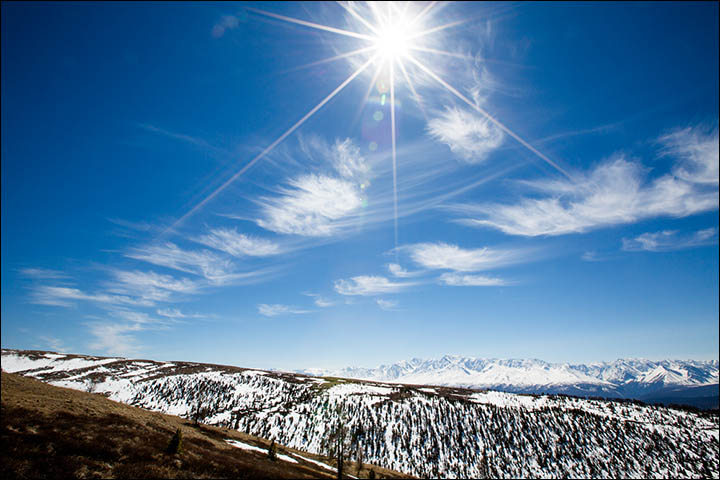 ---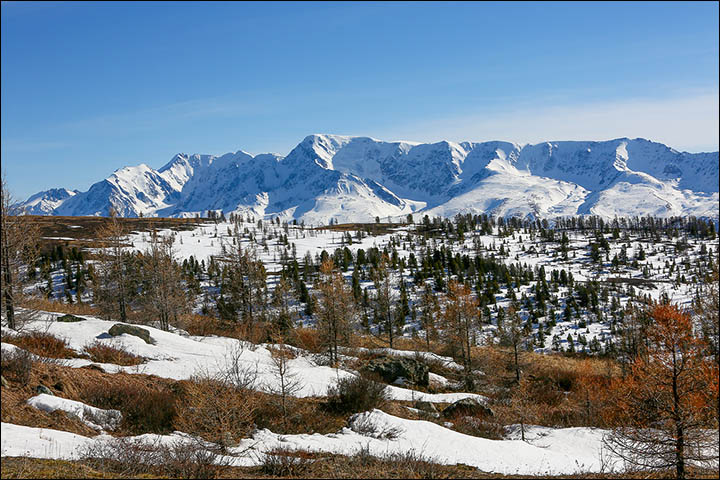 ---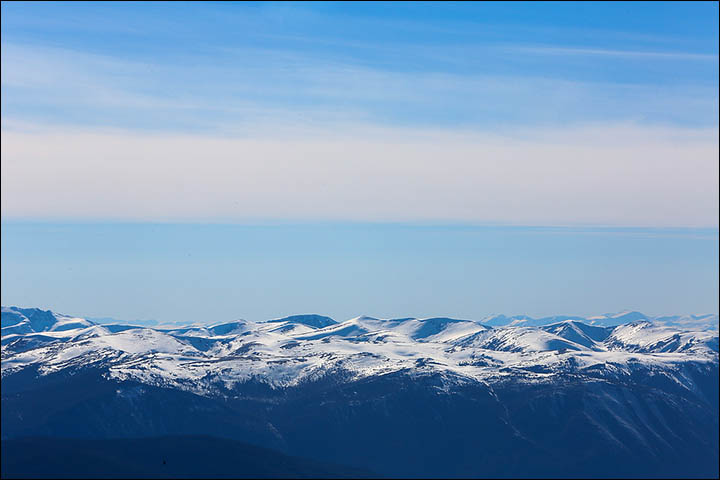 ---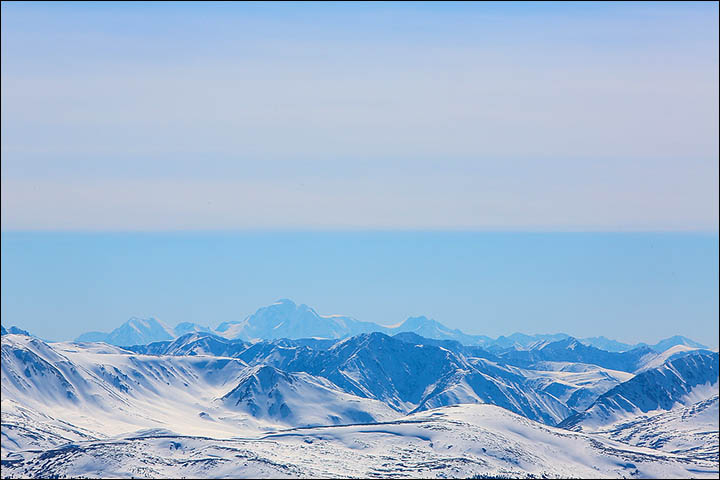 ---