Girls stay each by their biological parents, Anna by Yulia (L) and Irina by Naimat. Picture: The Siberian Times
One family is Christian, the other Muslim. In 2011 they found out that their daughters had been swapped at birth, 12 years earlier. It is as great a nightmare as any parent can face: you love the daughter you have raised, but you suddenly discover she is not yours.
Yet your own child, so obviously your offspring, is a stranger to you. How would any of us cope?
Yuliya Belyaeva, 32, was born in Kopeisk in the Urals and has lived there ever since. 'I was 18 when I wed Alexei,' she said.
'We married in two beautiful ceremonies, first civil then in the Orthodox church'.
Soon she was pregnant and her contractions started and stopped and began again, becoming especially acute on the night of 16 December 1998.
'It came to midnight, and I was completely exhausted from pain and no progress in my labour. There was a little pause, and then I heard awful screams. They were coming from a very young girl, aged 17, but looking even younger, who seemed to be in complete agony.
'What's going on with her, why is she screaming like this? - I asked the nurse.
'She's just about to give birth', she answered and rushed to help the doctor. In a minute, I felt my own contractions getting impossible to bear.
I was rushed into the same delivery room where that girl had been moved. I even remember the doctor showing her a little screaming girl. Little did I know that I witnessing the birth of the girl who would become my daughter.'
Yulia's birth followed soon afterwards.
'A very strong pain, then pushing, then lots of orders and barking from doctors and nurses, then a feeling that I was going to die - and finally the end of the pain. The doctor held my baby up in the air and for the first time smiled at me - look what a beautiful girl!'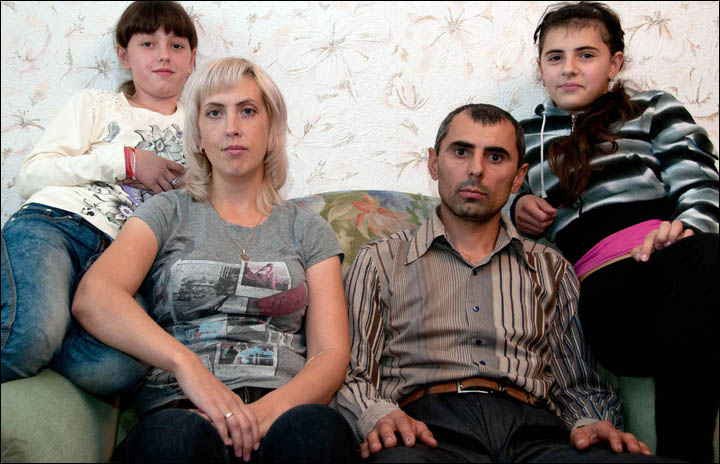 ---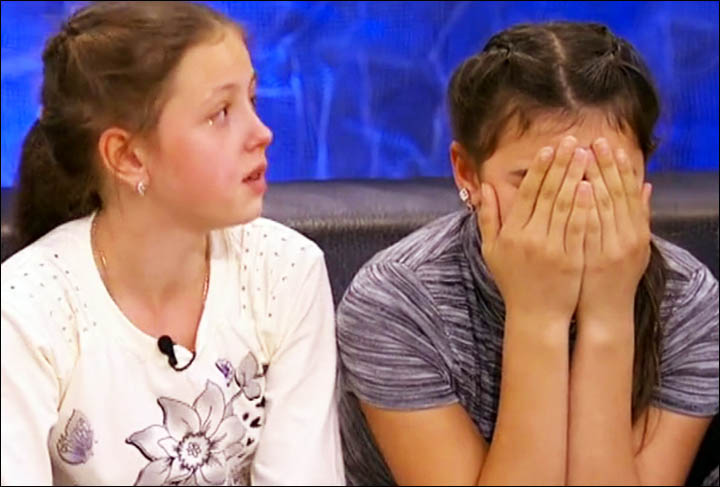 Anna and Irina sit behind their biological parents Yulia and Naimat and, below, Russian TV program shows them crying in TV studio days after they are told that they were swapped at birth. Pictures: The Siberian Times, Channel One
The doctor congratulated her and assured her the baby was perfect. 'I gave birth at 1.30am of 17 December 1998, 15 minutes after that other girl welcomed her baby daughter'.
The baby was taken away for her, and Yulia managed her first sleep in 48 hours. It was presumably at this moment that the girls were swapped and wrongly tagged.
'In the morning, it was about 8.30, I was in much better state. I slept, and finally I felt that overwhelming happiness and relief that my baby was born, and she was fine, and the doctor said she was beautiful. I waited to see her and look at her. They brought the babies all completely wrapped up. They were literally like dolls - all you could see were the eyes and eyebrows, cheeks, nose and mouth.
'The babies were given to us every three or fours hours for 20 minutes or half an hour, and then nurses took them away to clean them up, change them. We were not allowed to do it ourselves.'
One thing puzzled her. 'Why does she look so swollen, I can hardly see her eyes?' she asked the nurse.
'She snapped back at me - 'What do you expect after nine months swimming in amniotic fluid?'
It was only when she got home six days later that she and her husband properly unwrapped their daughter.
'There we saw a flock of very dark hair. I took it that she'd inherited the genes from her father's family - many of them were dark haired. My husband didn't say anything much, he had set his heart on his first child being a boy.'
The weeks and months rolled by.
'We started life as a new family. I realised that my dear husband was a great lover and nice looking man, but he wasn't all that good as a father. He left quite a lot of the baby care to me. We named our daughter Irina. When she was three years old, her farther got drunk at friend's party. He got into a fight. He injured another man, was detained, arrested and jailed for several years.
'So I was left alone with Irina. We kept coming to the jail, which wasn't far away, but each time I could see my Alexei was not happy with something.
'Dont you want to see us? - I asked him.
Then he blurted: 'I don't believe that Irina is my daughter. You must have cheated on me! Her hair is too dark!' - and he demanded the security to stop the meeting.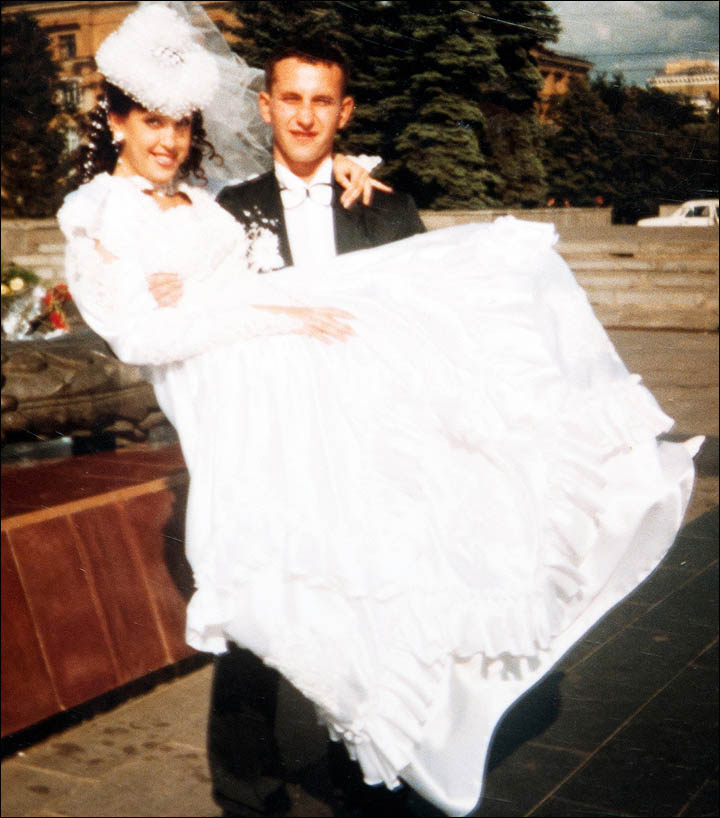 Yulia pictured on her wedding day to Alexei. Picture: The Siberian Times
Yulia ignored it, blaming it on his harsh life inside the jail: but when he was released, he repeated it. She knew she had not been unfaithful and the breakdown led to divorce in 2007. He promised to pay alimony but did not. With Irina needing books and new boots, Yulia took him to court.
'When he received the court papers, he instead issued his own counter-claim, saying that he refused to pay until I proved that this child was actually his,' she said.
'By then, I was married again and expecting another child. My second husband Maxim kept telling me to stop demanding the money. But I felt really badly treated. I knew I didn't cheat on my husband. I felt humiliated by him, and couldn't leave it like this.'
Various count sessions followed. 'In the end the judge ordered us to have the full DNA tests.'
'We did it at the beginning of May - all three of us, me, Alexei and Irina. Waiting for it all to happen, I was rushed to the hospital with contractions - all the nervous meetings in the end affected my so much that I gave birth one more before my due date by Caesarean.'
Before long, the judge called her back and asked for a re-test. The first results didn't come out very well, she was told.
'Well, if we had to, we had to. I crawled back to the forensic medicine centre with Irina, with my scar badly hurting, when they performed another test and also asked us to pose for a picture.
'On 14 June, the judge called me and asked to come together with my ex-husband, but without Irina.'
It was then Yulia received the biggest shock of her life.
'Neither you nor your husband are the biological parents of Irina,' said the female judge.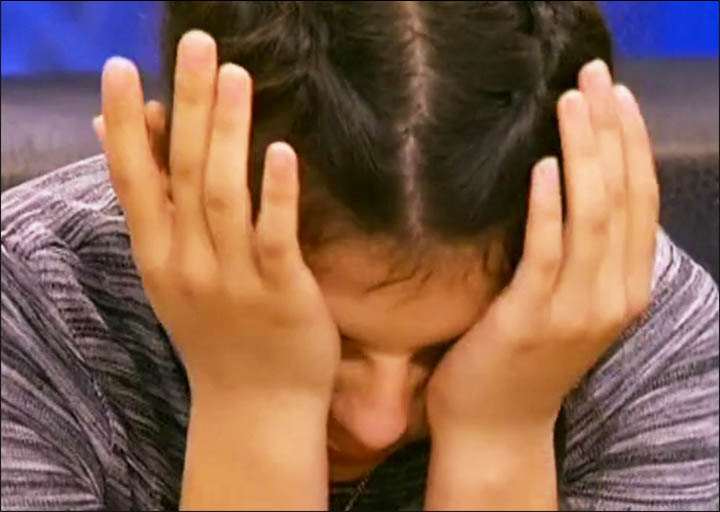 Irina during the Russian TV talk show days after she learned she was swapped at birth. Picture: Channel One
It didn't sink in at first. 'Are you joking?' Yulia asked the judge.
'My dear, how can I joke about such things? We were shocked when we received the first results. This is why we demanded the second test.'
Alexei walked out. Later he would apologise, but at that moment he felt Yulia had bribed the medics and the judge to conceal her cheating.
Yulia collapsed in tears. 'The judge told me to stop crying. Tears won't help anything - you've got to find your real daughter'.
'When my brain started functioning again, I forced myself to go back to the day when Ira (Irina) was born. That girl, who gave birth next to me... it could only be her child who they gave me by mistake.
'As I sat there, my ex-husband phoned the judge if asked her again if the results were real and were not some mistake. Then he called me and apologised for everything - for mistrusting me, for betraying me and our daughter, and for not being with us.
'What are you going to do now?' - he asked me.
'Why are you asking? I will be searching for our daughter, of course! I've got to find her, and perhaps you might want to see her as well!'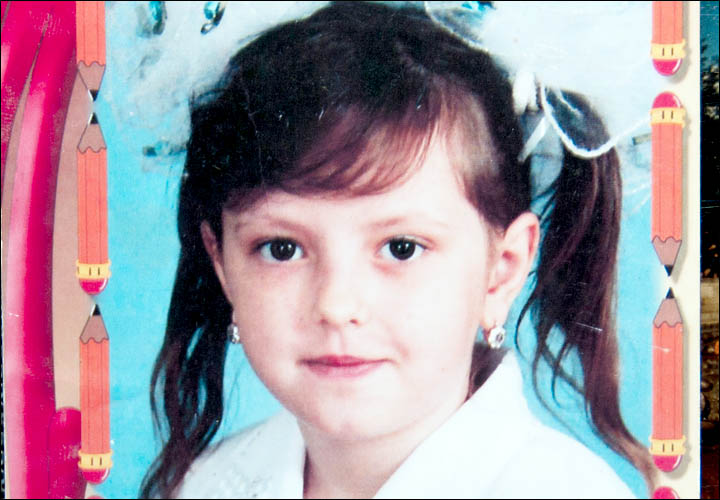 ---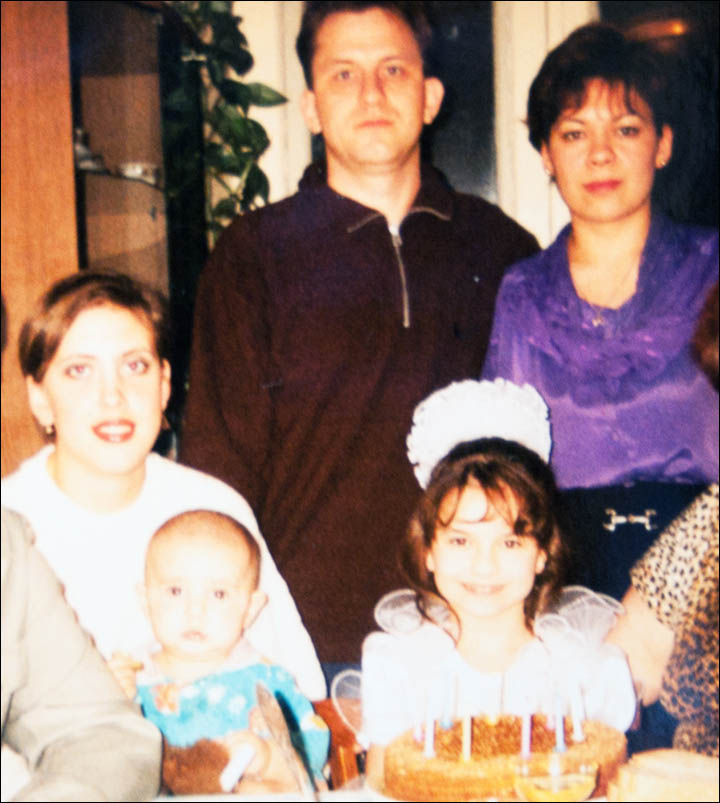 Anna, aged six, and baby Ira, aged one pictured on her mother's lap with father Alexei standing up. Pictures:The Siberian TImes
Alexei raised a problem. 'Twelve years have passed. She has her family, you can't just walk in and say - I am your mother.'
'Well, when I know for sure that she's well, and that her family is looking after her, then perhaps I will calm down.
'What if that woman's husband is also angry with her for bringing back a girl who doesn't look like them? What if she has been all this time sitting and waiting for us to find her? How can I stop now and live my life like nothing changed?'
Alexei was not willing to push the matter. Yulia insisted on doing so.
She went to the Prosecutor's Office and demanded an investigation into the swapping of babies. A woman investigator called Svetlana told her: 'Technically, I can reject your claim to search for your daughter right now. Too many years passed. But as I am a woman and a mother, I understand your pain and I will help you.'
She said immediately she could only give the other family's contacts if they agreed to speak. Otherwise, she would never know.
'I spent next couple of weeks in agony. My second husband Maxim really had a heart of gold. Not only did he do all the house keeping. He sorted our kids, cooked, and sat with me in the nights when I wept and wept and wept. Sometimes he got angry with me for not eating and sleeping.
'It was very beginning of September when the investigator called and said that she had found the second family, but that it was only the father left. The mother had divorced him and didn't, as I was told, care about the kids.
'The father is refusing to see you', she said, 'but he has taken your phone number and I suspect he will get in touch'.
'This set me off crying again, thinking that no, he won't call, he doesn't want me to see my own daughter. Maxim, my husband, took me to the doctor because he got so worried about me.
'All this time, Irina didn't know about the investigation.
'Since the day of the second DNA test, when I had to explain that her father wanted to make sure that she was indeed his daughter, I didn't explain anything else to her. I thought she was old enough to cope with the knowledge of the paternity test, and so she was, though naturally she was offended. But I wasn't ready to share the search I had now embarked on.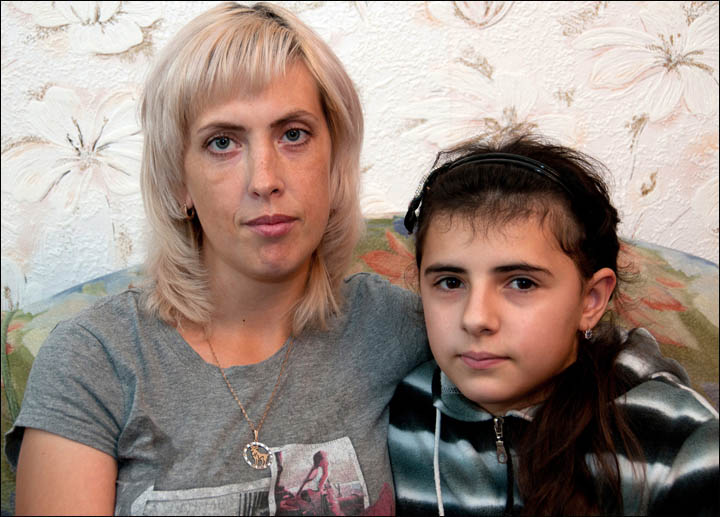 ---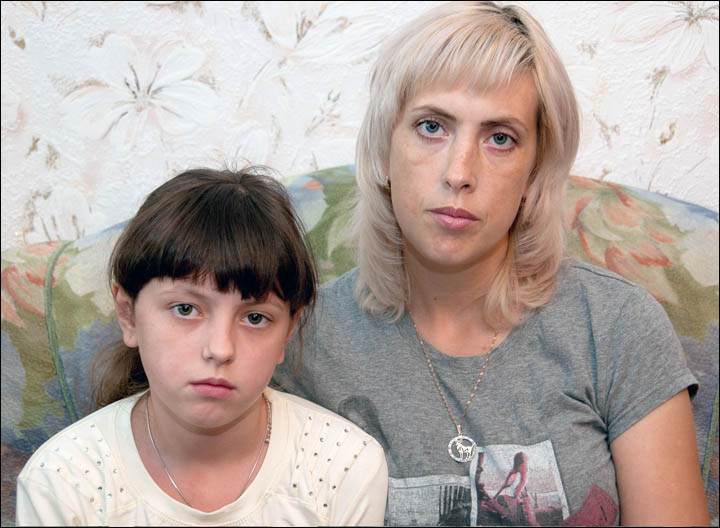 Yulia, 32, with daughter Irina she raised and, below, with daughter Anna she gave birth to. Pictures: The Siberian Times
'Three days after the call from the investigator, a friend of Naimat's called me and said that he wanted to meet me. It was 2 pm, and by 7pm I was been entering the pizzeria in the centre of the city. Naimat was there with flowers, and family albums.'
'This is for you', he said, giving me the flowers.
'And thank you from the bottom of my heart for looking after my daughter. Please can I see the childhood pictures of her, and hear all about your family?'
These were his first words. Yulia found out that her real daughter was called Anna.
'We both exchanged the family albums, and for the next half an hour, maybe more, we were sitting and openly crying.
'Then we calmed down a bit, and I invited him to our place so that he could see Irina. He rushed out to the shop, and as we walked back home he kept asking me about my family. He wanted to know who in the family is vegetarian. 'No-one!' - I told him, - 'why?'
'Well, Anna refuses all meat. Since she was born, she simply won't eat it'.
'As we walked, we got stumbled onto the main question, which now, much later, is still unsolved - 'What do we do with this knowledge? How do we live?'
'Neither of us knew what to say. We got to my flat, he came inside and went pale when he saw Irina. It was a miserable sight, to see his hands shaking and him trying to control himself and not to scare her.'
No words were needed to know they had found the truth. Irina was Naimat's spitting image. Next day Yulia would go and see Anna.
'By then, I'd been through three births, two weddings and one divorce I can tell you that I never worried as much as that day when I was getting ready to see my daughter. I changed outfits, selected and re-selected sweets to take as presents, trying to guess her taste. I was persuading myself to calm down - to no effect.
'In the end I couldn't wait and came earlier than the agreed 5 pm. Naimat rang the bell and Anna came to the door, and said 'hello'.
'She was like a little copy of me, aged 12. She could not be anyone but my daughter. It was my turn to bite my lips looking at her, and try and hold myself from just grabbing her and running away as fast as I could'.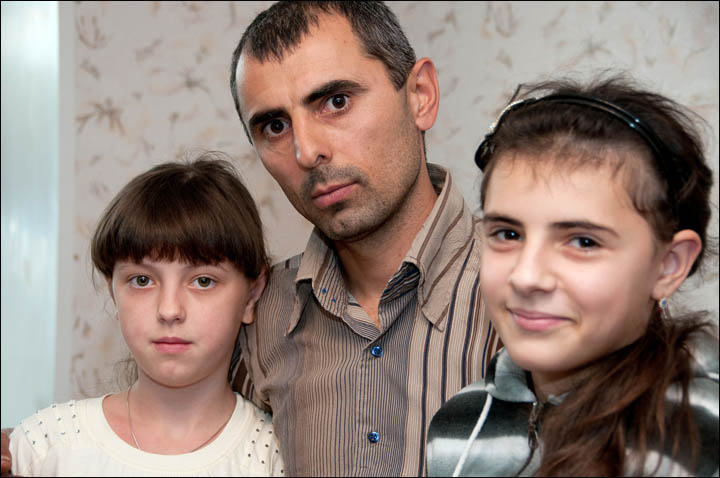 Naimat with Anna (L) whom he raised and Irina (R) who he is the biological father to. Picture:The Siberian TImes
Yulia was introduced as a friend. 'I spent three hours with them, we chatted politely, and when I came out I felt that my knees got really weak from the constant stress.
'I got home and poured out my impressions to my husband. His first words were - 'Look, we live in such a small city. We must not let anyone talk to our Irina first and tell her about how she was swapped at birth. It would be so cruel if she found out any other way. You must tell her.'
'What a great task for any mother, isn't it? But he was right, of course. I had to pull myself together and think how to explain this nightmare to my beloved Irina'.
So began the hardest conversation any mother could have.
Anna, left, and Irina, right, pictured during Russian TV talk show days after they learbed about the swap. Picture:Channel One
Naimat Iskanderov, 36, an ethnic Tajik, had come to Russia in 1986 and lived in Kopeisk at the time of his first daughter's birth. He was raised by his Russian grandmother, called Anna, who his first child was named after.
'At 21, I met and fell in love with a beautiful Russian girl, called Yelena,' he said.
'She was only 16 then, we got married very quickly, and nine months after the wedding, on 17 December 1998, our first child was born.
'She was a beautiful daughter. I named her Anna. I was the happiest father on earth.'
He vividly recalls those days.
'I wasn't allowed into the maternity ward, neither for the birth, nor for any time immediately after. I must say, I share a belief that it's not a man's business. I was busy earning money and preparing the flat for their return from the maternity hospital.
'We had no mobiles back in 1998, so I received the happy news about our daughter's birth on our home line. I asked, how my wife was, and was the baby healthy, and was overwhelmed with joy to hear that they both were doing fine.
'Then I came to see them - but remember that men were not allowed inside the maternity ward. Me and other fathers stayed in the cold - it was December, and a Siberian December, which meant it was thick icing on the windows - and our wives lifted the babies, all wrapped up, trying to show us what they looked like. Of course I could barely see anything but I was still so proud.
'Six days passed, and Yelena and our daughter came back home. We were very young then, and didn't have our own flat. We lived with Yelena's mother.
'They came back home, we popped the Champagne and I could finally look at my daughter properly. She was white as sugar, and I thought was an absolute beauty she was, just like her Russian mother. I had not a shadow of surprise, leaving aside any suspicion that my wife had been with another man. Of course not. I thought that if her mother was Russian, there was the evidence of daughter's Russian roots. That was it.
'One and a half years later our second daughter was born. We named her Ekaterina. She was dark as a coal - and I thought again, how lucky we were. Our first daughter was a copy of her mother, with blue eyes, and the second was like my reflection in the mirror.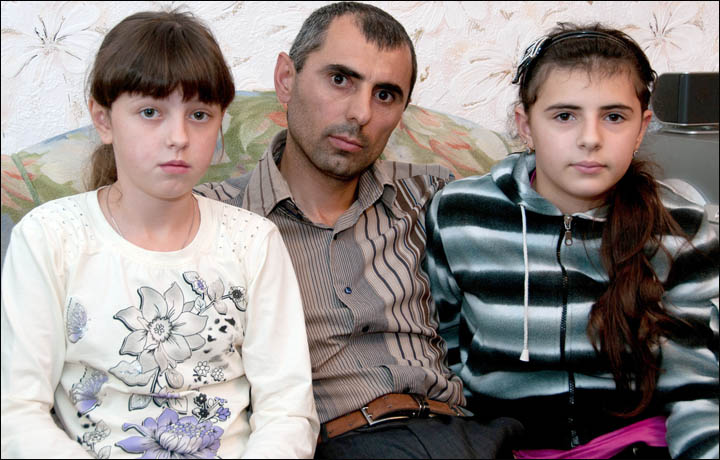 Naimat with daughters Anna, left, and Irina, right. Picture: The Siberian TImes
'I never discussed it with my wife. We simply didn't think it was strange. Only later when Anna started going to the kindergarten aged three and a half did she start complaining that her nannies and other kids are asking her, why her father is so dark skinned, while she is so blonde? I explained her that it came from her mother's genes, and that sorted it.'
Naimat said that his divorce happened because his mother in law had started to steal money from him. He objected and this led to arguments with his wife which culminated in a breakdown in relations.
His wife began a new family while he returned to Tajikistan 'where I found a new wife' - Sonia - who became Anna's de facto mother. She agreed to take on his two children who had remained with him rather than his first wife, Yelena.
'This is the Tajik way,' he said. 'The children often stay with the father and the mother can find herself a new man without being encumbered by children.' Yelena soon remarried and, he said, while he didn't block access, they barely saw her.
'We welcomed three new daughters. It was great challenge, but great fun as well'.
The family of five daughters were raised as Muslims.
'Suddenly everything was shattered when I met a friend on the street who said the police were trying to find me because my daughter had been swapped at birth,' he said.
'You are raising somebody else's child. Your child is in another family. Go to the police, they are looking for you to tell you'- he told me.'
Then a policeman came, asking him to consider why Anna looked so different from him and his other children.
'Did I think she was too blonde to be my real daughter? Do I not think she might be actually from the different parents?'
'No!' - I snapped back, and politely invited him to leave my house. 'His last question to me was - 'but don't you see that she actually doesn't look like you?'
'If my wife brings a child into my house, I don't question her who this child is from. If he or she is under my roof, my role is to raise him or her.
'I didn't marry my wife to then doubt her. I married her to trust and to raise our children together, and I never had a shade of doubt about her, or any of our children. They are all mine'.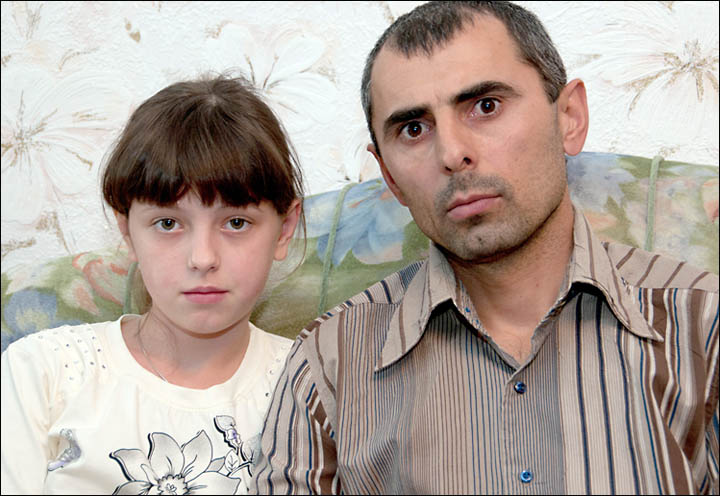 'If my wife brings a child into my house, I don't question her who this child is from. If he or she is under my roof, my role is to raise him or her'. Naimat with Anna who he raised from birth. Picture: The Siberian TImes
The conversation ended but Naimat's sleepless nights began. The truth is the doubts were indeed planted in his mind a dozen years after Anna's birth. He went to see Svetlana, the investigator.
'Tell me what you know?' he demanded.
'Svetlana sighed, and asked me if I would like to see a photograph of my biological daughter. She was, Svetlana explained, swapped minutes after she was born. Maternity hospital nurses made a mistake, she was telling me, as her hands tried to prize a little picture of dark haired girl out of her folder.
'I could hear the blood pumping round my head. I looked. On that picture was a carbon copy of my second daughter Ekaterina.
'Who is it?' - I asked Svetlana. 'Irina. Your first daughter'.
'Don't try to imagine what I felt then. Really. It was like somebody switched all lights off in the whole universe. I didn't need any DNA, any blood tests, any other proof - I knew instantly that this girl was MY daughter.
'There could be no doubt. My world was upside down.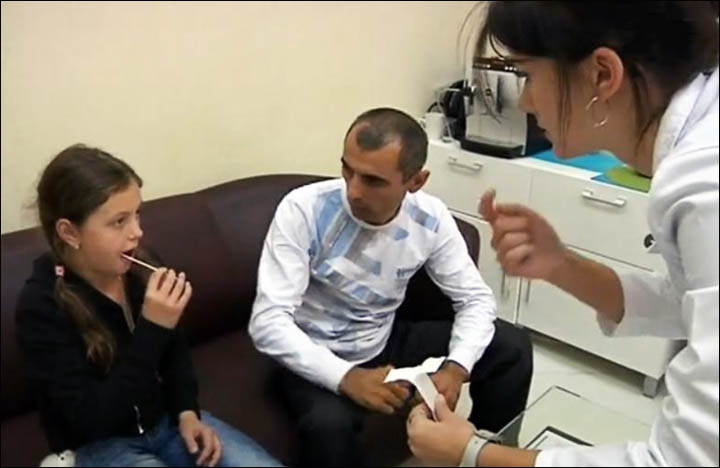 'I imagined ... Anna's reaction to the news that she was not actually our daughter. Why should she suffer? I asked for a piece of paper, and wrote that I hereby decline to see my biological daughter Irina, and declined any contact with any member of her family. My hands were trembling'. Anna and Naimat go through DNA test, picture: Channel One
'I was crying for the next 40 minutes, unable to contemplate the news. The investigator was very good and patient with me. When I managed to calm myself down, she asked me what I would I like to do. I sat there like on an empty sack, with not a single thought in my head.
'Then I imagined my kids, and specially our Anna's reaction to the news that she was not actually our daughter. Why should she suffer?
'I asked for a piece of paper, and wrote that I hereby decline to see my biological daughter Irina, and declined any contact with any member of her family. My hands were trembling.
'Svetlana the investigator offered me some water and said calmly that I might just possibly want to see the mother who raised my daughter. She told me the story about the huge problems that mother had because of her daughter looking completely different to her and her husband. She was called Yulia, Svetlana told me.
'The investigator said that was desperate to see me, and her daughter.
'In the end I agreed to take Yulia's phone number.
'I got back home, and spent two absolutely awful nights and days. I didn't go to work, I wasn't eating, I couldn't sleep.
'All I could think about was what could I do, where could I go to ask for advice. I told my wife Sonia and my brother. They just didn't take it in. They said the police must have made some hideous mistake by claiming such horrendous things. They are wrong, stop worrying - they both told me. But that picture... I knew that they were right. She was my daughter.'
Two days passed.
'I got so exhausted. I realised it was a torture to live like this. I kept thinking about that girl, Irina. I thought - 'how do I live without seeing my daughter even once, without talking to her, without checking that she is all right?'
'I was in such state that I couldn't make myself dial Yulia's number. I had to ask my friend to call her and request a meeting. She agreed immediately. We decided to meet the same day, in the evening, at 'Four Cheeses' pizzeria in the centre of our city.
'I bought a bouquet of pink and white roses for the woman who had cared for my daughter for so many years. I wanted to say 'thank you'.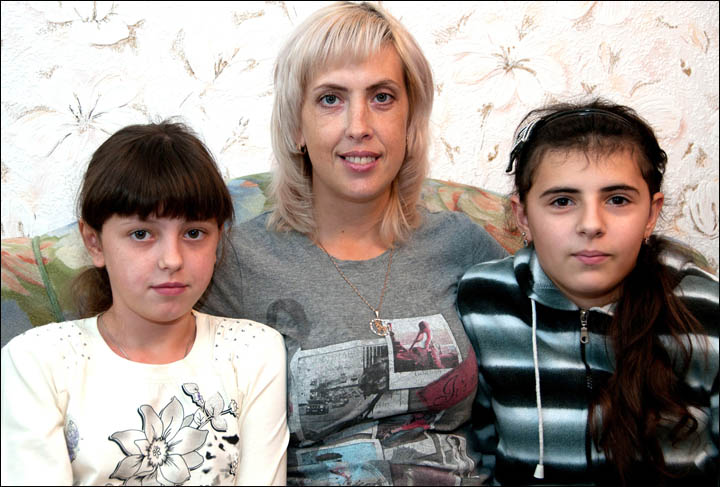 'I bought a bouquet of pink and white roses for the woman who had cared for my daughter for so many years, I wanted to say 'thank you'. Picture: The Siberian TImes
'We came in, and asked each other for the childhood pictures of our daughters. When we swapped the photographs, one or two minutes passed and we both were in floods of tears. We just kept crying, looking at the our girls as babies, then toddlers... going to school, putting funny dresses on. How on earth could this happen, I kept thinking?
'People started looking at us with all the tears.
'And Yulia then invited me to come to her place. 'Why don't you go and say hi to Irina now?' - she suggested.
'I rushed to the bakery and came back with all sorts of cakes and candies. When we came into their flat and I saw Irina I felt like my legs were refusing to walk. Imagine suddenly seeing your mirror image. This is what I saw. Looking at me with slight suspicion, and wondering why on earth she's been interrupted and asked to join her mother and this strange man. I couldn't even say 'daughter dear' to her, I couldn't hug her, I couldn't kiss her.
'And of course, I simply couldn't tell her - 'Hello, I'm actually your father'. It was torture. I struggled to control myself.'
It was Yulia who told Irina.
'Come here sweetheart,' Yulia said. 'I've got something to tell you. Remember that DNA test? The medics told us that it showed that biologically you were born to different parents.'
'Are you serious, Mama?' - she asked, clutching my hand and coming closer to me. 'Yes I am. Dont worry, it doesn't change anything - but I wanted to tell you about it.'
'So was it a mistake then? Doctors took your baby away and gave me instead? What happened to that other baby?' - she asked.
'I came to police and they helped me to find the family. But please don't worry, me and Papa love you with all our heart. Nothing will change for you. It's just that you had two fathers, and now you have one more, and one more mother too. And four more sisters - you see how lucky you are!'
'She went very, very quiet for some time. I kept talking to her, asking her to please chat to me and ask any questions she needed to. She was sad for a while, but when I offered her to go and meet with her father and sisters she eagerly agreed'.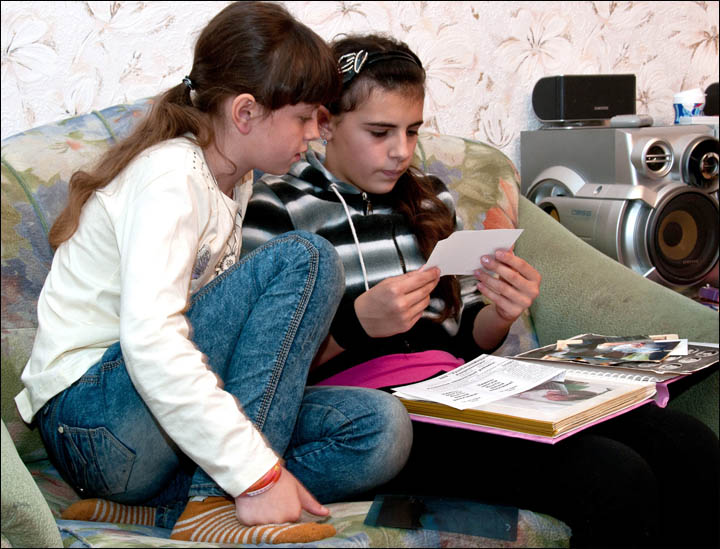 'We came in, and asked each other for the childhood pictures of our daughters. When we swapped the photographs, one or two minutes passed and we both were in floods of tears'. Picture: The Siberian TImes
'Irina knew that I was her real father about two weeks after our first meeting,' said Naimat. First Yulia spoke to her about it, then she called me and said that she wants a chat. I came for a walk with her, and she had a million questions about me, my family.
'Almost first thing she asked - but where is my Mother?
'I told her that me and her mother split up years ago, and that her mother was a nice woman, but she wasn't visiting us since. She wanted to know all about her sisters, and my new wife. Then I asked you - are you glad to have found me?'
'She said simply - 'Yes, Papa'.
That was the most powerful things I ever heard in my life - to hear her calling me 'father'. I asked her very carefully if she had any thoughts about the future, and Irina very quickly and firmly said that yes she did, and that she would be coming to see me, but would never leave Yulia.
'In so many words she told me that might not be my biological mother, but there is no-one I love more strongly than her.
'She is my real Mum', she said.
'We cried and laughed during that walk. I kept thinking that I felt we were in the middle of some Bollywood movie, you know with lots of drama and complications. I thought then that real life creates stories far more complicated that any movie can show'.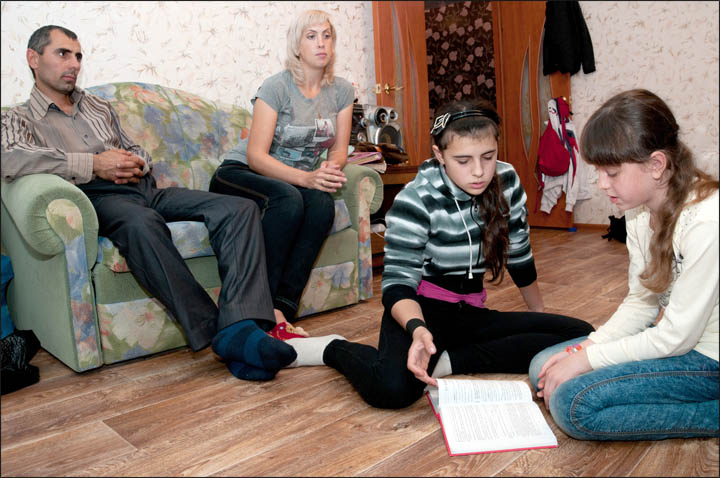 'We cried and laughed during that walk. I kept thinking that I felt we were in the middle of some Bollywood movie, you know with lots of drama and complications. I thought then that real life creates stories far more complicated that any movie can show'. Picture: The Siberian TImes
Anna was told the shocking news by Naimat but by then seemed to have worked it out anyway. She told Yulia when the two parents met with the two girls for the first time: 'I remember how you were looking at me when you first came. Your eyes were following me everywhere.'
Breaking the ice was one thing, living with the consequences was quite another as both parents - and the two girls - now realised.
Three months into the knowledge of the baby swap, Yulia's instinct was to allow as much access as she could so that, while both girls stayed with the parents who had raised them, they could also easily spend time with their blood parents.
'Irina got on very well with Anna, they call each other almost every day,' Yulia said at the time. 'So this is how we live now, without a definite idea of how to organise the future, but with one big extended family.'
While the girls did homework together sometimes, the cultural differences between the two families quickly became evident as any inkling that the girls should simply swap families was also impossible for all concerned.
'We are, of course, very different, we can't hide this,' said Yulia. 'The children are brought up in a different manner. Sometimes I misunderstand things, like how in Tajik families the girls are not allowed to enter the room if some male guests are in the house.
'Sometimes Naimat, I notice, struggles to come to terms with Irina's manner of being very open, not shy to talk to boys, and asking for a lot of hugs and kisses from both Mama and Papa. She is raised as a typical Russian girl from a family that is basically Christian.
'Anna is used to something very different.
'I see that Naimat loves his daughters more than anyone else, but I also see that he's quite busy, and his wife is quite busy, and it doesn't come naturally for them to hug their kids lots, and kiss them, and tell them how much they love them. They feel it, but they don't express it much. So each time I want to hug Anna, I feel that she first is very surprised. She is not used to it.
'We agreed soon after our first meeting with the kids and parents together, that we can all call each other 'Mama', 'Papa' and 'daughter', but only if we really want it. So far my Irina calls Naimat 'Papa', and he is very happy about it, and Anna calls me 'Mama'.'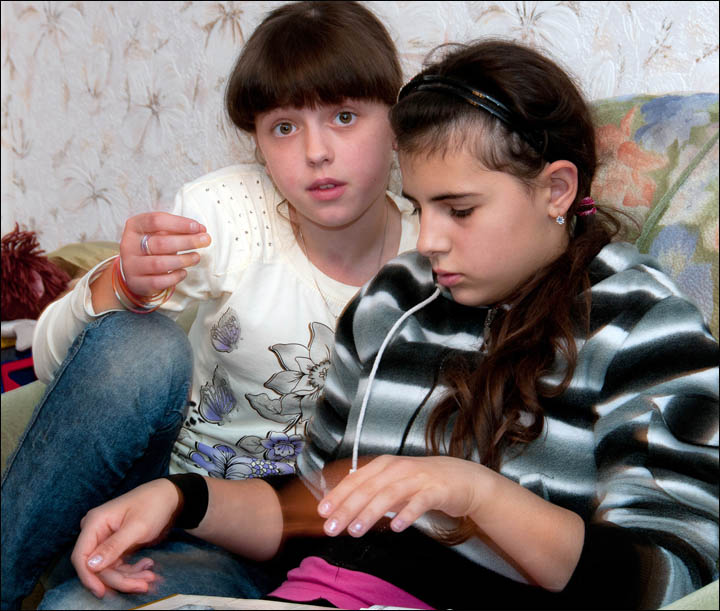 'I live as if on a swing which goes from complete and utter despair, when I think how much time I lost with my Anna, all her childhood, all the most precious moments of her growing up which are never going to be back'. Picture: The Siberian TImes
After three months of the new reality, Naimat also felt the strain and expressed his fears and trepidation: 'I don't know what to do. Sincerely, I don't.
'If we were to have learned some 11 years ago, when the girls were one year old - then perhaps there was a tiny, tiny chance that both families would have agreed to swap them back. But actually I doubt it.
'I know I can't give Anna away now, never. I raised her, I love her to bits, she is mine no matter what her genes carry.
'I would love to take them both and raise them both. Yulia probably feels the same. But they actually say that they want to keep living the same way, the way they know.'
Yulia also tried to keep a calm exterior for her girls but beneath the surface was in emotional turmoil.
'I live as if on a swing which goes from complete and utter despair, when I think how much time I lost with my Anna, all her childhood, all the most precious moments of her growing up which are never going to be back... and when I think that at least I have found her, and she is now in some way with us, the swing go up to the happiness... and then down again.
'I really need help. I've been visiting a psychologist, but it doesn't bring the peace into my mind.
'I can't digest what happened. I can't find my way out of it. I wish there would be people around, who lived through the similar situations and found the best solutions for all parents and children involved.
'I so much need to speak to someone who KNOWS what it is like to go through this and found a way. But - thankfully - hardly anyone has such an experience as me. Maxim, my second husband, is trying to look at it from a different angle. He says we can't change the past, we must try to make the future as good as we can.
'I so much want his words to turn out right. I don't know any other recipe to heal the heart of the mother, who lost her child at birth, was given another one and raised that other one with all love and care only to be told years later that her own child has gone to another family, and she by mistake took somebody else's daughter. How to live with it, how to calm the feelings down, to not hurt both girls, to not despair myself...? I still don't know.'
Naimat was in such turmoil that he lost his job as a market seller. 'I simply couldn't force myself to go to work,' he said.
A number of complications intruded early on.
There was understandable media interest and the families were invited to a TV programme in Moscow.
'There I briefly saw my Anna's blood 'father', who had punished his wife for cheating.
'I refused to shake his hand. He betrayed his wife, and child, by not believing them. He is not a true man because when the news broke about the swap, he didn't rush to find his biological daughter and comfort her.
'My mother, who lives in Tajikistan, is very old. She saw that show on TV, sadly, and got dead scared. She called me screaming down the line: 'Are they going to take your daughter from you?'
'It took me ages to calm her down. She was shouting and crying. We all took it very, very hard. My wife, when she finally believed that it wasn't somebody's stupid joke, said that she would never let anyone take our Anna away.
'Really, I don't know what to do, how to live, what to think. Perhaps this is our destiny and we've got just to accept it. I prefer thinking so, because it keeps my mind sane.
'My heart is now divided in two. One part is at home, with my family, and another one is always out, worrying about my daughter - where is she, what is she doing, who is she with? Just how will it end, I don't know. Either we all find our way through, or I'll go mad'.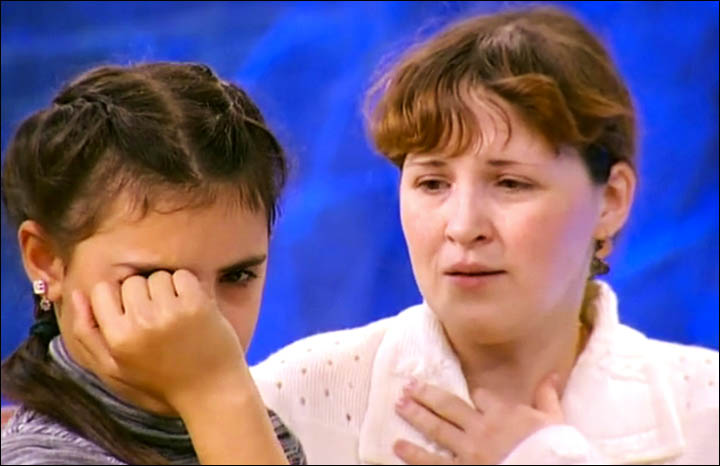 ---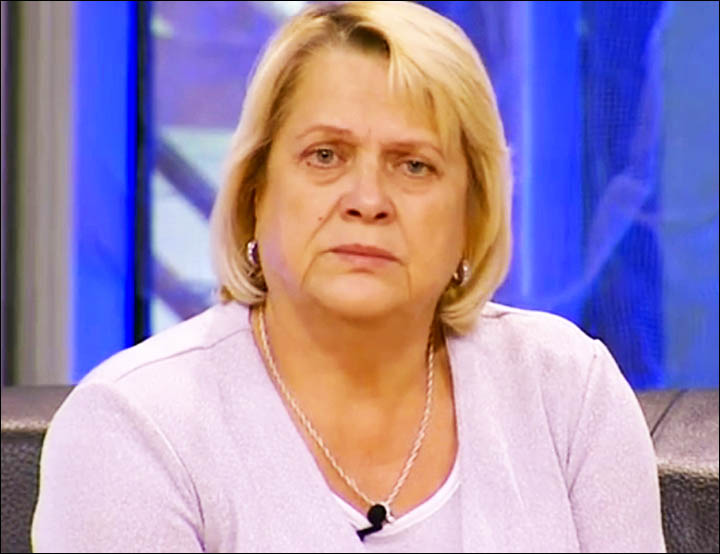 'Naimat's first wife, Irina's blood mother tries to console Irina. Below, midwife Nelli Prokopyeva who delivered both girls. Pictures: Channel One
During the TV programme, Naimat's first wife suddenly appeared, Irina's blood mother.
'She refused to acknowledge Irina, insisting the DNA tests were wrong and that Anna was her real daughter, which upset the girls even more,' said Yulia.
Yulia's first husband again apologised to her for suspecting her of cheating.
'He said 'sorry' for everything. But you know, he never actually asked to see Anna or go for a walk with her which was also painful,' she said.
Yulia felt it essential to try to prosecute the hospital for negligence; Naimat was against it, feeling it could not change anything.
'Yulia initiated that law case against the maternity house. I was against it - I hate being in the spot light, I hate making my personal life public. But she was adamant to do something to punish the doctors that in the end I joined her and also filed my complaint to the court.
'I still think that it won't bring us anything. I saw that chief doctor, who was in charge of the ward in 1998, on TV. She had been crying and saying she couldn't even remember the case. What would it make to her life if we were to jail her? It's not going to wind the clock back - why then to make her suffer?'
Yulia said: 'On the TV programme we met Nelli Prokopyeva, 63, the chief midwife who delivered our girls and was responsible for tagging them. I shouted at her: 'How can we live after what you did?'
'But how can I blame her? She cared for so many mothers and their babies in 41 years of work, and in one fleeting moment she put on the wrong tags'.
Some months later, the cultural differences between the families spilled over and Yulia expressed her exasperation in the media.
'Anna is the nanny for her younger sisters and a devoted daughter, and grows according to the laws of Islam - with the obligatory daily prayers five times a day, and unquestioning obedience to her father,' said a Komsomolskaya Pravda story.
Yulia invited Anna for New Year, the time when the family would normally give Christmas gifts.
She was quoted saying: 'My daughter dropped her eyes and murmured that to celebrate the holiday for Muslims a sin, that she will not go to heaven. How was I supposed to respond?'
She added: 'He wants to continue to educate my child under the strict religious rules and that's why our communication is now reduced to a minimum.'
Yulia explained further: 'I understand that you cannot forget about 12 years of life. The child grew up according to certain laws.
'But if fate turned this way we should find some compromise. She needs to be taken care of, needs to learn. To read good books, talk to people. She's never been in a cinema, can you imagine? The swimming pool is forbidden; contacts with other kids is reduced to a minimum.
'Sometimes she asks such naive questions that seem not a teenager, but a five-year old'.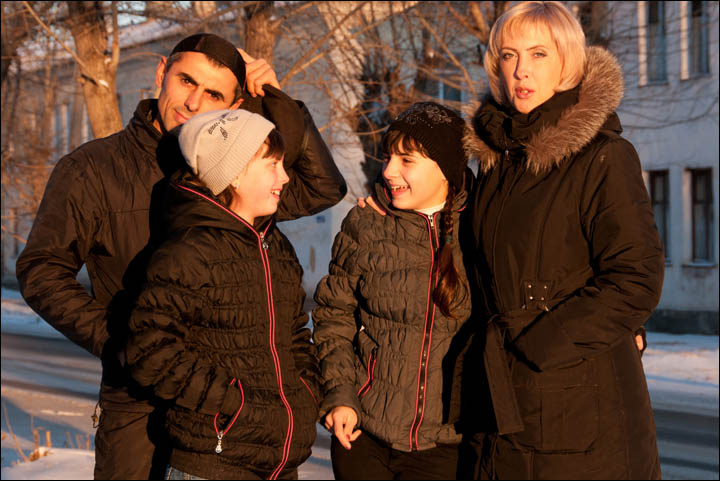 ---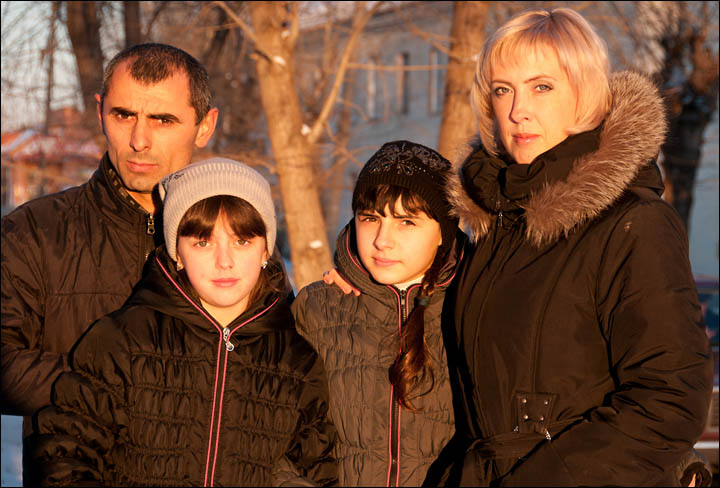 'On the TV programme we met Nelli Prokopyeva, 63, the chief midwife who delivered our girls and was responsible for tagging them. But how can I blame her? She cared for so many mothers and their babies in 41 years of work, and in one fleeting moment she put on the wrong tags'. Pictures: The Siberian TImes
A further lurking fear haunts Yulia. It is that Naimat's family will move to Tajikistan, making her access to her blood daughter extremely difficult, and immersing her completely in a Muslim world. There have been some hints that this is likely.
Another is that it is the tradition to marry young - as early as 16 - like Naimat's first wife. What's more, the marriage could be an arranged one.
'The last thing I want is to see Anna became a wife at the age of 16, to give birth to a bunch of kids and bake cakes for her husband,' she said in the newspaper.
'I was told that in Tajikistan, a girl is a good investment in the family, even though it sounds horrible. And no-one asks about her desire to marry, the family just arrange her marriage and that's it.
'A Russian girl, brought up by 'their rules' is generally of a great value. I do not intend to surrender on this. I am a mother... I am not going to give away a single day or hour of my communication with my daughter.'
These words were expressed in January 2012, some six months or so after their first meetings.
Now, another year on, things have calmed again, and some compromises made, according to both Yulia and Naimat.
'Yes we meet regularly with Yulia and Irina,' he said.
'The last time we met was two weeks ago, and sometimes we just talk on the phone. We celebrate the girls' birthdays together. But we don't travel or spend holidays together.
'First of all we live in the different villages and the second thing is that we have different cultural background, different religions and beliefs.
'We are just different, but that doesn't prevent us from communicating and spending time together.'
Anna had been in hospital in the past year and Yulia said she visited her every day.
'For me it's very important to be a part of her life and I try to be there for her when she needs, especially when she's ill,' she said. 'But I try not to intrude in their life, so for example I don't give her any tips of what to wear or how to behave.
'The Muslim culture is very different and as she dresses and behaves according to it, I do not want to go against their traditions.
'What can I advise her when I see her in Tajik traditional dress? Not to wear it? It's pointless. Anna doesn't come to me for some personal advice, but I don't think it's because she doesn't trust me. It's mostly that girls of her age have their own secrets and Ira doesn't share her secrets with me either. It's normal.
'We don't talk about the future yet. At first, I was really worried that we can't decide some things because of cultural differences. I mean how can we talk about Anna's future if all Tajik women just get married at the early age and then cook food for their family for the rest of their life?
'But if that's what Anna chooses for herself, I will not go against her will. We decided not to think too much ahead and go with the flow'.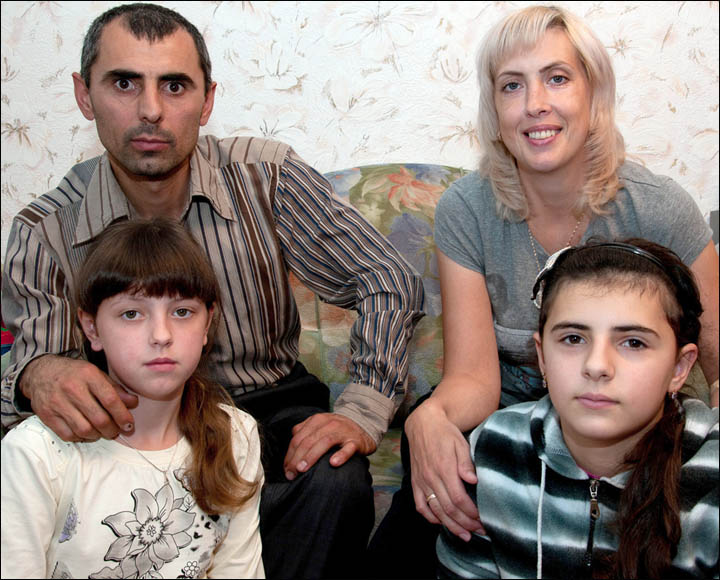 ---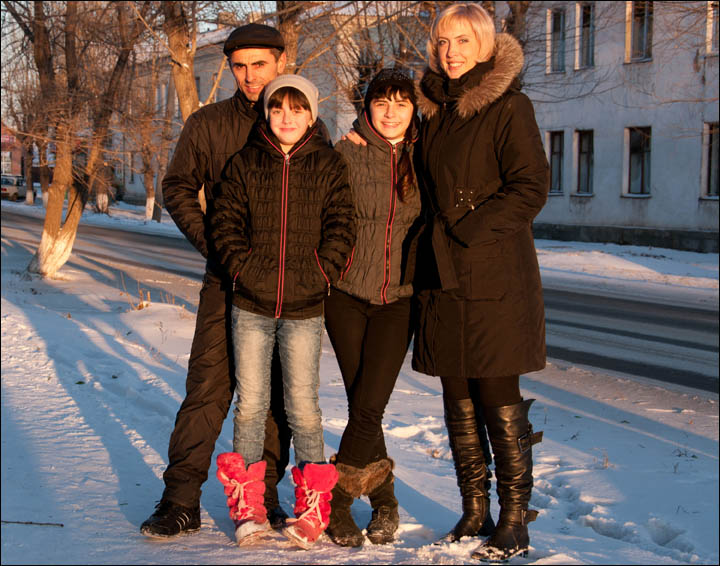 'We try to meet up all together at weekends, going somewhere like the skating rink or parks so the girls can spend time with us'. Pictures: The Siberian TImes
'The girls are in the seventh grade now so they still have time. Ira for instance still doesn't know what she wants to do later, whether she wants to go to college or not, and we don't want to push her. I don't think Naimat thinks much about her future. He knows she has been brought up in a different way. His problems for now are concerned with buying enough potatoes for the family.
'So I decided not to provoke problems and just try to spend as much time with the girls as possible.
'Maybe not telling Anna what to do but just to be there for her when she needs help and to guide her with my personal example.'
While they were awarded six million roubles each (around $200,000), this compensation has not been forthcoming because the maternity hospital has no money. She still hopes this compensation will be paid.
'We are doing as well as we can. Anna visits us often and Ira goes to visit Naimat's family too.
'We try to meet up all together at weekends, going somewhere like the skating rink or parks so the girls can spend time with us.
'The girls have became friends. Yes they argue sometimes like any girls of their age, but then it's fine again. I'm glad that we have worked it out. As to the cultural differences what can we do about them but try to cope?
'We are already in this situation and we have to make it work for the best of both girls.
'But yes, of course it was and sometimes still is stressful for the girls.
'Imagine learning such news when you are adult. It's hard.
'And it's even harder when you are a child. But all things considered, we are all doing as well as we can'.