Sergey has enjoyed stunning success as a photographer, so it is a surprise that his love affair with the camera is a fairly recent pastime. A radio engineer by training, he lives in the city of Salkhard which straddles the Arctic Circle in the far north of Russia.
His work has featured all around the globe - notably in National Geographic - and he is the organiser and president of the International Photography Contest Global Arctic Awards, which unites leading photographers of polar regions. While he has chronicled other kingdoms of cold, it is the Yamal peninsula in in Siberia, on his doorstep in Salekhard, that he is most famous for photographing.
Bordered by the Kara Sea and the Gulf of Ob, Yamal extends almost 700km and its indigenous inhabitants are the Nenets people. This pristine wilderness is also Russia's biggest gas producing area, and crucial to keeping Europe warm in winter. In Nenets language, Yamal means 'the end of the world'.
'It was ten years back in 2004 that I took the camera in my hands. I bought a cheap digital camera and was the first one here to photograph the deer herders with it,' Sergey says. 'They had never seen a digital camera before and were amazed at the small box that you could take photographs with, and then instantly show you the picture. I never studied to be a photographer, but I think the fact that I attended the art school as a child helped me to understand the composition of the picture, and see the colours.
'Yes, I had a film camera before but the only things I was photographing were holidays, New Year celebrations, birthdays, and the like. But when I bought a digital camera I started taking pictures of nature, of something very simple, the things I saw around'.
---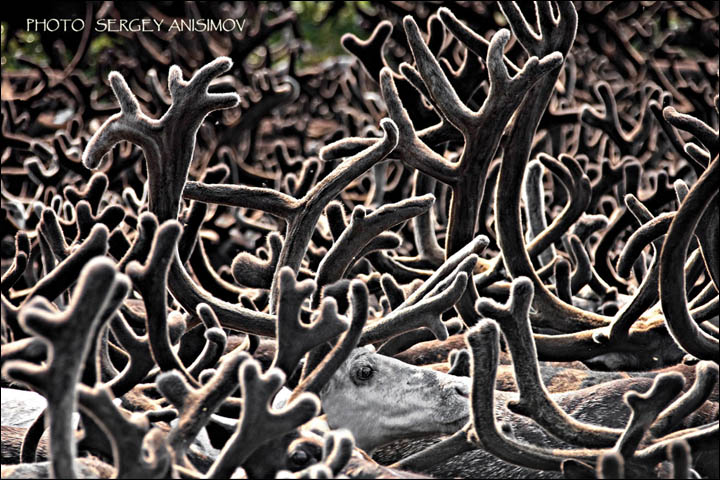 'Before I started photographing, I had never travelled around Yamal. This year I'm celebrating 30 years in Salekhard. I was sent here to work just for three years, but met my wife and stayed - and all through the first twenty years of our life here, I never travelled around.
'I remember when in 2004 I went to see the Deer Herders Day festivities for the first time. The cab driver took me to one of the villages and I saw a deer for the first time in my life, and the the Nenets people in their traditional clothes'.
What happened next gives hope to all who would love to become photographers. 'Photography helped me to learn about Yamal,' says Sergey, sitting in a computer store he runs in Salekhard. 'First I was photographing just for myself, but later I wanted to share this beauty with people.
'I took a dozen pictures and brought them to a photography contest and realised how poor they look compared with the other works. My ambitions were broken but at the same time I realised that I want to photograph the way real photographers do. So I started taking more pictures, reading online on what are the typical mistakes that photographers make, analyzing my works and mastering skills so that in two years I could present some stronger images.
'But when I brought pictures to the contest's jury, I was told that there's no contest anymore'.
'My friends looked at my works and talked me into making a personal exhibition and that's how it started. At first people were suspicious, though, that a local businessman had another hobby. No one thought of me as a photographer. But when I came to the exhibition hall and started putting up my works all the people who saw them started helping me out. And the next day I woke up famous.
'I still needed five years to master my skills, and I have to say that even now I do not know how the perfect pictures are made. It's done by intuition.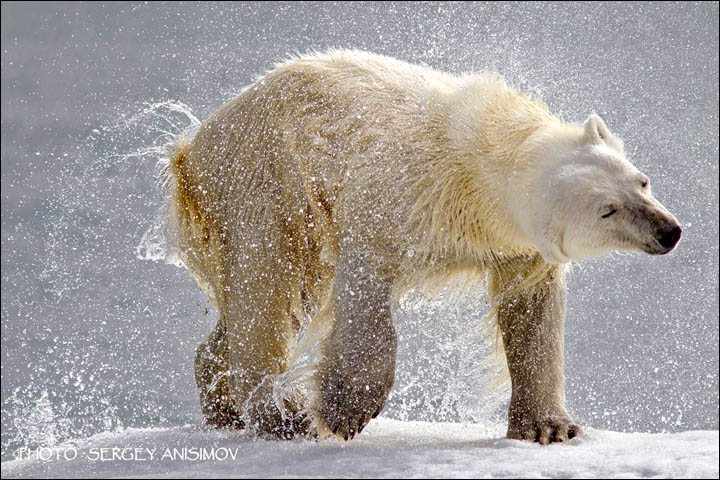 ---
'There's only one secret - practice. You know this joke? I tell my wife that I'm going to spend the night with the lover and tell the lover that I'm going stay home - but meanwhile I go out and take more and more and more pictures'.
A good pictures, Sergey says, 'is an equal amount talent and good equipment. But this is still not enough. You need that gift from nature. You need to be in the right place at the right time. These three things guarantee you the stable good result and this is something one needs to aim for.
'Talent never comes without practice. You can't learn how to take pictures sitting on a sofa - you need to travel.
'I have also found that when I do not take pictures for some time, the first couple of day during the journey the pictures do not come out well.
'A long and expensive journey might not give any results if I do not practice for half a year. But the next trip after that gives brilliant results.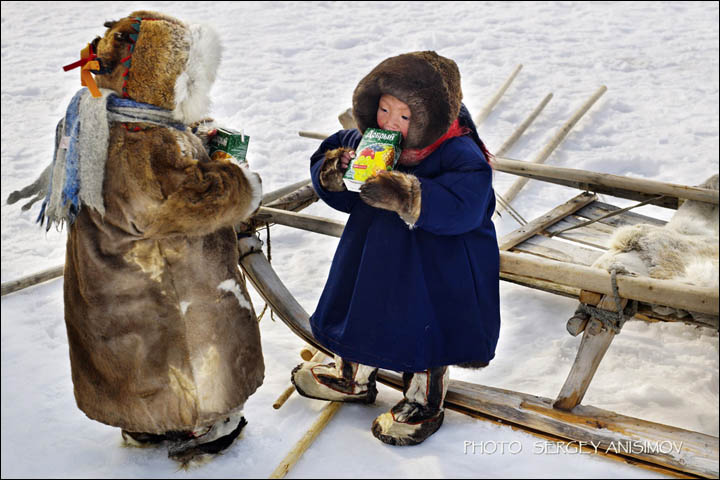 ---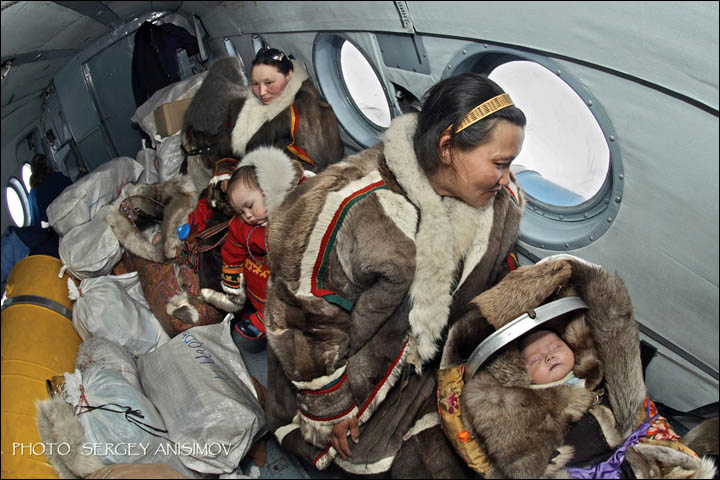 ---
'Yamal is a very interesting place. On one hand we produce 90% of Russian gas and are in the top of the industrial ratings. On the other hand there's a parallel universe - it's the local people, who have been living here for many centuries, and never changed their life. They still don't want to change anything despite civilisation 'making life easier'.'
Photography has brought Sergey close to them. 'They are amazing people, very strong-spirited. They live alone, never in villages does just one family attend to the herd of deers. Sometimes when there are too many deers, two or three families unite, but they do not live a collective life. And it's hard to imagine how they survive all alone in the tundra. They are very inventive and resourceful, they will never throw anything away.
'And the Nenets people are so hospitable, even if they do not know you, they will still take you inside the 'chum' and treat you to some tea.'
The 'chum' - the nomadic home - is usually made of reindeer hides sewn together, wrapped around wooden poles, positioned in a circle. A fireplace is in the middle, smoke escaping through a hole in the top.
'They are very hardworking. One family can attend to some hundreds of deers. It is a 24/7 work day. Men take care of the deer, but women attend to the 'chum' which includes cooking, cleaning, taking care of the kids, chopping wood, even putting up and moving the 'chum'.
'I am amazed at this capacity for hard work. Nowadays they could have sold the herd and moved somewhere else, but they do not give up on their traditions and are not scared by the difficult work'.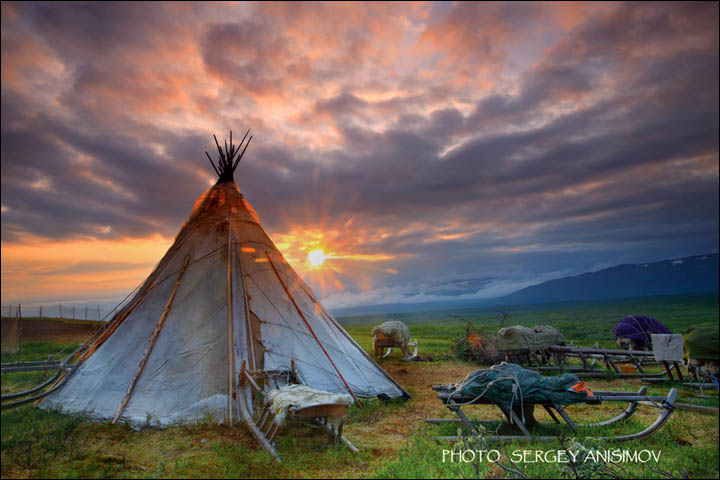 ---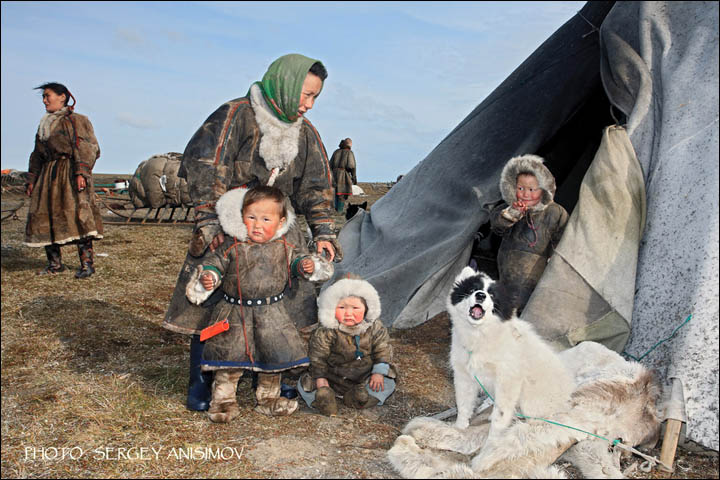 Sergey's admiration and love for Yamal fires him up in his photography, bringing images of Yamal to the outside world. One cannot help falling in love with this land after seeing his photographs. He is changed, too, by his unique experiences here on the roof of the world.
'When a person sees something unusual, his inner world changes, all the failures are forgotten.
'I'm not a studio photographer, but I think when you shoot in a studio, you need to expend energy, but when you shoot outdoors, you receive a lot.
'From each trip I come back being a different person. Contemplation of beautiful nature and watching interesting moments in the life of animals helps me to recover, become better and kinder.'
You can see more of his work at Sergey's personal website: anisimov-photo.com
He has travelled, too, to Greenland, Spitsbergen, Wrangel Island, Canada and Norway - but for him Yamal is the most magical.
His infectious enthusiasm led him to create the contest Global Arctic Awards.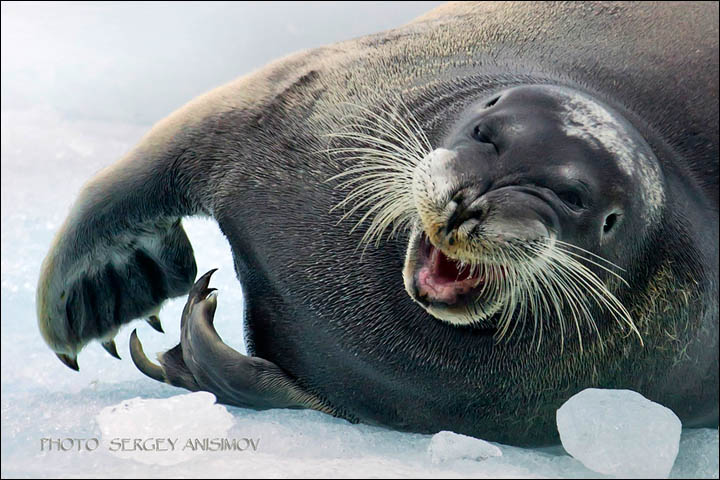 ---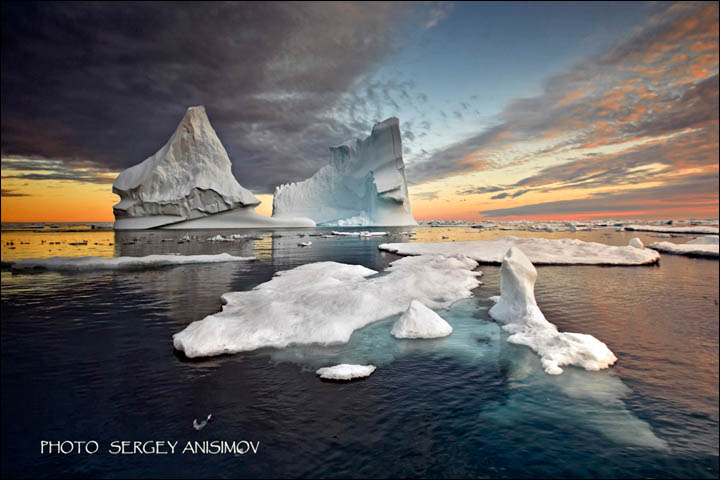 ---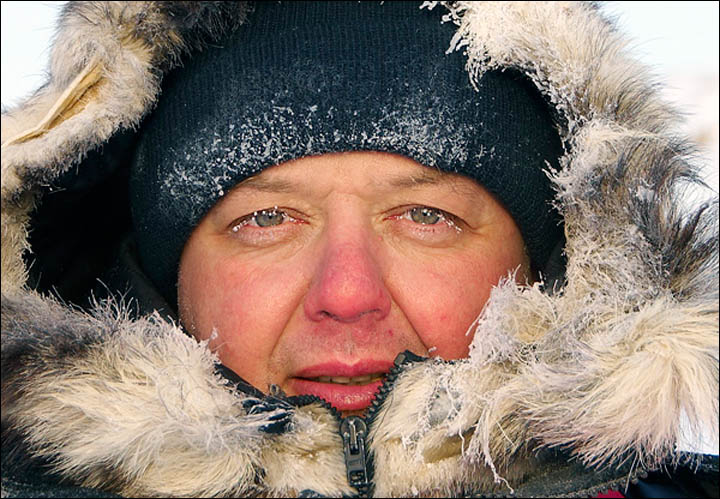 'Arctic has some magnetism and it's very close to Yamal. When I travelled in the Arctic, I met a lot of other photographers. During the past two years photographers from the 40 countries in the world took part in the contest. We are getting a grant now from the Russian president, it should be coming soon.
'Our contest's motto is 'Photographers of Arctic for a clean Arctic'.
'I can't say that we fight for this but we would like to attract the attention that the Arctic is so beautiful that we would like it to be preserved and not spoiled.
'The development of the Arctic is needed for our country but we have to think twice before we start making certain steps. Not all the technologies are tried in the severe Arctic conditions and one single break down can change the whole eco system'.