We are motivated not to apportion blame but to understand if lessons can be learned for other aspiring models at a time there are many Russian teenagers in demand on Asian catwalks. Picture: Vlada Dzyuba
New facts have emerged about the final days and hours of the Perm catwalk star as her Chinese modelling agency say her death, far from being due to overwork highlighted by a 13-hour assignment on the day she became ill, was caused by a critical infection and was not 'avoidable' .
The agency ESEE Model Management via its PR representatives has criticised the Russian and international media - including The Siberian Times - for 'twisted' reports on her tragic death.
Here, we try to set out the circumstances as now known that ended with the death of this teenager at 7.36 am on 27 October, a long way from home and her family, to let our readers understand what happened.
The case is now the subject of a criminal investigation into Vlada's suspected 'death by negligence' by the Russian Investigative Committee which is seeking help from the Chinese authorities.
Her parents and others involved at the Russian end have been quizzed already.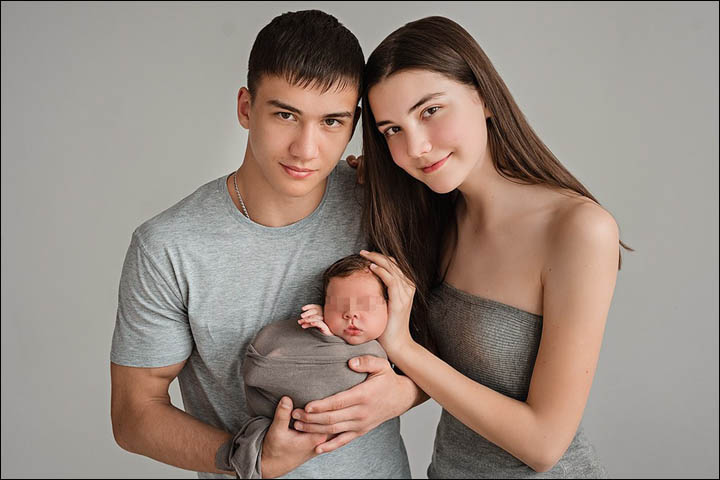 Vlada with her eldest brother Kirill and newborn sister. Picture: Oksana Dzyuba
We are motivated not to apportion blame - it is anyway sadly impossible to bring back this Russian girl - but to understand if lessons can be learned for other aspiring models at a time there are many Russian and especially Siberian teenagers in demand on Asian catwalks.
The account below raises a number of questions but one thing is abundantly clear: Russian models working in China MUST in future make sure they have medical insurance.
As the story broke on 27 October, the day Vlada died, the initial reports reaching many media in Russia suggested the underage model had been suffering from meningitis and was exhausted in arduous conditions and in particular a 13 hour long assignment before she became ill.
By 29 October, we reported that the agency had clarified - based on the official cause of death from the Shanghai hospital that treated her - that Vlada was suffering from septicaemia, 'a type of blood poisoning... with multiple visceral organs damaged, liver dysfunction and renal insufficiency'.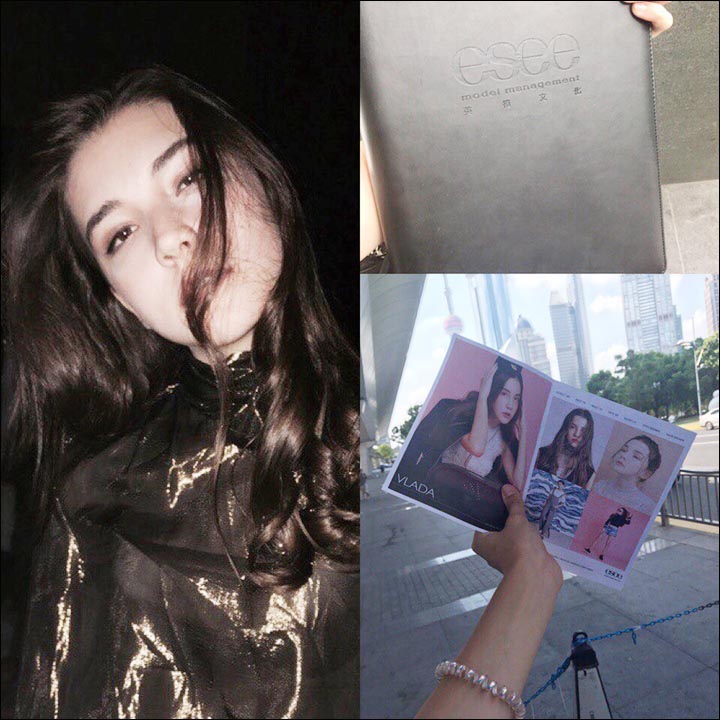 Vlada was happy to start working with ESEE. Picture: Vlada Dzyuba
This condition may well have led to the extreme tiredness Vlada complained about but there are doubts over the meningitis reports, although the results of final tests are still awaited.
So what happened in the build up to Vlada's sad death?
On 23 October, this girl arrived for an assignment in Yiwu, a city in central Zhejiang Province, in the evening and went to a hotel to rest. She was reported to have been some two months into a three month contract that left her school life in abeyance.
Her modelling agency say the following day, 24 October, after breakfast 'and going for (her) job assignment, she began to feel unwell in the evening'.
She worked for about eight hours the next day and took three breaks during the session, reported authoritative newspaper The South China Morning Post (SCMP).
This seems less than the 13-hour session reported by various media, including us.
Vlada at the catwalk on Shanghai Fashion Week. Pictures: Oksana Dzyuba
Yet as the agency's spokeswoman Michelle Chien noted that her full day on 24 October did indeed last 13 hours from the moment she reported for work, and the time she left, although these included breaks.
'Regarding her 24th (October) job, she began to do makeup from 8 am,' she told us.
'After one and half hour make up she start shooting, then lunch + rest 50 minute, dinner + rest 50 minute, besides there are another 2 breaks, each time 30 minutes for changing the lighting and scenery,' she said by email. She left the studio around 9 pm.
'So what I want to emphasise is that her actual shooting time of this day is around 8 hours' - even if she was on the assignment for 13 hours at work.
The agency insist she began to feel ill after the work day was over.
Ms Chien said it was 'in the evening' that the first indications emerged that she was sick, without specifying a time when she became ill. Separately, she said it was 'after few hours in the hotel, she started to feel ill'.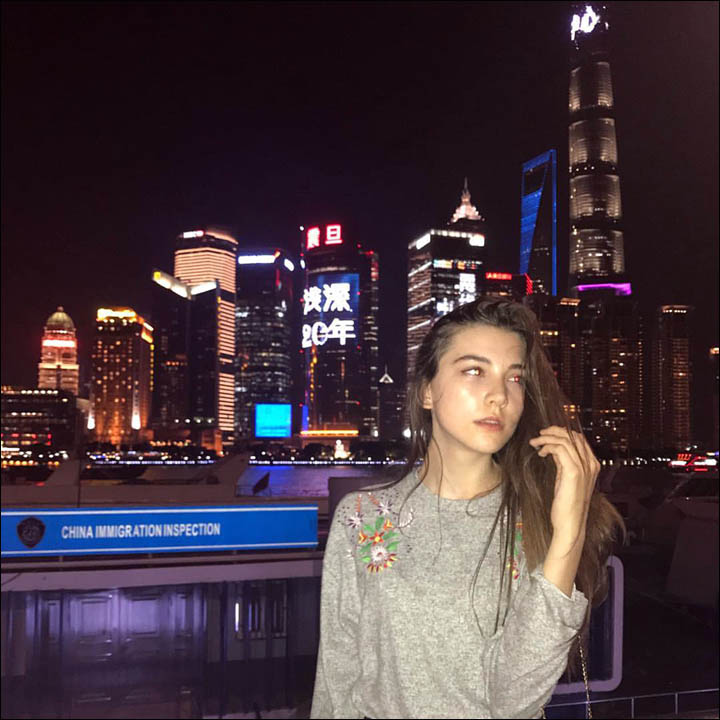 Vlada in Shanghai. Picture: Vlada Dzyuba
She also claimed: 'It was not true that she fell sick during ... (her) job.'
The timing does not seem too exact here but whatever the case, she was noticed as being ill around two and a half days before Vlada died.
Exactly how late at night this was is unclear from the available statements, but the spokeswoman indicated the agency did have time that evening to abort her appearance next day.
'Our manager decided to cancel her job next day' (a second day on the same assignment in Yiwu), she said. 'In the morning, our manager sent her to the high speed train station.'
The agency 'let her travel alone' because 'at that time she only said that she felt'not well".
So on 25 October, too unwell to work, with what later would be diagnosed as serious - indeed fatal - blood infection, the girl travelled alone by high speed train on the 300 km journey to the train station in Shanghai and from there went to the apartment that had been rented for her.
Vlada poses for catalogues in Sjanghai. Picture: Oksana Dzyuba
By this point, there seems to have been no move to consult a doctor or take her to a hospital.
And yet, for those caring for her, would this have not been a responsible course of action?
Could this failure to have sought urgent medical advice have been because she did not have health insurance?
Back in Shanghai, Vlada made it to her apartment, but by the afternoon 'she didn't feel good', according to Ms Chien.
Around this time Vlada spoke to her mother, although a Russian criminal investigation - which has seized records of all calls - will be in a position to determine the exact moment of this call or calls.
Vlada's grandmother Antonida Gorbanyuk, 69, remembers all too clearly one phone conversation between her daughter Oksana, the model's mother, and the 14 year old.
'I myself heard Oksana talking to her daughter on the phone the day she felt bad in China,' she said. 'Vlada complained that she was not feeling well, that she had a fever and was sick.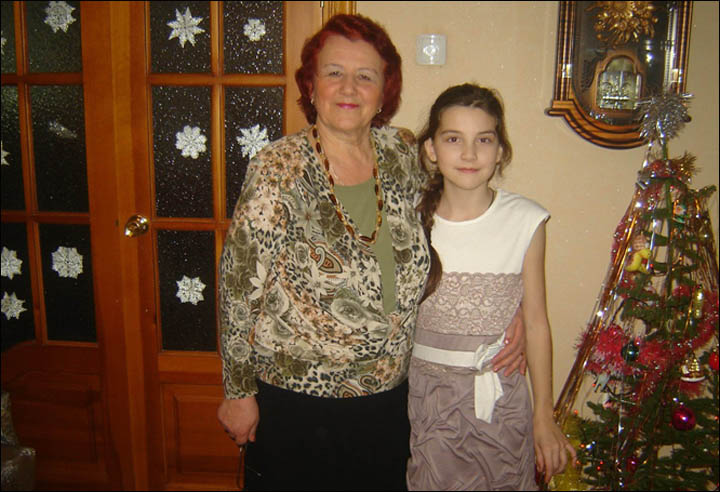 Vlada and her grandmother Antonida Gorbanyuk. Picture: Antonida Gorbanyuk
Oksana said her to take aspirin - Vlada had pills with her, which she brought from Russia.
'Vlada took this (medicine), and after a while again measured her own temperature. It was above 39C (102F).
'Oksana told Vlada to urgently call an ambulance.'
It was unclear from the grandmother's account who - if anyone - was by the side of the 14 year old at this time.
Could the 14 year old in a foreign city be expected to just 'call an ambulance'?
'This was their last conversation,' explained a grieving Mrs Gorbanyuk. 'My granddaughter did not answer her phone any more. Now all their voice messages have been seized by the investigators, and will be studied.'
That Vlada's mother had been concerned at her daughter's condition is clear from her her own previous comments.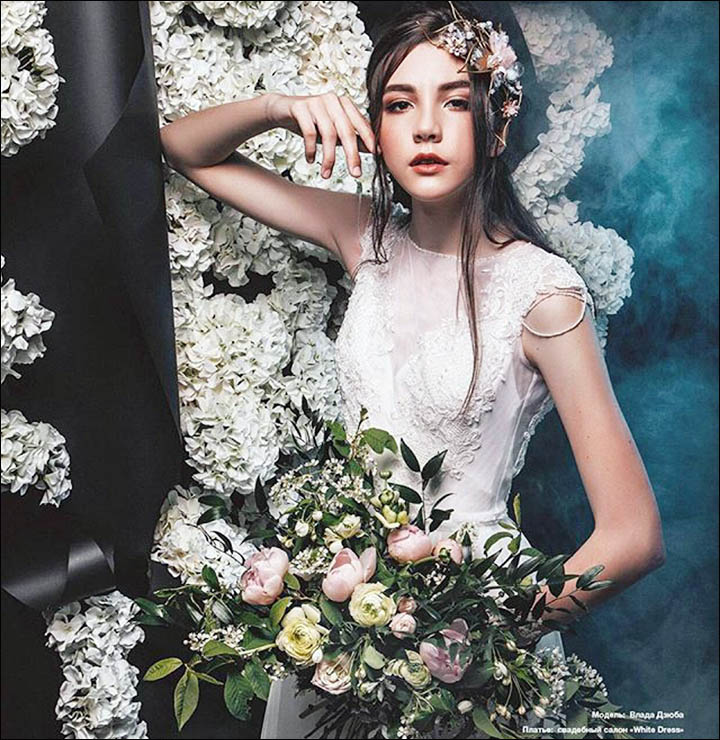 Vlada poses in a wedding dress for her mom's magazine. Picture: Oksana Dzyuba
Of course, many people might feel this mother should have been by her daughter's side in Shanghai, but Oksana has a young baby and did not travel on this trip with Vlada.
'She was calling me, saying 'Mama, I am so tired. I so much want to sleep',' said Oksana. 'It must have been the very beginning of the illness... And then her temperature shot up.
'I didn't sleep myself and was calling her constantly, begging her to go to hospital.'
Despite this, the modelling agency account is that Vlada 'didn't want to go to hospital' on the afternoon of 25 October.
'Maybe like other kids, she was afraid of hospital,' surmised the PR director.
This may be right.
Or was Vlada scared that she didn't have health insurance and had no money to meet possibly huge medical bills?
And did the lack of medical insurance somehow delay her treatment?
Yet by now there was plainly real concern over the girl, because the modelling agency took the initiative.
There was an understanding that this was an extremely serious illness.
'Our two managers then went to her apartment, and brought her to the hospital,' she told us.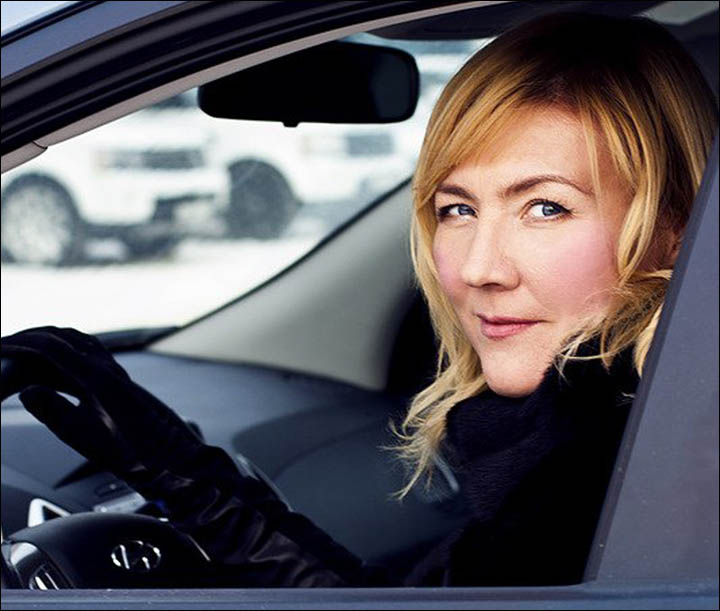 Oksana Dzyuba could not go with her daughter Vlada to China as she has a young baby. Picture: Oksana Dzyuba
'Vlada was taken to the emergency room of Shanghai Ruijin Hospital at around 6 pm.' she said.
Yet it seems from Zheng Yi, founder and head of ESEE agency, that the emergency room was not the first stop when Vlada was eventually taken to hospital.
'There were red spots on her body. So we at first sent her to the dermatology department for a check,' he said, according to The South China Morning Post.
This was despite his own observation that 'at that time she was vomiting, had a headache and couldn't stand by herself'.
For a model, her skin is important, yet was the dermatology department the obvious place to go?
Hospital blood tests showed her condition was serious and she was then immediately sent to the intensive care unit, he said.
By now, the concern over her is shown by the fact that a decision was taken to immediately contact the Russian consulate.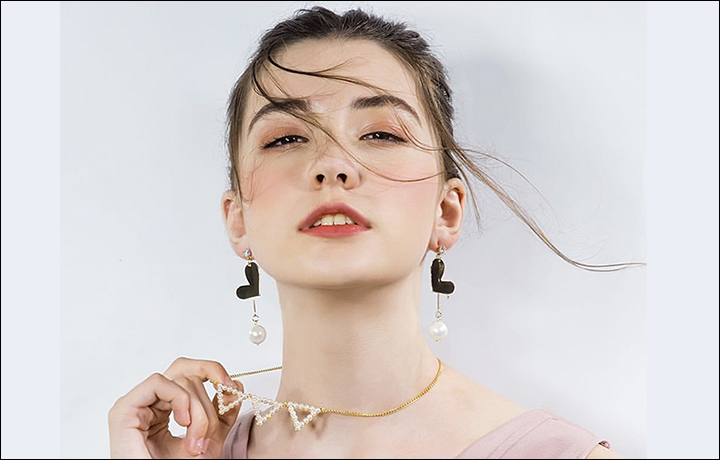 ---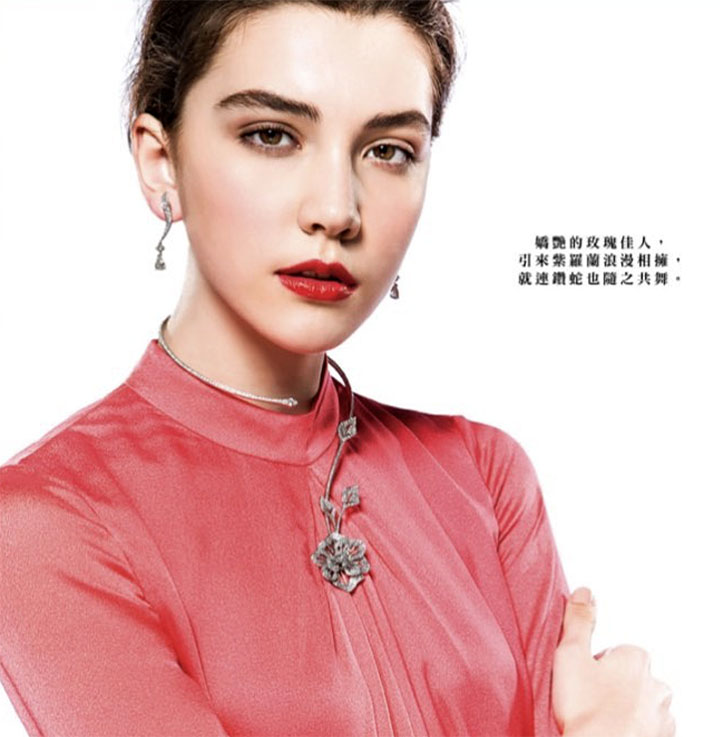 ---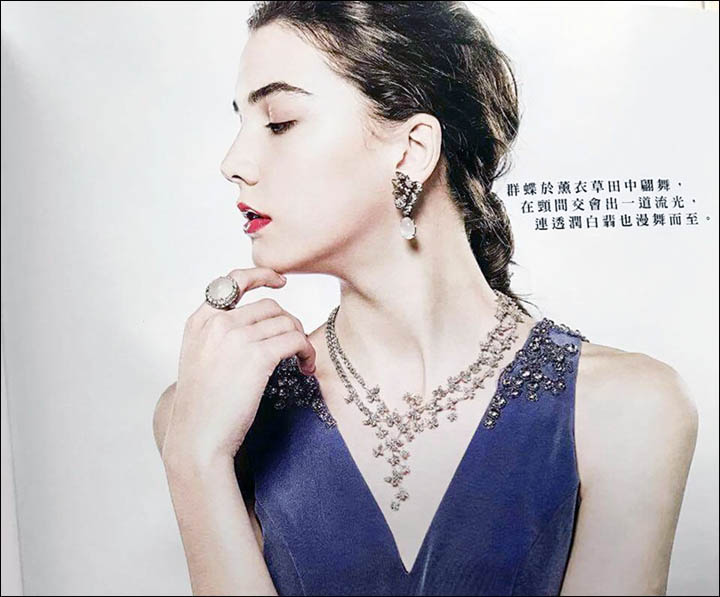 As the agency's spokeswoman Michelle Chien noted that her full day on 24 October did indeed last 13 hours from the moment she reported for work, and the time she left, although these included breaks. Pictures: Oksana Dzyuba
'During this time the agent had informed the Russian Embassy personnel,' said Ms Chien.
The following day - 26 October - consular staff arrived at the hospital accompanied by local police 'to inquire about the situation'. At this point, Vlada's lack of medical insurance appears to have worried both the diplomats and the agency.
Valiantly, the consular staff tried to raise money from Russian expats in Shanghai pay for her treatment.
To its credit, and without obligation to do so under the contract Vlada and her representatives had agreed, the modelling agency also stepped in, paying 50,000 yuan (US$7,500) in advance.
This, we are told, was for intensive care treatment.
On Ms Chien's account, it was only after the visit from the consular staff on 26 October that Vlada 'was taken to intensive care because of her deteriorating condition'.
'At 7:36 a.m. on the morning of 27 October, Vlada died tragically due to her infection,' said Ms Chien.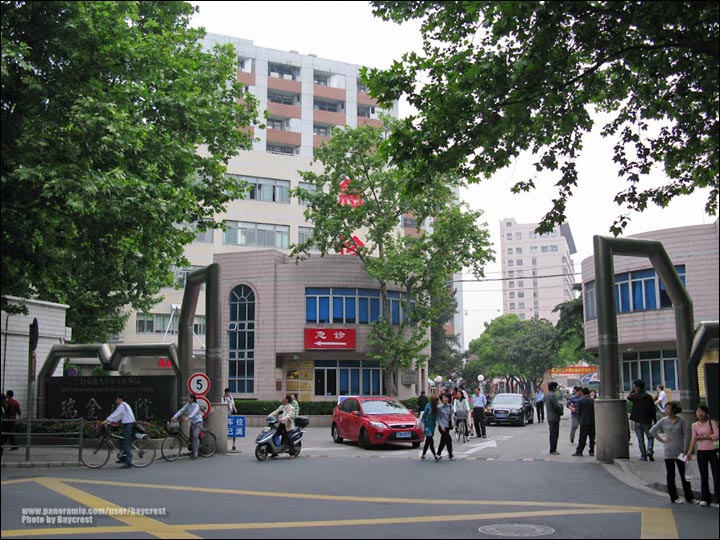 Shanghai Ruijin Hospitald. Picture: Baycrost
Concerned 'executives' from the agency had 'remained in the hospital throughout Vlada's illness and after her passing' - and were in 'active communications' with the St Petersburg agency that acted as a link in the chain to the girl's assignment in China.
Her family were informed of Vlada's death.
******
Soon - perhaps this week when she would make marked her 15th birthday - Vlada's body will be returned to her home city of Perm so she can be buried in a wedding dress, recognition of the fact that she will never be a bride.
Earlier, her family were reported to have been unable to afford to fly her back from China. They had resigned themselves to burying only her ashes.
Now donors have been found and her mother cancelled a painful trip to Shanghai on which she would have supervised the cremation of Vlada's body.
Meanwhile, one question that must arise from Vlada's death is why she had no medical insurance.
Blame for this does not lie with the Chinese agency.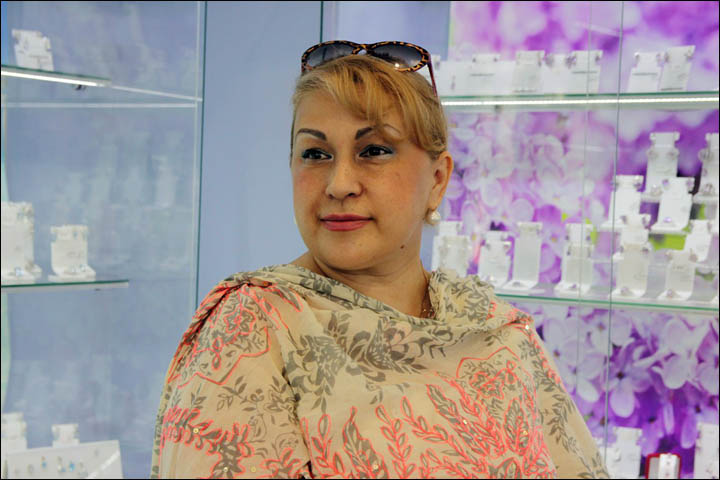 Elvira Zaitseva, head of the Perm agency. Picture: Elvira Zaitseva
The contract signed between ESEE Model Management and Smirnoff Models, St Petersburg, which represented Vlada, could not have been clearer.
It states the model 'is responsible for obtaining international health insurance prior to arrival' in China.
Why didn't she have it?
This is a crucial question for her parents along with agency Smirnoff - headed by Dmitry Smirnov - and possibly a Perm agency with which Vlada was registered.
Elvira Zaitseva, head of the Perm agency, said: 'The mother of the girl herself found an agreement for her daughter in Shanghai and signed it with the Chinese side without our participation.
'Oksana told me that they collected all the documents for the trip, but I did not check them, of course. Dmitry [Smirnov] was their personal scout, he is a very experienced agent, and has been working in the modelling business for 17 years.
'As far as I know, now he is also in China. I do not know what conditions were prescribed in the contract. Only Oksana, Vlada's mother, can answer these questions.
'But I know that an eight-hour working day is usually negotiated. I'm sure that Vlada's death is an eerie coincidence. I hope that soon everything clears up.'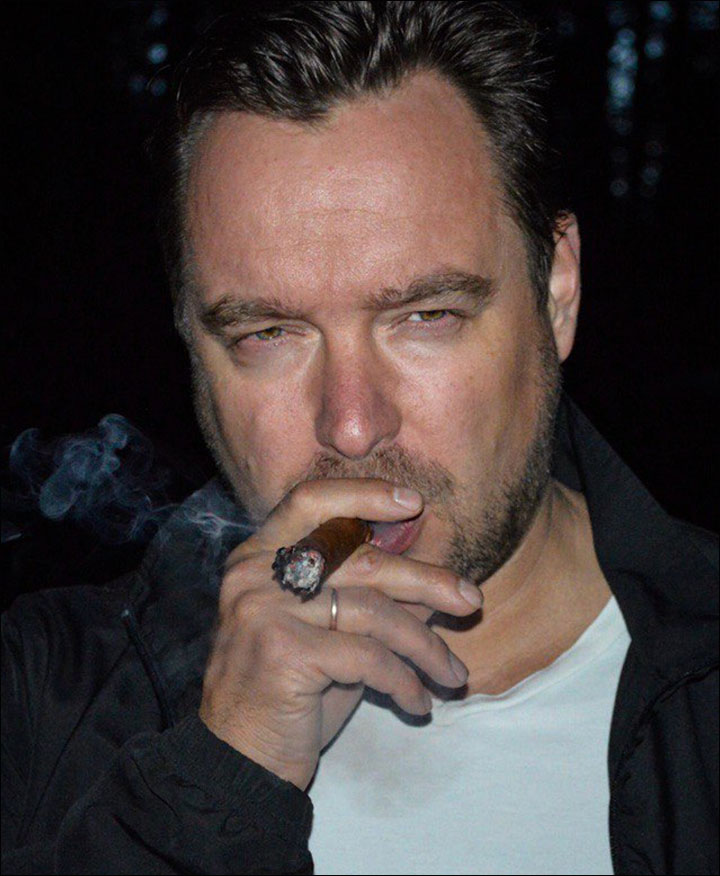 ---
Dmitry Smirnov was their personal scout, he is a very experienced agent, and has been working in the modelling business for 17 years. Pictures: Dmitry Smirnov
Smirnov stated in an email to ESEE that Vlada's mother knew the Chinese agency was 'doing everything possible to save Vlada', but he has not explained the absence of health insurance.
No doubt this will be one aspect for the Investigative Committee. And worryingly it seems Vlada was far from alone as a Russian model in China without health insurance.
Another Russian model, aged 15, who works in China via a different agency, said last week: 'My agency never issued any insurance, and I did not even know that it was needed. After what happened to Vlada, I will definitely buy an insurance policy.'
Alarmingly she admitted: 'Usually we work long hours. The longest working day I had lasted 21 hours. Then a short break - and again shooting.'
What she describes does amount to slave-like conditions with appalling hours, no health insurance and as a result a severely constrained access to medical help at the same time as many models appear to be working for minimal money.
But Zheng insisted Vlada's work routine did not fall into this category, even though the number of working hours was not stipulated.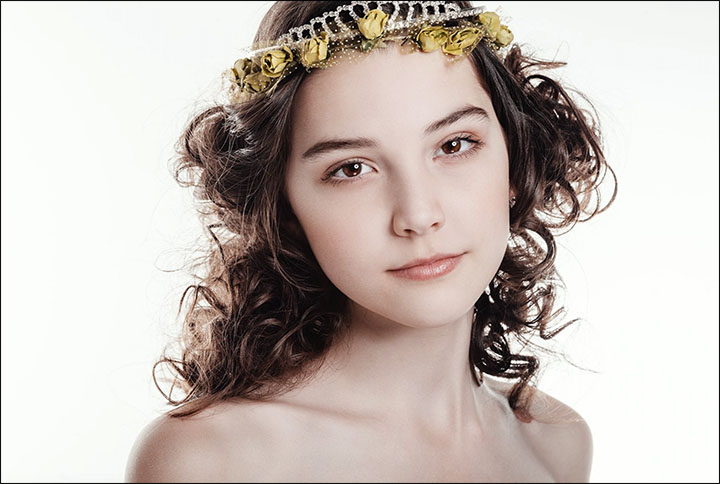 ---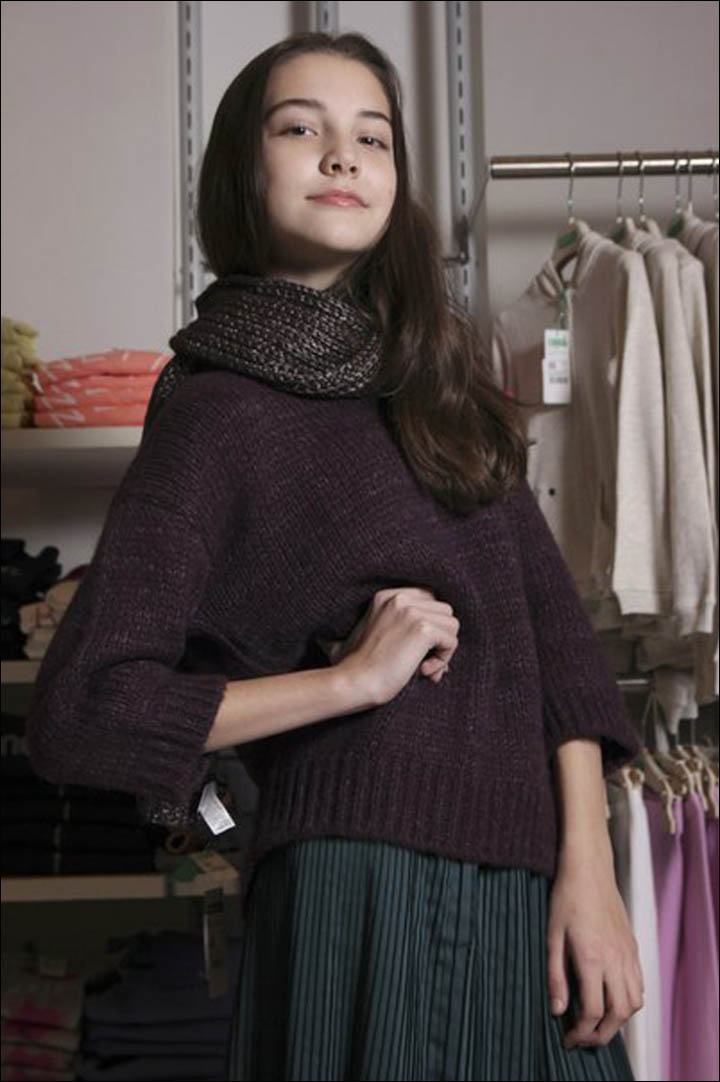 'She was dreaming about applying to an International Modeling Academy in Singapore after completing her 9th class.' Picture: Oksana Dzyuba
Dzyuba worked about the same amount of time as other models, usually between two to eight hours a day, and only twice during her 60 days in China did she work 10 hours in a day, he said.
Zheng said she had 16 events, with about 20 days of total work.
'Modeling work is not manual labour after all, just shows and photo shoots and making poses, and there are breaks,' he said.
According to ESEE, Vlada suffered from septicaemia, the invasion of bacteria into the bloodstream, leading to multiple organ failure and renal and liver dysfunction.
Ms Chien took issue with claims that her death was 'avoidable'.
She said: 'Until now all the information proved her death is because of that special illness. So we don't understand how the illness can (be) avoidable.'
Yet could an earlier doctor's visit, and antibiotics, have saved her?
Medical practitioners say this can be the case with septicaemia: it is not clear yet on the available evidence if it might have been for Vlada.
Why didn't she go to a hospital in Yiwu?
This is another question for investigators.
So is this: who is 'in loco parentis' for underage Russian models when they are abroad without their parents, other relatives, or teachers?
To us, this is really not clear from Vlada's case.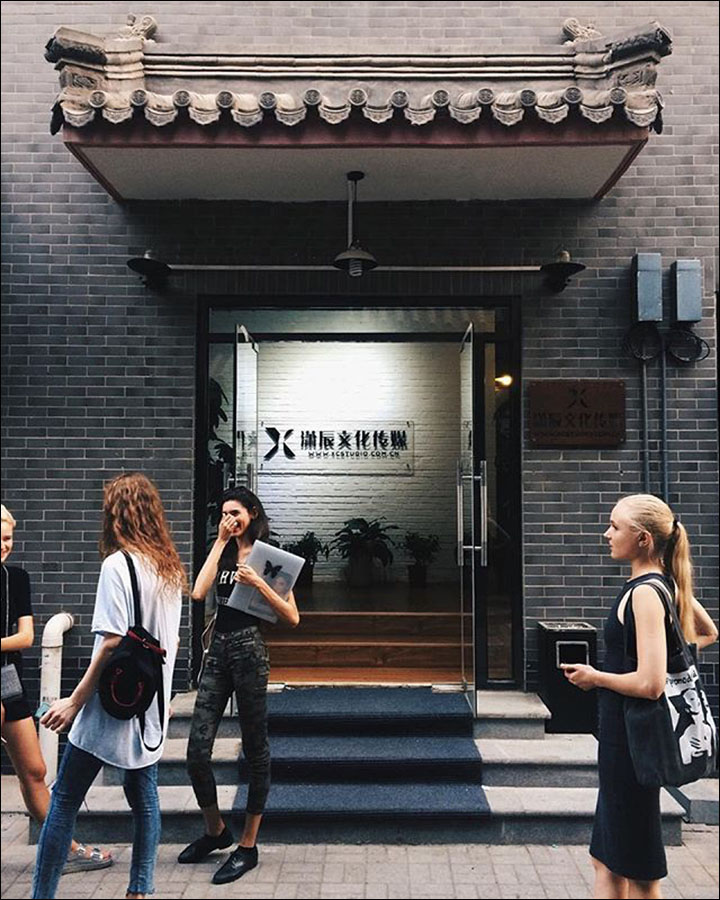 Russian models at the casting in Beijing. Picture: Ekaterina Gomzyakova
'We provide underage models with more care,' Zheng said. 'If they feel stressed, we will communicate with them.'
Yet the Chinese modelling agency also make the point that they have a contract with their underage models - which among other things stipulates the girls should not alter weight - but there are clearly defined limits for an agency that is reported to have more than 70 foreign female and almost 40 male models.
'Our relationship with (the) model is (as) an agency only. We offer work opportunit(ies) to models but we don't HIRE them,' Ms Chien told us (her emphasis).
Smirnov, meanwhile, evidently had no role in her day to day well-being.
He told TV programme Chelovek i Zakon that he brought together Vlada and the Chinese agency and after this 'his powers ended'.
After this, the show explained, she 'was controlled by her employers'.
Smirnov said: 'There was a manager from the agency constantly by her side, who controlled her work, respect for her rights and talked to clients... that is she was not cast adrift.'
The Chinese agency did not reply to our request to speak to the person by her side at the point when she became ill.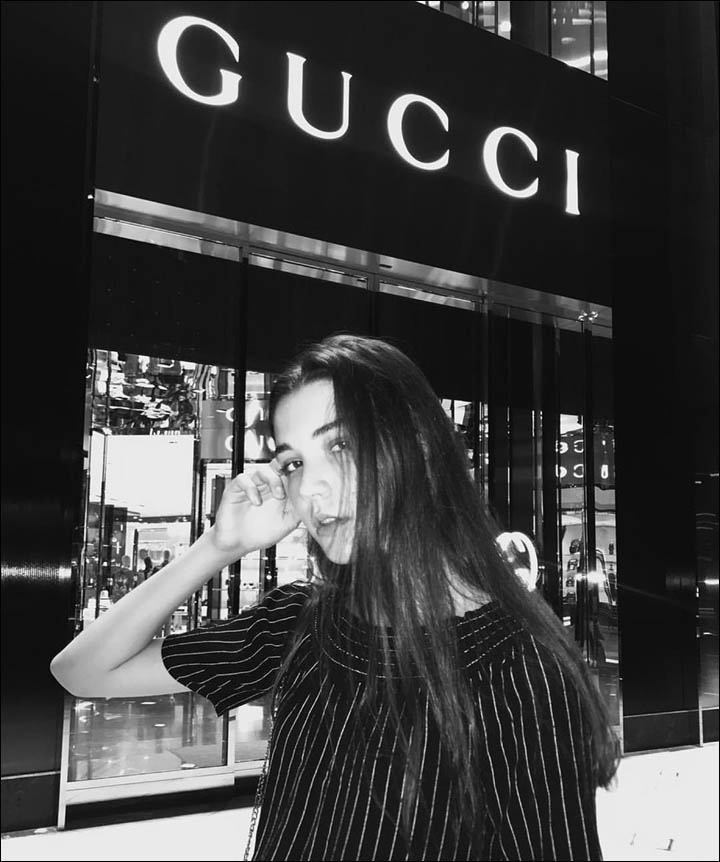 Vlada received about $8 a day, once the cost of her air ticket, accommodation, transportation and various agency fees were subtracted. Picture: Vlada Dzyuba
Worryingly, the programme claims that the 'manager' looking after Vlada did not speak Russian while Vlada had only started study English.
The TV programme asked the salient question: 'How could she explain that she felt unwell?'
And as Ivan Kargapoltsev, head of ITAR-TASS in Shanghai, said: 'Maybe she felt unwell for a long time, we can only guess.
'The only thing I can say for sure - there was not medical insurance and according to the agreement there should be an insurance and it was Vlada who needed to obtain it.'
We ask: had there been someone properly close to Vlada, with a real duty of care, might they have ensured she got to a doctor sooner?
Another question relates to the money earned by these models.
We made the point in a previous story that it appeared - during an earlier foreign modelling trip - Vlada received about $8 a day, once the cost of her air ticket, accommodation, transportation and various agency fees were subtracted.
The agency has declined to answer in a meaningful way our question regarding her actual earnings after all expenses on her final trip.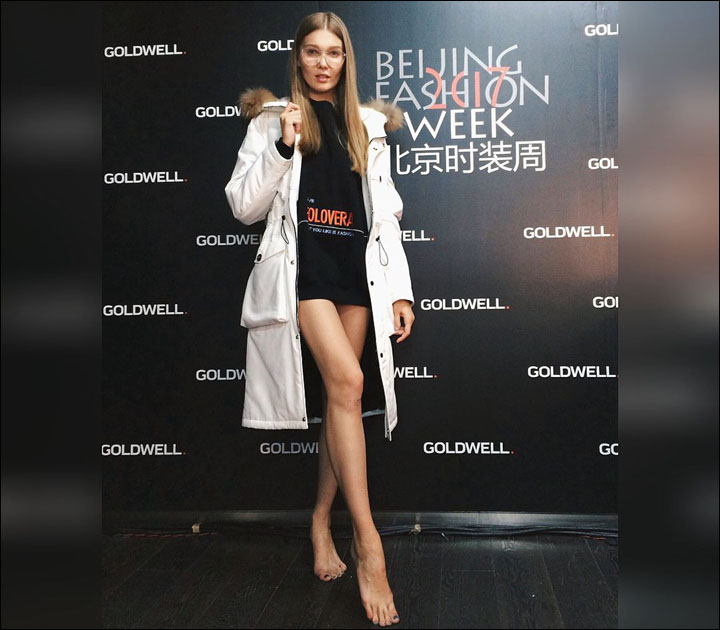 ---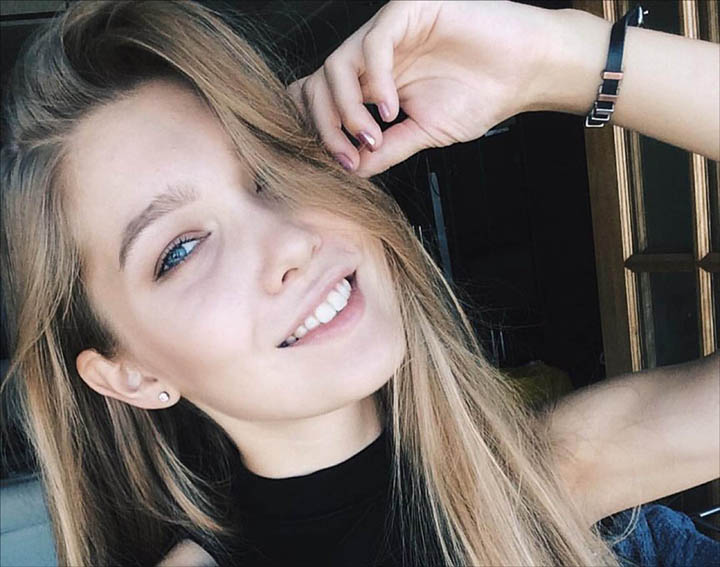 Ekaterina Gomzyakova, 18, from Perm, told about the work in China. Picture: Ekaterina Gomzyakova
Interestingly, Vlada, like other models, was under a legal obligation not to discuss her earnings, even among those taking part in different shows.
But other models admit that in search of catwalk success the pay beyond covering expenses for such trips - to make their names - can be negligible.
For example, another model from Perm, Ekaterina Gomzyakova, 18, was quoted by Komsomolskaya Pravda as saying some times models are 'deprived of pocket money" if they are sick, but the way contracts work means that star struck girls in the glamour industry, hoping for a bright future, 'can earn nothing at all'.
She said: 'Shows and shoots can last from morning to night. Usually (they) give breaks for food and rest. If a model is demanded she works every day, and it is physically very hard. But in Chinese agencies, the skipping of shoots or shows due to sickness is highly discouraged.
'Under the contract, an ill girl can be deprived of pocket money, and forced to work out the missed time or to compensate the damage caused to the agency.'
In revealing comments on the conditions for models, she said: 'Usually... they rent a three-room [two bedroom] apartment in which three to eight girls live.
'Every model organises her life independently - she buys food, she cooks, she serves herself.So a girl travelling abroad on a contract must be independent and responsible.
'In any country, there are many temptations. You should always keep your head upon your shoulders, so as not to get into trouble. Behave responsibly and in an adult way.'
She revealed: 'As for earnings, half of them are taken by the agencies. The parent Russian agency takes 10 per cent, and the receiving Chinese agency - 40 per cent.From the rest is deducted all costs - flight, accommodation, utilities, a driver. As a result, the model can earn nothing at all.
'In addition, getting a job is very difficult - the competition is off the scale. Only those who are lucky and work hard earn every day.'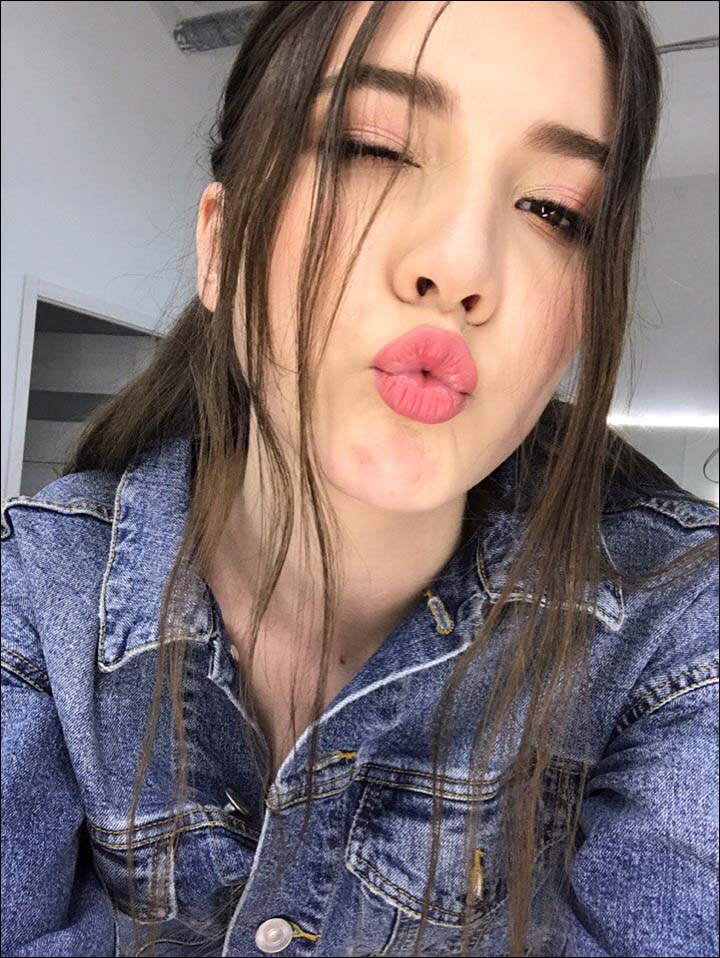 Many will agree that while this was no-one's intentions, a perfect storm of problems combined to put Vlada in extreme jeopardy. Picture: Vlada Dzyuba
Another model Violetta K, 23, from eastern Russia, told how she was forced to live in an apartment where there were beds without mattresses.
'We lived for almost three weeks sleeping on wooden bars,' she said. Some models were forced into working 'dancing in clubs' which 'pay well', she added.
Russia's Consul-General in Shanghai, Alexei Yevsikov, top, has expressed deep concern over the circumstances Vlada faced in China.
'It raises questions that irresponsible intermediary companies are sending off minors unaccompanied by legal representatives,' he said. 'What's more, in breach of the contract, medical insurance was not issued (for Vlada).
He warned that the modelling industry in China 'is taking on unhealthy traits'.
'A huge number of Russian models come to China, especially the eastern regions. We know nothing about them, since none of them register with the consulate,' said Yevskikov.
'We only find out about them when something tragic happens, like now.'
Many will agree that while this was no-one's intentions, a perfect storm of problems combined to put Vlada in extreme jeopardy.
Let's hope that lessons are learned for models in the future.
One maybe that ESEE has opted not to employ foreign models under 16 in the future.
'From this case, I don't think we will do that again,' he said. 'It's too much risk: in future we will tell the team not to sign models below 16.'
ESEE is one of the leading agencies in the field. A risk is that this move could throw underage models towards unscrupulous agencies.
Vlada Dzyuba, 14, died on October 27 in Rui Jin Hospital, Shanghai, in circumstances that are still being fully clarified.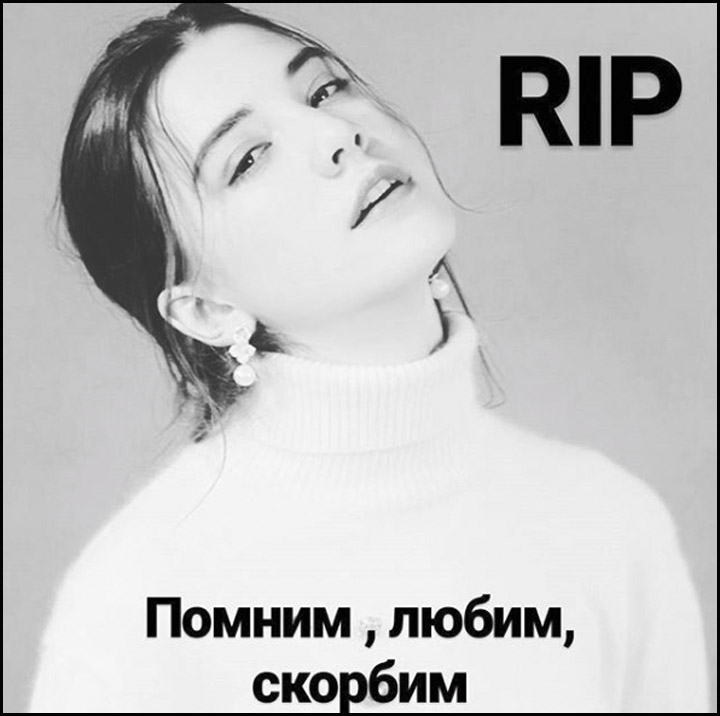 CLARIFICATION FROM ESEE MODEL MANAGEMENT, RECEIVED 8 NOVEMBER 2017

1. Regarding why we didn't bring her to hospital in Yiwu:
Because as we mentioned, at the beginning, her condition wasn't so bad, she did vomited but nothing serious, so she looked that she had eaten something bad and felt sick.
Even when she first visited Ruijin hospital in Shanghai, the doctors also did some test to see if she had eaten something bad to cause her illness. So, she wasn't so serious when she was in Yiwu, and that was why we didn't send her to hospital there.
2. Regarding whether she was afraid to visit a doctor because lack of insurance:
To visit a doctors in China doesn't cost a fortune. Whenever a model informed us that they were sick and needed to go to the hospital, we will definitely help them to do so. Even they don't have any insurance to cover, we will pay for them for the medical expenses, of course they should have their own insurance before they arrived Shanghai as we mentioned. We take care of our models and help them whenever they need. We would never leave them alone if they need to see a doctor whether they have insurance or not.