'We don't like computer games,' said Valeriy, 'and the playground is boring'. Picture: Kate Baklitskaya, Go East
Denis Ivanov and Valeriy Surnikov, both 12, say they love mathematics, but if classes are cancelled you've got to find another way to have fun. In their case, rolling down the slopes beneath the walls of the historic and majestic Kremlin, the only one in Siberia.
'We don't like computer games,' said Valeriy, 'and the playground is boring. We went there earlier.'
Instead they thought nothing of temperatures which by now had warmed to a mere minus 20C as they repeatedly climbed up 173 steps before rolling in the half metre of fluffy fresh snow. Occasionally they came to a halt in the newly-fallen white stuff, only to get up, run downhill and roll some more.
'We were running', said Denis. 'No, we were flying', interrupted Valery. 'And it's a lot of fun.'
'There's a lot of snow and it doesn't hurt, I even tried to go down the slope on a piece of plastic but it's better just to jump into the snow', said Denis.
---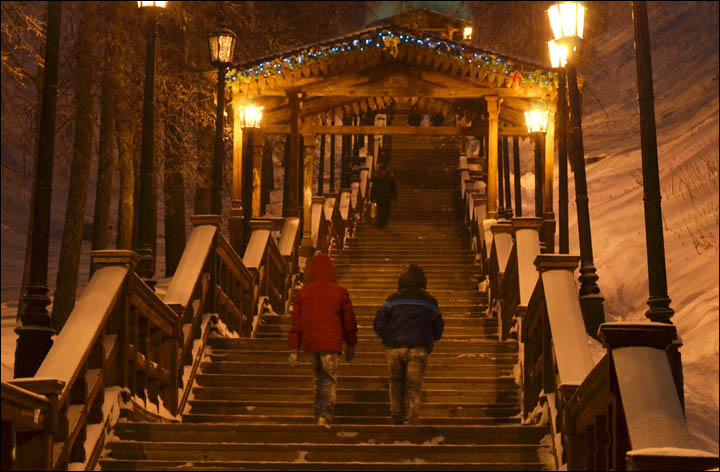 In case you don't know what to play with your children when its -30C. Pictures: Kate Baklitskaya, Go East
With pockets full of snow and red cheeks, they seemed very happy. In the era of technology they definitely know how to enjoy themselves without it.
'But please don't show the pictures to our moms,' pleaded Denis. 'They won't like it.'
With that the boys start running up all the 173 steps up the hill again, and rolled down once more.
Tobolsk - the first Russian settlement in Siberia - was founded in 1587 following the first Russian advance by Yermak Timofeyevich's Cossacks. Its site was close to the ruins of the Khanate of Sibir's capital, Qashliq. A century later masons were sent from Moscow and Veliky Ustyug to built the St Sophia-Assumption Cathedral.
The town - later bypassed by the Trans-Siberian Railway - was earlier on the main route eastward in Russia. It was the seat of power of the Viceroy of Siberia and prospered on trade with China and Bukhara. Here in Tobolsk was Siberia's first school, theatre and newspaper - and the only Kremlin, see Kate Baklitskaya's pictures below.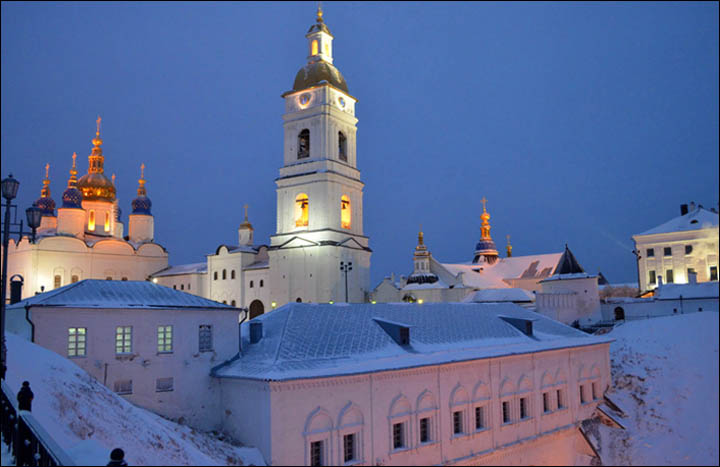 ---