Sing to save you life - official advice on how to avoid brown bear attacks. Picture: Pazhetnov family
The guidelines on avoiding bear attacks comes from the Main Department of the Emergencies Ministry in the Russian Far East. 'Following these 'bear security rules' will help you to avoid suddenly meeting a bear and prevent problems with bears, they explain.
Travellers are told to 'gather information about the territory where you plan to travel'.
But this may not be enough: tourists are warned not to creep through the forest but make as much noise as possible.
'Bears hate surprises - they attack when they are frightened or stressed,' states the official guidance. 'Fright and stress provoke their attacks. Walking in the forest, tell all around about your presence, laugh and shout, sing.'
People are also advised to use 'bear bells' to warn off the hungry animals though 'they may not be loud enough'. 'Walk in a group, bears are scared of many people, and there is always more noise from a group of people. If you are with children, keep them with you, watch them all the time.
'Don't take untrained dogs with you. If the dog meets a bear and gets scared, it runs back to you and brings the bear with it.'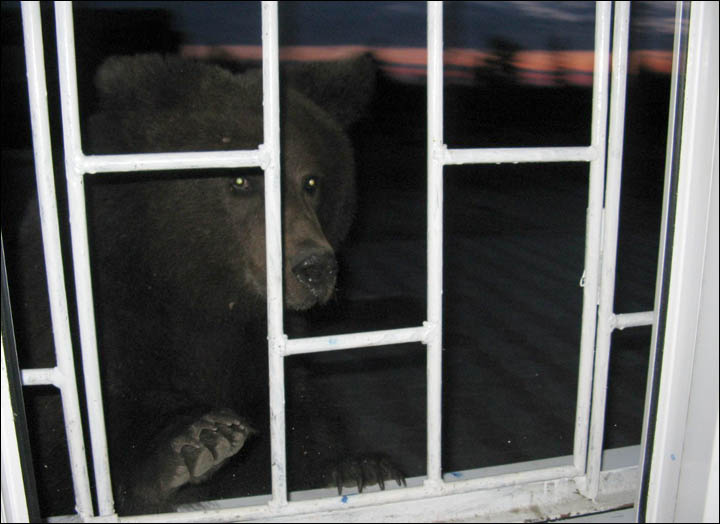 'Bears hate surprises - they attack when they are frightened or stressed,' states the official guidance. Picture: The Siberian Times
Those wishing to eat in the outdoors, in areas where bears roam, should choose a picnic spot 'where you can see all around you very well.
'Clean up when you finish, burn all your rubbish and remained food.'
If things get more desperate 'you can frighten the bear away with clanks of metal objects, shouting, clapping, and with rescue flares. It is absolutely forbidden to approach bear cubs. If you spot them, immediately go as far away as possible. The angry female bear will be around.'
Travellers should 'avoid places with high grass, use open enough fields. If you see a bear from a distance, don't approach him. Carefully go away and walk around the bear.'
It is best to avoid going out at night or even in the twilight. Experts say: 'This is bear time.'
Russians are told to avoid scaring away the bears by shooting. 'An injured bear is much more dangerous'.
They are also instructed: 'Never run away from a bear, try to walk away slowly, stepping backwards, never turn your back to the bear.
'Do not mind bear's size, behaviour or actions. Treat it like a strong wild beast with unpredictable behaviour'.