Lying in hospital fighting bowel cancer in 2005 he made a promise to himself: he would be the first man to fly around the world in Gyrox. Pictured here in 2010 Norman Surplus is saying goodbye to his family in Larne, Northern Ireland, before the start of his incredible journey. Picture: Michael Forth
Norman, from Northern Ireland, has been marooned in Japan due to 'red tape'. Now in a bid to break the deadlock, the persistent pilot - who overcame bowel cancer and is raising money for charity - visited Vladivostok to seek the necessary permits and stamps he needs from bureaucrats.
He had flown 13,000 miles and overflown 18 countries - including the pyramids in Egypt and the deserts of Saudi Arabia - before being grounded since April 2011 in Japan awaiting permission from Russian officials.
He also made a direct appeal to the Russian Embassy in London for help in continuing a 27,000 mile odyssey that began in March 2010.
'This week he left his James Bond-style craft in Japan and travelled to Vladivostok, where he flew old Soviet aircraft before meeting some students at an English language school,' reported the Belfast Telegraph.
'As we come to the end of a very frustrating summer of non-flying during my temporarily stalled circumnavigation world record attempt, I have travelled to Vladivostok in the Russian Far East to make direct contact and meet with local officials, navigators and flying club members in this region', Normal explained.
'One major question, however, remains unanswered: exactly when will the Russian authorities be able to give me permission to fly across the Russian Far East so that I can finally cross the Pacific via the Bering Sea to reach Alaska and continue unhindered on my world record attempt?'
With the kind of patience that can be necessary with Russian bureaucracy, he said: 'I remain hopeful that a suitable solution can be worked out for us during the coming winter months'.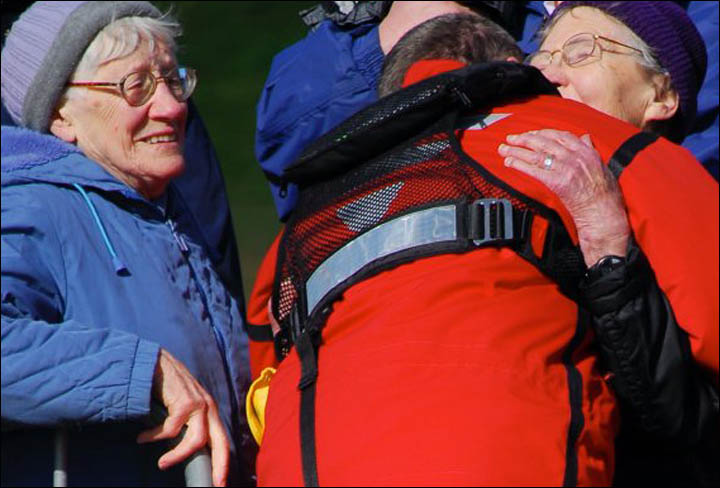 ---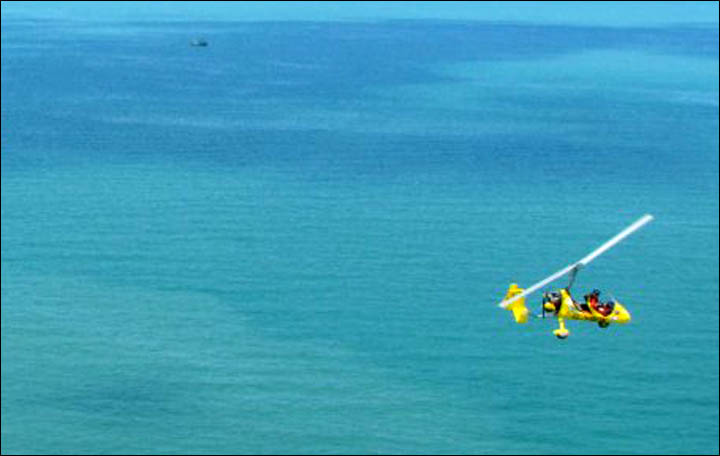 'Good luck, son'. Norman hugs his mother, Northen Ireland, March 2010. A year later his Gyrox is spotted in Thailand. Picture: Norman Surplus Facebook
He told the Moscow News: 'We are simply left in the dark wondering why such a potentially advanced country, which can put the first man into space after all, has seemingly such a guarded and restrictive attitude to opening up its lower airspace.'
The newspaper revealed that 'hopes were raised' this week after 'a local Russian navigation expert offered to help ensure that the flight complied with the special technical requirements demanded by the Russian authorities. Tentative plans now call for the journey to be resumed in spring 2013'.
Surplus, a wind farm director, claimed the Russian requirements 'go far in excess of the more standard requirements asked of the flight in all the preceding 18 countries so far'.
Previously, Surplus has complained: 'There simply is no alternative route to use.
'I have flown half way around the world through 18 countries to reach this point but Russia now appears to be very disinterested in assisting in any way to help me continue on this international world record setting flight...
'The basic geography of the planet means that the well established Bering Sea crossing route is the only realistic way that any small type of aircraft can hope to cross the vast expanse of the Pacific Ocean.
'None of the other countries, whilst presenting many varied challenges of their own along the way, have been so seemingly belligerent and stubborn.
'It's as if they are simply not bothered to give any assistance at all. It's not like we are asking to land a space shuttle in Siberia, we are just asking that they help, like so many of the more obliging countries already passed, to send a small pioneering aircraft on its way, unhindered, around the globe'.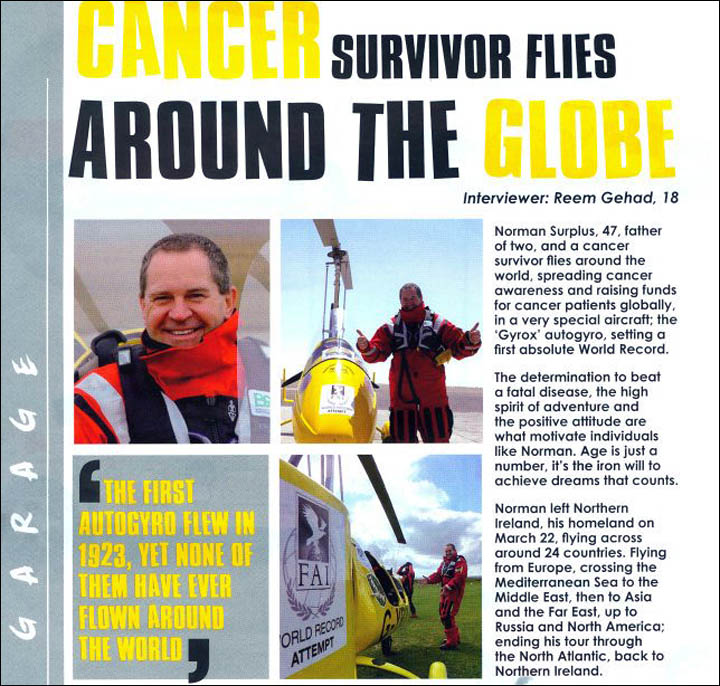 ---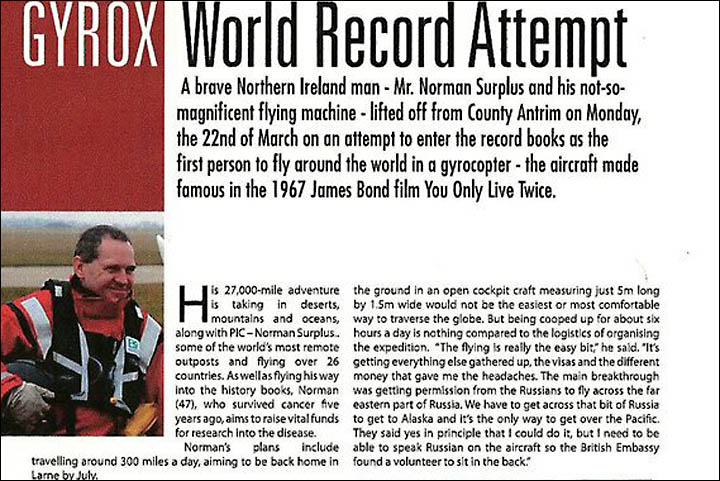 Norman's incredible story has been covered by the media round the world. Pictures: Norman Surplus Facebook
The gyrocopter, which first flew in 1923 and predates the helicopter, is the last remaining type of aircraft that has yet to fly around the world.
A version of the aircraft called Little Nellie was famously flown in the 1967 Bond movie 'You Only Live Twice'.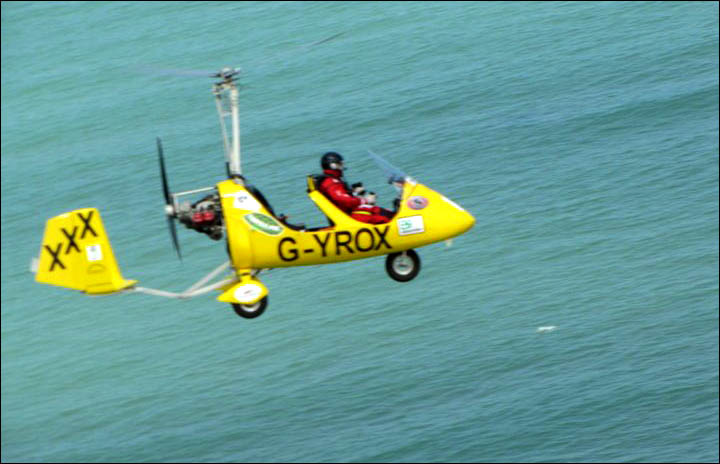 Keep it up! Norman flies over a windy sea. Picture: Norman Surplus Facebook
In June this year Surplus bemoaned: 'Sitting here, constantly waiting for news from Russia, it is very easy to form the impression that the bureaucrats are thinking that by simply ignoring us for long enough, we will be forced to give up, pack up and go home and stop bothering them.'
The gyrocopter uses an unpowered rotor in autorotation to develop lift, and an engine-powered propeller, similar to that of a fixed-wing aircraft, to provide thrust - so far not enough to overcome the bureaucracy.