'Tests on ten pieces of hair... showed that they did not belong to a human, yet it is obvious that they belonged to a mammal, but not to a bear, goat, wolf or other animal living in the Gornaya Shoriya area', Mr Sapunov was quoted as saying.
Now he has gone further by claiming a population of 200 Bigfoot exist in the Kemerovo, Khakassia and Altai regions of Siberia.
Yet leading Russian scientists have countered by accusing Sapunov, a doctor of Biological Sciences and Chief Fellow of Russian State HydroMeteorological University, of an Abominable Lie rather than finding the Abominable Snowman.
The bitter debate relates to hair - or fur - found in a remote cave in Kazbass last year during a visit by an international group of Yeti hunters.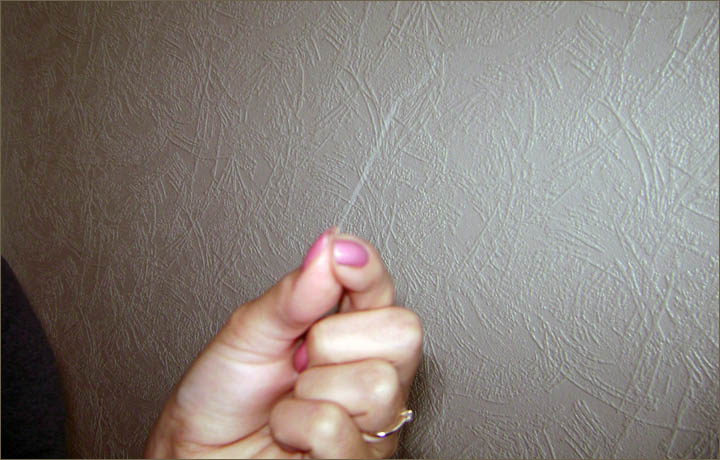 ---
2011 expedition to Azasskaya Cave in Siberia when the pieces of hair (pictured above) were found. Pictures: The Siberian Times
'Tests on ten pieces of hair found during the expedition to Azasskaya Cave, carried our by our University and Russian Academy of Science Zoological Institute, showed that they did not belong to a human. Yet it is obvious that they belonged to a mammal, but not to a bear, goat, wolf or other animal living in the Gornaya Shoriya area,' he was quoted as saying.
'Genetically it is different to a human by less than one percent. We can claim with 70% certainty that from the genealogical point of view the creature is in between the human and a primate and is completely covered with hair.'
He further claimed that the creatures live all around Russia and that around 200 - the number allowing them to successfully breed - live unnoticed in these remote parts of southern Siberia.
He claims there have been no confirmed sightings of the Yeti because they have an acute sense of danger.
Other experts are deeply unimpressed by Sapunov's claims, especially reports that there was DNA backing for his theory.


Let me see what's there - member of the expedition picks up what later was claimed to be 'Yeti's hair'. Picture: Vesti TV
Oleg Pugachev, Director of the Zoological Institute of Russian Academy of Science, told Rossiyskaya Gazeta: 'Let me make it clear - Sapunov is blatantly lying.
'He came with some bits of hair to the Institute, and spent a lot of time in my office complaining that official science want nothing to do with it and no-one wants to test them.
'He asked me to help. I took a pity on his and ordered our DNA specialists to carry out a test.
'They did not manage to extract any genealogical material because there were no hair bulbs.
'The structure of the hair showed that they could have belonged to a goat, and a bear, and to other animals.
'That's the end of it.
'What snowman is he talking about? If he ever appear close to our Institute I will not let him anywhere near the doorstep. I don't know how to stop the rubbish he is spreading in the media.'
Svetlana Borinskaya, a doctor of Biological Sciences at the Institute of General Genetics of the Russian Academy of Sciences, said: 'Normally scientists go for publications in scientific magazines so that the colleagues can verify their sensational claims.
'Quite often after the publication and following heated discussion the 'sensation' disappears. Of course, there are some true stars, world-famous scientists, that allow themselves to go to media first.
'But even with them the scientific community do not rely on such publications and waits impatiently for the scientific magazine article.'
In a crushing put down, she stated: 'I know Sapunov personally. He never worked with DNA - or if he did, I've never heard of such works.
'But I do know that he is obsessed with the Yeti since his early years.'
Meanwhile, a US biologist at Idaho University told the Moscow Times that 'the 'evidence' found in the cave was unreliable'.
'There was no other sign of occupation in the cave, except a few empty soda cans and snack food wrappers,' he said.