'My daily schedule depends on the season and the weather. The main thing is to feed the animals'. Picture: Olga Rekhlova, The SIberian Times
This winter he has 40 sheep, 14 cows, ten hens and chickens, and two pigs, on the modest smallholding he runs with his wife Tatiana (Tanya).
'You can't tell him from the rest of us anymore', whispered a local granny, hinting all is not quite as it seems.
Indeed, only very few people know his big secret: Mikhail - his real name is Michael - is British.
For the last two decades, since soon after the fall of the Soviet Union, this has been Michael Ware's home, an exile who ventured to Siberia of his own free will - and stayed.
'I certainly have no regrets coming to Siberia, not at all, though I would like to see my friends and family more often', said the 55 year old who lives in a humble village house.
'There have been some hardships, but I'm happy here.
'It's beautiful, a long winter with lots of sunshine and a nice mild summer. Plenty of clean fresh air. Many beautiful places. It's just a pity that I don't have much time to visit all of them.
'I went to the Altai Mountains and like them very much. I still haven't been to Lake Baikal but plan to go there soon'.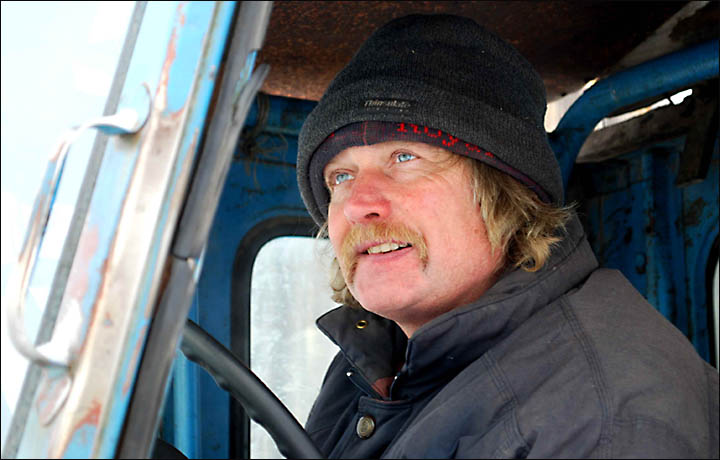 Michael Ware, 55: the peasant who came from Somerset to Siberia. Picture: Olga Rekhlova, The SIberian Times
Today his Russian family includes one son conscripted into the Russian army, another who is set to inherit their ten hectare farm, and a daughter who plans to go into the tourism industry.
After surviving so many Russian winters, when temperatures can plummet to minus 50C, Michael has almost forgotten what it is to be British.
'It's hard to speak English now, and I know my Russian isn't perfect but I get by. At home we eat only Russian food'.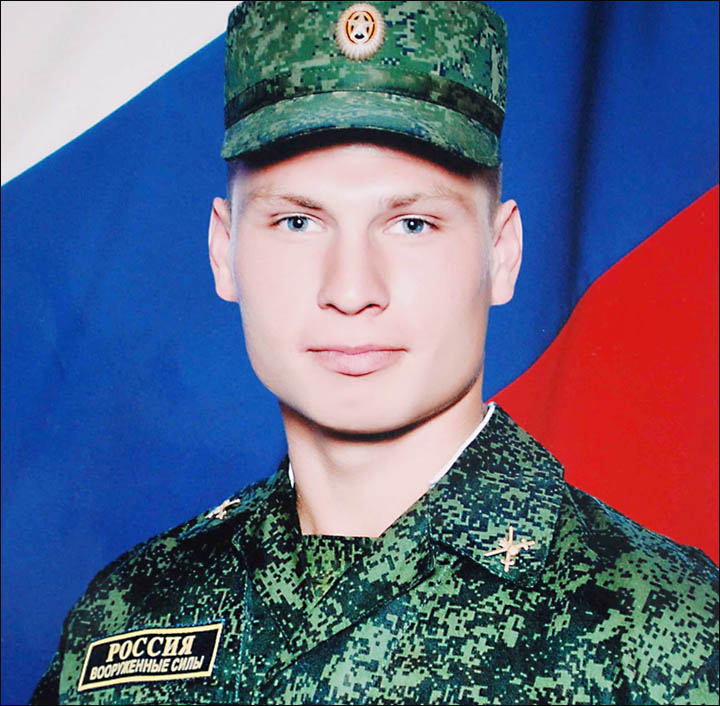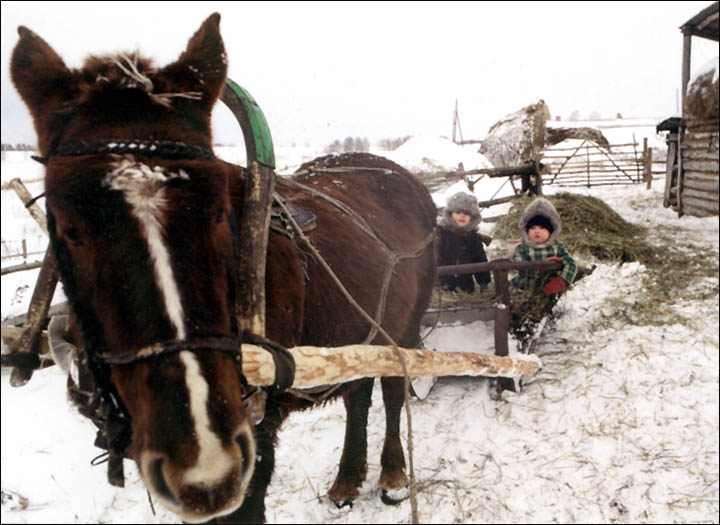 Ready to serve: Michael's son Nikolai, 19, was keen to join the Russian army - and, below, pictured together with his sister Veronika. Pictures: Olga Rekhlova, The SIberian Times archive
Michael's remarkable odyssey from the English country of Somerset to Siberia began in inauspicious circumstances after an acrimonious divorce from his British wife. He was so shattered he contemplated suicide.
Instead, seeking to overcome his misery, in 1992 he joined a party of ten UK farmers on a visit to explore agricultural opportunities in post-Communist Russia.
The rest of the group came, saw Siberia, and swiftly went home again. 'I was the only one who stayed,' he recalled.
'My daily schedule depends on the season and the weather', he said. 'The main thing is to feed the animals.
'In winter our day starts at 8am and ends at 11pm to midnight.
'Shovelling snow, cutting firewood, looking after the cows and and sheep, it takes all day. The only free days I get are if I'm sick!'
For years he would perform these tasks wearing a Royal Mail woollen hat, as used by postmen in a milder climate back in Britain.
Formerly a farmer on Exmoor in the west of England, he says he will never return to Britain to live - 'now Siberia is my home' - though he likes occasional trips back to visit his motherland.
Still, it is five years since he went back to the UK.
'I'll never be Russian', he said. 'Nobody can change their own blood. I'll always be an Englishman'.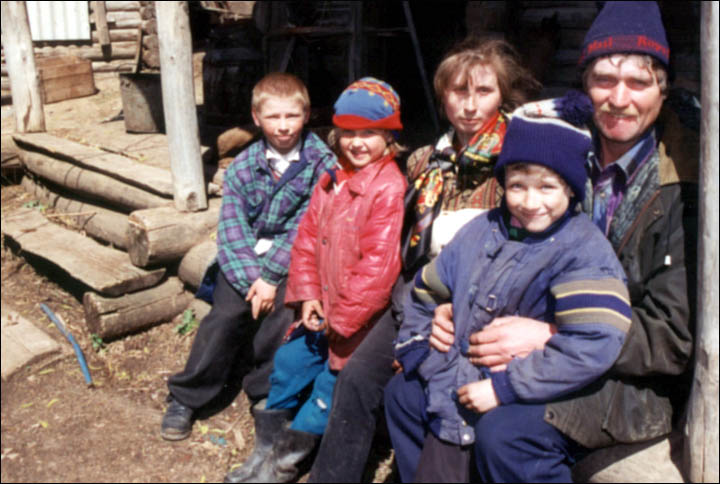 ---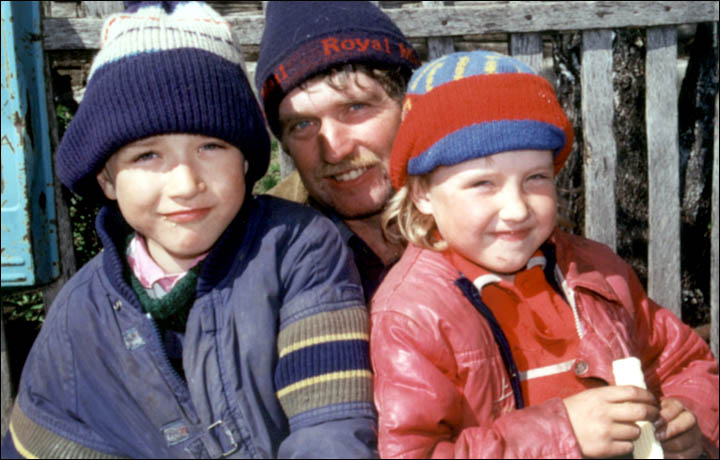 Michael's family back in 1999; below he is pictured with Alexander (now 18) and Veronika (16). Pictures: The SIberian Times
'I haven't got a citizenship yet, every five years I extend my residency permit. To get citizenship here I must an pass exam in Russian. Somehow I can't learn the grammar.'
This his biggest headache in Russia: not the cold but mastering the language.
'He's afraid of Russian grammar', said Tanya, 38.
'As well, if I get Russian citizenship I'd have to abandon my British passport.
'Anyway I've been living here long enough and everything is fine. The only things I'm deprived of are voting and land tenure.
'When I miss my sister or friends, I text or call and struggle to switch to English.
'My sister has come out twice. Both times she was here in autumn, and helped us to dig the potatoes. The weather was great so she liked it very much'.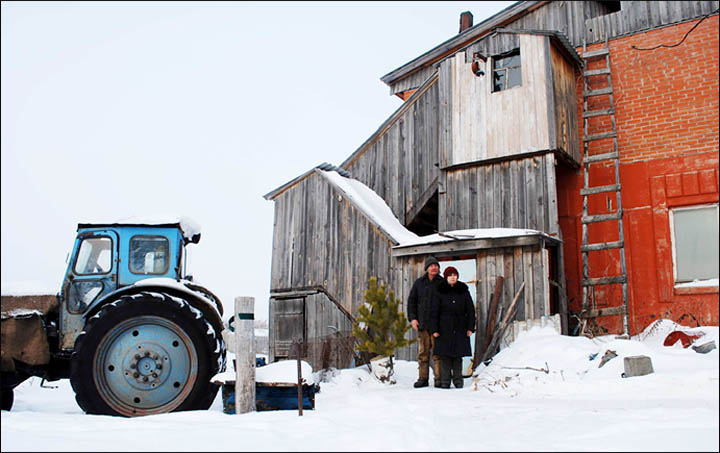 Michael and Tatyana by their house in Dubinka, Siberia. Picture: Olga Rekhlova, The SIberian Times
Michael envisages another five years in charge of the farm after which he may take a back seat once he becomes a pensioner at 60.
'I have plans to write a book about my experiences when I reach retirement', he said, admitting he has already started writing.
In his 20 years in Siberia, he has lived through the tough times Russians have faced during the transition from Communism. Early on, he recalls the locals drowning their sorrows.
'In the beginning I was shocked by the drinking. In the 1990s locals drowned their sorrows all the time, whether they were working or not.
'It was a hard time for all the country. Nowadays this problem has slightly faded away.'
He credits his happiness in Siberia to Tanya.
'We are always together and we understand each other in a split second. Tanya knows my vocabulary and she uses this to talk to me. If I flounder she knows what's wrong. If we talk to someone else, she is my translator, making sure I'm understood'.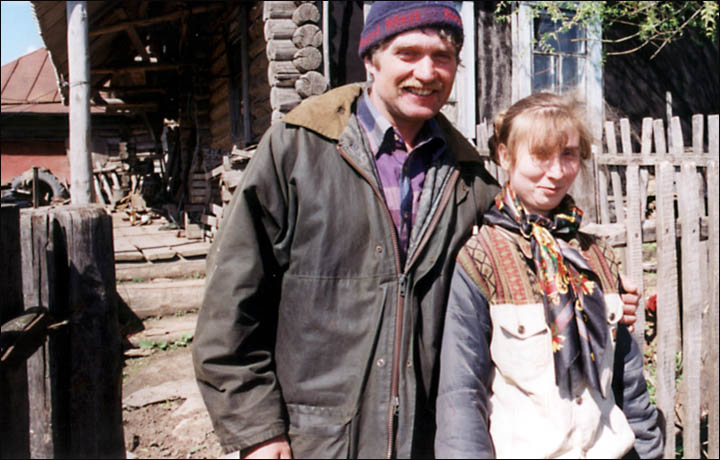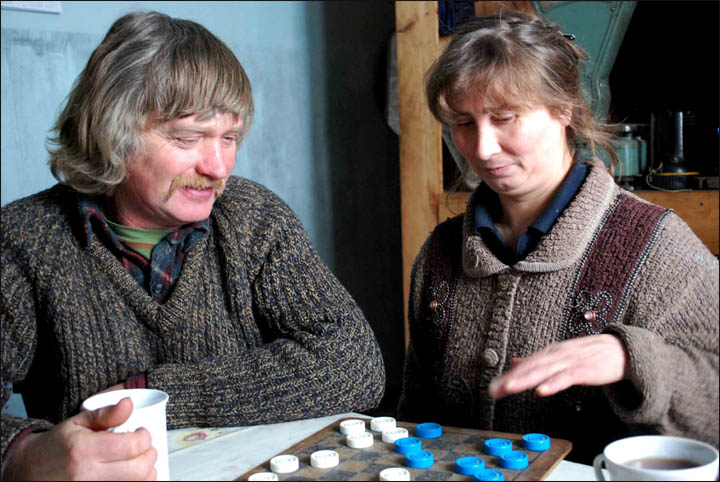 ---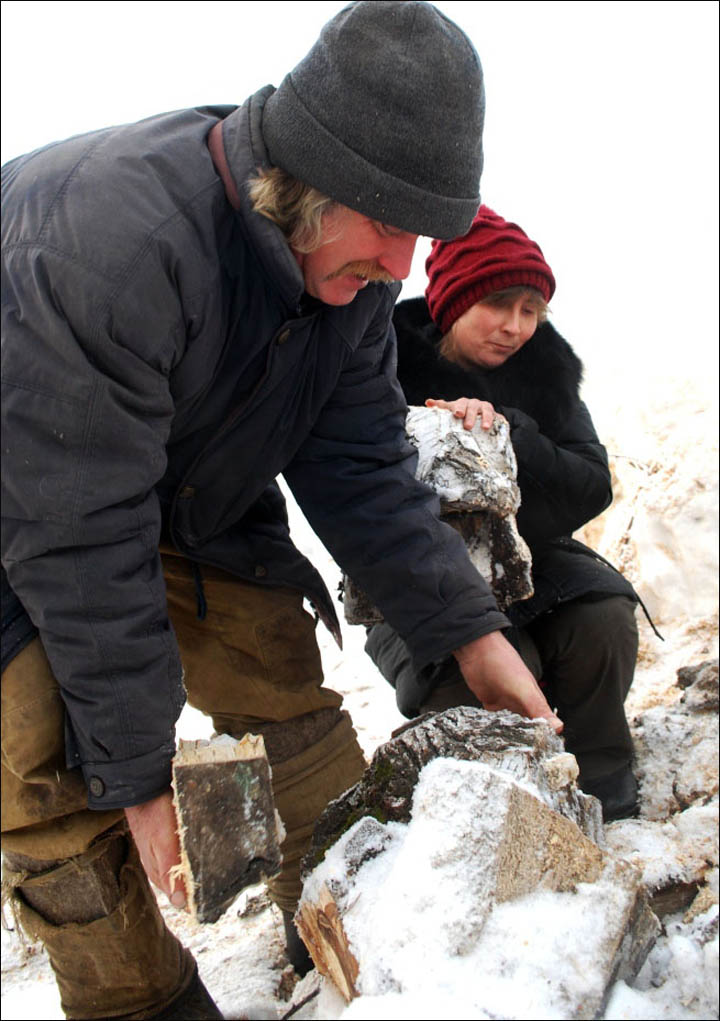 Michael and Tatyana Ware, soon after their wedding and now. Dubinka village, Western Siberia. Pictures: Olga Rekhlova, The SIberian Times archive
Originally, Michael was invited to Dubinka to offer his expertise to locals as the Soviet-era collective farm system stared to collapse.
'After my divorce, I wanted to do something to help people', he said. 'I felt I could be useful here.'
'It was strange for us to see this foreigner,' said a local farmer.
'He could not speak Russian and we had never seen anyone from abroad before.'
In Dubinka, 110km south of Novosibirsk, they seldom saw anyone from the nearest city, let alone Britain.
Once the mountain of snow cleared, he realised how the soil was rich.
He also became friendly with Tanya, then 18 and a single mum with a three month old son, Kolya, who he has since adopted.
'She was living very badly. She was on her own with the child and the family was one of the poorest in the village', he said.
They had a 17 year old gap in ages, and could barely communicate, but they became close.
'We drew pictures to describe what we meant. Somehow we managed'.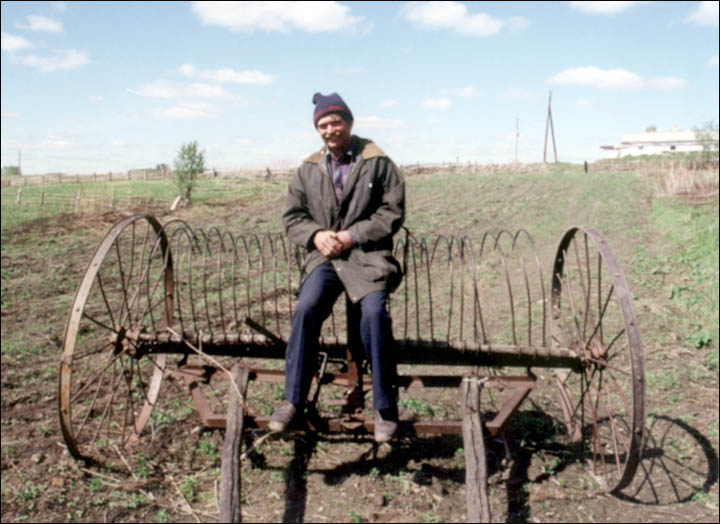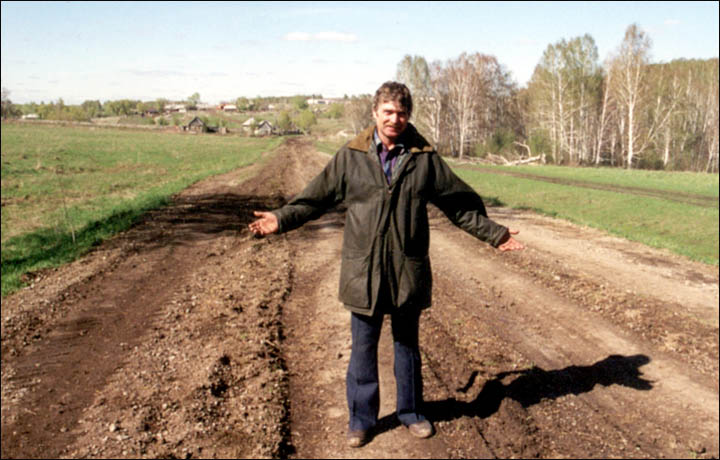 Mother Russia: Michael Ware pictured several years after his arrival to Siberia. Picture: The SIberian Times
She recalled: 'He was a fire in the night arriving in the village. I had no idea he would propose, but he did. I felt so lucky because he was so different.
'He likes to cook, which is rare for men here - and doesn't drink as much.'
Michael's papers were still back in the UK, so they couldn't have an official wedding. Instead, they underwent a village ceremony about which he has only hazy memories.
'I'm not sure when the party ended. Tanya's parents had no money but, being Russia, there were 20 bottles of vodka on the table'.
Later, he went back to the UK, collected his papers, sold his old farm machinery on Exmoor and with this money - around $1000 - bought his first Siberian tractor (though sometimes he has found himself relying on a plough horse), and a village house, now being renovated but earlier comprising a kitchen with a wood-fired range, and a single bedroom where the whole family slept.
Michael has three Russian children, Nikolai, 19, Alexander (Sasha), 18, and Veronika, 16.
'Nikolai was keen to go into the army himself,' he said.
'He'd rather be a motor mechanic than a farmer and he could learn this in the army. He calls very often and I hear in his voice that he's enjoying his time there. He plans to live separately from us with his girlfriend after the army.
'Sasha finished school and helps us here at home, and Veronika is studying in a nearby town'.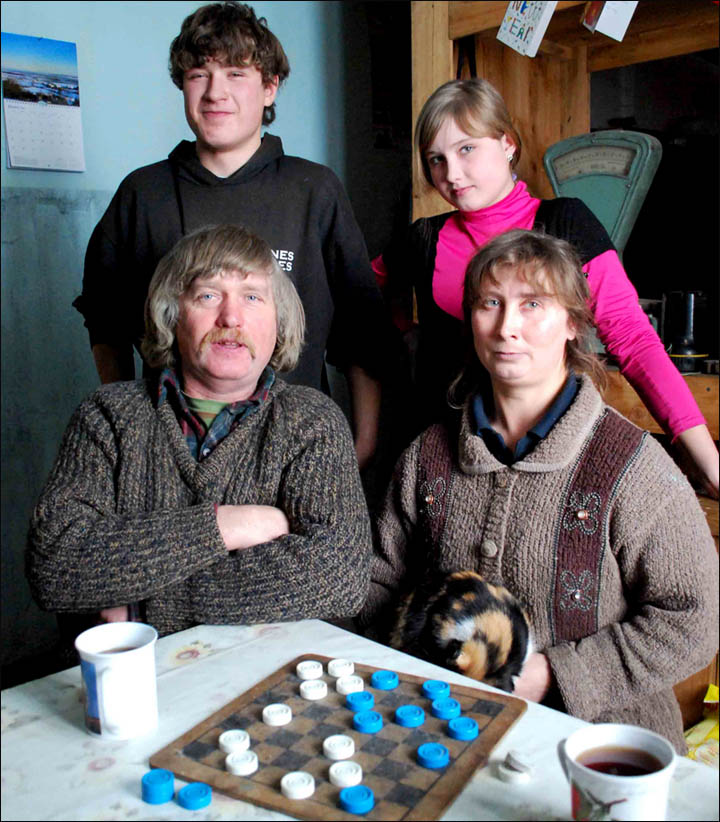 Siberian Brits... or British Siberians? Michael and Tatyana with children Alexander and Veronika. Picture: Olga Rekhlova, The SIberian Times
Michael's links to Britain proved a lifesaver when Sasha was younger.
He was diagnosed as a three year old with Fallot's Tetralogy - a hole between the chambers of the heart and a narrowing of the artery and the area below it.
'Doctors said he would have much more hope in Britain, but I couldn't afford the fees - he didn't qualify for free health care under the National Health Service.'
His relatives raised tens of thousands of dollars to meet the costs and Sasha was flown to the UK. A decade later he went back for checks and was given a clean bill of health.
'He was so weak before, but now he's fine,' says Michael. 'We're so grateful.'
He wonders about his two daughters - now aged 27 and 23, and son 25, from his first marriage in the UK.
Asked about them a decade ago, he said: 'I tried to stay in touch. I wrote often, but nothing came back. Now I don't know where they are'.
Overcome by emotion, he added: 'I want them to know that if they want to get in touch, they can. I may be far away but I love them very much.'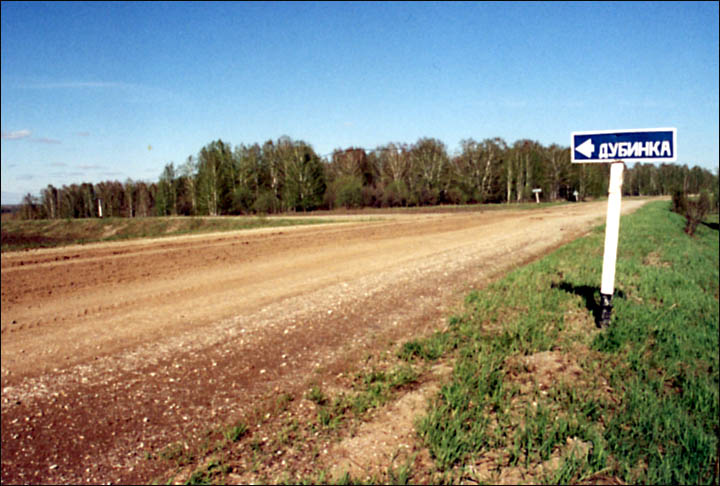 'I may be far away, but I love them very much' - Michael Ware, speaking about the older children he left in Britain. Picture: The SIberian Times
When the internet arrived in Dubinka, he tried to search for them on the web, but still to no avail.
'I have no information at all about my family I left in England', he says now, sadly.
'I tried to find something out about them in the Internet but failed. I don't even know what they look like now'.