Liisa Lundell, 23, is a Finnish student who came to Yakutia to study at the North-Eastern Federal University. Picture: Liisa Lundell
Liisa admits that some of her friends back home expressed surprise when she told them she was going to Siberia's kingdom of cold.
'I've been told I'm crazy, many times and by many friends. But a lot of people also think it's cool and exciting. The university receives an exchange student from Finland almost every semester, so there are other crazy people like me. Also I've met my local friends - they made me feel very welcome'.
'I've been told quite a number of myths about what it would be like to live here. The most popular one was that a spit freezes before it hits the ground. I've heard people getting different results, but with me it never worked that way. Perhaps if you can spit long distances and the temperature is closer to minus 50C, the sample will have time to freeze'.
'Another myth was that you breath out and hear the air crack when it freezes. Another no! But it makes a very soft, quiet, shy hissing sound. Like two drops of water on a cooling stove in a sauna, or very fine sand running in an hourglass.
'You need a quiet village to hear it, and ideally it would be not to wear a hat over your ears'.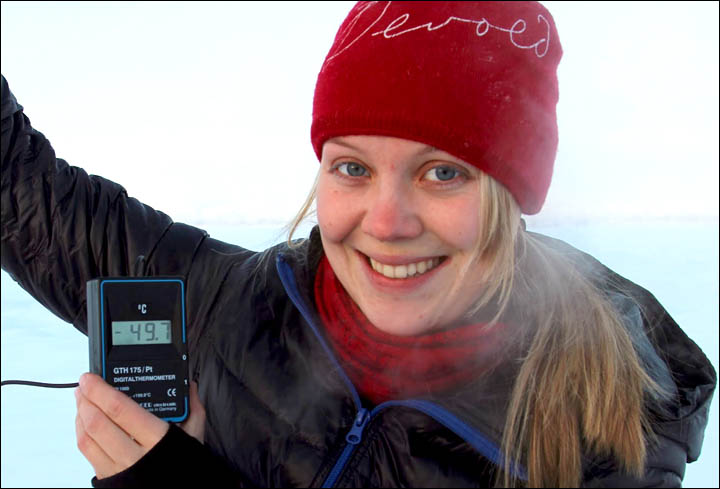 Its warming up! Picture: Liisa Lundell
A Master's Degree student in economics at Turku University, Liisa often recalls her packing back home, and her first encounter with Russian sense of humour.
'I thought I was getting good at packing. Oh well! Trying to prepare for everything between minus 50 and +30 degrees wasn't exactly easy.
'Naturally, I only started packing on the last evening before my departure from Finland. I listened to Disney's Bare necessities, hoping that would somehow solve my luggage problem, but it didn't. Five days later, I was walking through a yard of a quiet village, and there was a big dog, greeting me with enthusiasm. He was happy and full of energy, despite having just spent the night outside in minus 40C.
'Later at breakfast, I asked for his name. 'Baloo', I was told. 'How else could you have possibly called him, doesn't he look like he belongs to jungle?', my friends said. 'I guess we were meant to meet.'
So how is she coping with the cold?
'During my time here, it has been about minus 40C degrees, that magical milestone where Fahrenheits and Celsius meet. You get to know very quick that here all the familiar cold-related feelings come faster. As of now I haven't spent more than 45 minutes outside at a time, in fact usually it is less than 15 minutes, but even for such short walks you've got to remember to protect the face.
'The best way is to cover it with a woollen scarf. If sometimes I am lazy and don't put the scarf over the face, I feel even the slightest breeze of wind. Many people here walk around with hand raised over their nose and mouth. It looks like they are smelling something bad, but in fact it helps to warm the air.
'I've dealt with frozen eyelashes before. But here, for the first time, I felt that my eyelids were getting cold. I don't think there is anything you can do about that, really, except perhaps to blink faster?'
'How many layers do I wear here? From two to five, depending on how long I'll be outside. Usually the outfit is a combination of merino wool long underwear, fleece, ordinary cotton clothes, and more wool and down. You have to have a good coat here, either fur or down. The longer the better. A hat (wool or fur) is a must, as well as gloves. Locals often wear fur from head to toe.
'The buildings are pretty warm inside, so it's handy that there is a free cloakroom service in the university.'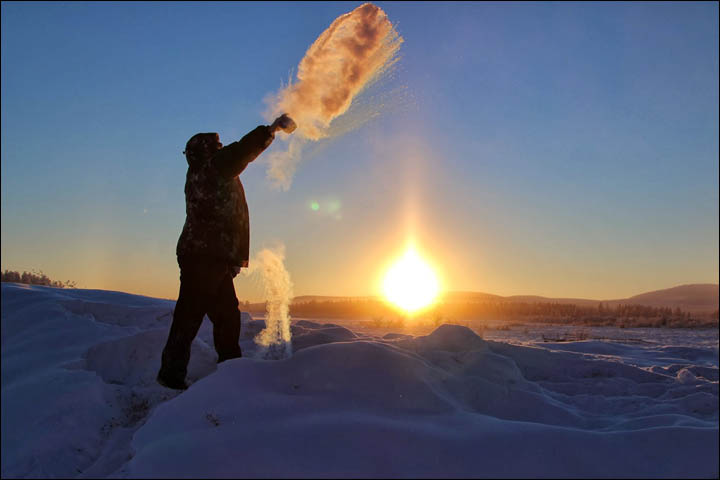 ---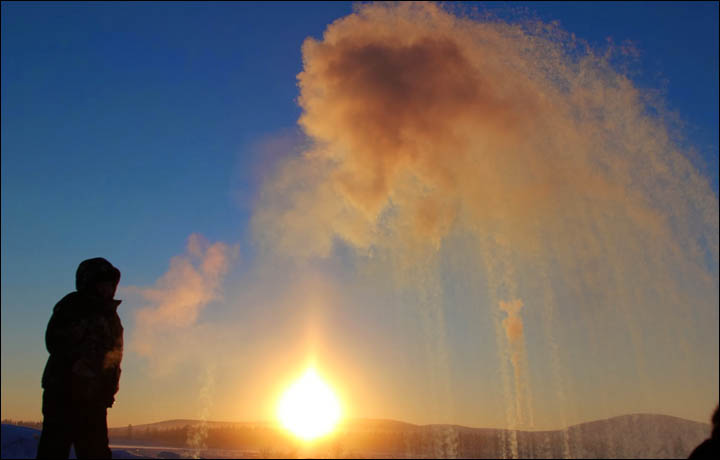 ---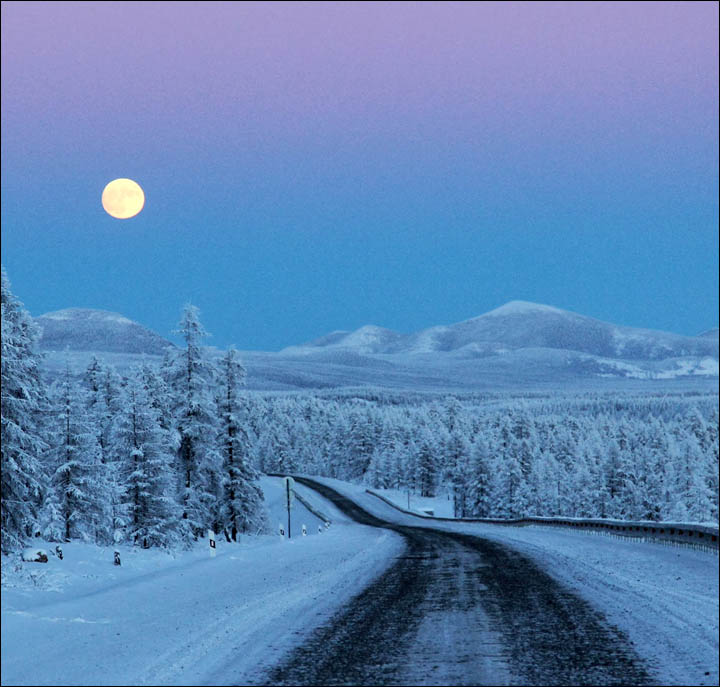 Colours of the cold. Pictures: Liisa Lundell
Liisa has already been to Oymyakon, famous as the coldest inhabited place on the planet. 'I visited Oymyakon in the Siberian countryside last week before I started my university classes in Yakutsk,' she told her blog followers. 'The record temperature of minus 71 centigrade was registered there. The place doesn't get many visitors, which is understandable.
'The road is dangerous in winter and even less accessible in summer, with frequent floods. Still, about a hundred travellers venture there every year. It's fun to think I represent 1 % of the tourist flow.
'I went with four other travellers (from Germany, Israel, and Brazil) and two guides. We also met a group of journalists, who were on a massive winter journey, updating their Pole of Cold website along their insanely long and impressive route. You think you're kind of adventurous, but there's always someone crazier!
'In Oymyakon I was starting to have a frostbite on the tip of my nose. Good thing we were always alert to tell each other about our skin changes.
'We joked that 'red is good, white is bad, black is game over'. Luckily I haven't witnessed any North-Face-movie-style-frozen black fingers'.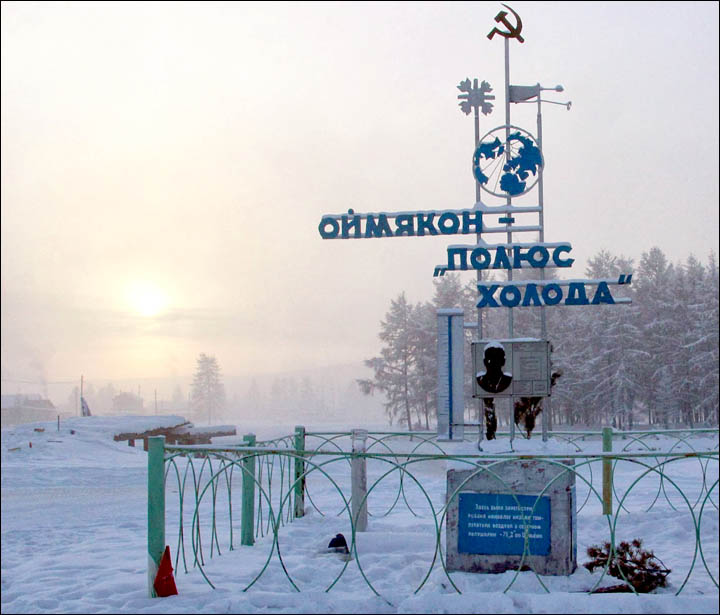 ---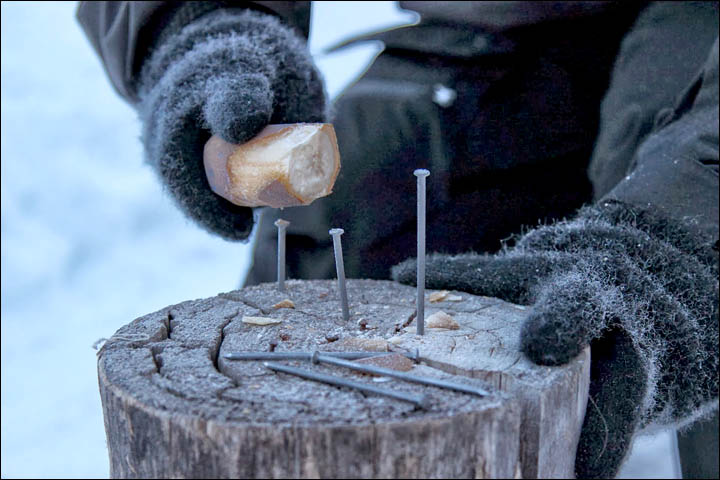 ---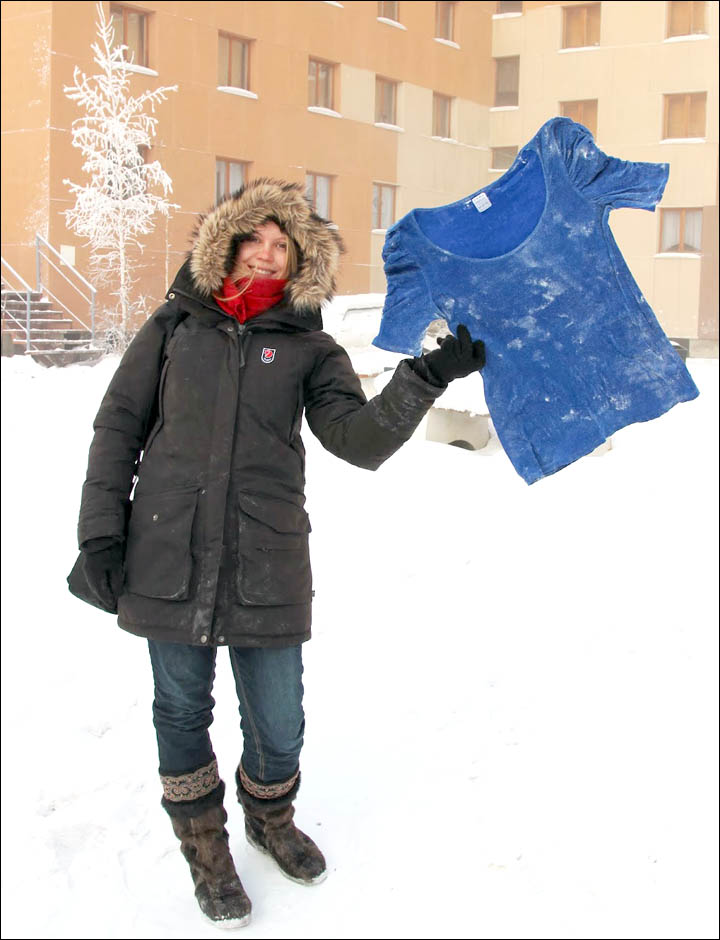 ---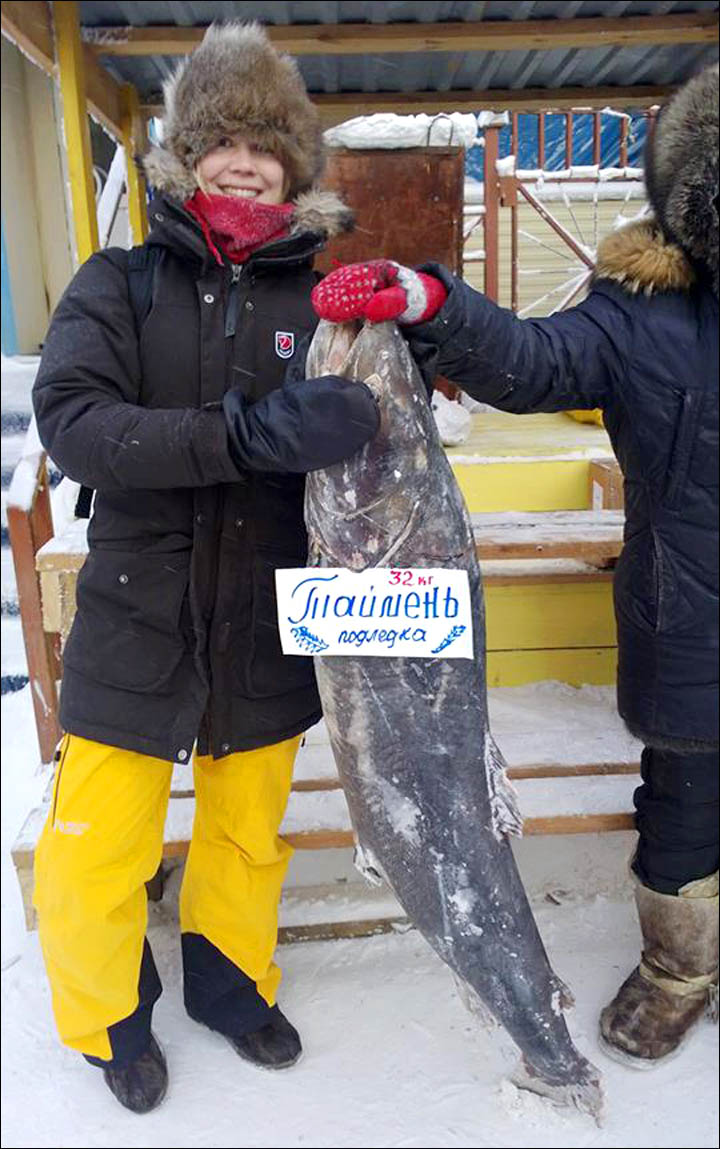 ---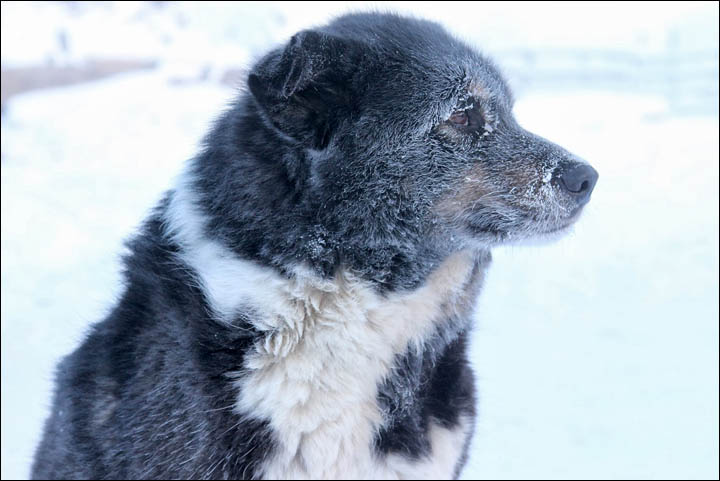 Top to bottom - Oymyakon, the the coldest inhabited place on the planet; using a frozen banana as a hummer, taking a wet t-shirt outside, posing with a 32 kg trout, and Baloo the dog. Pictures: Liisa Lundell
Back in Yakutsk, she is surprised how some things are not so different from home.
'I can get Finnish butter in a nearby shop. The Finnish company Myllyn Paras also sells their oatmeal here with a brand 'Bio bio', but I use the regular less pricey Russian oatmeal flakes for my glorious gourmet breakfast'.
'My student dormitory is like a decent hostel with a common kitchen, wifi, a laundry room and shared bathrooms. We have to leave the keys downstairs to a small reception when we go out. It's a good system - you don't want to lock yourself out there in the freezing weather.
'I'm sharing a bedroom with two other girls. It can feel pretty cramped, but when I think of it as a hostel, it's all right (and very good value for money).
'In the common room, we have two Ikea-style couches and a TV which are in front of big windows, so it can get a bit chilly. Still, I'm sure you will find a lot colder houses in England or Spain in wintertime'.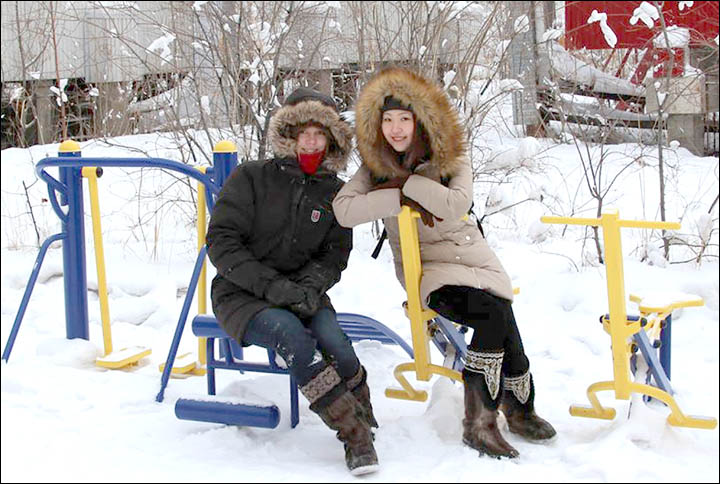 Liisa Lundell, 23, with friend Marianna Kurayeva. Picture: Liisa Lundell
Liisa's conclusion from her adventure in Siberia?
'Yakutia is very interesting. I feel I can get a lot more experience than just mastering my Russian which I came to study. Many things are so new - I wouldn't say I was shocked, but it was surprisingly hard to try to remember places and find my way back during the first days in a thick fog.
'I like the sound of Yakut language, and I love the traditional 'kүөrcheh' cream. I tried it just once, but hopefully I can have more. I like the announcements of 'the next bus stop is...' in both Russian and Yakut'.
She adds: 'Russia is a very important trade partner for Finland. I suppose it doesn't hurt to know at least a little bit of the language of the neighbouring country'. Liisa has come to Russia on the north2north student exchange programme, that provides opportunities for students to experience different northern regions firsthand, and to share experiences face-to-face by allowing them to study at other institutions. Read and follow Liisa's blog, where she posts stories like 'A semester in the coldest city in the world, experienced by a Finn who tries to learn Russian and avoid frostbite'.