Olga and Andrei Kurochkin with their daughter Alyona. Picture: The Siberian Times
It was known 38 year old Olga Kurochkina's husband Andrei Kurochkin was cannibalised on fishing trip to eastern Siberia. One of the group of four anglers Alexander Abdullayev admitted as much, claiming they were lost in the taiga and needed food.
She appealed to the Russian president to force the authorities to investigate what happened - and now she has found evidence that her 44 year old husband met a violent end.
'I got hold of a copy of the document showing the forensic experts opinion,' she said. 'It says Andrei was killed and then his body was cut to pieces and eaten.
'In other words, his death was not caused by hypothermia or hunger. The experts found out that Andrei was hit on his head three times - one was just a bump (probably to knock him down), two other hits broke the bones of his skull.
'The final reason for his death is not possible to find out now, his remains were in the open air for a long time. Maybe they also stabbed him.'
The widow is angry that Abdullaev and another friend, Alexei Gradulenko, a close friend of Kurochkin, officially remain witnesses, not suspects.
Volsk citizen Gorulenko was questioned by local investigators in his home town, and then taken to the Sakha Republic - also called Yakutia - scene of the horror. Abdullaev is believed to have told investigators that Kurochkin was killed and implicated Gorulenko, according to newspaper reports.
---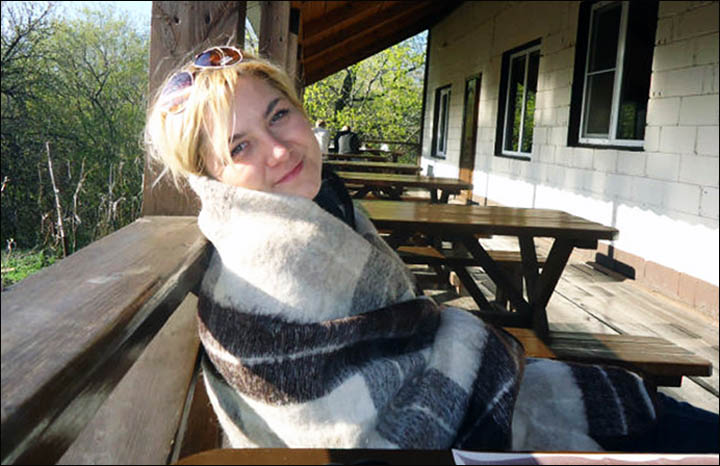 Olga and Andrei Kurochkin on their wedding day and, below, couple's 22 years old daughter Alyona. Pictures: The Siberian Times
But during an investigative session with Gorulenko, Abdullaev refused to confirm his evidence and claimed the angler died because of extreme cold after the group became lost. Abdullaev also stated that he gave a different evidence being under pressure.
'I just do not understand why police can't solve such a simple problem! There were four men, one is missing, one is with broken skull. Who did it? Surely not aliens!,' complained Olga.
Now Gorulenko is back in Sakha undergoing psychological tests. Meanwhile, a fourth fisherman from the 2012 trip remains missing.
Shamil Nurgaliev, deputy prosecutor of Neruingri town, told Komsomolskaya Pravda that hew as not ready yet to bring charges. 'The investigation of this criminal case continues,' he said.
In her letter to Putin last years, Olga Kurochkina said: 'I will not describe in what kind of hell our family has been living all the time from the start of the search to today. I hope for your involvement and assistance'.