An Amur tiger pictured in the snowy taiga of the Russian Far East. Picture: Land of the Leopard Nature Reserve
Pilot Andrey Ivanov of Aerial Forest Protection Service found traces of an Amur tiger by the Bollokhtokh River in south-eastern Yakutia. His dog escaped as soon as it sniffed the footprints, Andrey said as he documented the traces on video.
'My dog sniffed the footprints, its hair got all bristled, and it immediately ran away.
'Each footprint is 15 centimetres long, 12 cm wide', Andrey said.

Video of footprints of an Amur tiger in Yakutia by pilot Andrey Ivanov
---
The discovery was made on 9 November, almost a month after wildlife photographer Mikhail Korostelev got a picture of an Amur tiger near the Shantarskie islands in Khabarovsk region, some 450 kilometres (over 260 miles) north of Amur tiger's traditional habitat in the Far East of Russia.
At the end of October an Amur tiger - wildlife experts assume it was the same predator, and most likely a male - was photographed at another location away from its traditional habitat by the village of Chumikan, 240 miles northwest from Shantarskie islands.
Amur tigers are the world's largest big cats, and also the most northern, with rich hair and a good layer of fat helping them survive months of negative temperatures and thick snow. Yet even for them to venture so far north, and into the world's coldest inhabited region, is remarkable.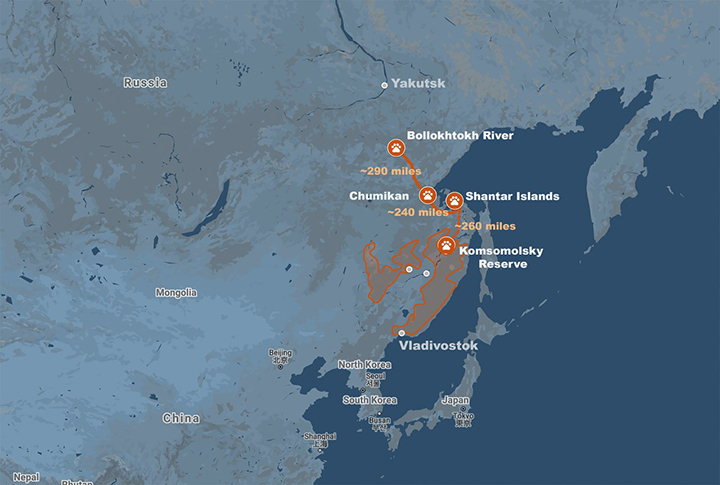 ---
---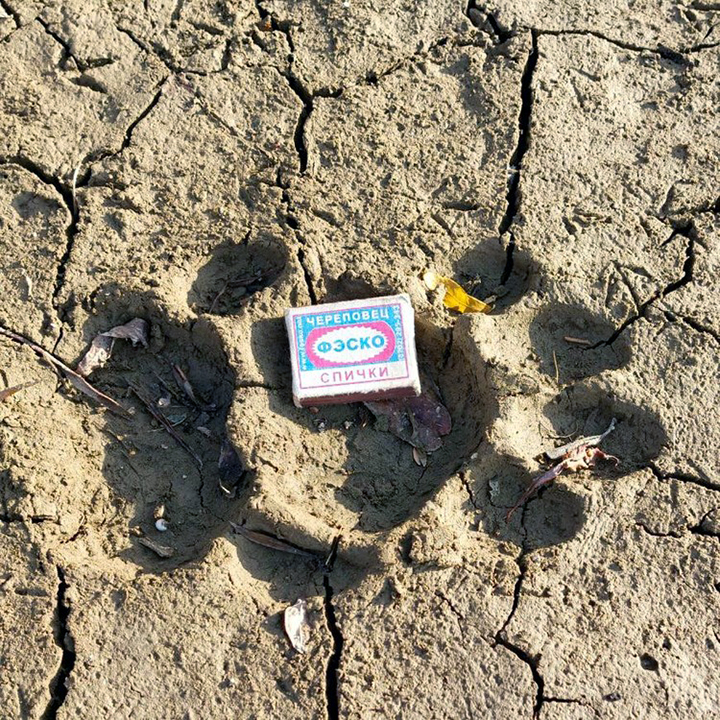 ---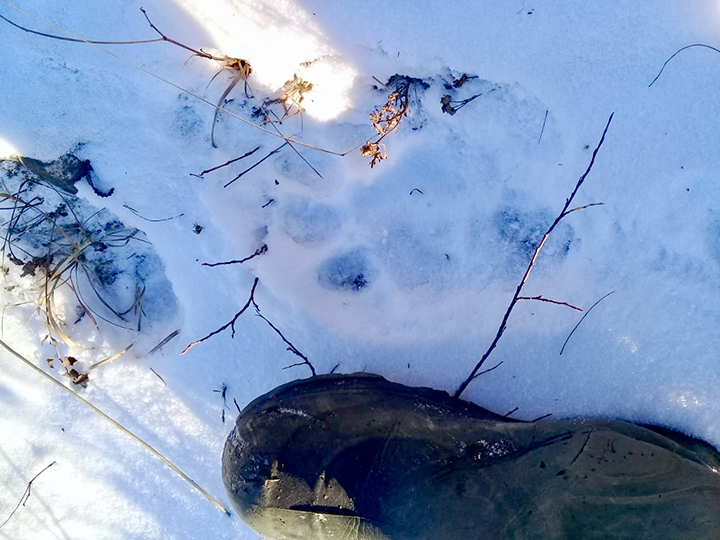 The map of the Amur Tiger's journey north into Yakutia; photo trail camera picture of an Amur tiger by Shantarskie islands, traces of an Amur tiger further north in Khabarovsk region by the village of Chumikan, and in Yakutia. Pictures: The Siberian Times, Mikhail Korostelev, Amur Tiger Centre, Andrey Ivanov
The first time an Amur tiger was seen in Yakutia goes back nearly 200 years ago to 1827.
Only eight more cases have been registered during the 19th and the 20th centuries.
This is the first confirmed evidence of a tiger in Yakutia in half a century.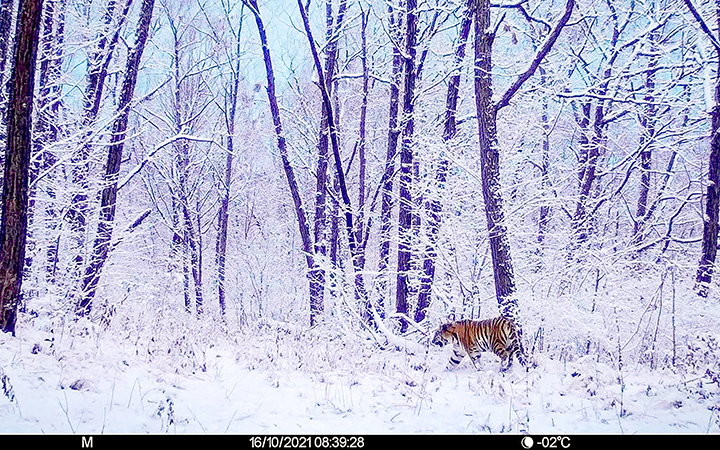 An Amur tiger pictured in the Far East of Russia. Picture: Bolshekekhtsirsky Nature Reserve
---
'Tigers' behaviour is very flexible - they know how to adapt to the environment. The constant search for territories unoccupied by other males leads to them appearing in unusual places.
'Where is this tiger heading? It probably won't venture further north. Perhaps it will turn to the Amur Region, or even return to the Sea of Okhotsk in the Khabarovsk region', said Alexander Batalov, director of the Durminskoye Forestry.
The Amur tiger photographed far from its normal habitat looked well-fed and healthy on the trail camera pictures and video taken during its extraordinary venture north.
It could have been feeding on reindeer on its journey through Yakutia, believes director of the Amur Tiger Centre Sergey Aramilev.
Photo trail footage of an Amur tiger by Shantarskie islands in Khabarovsk region, about 450km north of Amur tigers' traditional habitat. Video: Mikhail Korostelev
'The wandering behaviour of males of large predators is in no way related to their numbers, since earlier Amur tiger visits to Yakutia were registered when the population was much smaller. So what pushed the tiger to go north? The phenomenon that allows animals to expand their range is similar to the mechanism of settlement in humans.
This was most vividly described by Lev Gumilev. He compared the entire population of a particular region to a burning fire, with sparks flying off it, and in a good combination of circumstances those sparks form a new fire.
'This wandering tiger is one of those sparks, and in this situation let's hope that it'll come back, because in the area he ventured he wouldn't light a new fire', Sergey Aramilev said.