Back in Yakutsk today he said: 'I ate snow. That's all.
Up the mountain, Alexander Novoseltsev was jogging around his crashed helicopter - and doing push-ups.
Unable to find his emergency food rations, he ate snow. In the end this saved him.
He had sent a text message soon after crashing in a Robinson helicopter in poor weather in a gorge in the Chersky ridge area.
It read: 'My clothes is thin, I'm freezing. The gorge is narrow. It will be hard to land MI-8 here.'
He gave his location and the following day rescuers reached the foot of the 2,400 metre mountain but he was marooned at 1,600 metres.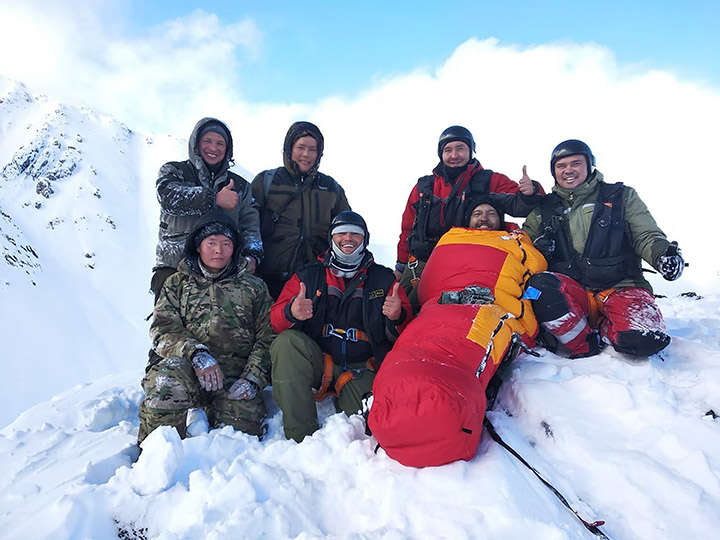 ---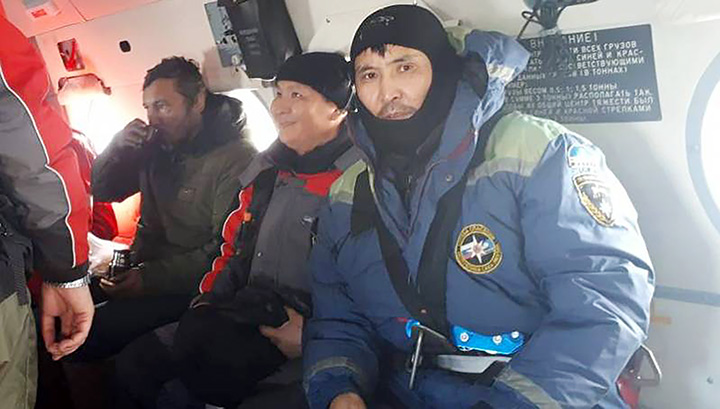 Alexander Novoseltsev (wrapped in sleeping bag) with rescuers in the mountains. Alexander (second from the left) in MI-8 helicopter with the rescuers.
A repot that night said: 'He is alive, he got in touch and reported his GPS data.
'But the main thing is that he is alive. He had a satellite phone, now, probably has run out of power.
'He has a GPS tracker. The communication is one-way, it sends signals, it reports the coordinates.
'A group of rescuers on all-terrain vehicles made their way through the day to the intended emergency landing site of the helicopter, so far to no avail.
'Now it is dark, the search for today has stopped, tomorrow morning the search will be resumed.'
Yet the next day weather was poor and it was hard to use the rescue helicopter in Momsky district.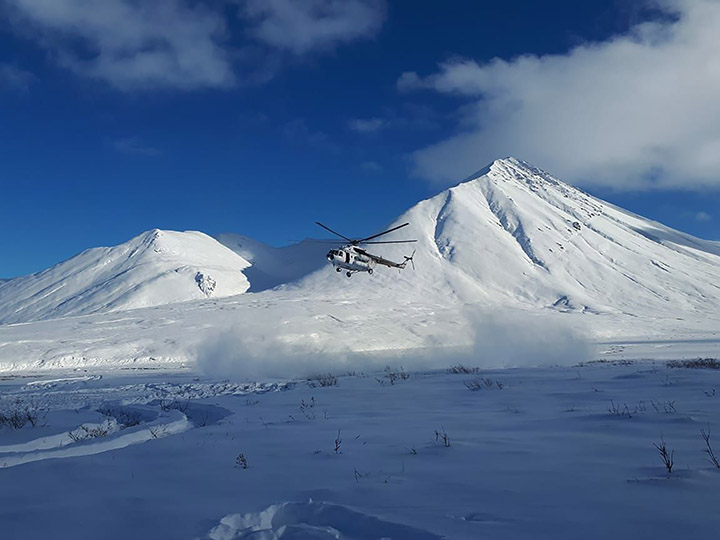 ---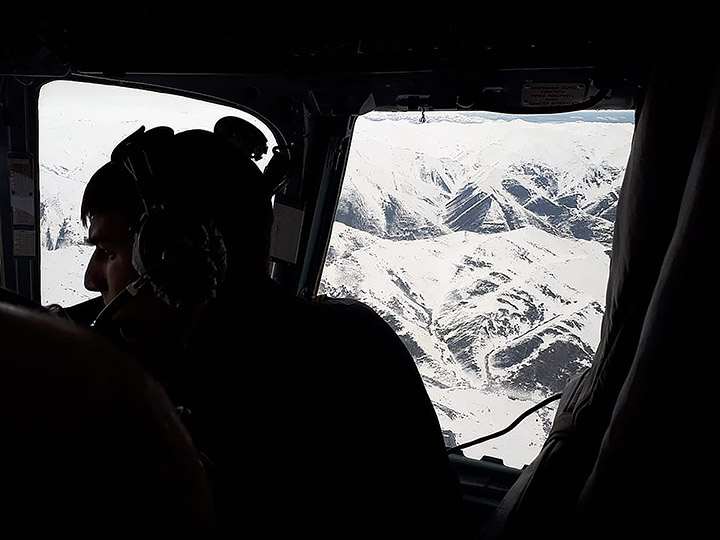 ---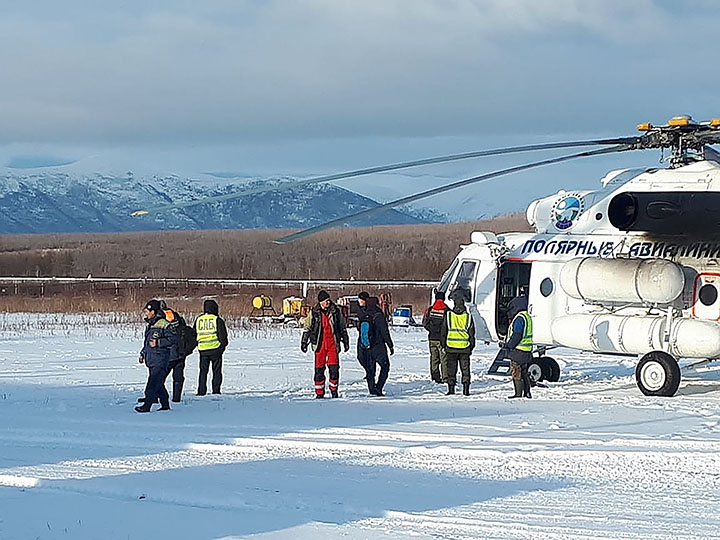 It was on Wednesday that the stranded solo pilot was found.
'The ground group returns to the nearby reindeer herding site.
'Weather conditions - poor visibility, snowstorm - do not allow to continue the search, and people are tired.'
On Tuesday, Elena Novoseltseva, Alexander's wife, took to social media to spread the word and beg locals to join the search for her husband.
She had been warned by rescuers to 'prepare of the worst' but refused to give up.
'Visibility has improved. Further, according to the forecasts, the weather will deteriorate,' she pleaded in desperation.
'We must now begin the search. But rescuers do not give permission for take off.
'I do not understand why they do not begin the search.
'After all, it is only now they can do something, then the weather will deteriorate again.
'Sasha (Alexander) is waiting for help, he had one thin padded jacket.
'His 11-year-old son is waiting for him, who does not yet know what happened.
'We feel that our man is dying.'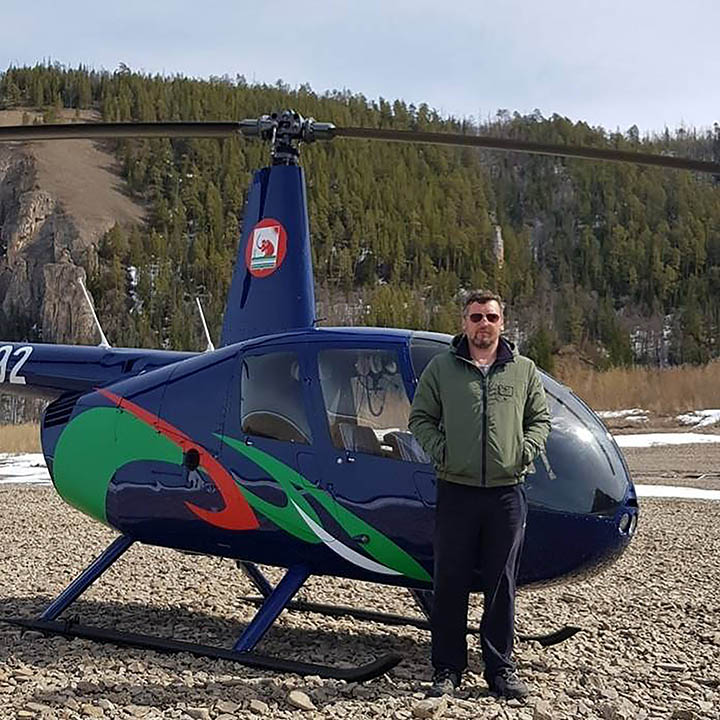 Elena Novoseltseva spread this picture of hewr husband with the words: 'Sasha (Alexander) is waiting for help, he had one thin padded jacket.'
It was on Wednesday that the stranded solo pilot was found.
He was plucked to safety from 1,600 metres.
He was flown to Khonuu settlement and checked by doctors of Momsky district hospital.
Anesthesiologist Yuri Ponomarev told journalists: 'The condition of the pilot is satisfactory.
'Nothing happened to his health. He's taking a shower now. He should soon fly home to Yakutsk.
'He told how he really wanted to survive, so he only slept for ten minutes, then made push ups and jogging.'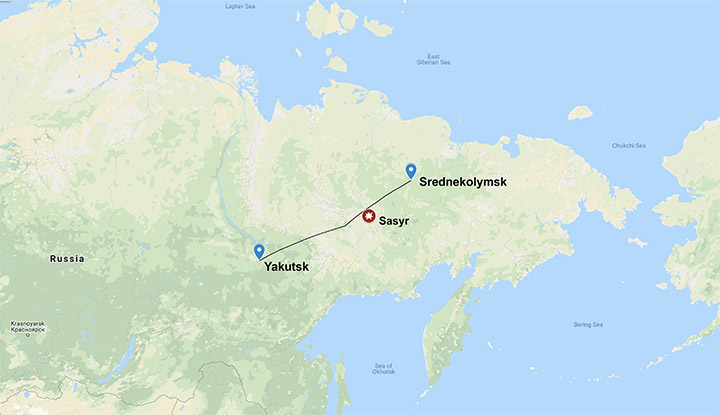 Alexander Novoseltsev was on the way from Srednekolymsk to Yakutsk when his helicopter crashed.
Back in Yakutsk today he said: 'I ate snow. That's all.
'I had some food, but when the helicopter fell on it's side, it all fell somewhere into the snow and I failed to locate it.'
When he saw the rescue helicopter today he feared it had missed him.
'I heard the helicopter, I went out and began to wave my hands, because it was flying in some other direction, and obviously Semyon [pilot of the Mi-8] saw me there, waving…'
Explaining the crash, he said: 'There is a peak - 2400 metres. Many know, it is kind of death trap there.
'I tried to go round it and at that moment a snow shower started.'
His helicopter crashed and fell into a gorge.
His wife said she had almost given up hope.
Rescue operation. Video by YSIA
'I want to say "thank you" to all those who were worried about Sasha. Thanks to your prayers and support, everything ended well.
'The media wrote that the temperature there, in Momsky district was minus 1C - minus 5C.'
But at altitude it was colder, she said.
'We were told this by the rescuers too. They hinted that we should prepare for the worst.
'Frankly, I was very afraid of calls. Journalists of the TV channel 'Yakutia 24' were the first to give me the good news.'