Good morning, world! ZIta the ligress, mother of a newly-born Kiara the liligress. Picture: Alexander Zhiltsov
Kiara the liligress has a famous name for a cat but she is unique - or almost - in the world. She is called after Simba's cub in The Lion King, the Walt Disney Feature Animation. But things are not quite going according to the normal script.
Kiara's father is a lion called Samson, but her proud mother is Siberia's world famous eight year old 'ligress' - Zita, who is herself half lion and half tigress.
'Our cub is truly unique, as it is extremely difficult to get cubs from a ligress, and male ligers are sterile', insisted Roza Solovyeva, head of the cats section at Novosibirsk Zoo.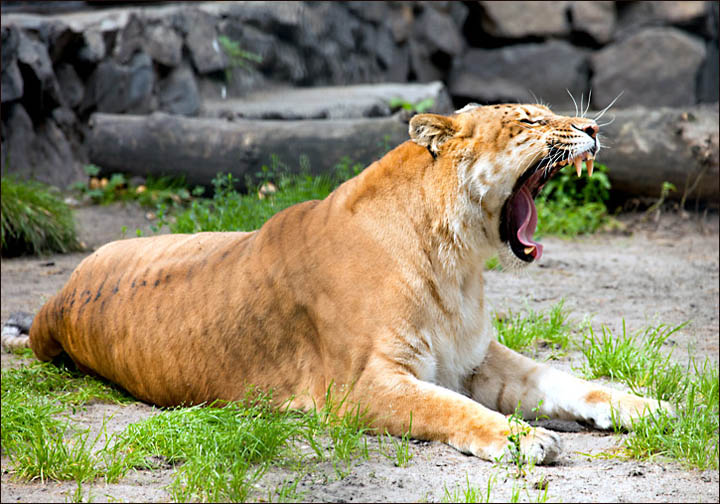 ---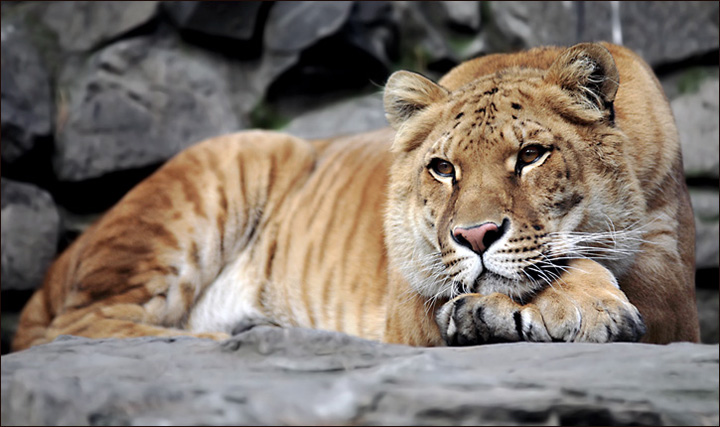 ZIta the ligress, mother of a newly-born Kiara the liligress. Pictures: Alexander Zhiltsov, Yuri Kotyukov
'Sadly Zita, Kiara's mother, lost her milk very soon after the birth, so we had to step in with help, and are now feeding Kiara from a bottle.'
'We we lucky to have found a domestic cat, who days before gave birth to kittens, and we put them together.
'Now the mother cat is playing with Kiara, keeps her warm and washes her the same way she does to other kittens.
'We wont show Kiara to the public for another month, as we want first to make sure that she is doing well.
'Quite likely she will spend the winter in a covered pavilion for tropical animals.
'Her mother Zita is not scared of the fierce Siberian winters, and sleeps outside even when it hits -40C.'
While the zoo believes Kiara to be 'unique' there is some evidence of unconfirmed claims to at least one other liligress in the world.